Meet your vintage loving hostesses…
Welcome to Modern Kiddo, the ultimate resource for everything you loved as a child—served with a modern twist! Alix and Dottie have been trail blazers on the vintage kiddo scene since 2010. They love nostalgia and always strive to best of their past to their kiddos' present. These two goofy San Francisco mamas love bold colors, quirky patterns and smart design. Their spunky, fun-loving attitude has made Modern Kiddo a favorite go-to destination for retro and design loving parents everywhere.
By day, Alexandra ("Alix") is a freelance Creative Director. (Check out her work here). She is obsessed with the 60s and 70s and has a massive collection of vintage clothing and housewares. Leslie ("Dottie") is PR consultant and swoons for anything 40s and 50s. She collects vintage craftbooks, fabric and vintage eye glasses. Modern Kiddo is dedicated to their two little fashion muses, Wolfgang (aka Wolfie) and Georgia (aka the Peach).

Be sure to follow us on twitter: @modernkiddo
You can also follow our personal twitter accounts: @galexina and @missdottie
And if you still want more of our colorful world, check out our Instagram photo luv: @galexina and @missdottie

HOW WE MET: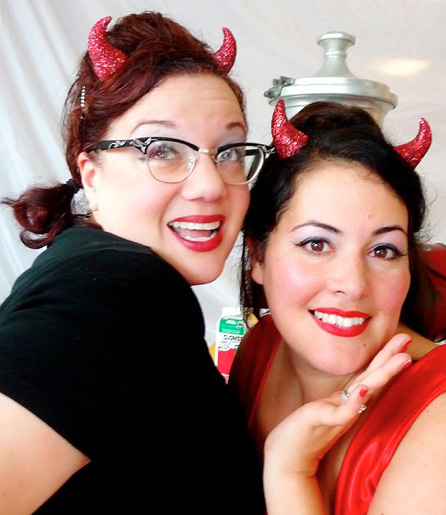 We're often asked, "How did you two kooky gals meet??" Dottie met Alix when she joined the Devil-Ettes, San Francisco's premier synchronized 60s-style go-go dance group! (Nothing too saucy, mind you— we're rated PG-13!) For years we were shakin' and shimmying the night away as our alter egos, The Smarty Pants and The Starlet. We've hung up  our horns, but our friendship is as go-go-riffic as ever!