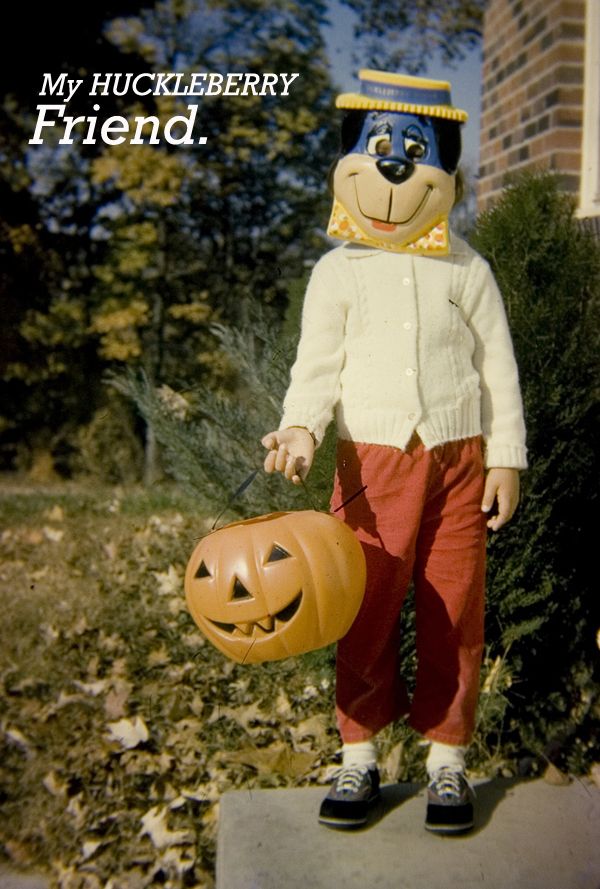 A few year's ago I was out and about and ended up in one of those Halloween Super Stores. I have to tell ya friends, it was a terrifying experience. Don't get me wrong, I'm all for a little spooky action. But I was totally freaked out by all the ultra creepy masks. Psychotic clowns. Rotting zombie chain saw massacre guy. Random murderers. That creeper from the Saw movies. Besides being totally disturbing I was a little bummed. "Where are the cute costumes?? Who lets their kid dress up as a crazy axe murderer??!" I shook my head, "It's not like back in the day when we were kids!"
Then again, hold up a second. Maybe I'm not totally remember things correctly. I mean, while most of the costumes back in the day were under the guise innocent characters, most of those old school Halloween masks were positively twisted. Case in point: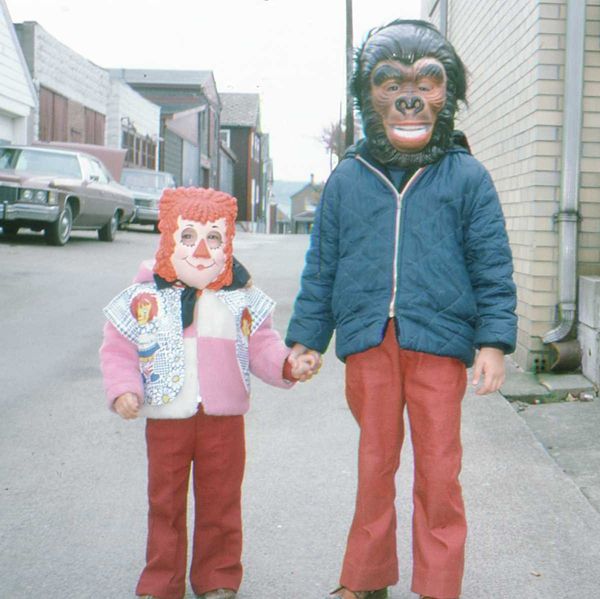 Of course creepy Raggedy Anne is still kinder than the Texas Chainsaw dude. The cheap plastic only adds to the charm.  Every year I like to round up some of my favorite Creepy Masks. Here are some of my favorites this year!
I know people have a problem with clowns, but how can you hate on these two cuties? That duck and leopard are another story. The leopard looks like he (she?) fell victim to the old, "It's cold outside, you need to wear a coat under that costume!" syndrome.
While we're talking leopard, this is a little more jolly looking….except what's up with that leering pumpkin??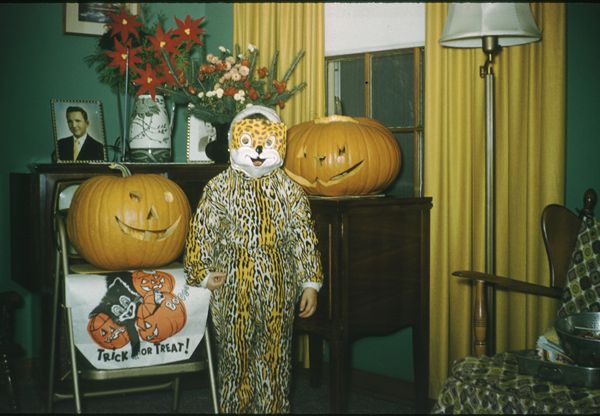 LOVE these guys. Bat Man looks so serious. And the crazy google eyed skull boy, casually munching cookies? Priceless.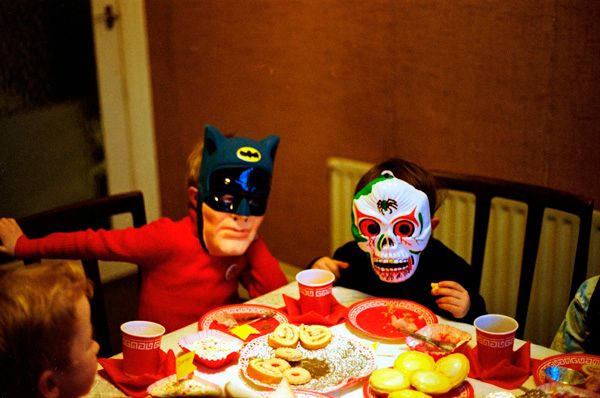 Ahhhhhhhhh! These two would have scared the pants offa me.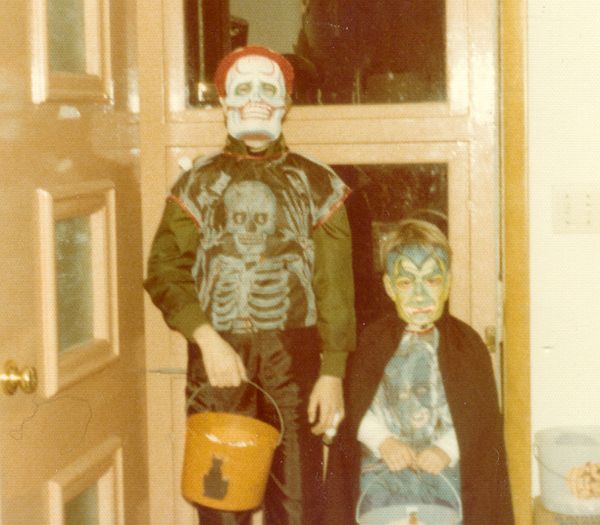 Is it me, or does Superman have a mustache??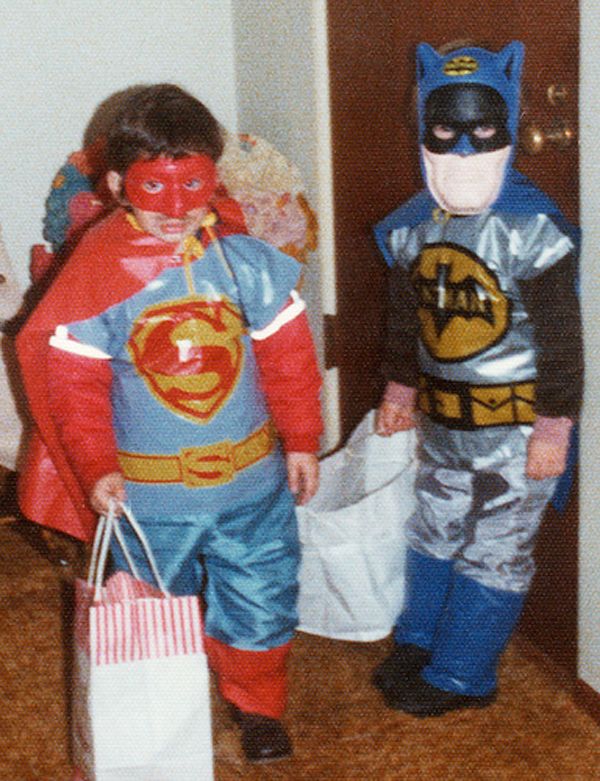 Hurray for the Halloween Parade! You Go, Paper Bag Owl!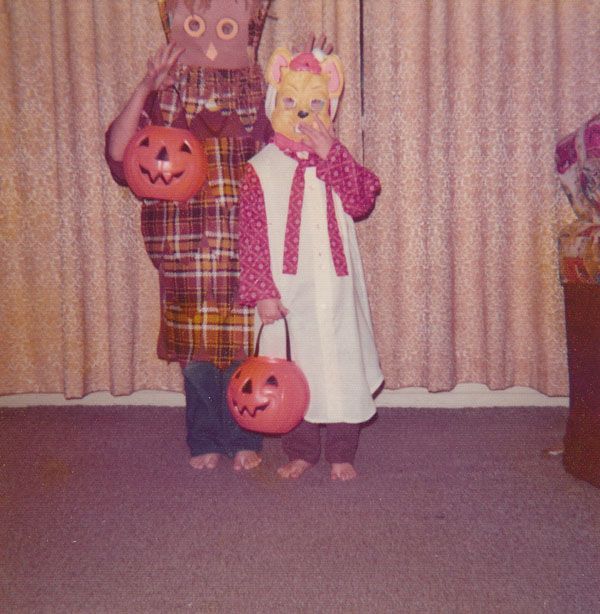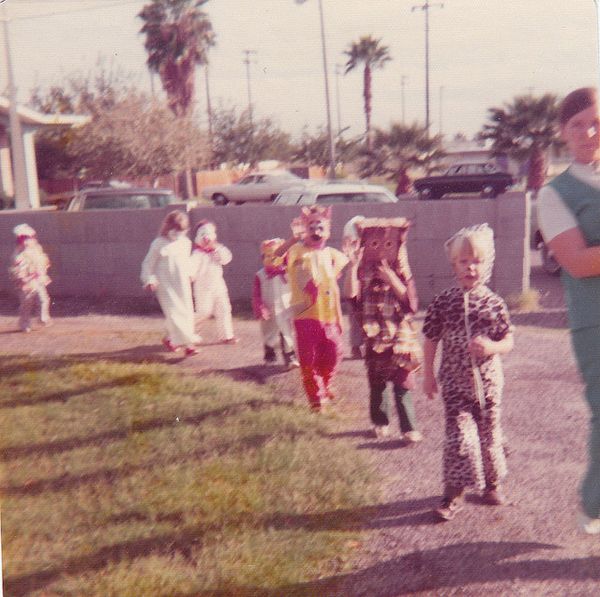 I loooooove a good group shot. So much awesomeness going on here. He-Man has such delicate eyebrows. And Zorro is looking positively Zsa Zsa (looks like someone has had a little filler in them thar cheek bones, eh?? ). The lady ghost is so stylish with her little mask….and who is that purple fella? He looks familiar. Hmm.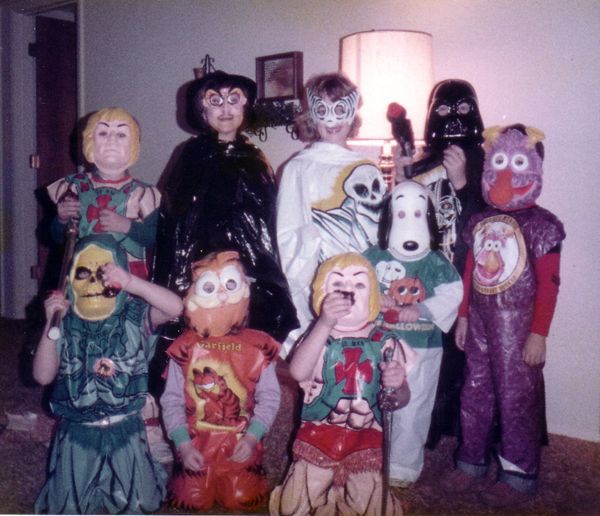 Oh little Snoopy and those sweet little hands….he's not too happy being next to Skeltor. Or whoever that dude is.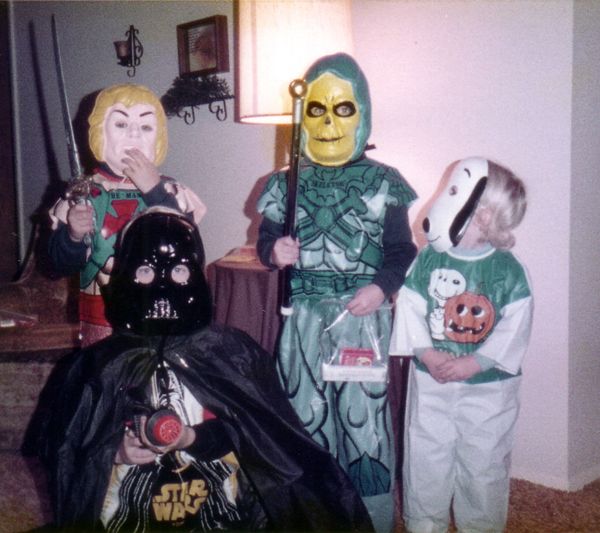 Ayyyyyyyyy!! These kids are all adorable, but I'm reaaallly liking The Fonz. I'm not really liking that creepy doll perched on the right back there.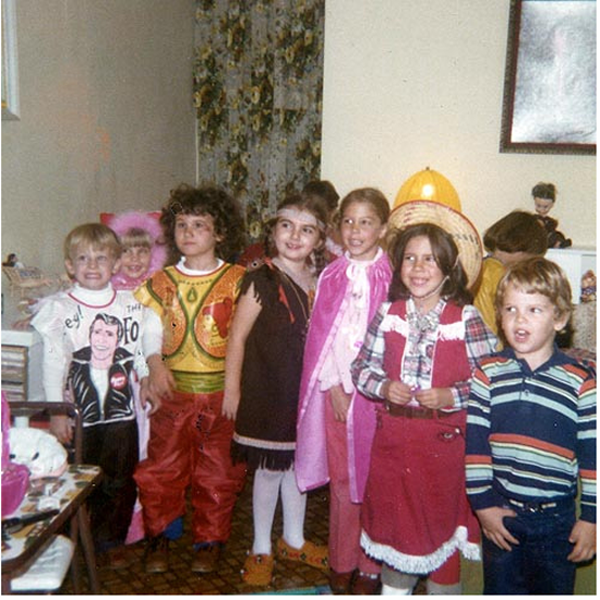 I want to be Super Friends with THESE cuties!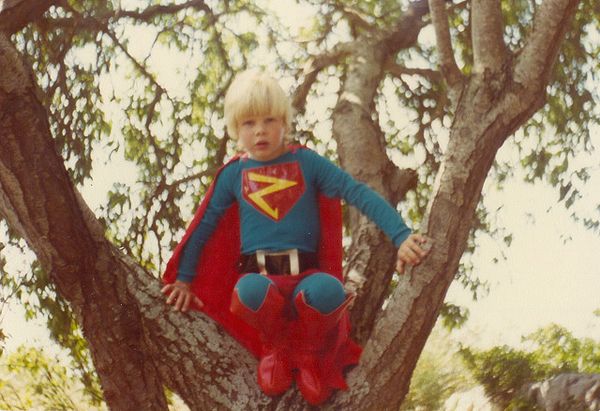 Oh dear. I initially picked this for the faboosh "princess on the half shell" mask….and that werid thing on the end (is he in profile? is he facing straight forward? who knows!). How I failed to notice the, um, "tan" gent in the straw hat, I'll never know. I'm going to have a little faith and assume he's supposed to have been vacationing on a tropical island, hence his shoe polish face. Ack. Even the dog looks confused.

These lovely ladies are adorable….the twin pumpkin mask is so sweet! But I would have killed for the ice blue satin on the end…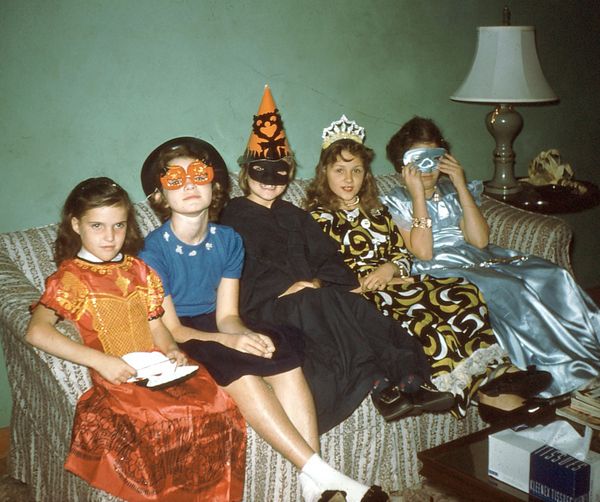 This might be my favorite. I love the two beatniks (awesome!). The mantle figurines (rococo AND asian!). The saddle shoes on the snarky girl in the back (adorable). But the Voo Doo Jukebox???? Help me Rhonda!!!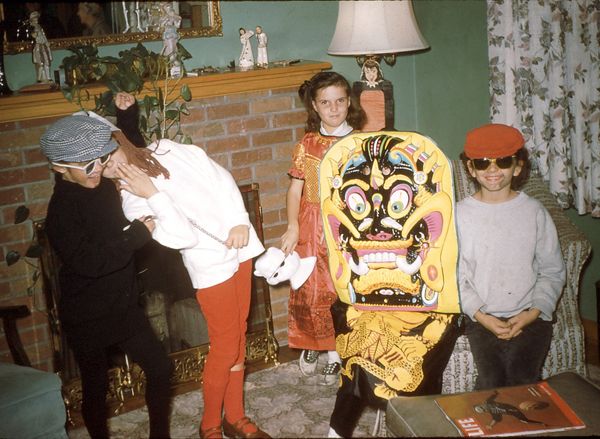 I'm just realizing this is the same house as the girls on the couch! How did we miss the rogue corn cob placed "just so" on that side table??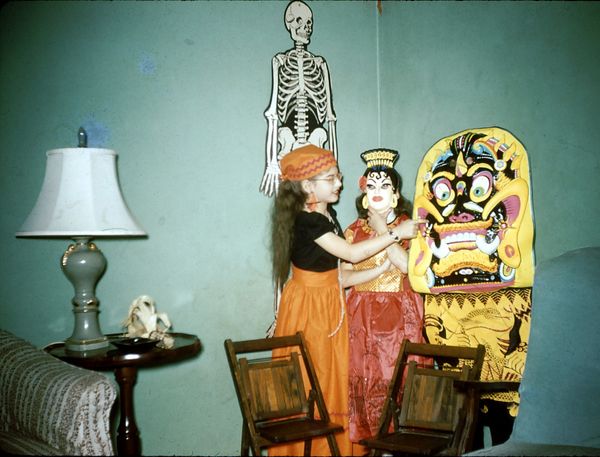 And finally, the winner of the "Phoning It In" award…..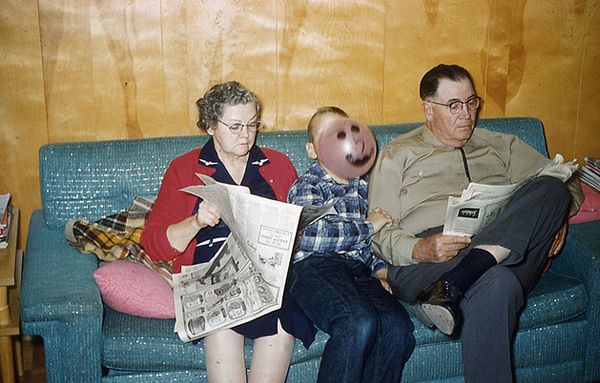 The Halloween Countdown is Officially ON!!!