Well, Thanksgiving time is here and I know we are all focusing on the turkey the day of, but I'd like to spend a moment thinking about what happens to the bird Friday. It is recommended that you take all of the meat off the bird Thanksgiving night and pack it away to insure moist meat for days of sandwiches to come. But you might as well put that carcass to work and make some fabulous broth from all those winter soups that will be on the menu for months to come.
If there is one thing I can do, it is make a bang-up brilliant broth from a chicken or turkey carcass.  I've been making and freezing my own broth for 10+ years and I find that it is the backbone of many great dishes.  Call it cheapness, but I hate to waste—and making broth is a terrific way to turn things that might be tossed into an amazing kitchen staple. And "bone" broths have become rather fashionable now, claiming to help restore bad knees and elbows and being the real reason chicken soup is such a foe of the common cold.
Over the years, I found collected and created some tips that really help turn the broth from a pallid soup starter to a really wonderful broth that delivers a great taste in every spoonful.
So, here are my tips. Even just doing one will make a difference, but doing all three turns your broth into a divine sipping elixir!

Image: Patent and the Pantry
Sauteing your mirepoix is a pretty well known secret (Edna Lewis, Cooks Illustrated and Miss Smitten Kitchen are all believers), but still it begs to be repeated.  It is so tempting to just toss all of your veggies in a pot along with the chicken/turkey carcass and call it a day, but to get that  extra flavor  it is worth it to cut the celery, carrots and onions up and saute them in the stock pot with a bit of olive oil.  I swear it doesn't take more than 10 minutes to chop and saute and it adds more depth of flavor in the long run.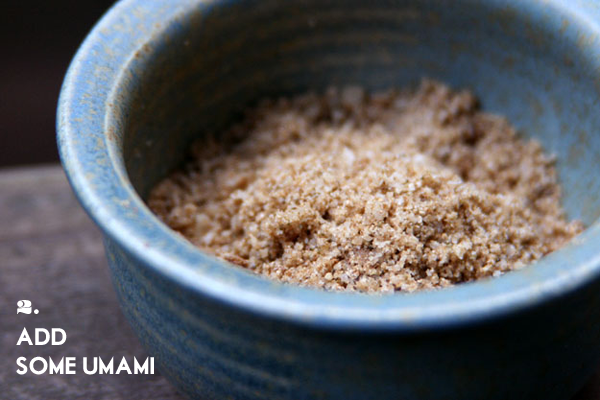 Image: Breakaway Chef
I read chef Eric Gower's blog and was really intrigued by this umami salt he makes out of Parmesan cheese, dried mushrooms and a bit of kelp (you can use Trader Joe's seaweed snack if you can't find the kelp crystals). I made chicken soup once, tasted it and then added the umami salt I made and was honestly amazed at the taste difference.  It just tasted better. I can't put a finger on it, but seriously, it is worth trying and adding it to your broth in the last hour of simmering and just be amazed!  If you can't find the seaweed, just add a few dried mushrooms and a bit of Parmesan rind.
Haha! Sorry—this picture above is way prettier than the raft I'm talking about. So you just finished making your broth and are letting it cool down completely so you can take that layer of fat and gunk off. I find that to be the biggest pain in the universe. Instead I build a raft, A raft is this magical combo including egg whites that sucks and filters out all of the gunk and impurities that happen in broth. It turns a cloudy stock into a much clearer and fat-free beautiful broth. I took notes from CHOW.com but here it is in a nutshell:
Add to your cuisinart 2 carrots, 2 ribs of celery, 1 bunch of parsley and on medium onion and chop until pieces are about 1/2 big.
Put contents of cuisinart in bowl and add 6 egg whites and 1 lb of raw ground chicken. Mix all ingredients together. This is your "raft".
Add raft ingredients to completely cool stock.  Stir it up and turn on heat. Keep eye on broth making sure it simmers, but doesn't bowl and break up the raft.  Let simmer for half hour.
After half hour passes take out larger chunks of raft with slotted spoon.  Let cool. Line colander with cheese cloth and gently pour remaining broth out.
Taste and add salt if necessary.
So, there you have it! Are you a broth aficionado? Do you have any broth secrets to share?