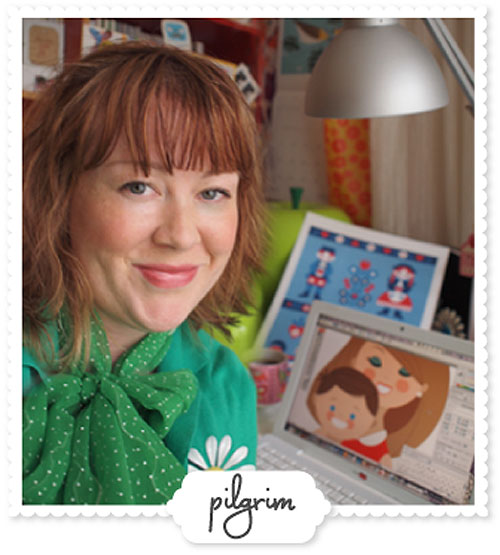 If Alix and I are the masterminds behind ModernKiddo, then Pilgrim is our outward smile. The reason you probably stayed past your first glance and hopefully read on for a bit.
You see, Pilgrim made the ModernKiddo logo and for that we are eternally grateful. She captured our hearts in graphic design and was the spark that started it all for us.  But now you can have that smile too. Did you know Pilgrim has a grand Etsy shop full of graphic go-go goodness that you can happily get your hot little hands on fer yourself? Yup–she does, AND with her help, we are giving away a wonderful $50 gift certificate to Pilgrim's  Etsy shop so you can splurge and bring a bit of down under goodness from Pilgrim for yourself.
Alix hipped me to the amazing  Aussie graphic artist, Pilgrim, awhlie ago and I just fell head over heels for Pilgrim's deliciously fun style and highly addicted blog, Draw Pilgrim.   She is also clearly one of the sweetest as well as most talented ladies out there.
Her style is a big bear-hug to my favorite and most delightful parts of the sixties and seventies.  I crave her joyous and colorful designs on a gray day. Or a day when I want to smile. Or actually any day.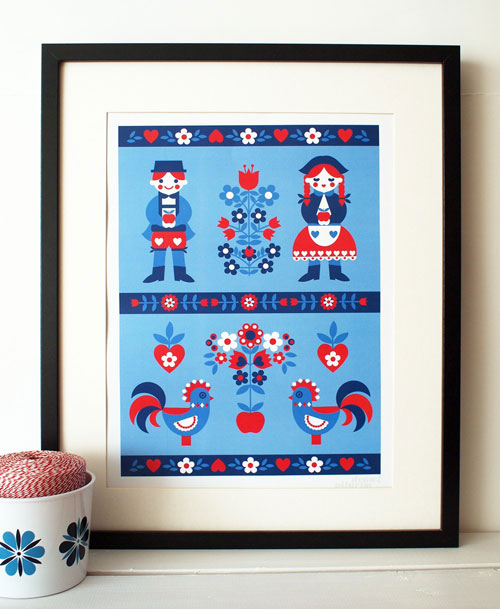 I mean, how could you not smile when you see this matroyshka card?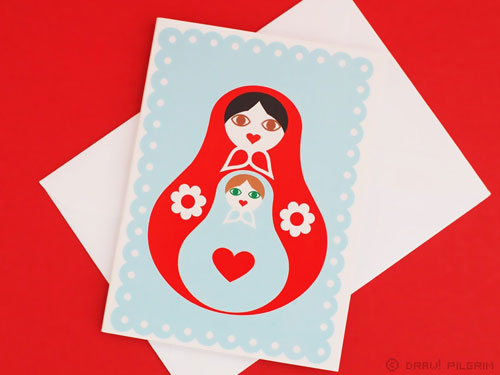 Don't you want to choo choo choose this widdle train full of circus animals?
And let's not even get started on her utterly brilliant alphabet series that should be in every little cherubs room?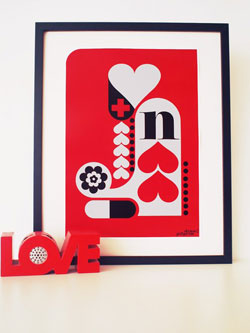 Mmmhmmm… Exactly.  Pilgrim is one talented lady.
Now, how do you win this wonderful giveaway, you ask as you wipe the drool off of your computer screen from looking at all of these wonderful bits of beauty from Pilgrim?
Enter by doing any of the following:
For one entry, add Pilgrim to your Twitterfeed. Trust me, she's a most charming twitterer, so you'll enjoy her on your feed!
For another entry, leave a comment on Draw! Pilgrim and tell her we sent you! You'll be utterly smitten with her blog.
For a bonus entry, and of course only if you agree, click on the SocialLuxe 2010 BlogLuxe Awards and vote for ModernKiddo under Best Eye Candy Award. Whoohoo! Then leave us a comment, so we know you did it.  It's the black top button in the far left column. It can be done once a day, so if you do it on another day, leave a comment on MK and we'll count that as an extra entry.
Thank you Pilgrim for giving my heart a home here at ModernKiddo. You took our sweetest dreams and changed our lives with five smiling kiddos that makes me raise my hand to my heart with joy every time I click our URL.
Good luck and hurrah for Pilgrim!