Don't you just love hearing about wonderfully talented people who are keeping the dream alive producing beautiful clothing for sassy tots everywhere? Well, let me introduce you to one such girl. And that girl is the utterly charming Ms. Bethany who started a hand made clothing company for sweet nerdy kiddos with her mom. Yup. How sweet is that?
And it's called m.o.m.
I know, right? Adorable.
Located on the sunny side of the street in Encinitas (only the coolest beach town in SoCal, natch) Bethany sits in her sweet studio with a whole wall that she can open like a garage door to let the ocean breeze come in and flutter her handmade banners.  She'll sit there and cut beautiful pieces of fabric magically turning them into beautiful aprons with emboidered does for girlies, the most wonderful ties for boys and a whole slew of awesome that I can't wait to show you.  All with her sweet pooch, Stella curled up under the table snoozing away.
And all with her Mom.  What made her team up with her completely adorable Mom, I asked?
Bethany's response:
"I was working at Goodnight Room in Oakland when the owner requested aprons for little girls. I suggested we ask my mother to make them. My mom said yes and the aprons sold, and sold, and sold. One day I phoned my mother to say, "This is it, we're going into business together."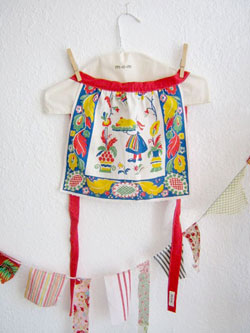 The first aprons were made for Goodnight Room in 2002. From then until late 2008, the dynamic duo created all m.o.m stuff at night and on the weekends, as they both had full-time jobs. In October of 2008, they set up their workshop + store in Encinitas, Ca. They've had the space for 20 months and and are still in love with it–but wouldn't you be too?
And what is the inspiration for their delightful line of goodies? Family history, movies, and music to name a few. Bethany's grandmother and great-grandmother are top of the list for the skills they handed down and the common sense practice and m.o.m philosophy of, "use what's around you and don't waste a thing."
Amen to that, sister!
Their inspiration? From Bethany:
"We are drawn to simple lines and old-fashioned details. We believe kids should look like kids. Our pieces will never be so precious that  they can't play in them. We also love color and pattern and get a kick out of crazy combinations. We truly do work by our philosophy -we keep all scraps of fabric and create our accessories from them."
Well, what is there not to love about m.o.m.? Nothing! Now just skedaddle on over to
their site
and pick out something cute for your tyke!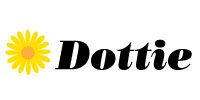 PS: I'm in lurve with the m.o.m. blog. Check it out HERE.