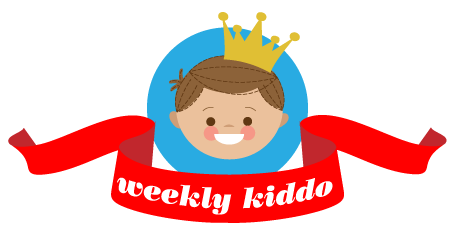 Believe it or not, I've never actually met most of the Weekly Kiddos we feature. I think I've met, hmmmm, two? Yup. Wolfie and Georgia! (My little sweetie and Dottie's adorable girlie.) But that's what makes this feature so much fun—the never ending stream of crazy cute kiddos that appear in my In Box. This week's lil man is especially fun for me because he belongs to a sweet new bloggie friend. I "met" Kristin back when we were launching Modern Kiddo. Dottie and I were smitten with her shop, klt:works and thought she was sooo talented. As we began to chat I discovered she was also totally sweet, cool and fun AND she was a mama! Her little guy is an awesome little two and half year old named Sayer and he's our Weekly Kiddo! Lemme tell ya he's a cutie: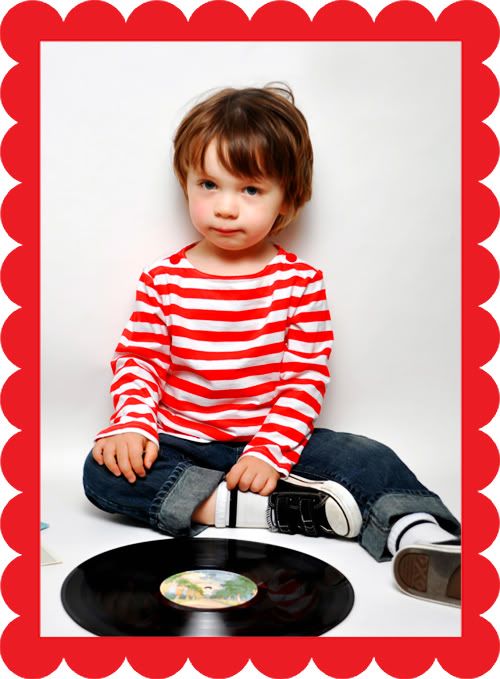 I love this red and white stripey shirt with blue jeans. From our pals at Polarn O. Pyret.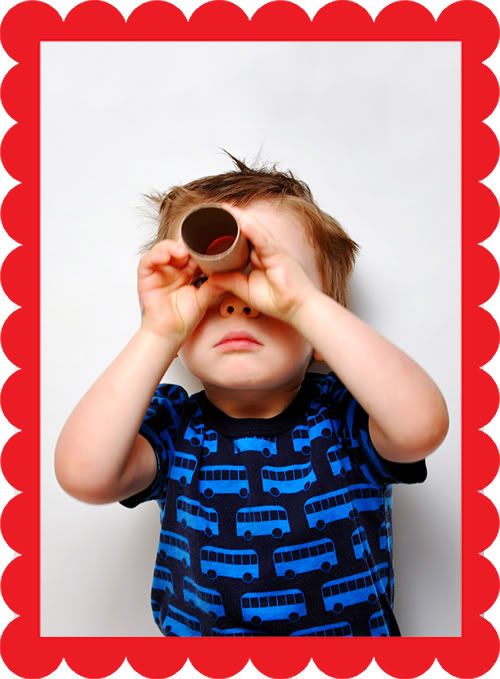 I love that groovy graphic tee Sayer's sportin'! Those little buses are kee-yoot! It's also from Polarn O. Pyret!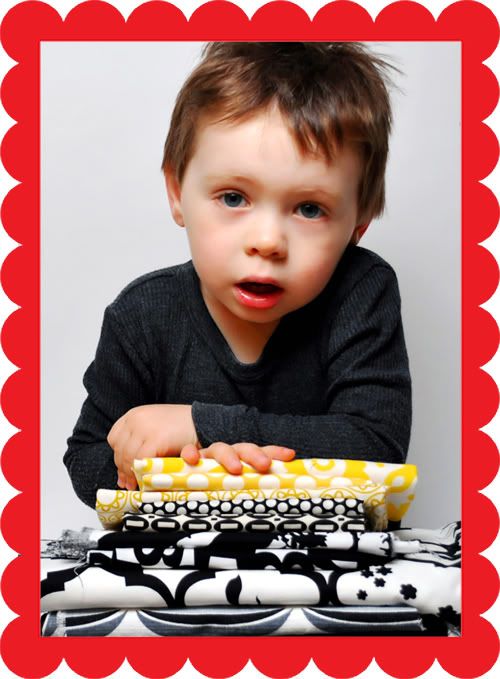 Sayer loungin' on all of mama's rad vintage fabrics. Â (Dottie is drooling over them, to be sure! hee)
The grey thermal is from Alternative Apparel.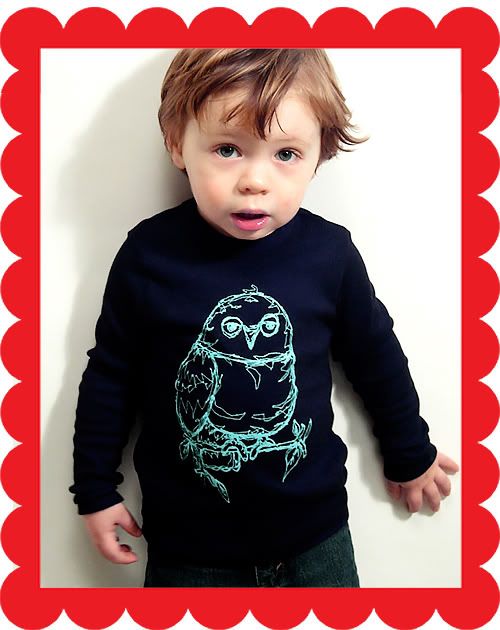 Look WHOO WHOO is wearing a charming klt:works owl tee designed by his mama??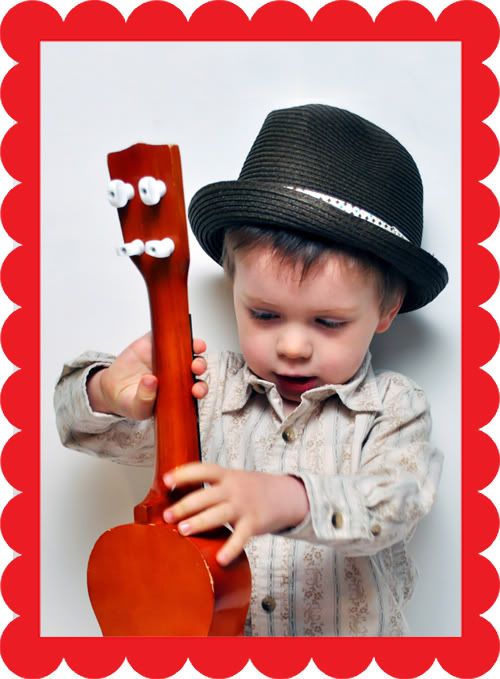 This Fore! Axel & Hudson fedora is killing me…..the littlest minstrel with his ukulele! The groovy button up shirt is from Old Navy.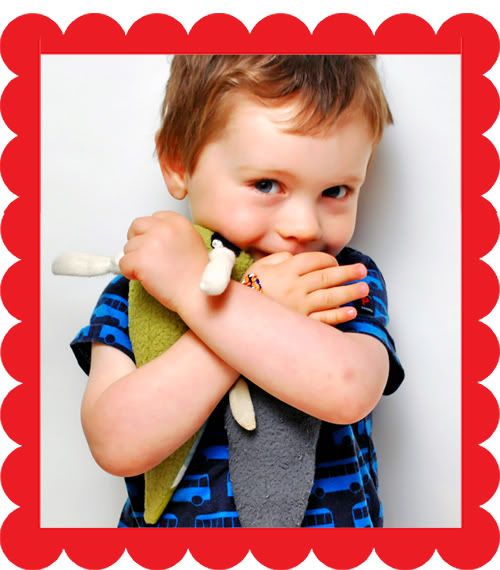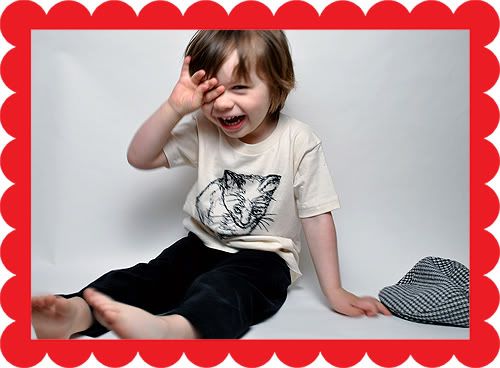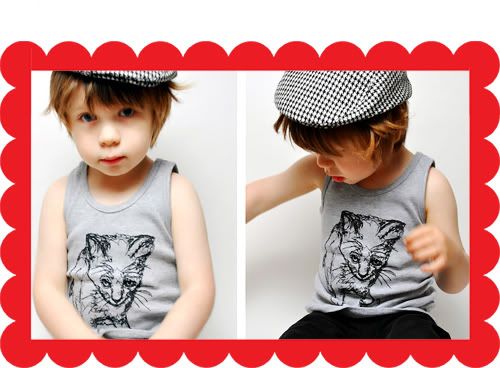 I love Sayer's caps….totally adorable! This pub cap is from Knuckleheads. (The kitty tee is klt:works, of course!)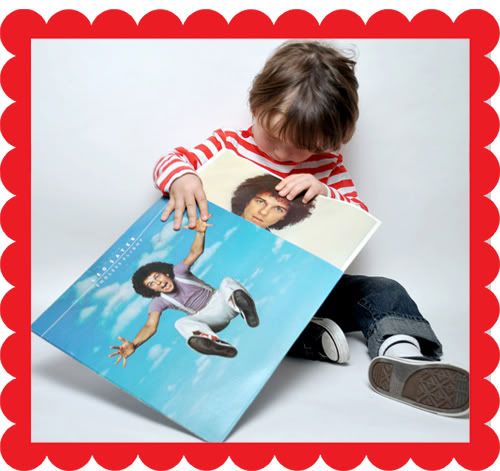 Hee hee. Nooooooo Sayer isn't named for Leo Sayer…..he's named after artist/photographer Richard Sayer (a good family friend!) but this picture cracked me up!
So Mr. Sayer is a well rounded cutie. He loves music, especially Dan Zanes, Louis Armstrong and lots of Yo Gabba Gabba hits (like Biz Markie, Cornelius and the Aquabats). He's gotten quite good at the harmonica and also fiddles around on the drums, guitar, and tambourine! Like all red-blooded lads, Sayer is a lover of trains (THOMAS!) and has a penchant for fire engines and garbage trucks.
His mama tells us that Sayer is a big cuddle bug and he loooves to work with her in the studio, where he is an excellent advisor and helper when it comes to organizing her  thread. When snack time rolls around he loves smoothies, Jamba Juice (carrot and orange….hey Sayer, that's one of my faves too!), yogurt & granola, green grapes and applesauce. Wolfie was extremely pleased to hear Sayer loves tortilla chips and "everything" bagels with cream cheese! He also just got a baby skateboard (RAD!) and loves it—watching the instructional video about 25 times. Hee. Aw yes, safety before shredding, Sayer. I approve! Kristin, thank you so much for sharing this adorable lil man with us!