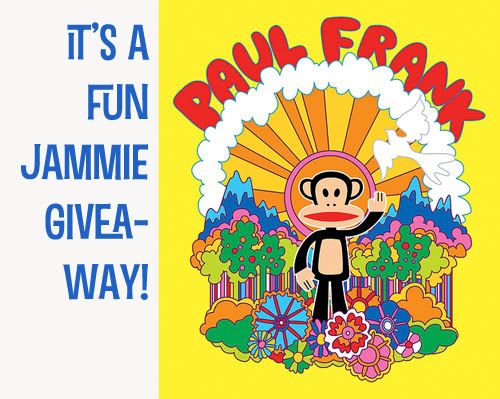 We've already had some pretty amazing Giveaways this year….we're still a little high off our Misha Lulu glow. But it's the kiddo's who always benefit from these giveaways, isn't it? Soooooo even though Paul Frank makes some preeety rad duds for the little ones (under their Small Paul and Paul Frank for Target lables) we decided to put together a little something for the mamas! It *is* Mother's Day, after all!
PAUL FRANK BAD MAMA JAMA CARE PACKAGE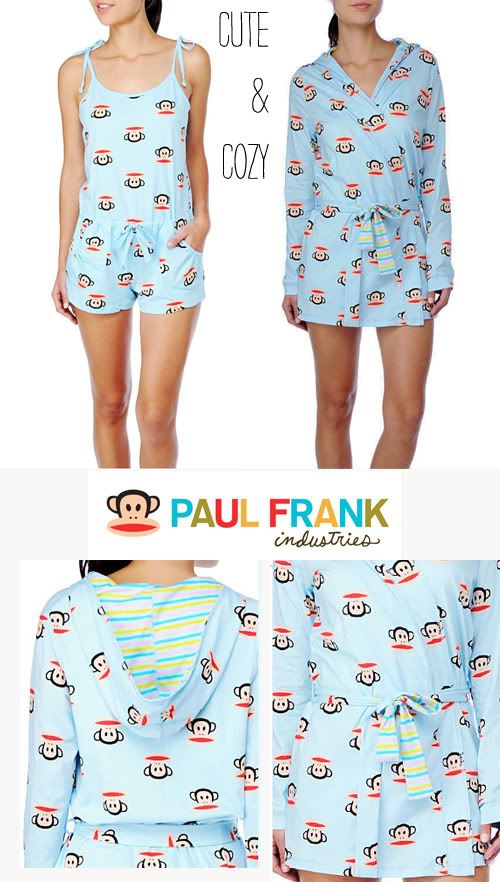 images:Â premium jersey stack romper + julius jersey robe
Friends, I gotta say we love the Paul Frank here at Modern Kiddo. They've been sassing up our kids' closets and nighttime ensembles for years. But the fine folks at Paul Frank know that mama likes to be just as cozy as her kiddos. So they have created a line of oh-so-cozy comfy pjs for the ladies! They have draw string jammies, sleep shawties and darling robes that are perfect for lounging around your pad or making waffles on a Sunday morning. This Ultimate Paul Frank Jammie Care Package will include an assortment of Paul Frank jammies for you to lounge the day away in! Watch out…yer kiddos might get a wee bit jealous.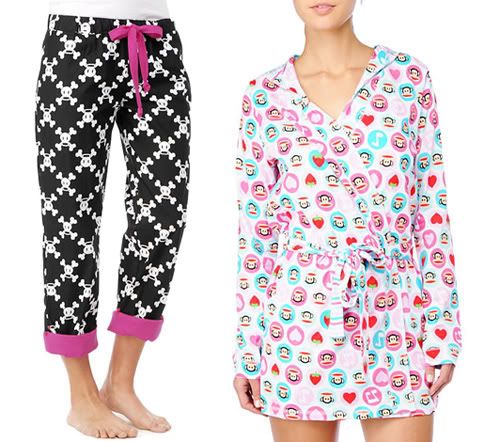 images: skurvy (skully) poplin pants + strawberry circle robe
BUT THAT'S NOT ALL! We each decided to add in a little sumpthin' else, jussst to sweeten the deal.
ALIX'S PICK! FRESH SUGAR LYCHEE Â GIFT SET.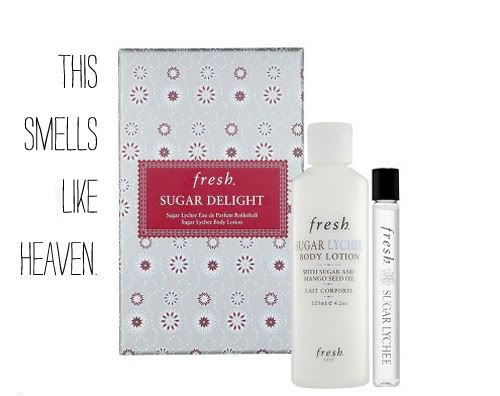 ALIX: Fresh is hands down, the maker of my favorite fragrances. Their scents are light, pretty and well….FRESH! You can spritz 'em all over and they never smell cloying. I always get compliments when I wear them, so I'm thrilled we're including this sweet little Sugar Delight set in our giveaway. This rad lotion/perfume combo was recently featured on Kaboodle's Pampering Presents Mom Will Love gift guide. The set includes one creamy body lotion and a travel-size roller perfume, perfect for tucking in your purse. Both are in one of my favorite scents—Sugar Lychee, a juicy mix of lychee, bright grapefruit, and lotus flower. It's not overly sweet, just super lovely! Both products use deliciously natural ingredients. Seriously, you'll love this! Courtesy of the awesome Kaboodle!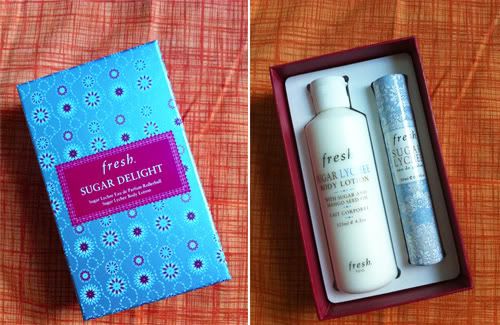 DOTTIE'S PICK! SUGAR & SPICE RETRO APRONS!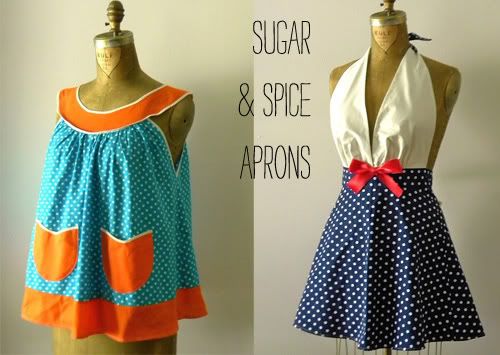 DOTTIE: I gotta tell you, I'm so excited to have Sugar and Spice as part of our giveaway! Nobody loves a good apron like I do and these pretty-as-punch aprons actually cover your chest—no more spills when firing up that mixer! But most importantly, they are stunning. I would happily wear them beyond the kitchen! In fact, I'm going to buy one right now for the upcoming Tupperware party I'm hosting with Karen Finlay next month! The winner of this giveaway will get a $20 gift certificate to Sugar and Spice…but here's a little secret, ALL Modern Kiddo readers can get 15% off thru this Sunday. Thanks Danielle!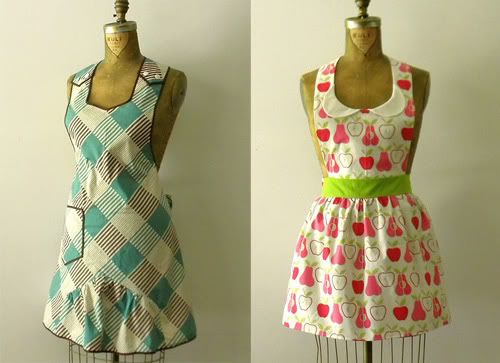 Now, to win this whiz-bang Mama Giveaway, here's all you need to do:
Leave a comment on this blog entry.
Follow us on Twitter. If you are already a follower, tweet about this giveaway—don't forget to include @modernkiddo in the tweet please! You can also follow our personal twitters @galexina and @missdottie for two additional entries.
"Like" us on Facebook.
"Like" Sugar & Spice on Facebook.
"Like" Paul Frank on Facebook.
Follow Paul Frank on Twitter.
You'll get one entry for each thing you do. If you do all eight things on the list you'll be entered three to eight times. HUZZAH!!!
The winner will be announced SUNDAY at 8:00PM-PST on MOTHER's DAY. Hurrah!
Good luck, and we're crossing our fingers you win!