ALOHA AGAIN! This isn't really a Guest Post, since Miss Shutterbean is a part of the Kiddo family, but the gracious and sassy Tracy whipped together a most scrumptious (and EASY!) snackers for you guys. It's so warm and balmy over here I have been craving this in a BIG WAY! Take it away Tracy!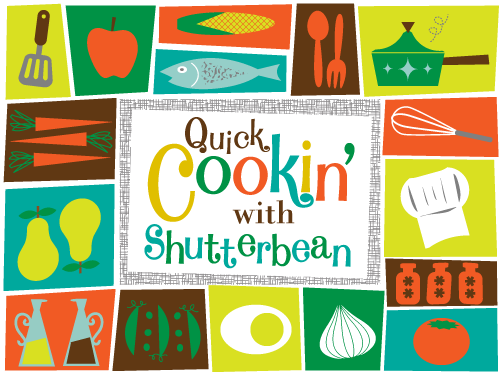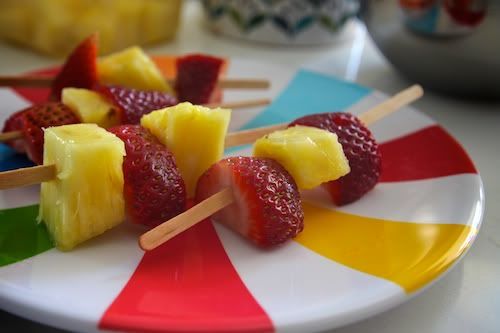 Hello! Shutterbean here. I just gotta say that I'm sooo jealous of Alix and her Hawaiian trip! I want to be drinking pina coladas in the sun with a stack of trashy magazines right now! Mmmmmm Hawaii! Today I've got pineapple on the brain. Must be all that Hawaiian daydreaming! I've whipped up a little snack inspired by Alix's getaway for you and your kiddos!  Won't you join me?
Isn't it funny how you can remember certain food related things from your childhood? When I was little, I was a Brownie. Remember Girl Scouts?? My mom was the den mother and she was in charge of bringing healthy/delicious snacks for us girls every week. One week she made fruit kebabs with a tasty lime yogurt dip and I was totally stupefied. I had no idea that my mom had this in her bag of tricks since I never had it at home before! I remember demolishing a few sticks and my mom being proud! I still haven't forgotten that moment…
So let's talk about snacks & kids for a second. Fruit on a stick! It's a brilliant idea isn't it? It's fun, portable and the combinations are endless! Your little one doesn't like pineapples but loves grapes? Sub them! Not sure if they will actually like them? Have them help you with a batch! It's fun piercing fruit with sticks! Just be careful with the sharp pointy edges.
Let's get started with our Lime Yogurt Dip! Â Here it is!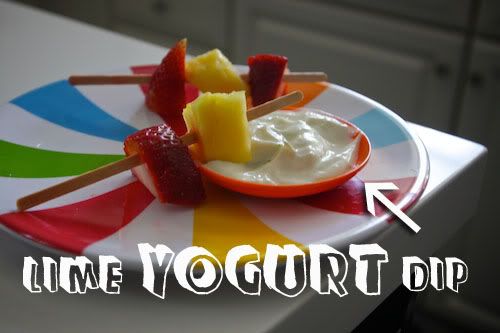 Gather your simple ingredients. Yogurt, brown sugar, lime zest & lime juice.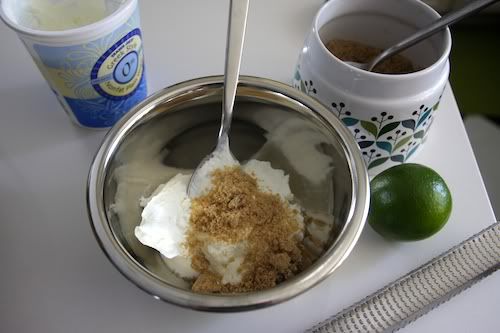 We're having an ingredient party and you're invited!

Mix the dip together and take a little sample…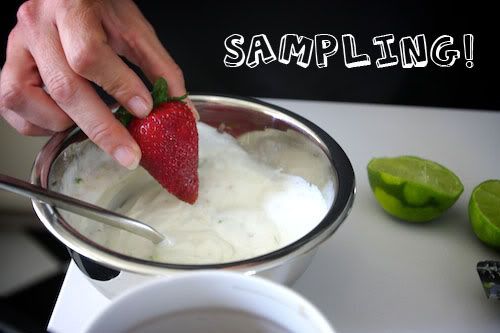 Dip Away!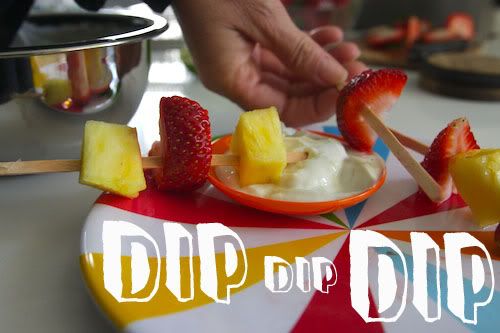 I guarantee these fruit kebabs will be a treat your kids never forget!
Lime Yogurt Dip:
– 1 1/2 cups plain Greek yogurt
– 3 tablespoons brown sugar (use more if you want it sweeter)
– A small squeeze of lime juice
– 1/4 teaspoon lime zest
Stir all of the ingredients together in a small bowl. Let mixture sit for 5 minutes and then serve with your fruit kebabs!