As Alix was selling vintage goodies this weekend, I was buying. Oh lawdy, I was buying!
Dame Rusty of Moxie Deluxe is not only a fabulous gal, but also works estate sales in her spare time. She hipped me to this uber estate sale liquidation where they were emptying their warehouse of all vintage goodies from five past estate sales. And friends, the prices were good.
How good you ask? Enough to get ALL of this for under $50.
First, these sassy Pyrex straw holders.  Perfect for summer entertaining. Don't you think?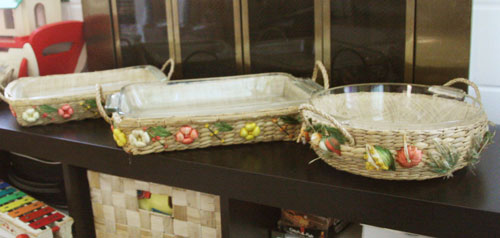 And this vintage sewing kit was filled to the rim with sewing wonders.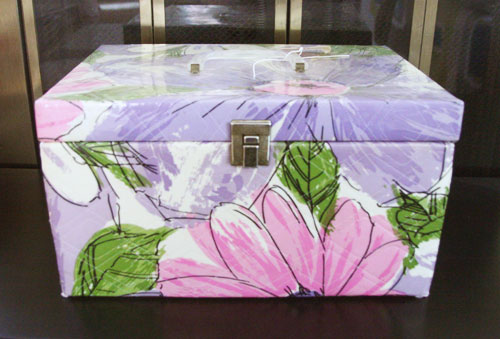 Pretty laces, a beautiful old sock egg. Hmm…Don't know I need the latch hooks…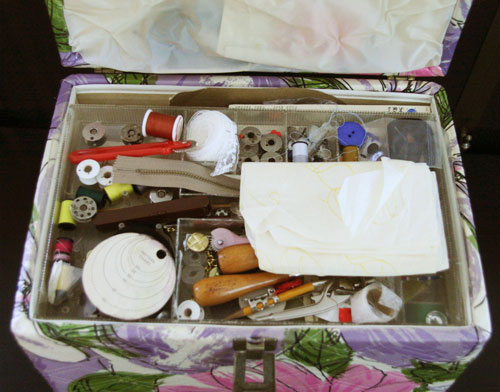 I'm tiring of my Fiestaware and right now crushing on the simple lines of plain Willow ware and vintage blue and white plates.  So, I'm going to slowly build up a nice collection of blue and white plates (no need to match) and pair with my newly acquired stash of vintage silverware I purchased–more than 100 pieces some match, some not and all fabulous.  These will replace my pretty red Laguiole every day set which for some reason has chipped to the point of almost no return.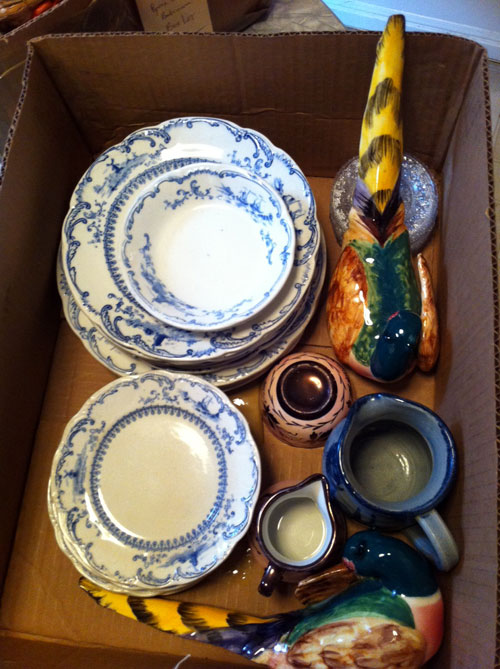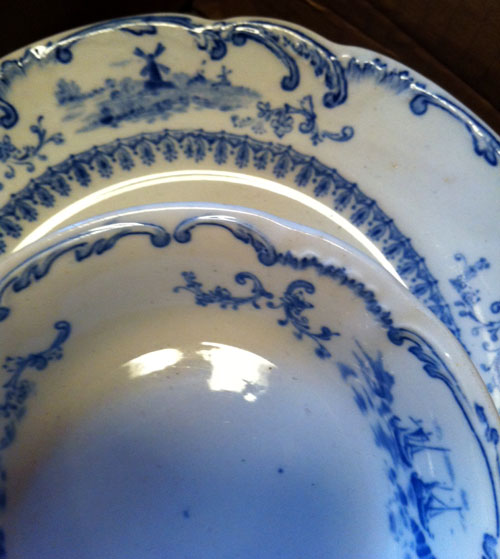 And look—little windmills! I have to admit that after the Peach's birthday party, I have totally fallen in love with all things Dutch since that party…
And how will I finish off my new table setting? With this lot of vintage napkins. But dear readers, this is not just any old lot. This is the uber crazy-town-bigger-than-I-can-imagine lot of vintage napkins.  It contains more than 15 sets of napkins–some beautifully embroidered like these. Overall there were more than 150 napkins.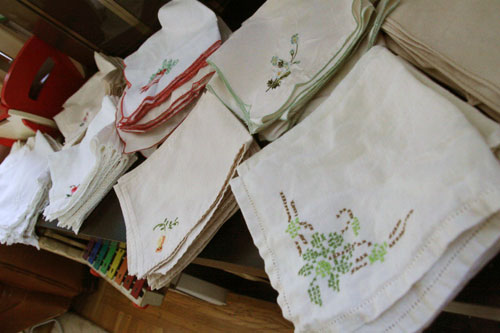 Oh, and I adore these little roll wraps. Too dear for words.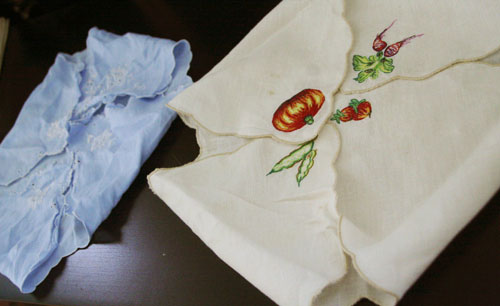 But that is not all that lurked in this box. I also am now the proud owner of more than 30 linen finger towels. I almost forgot that these existed! Seriously!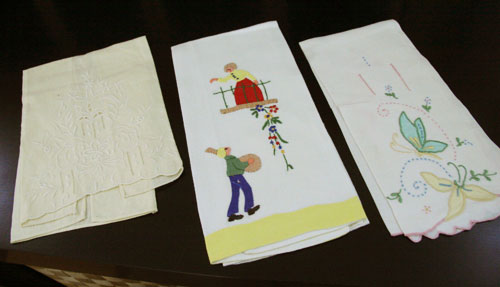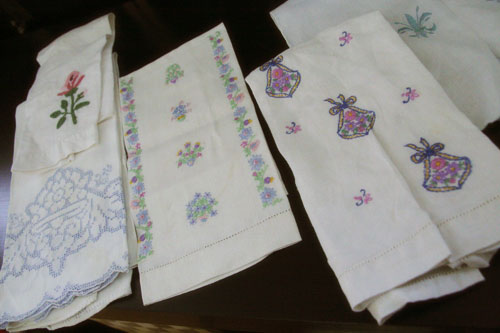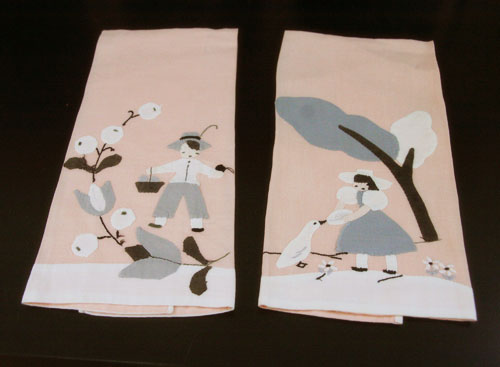 What lovely lovely embroidery. I'm thinking of refashioning some of these future projects.
Oh, but that's not all. Â cocktail napkins. With little cocks on 'em. Roosters, ahem. Plus one darling little wine glass foot cover. I. Die.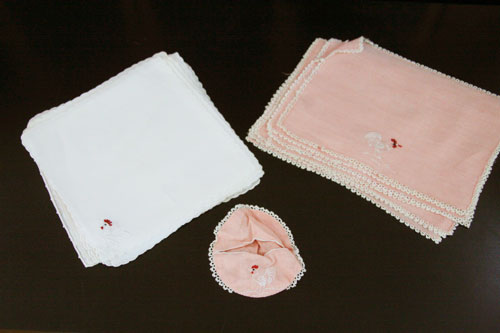 And last, but not least, I also bought some darling little dresses for the Peach.  For a buck each I don't mind if she gets 'em dirty. But I must say the little ric-rac vein up the side is too wonderful for words!
I also had to share with your this amazing coat my friend Jen picked up for herself.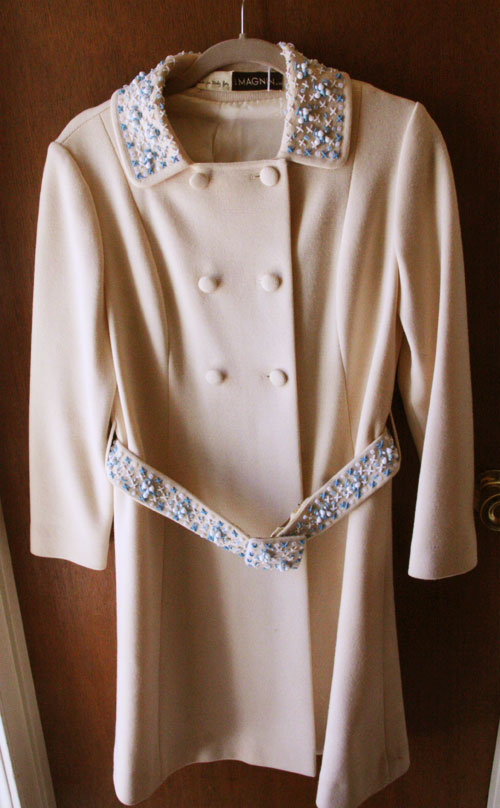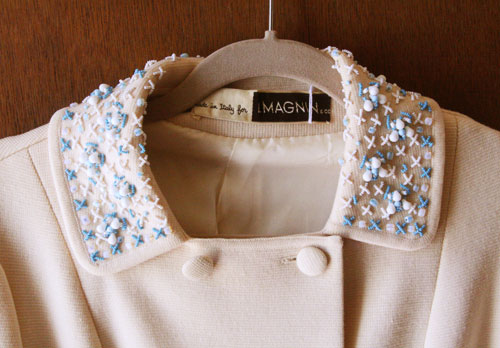 Vintage I. Magnin heavy knit coat with probably the most stunning collar and matching button beadwork I've seen in awhile.  And how much do you think it cost? How much do you think it *should* have cost??