Or rather, while WE were out….
Even though Modern Kiddo was dark, life was still busy, busy around Camp Kiddo! Here's a little bit of what was going on: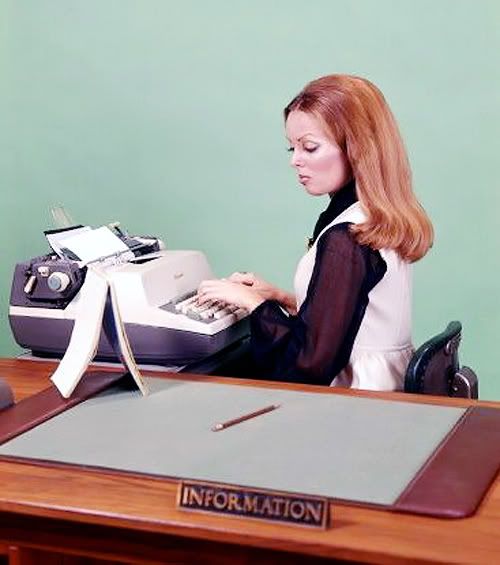 Oh yeah, we won the World Series!!! GO GIANTS! Aw yeeeeeeah! Greg and Wolfie are big Giant's fans and the World Series spirit hit us big time. I'm not a sporty gal, but I *totally* got into it. It was so fun to see our goofy cool team (Fear the Beard!!) doing so well…but also so great to see how excited they got every game and what positive spirits they had. Characters with character. And let it be known that Buster Posey (Rookie of the Year, thank you very much) officially has the best name EVER.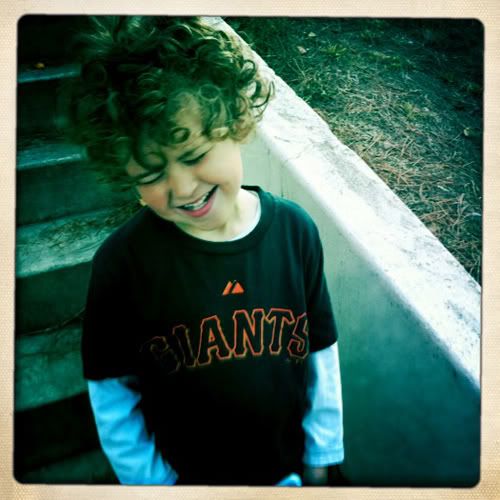 We also dog-sat Henry, my friend Bryan's dog. Henry comes to work every day and I'm his unofficial auntie. If I'm having a stressful day, I scoot down the hall and give Henry a visit. He is a big loveable chocolate lab and such a sweetie. He's very elegant looking but he's a total goofball.
WE LOVE HENRY! We are huge animal lovers in our family and a think a doggie might be on the horizon for us sooooooon.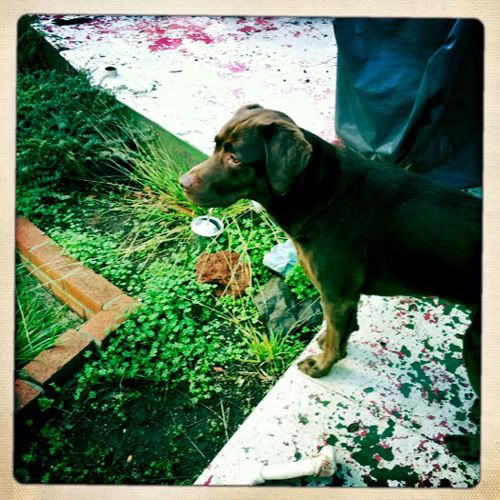 Our weather has been so up and down. A little over a week ago it was POURING rain. And freezing. The only upside I was able to try out my new little vintage umbrella I scored at a super fab estate sale. Of course the last few days it's been in the 70s. Go figure!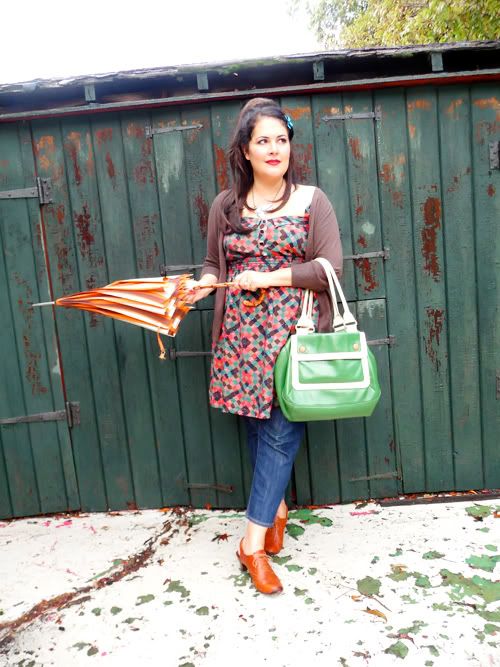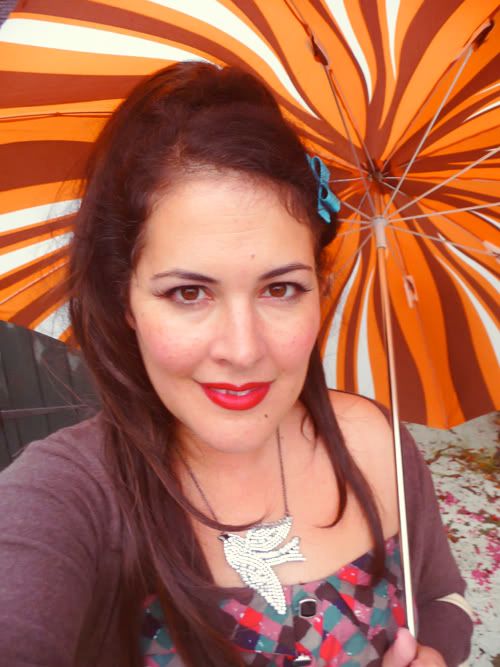 Wolfie is in first grade now and lemme tell ya, it's a WORLD of difference from kindergarten. So much more homework and much more structure, but Wolfie's teacher is pretty great and he is really thriving! This past week we had a totally fun project. The theme was "Things That Go" and Wolfie had to make something that moved, using all recycled materials. He and Greg decided to make a skateboard. It turned out so cute I wanted to show it off!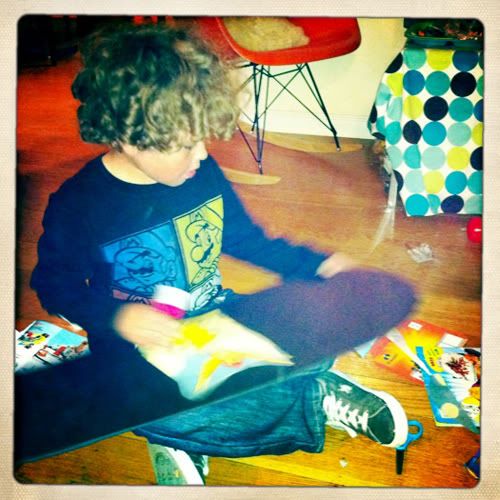 He started with a recycled piece of foam core that was left over from my work. He traced a real skateboard to get the shape just right. Wolfie decorated the top of the board with pictures he cut out from the Target circular and from an old coloring book.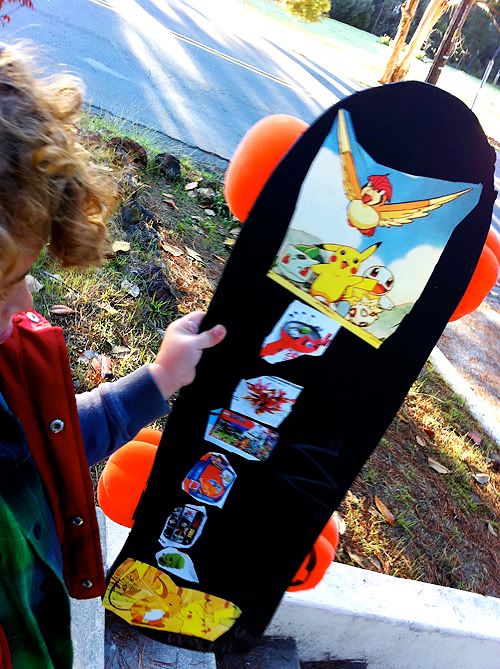 When it came time for the underside, they used smaller pieced of the foam core and the tops of plastic soda bottles to make the trucks—held together with masking tape. The wheels were the tricky part….but then they remembered we had a set of bum Halloween lights that had these jack-o-lanterns hanging off them. They guys took the lights off and used the pumpkins as wheels. It was hilarious and awesome!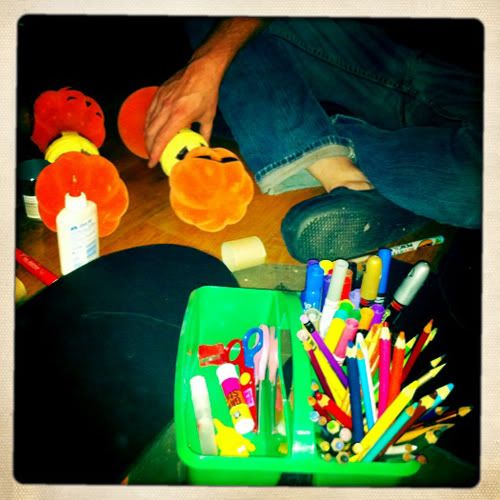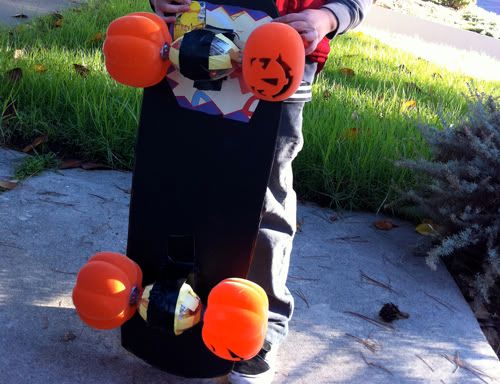 Wolfie was so proud of his board, he was kind of bustin'! It was very popular with his classmates too—Greg and I were cracking up, a 5th grader walked past him and said, "Yo Wolfie, that board is tight!" hahaha.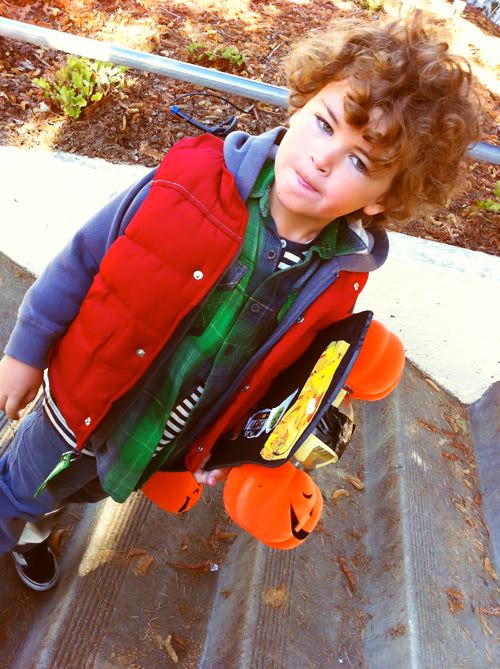 Wolfie does this "flying W" which is so cute  (inspired by the Van Halen logo) I always wonder if his teacher has any idea what it's supposed to be!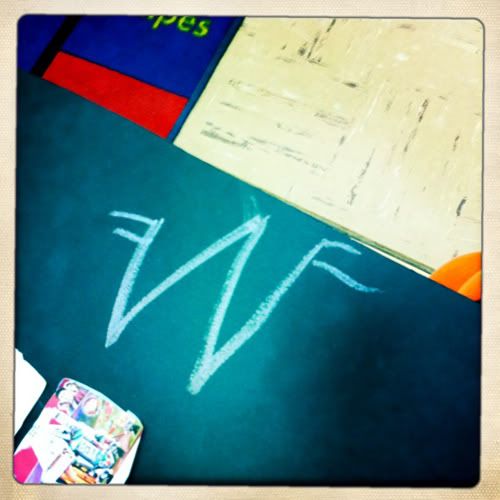 OH! And this is fun. Miss Dottie and I were part of a krazy kool Devil-Ette photo shoot! Being busy working gals and mamas we don't have as much time for dancing with the girls—but my sweet friend Doe (our fearless leader!) invited us to be part of a photoshoot held by rad photographer Mitch Tobias. Mitch's work is vivid and bold (lots of saturated color) so it's perfect for us. It was held at this really great place in the East Bay called Bake Sale Betty's, a quirky fun bakery (diners eat on old ironing boards!). Um, these are my silly iPhone photos. Mitch's will be 10x cooler!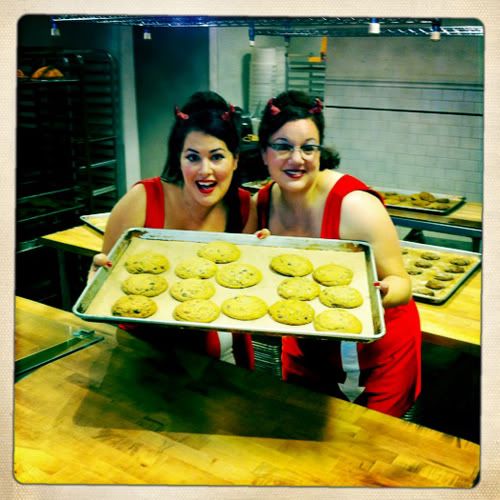 It was soooooo great seeing the girls. Such a fun and bad ass group of ladies. I love 'em all.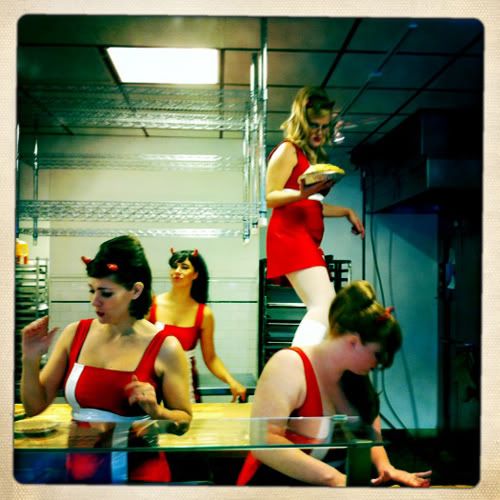 Yup, I'm just a wholesome, All-American, pie-bakin' mama. Hee.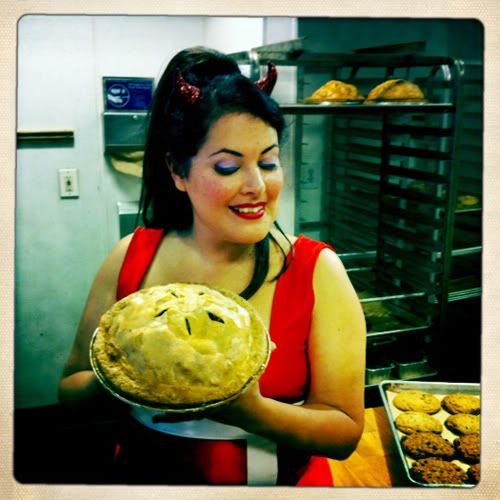 And finally….some really fun and exciting news. Dotty and I are *both* speaking at ALT….the Altitude Design Summit. Whooo hoo! This is an AMAZING blogger conference held during Sundance in Utah in January. We went last year and had an incredible time. The keynote panel included Dooce, Maxwell, Founder of Apartment Therapy, Grace Bonney of design*sponge and Jean Aw of notcot…..and the panels were all a total "Who's Who" of design blogging. The best part, however, was chatting with all the amazing bloggers who attended. We made some fabulous friends and it's SUCH a thrill to be returning as speakers.
If you have the time, I highly recommend attending!!! You know you want to meet us kooky gals in person…we sure would love to meet YOU!