Being the mom of a spunky 5 year old, I don't often get to look at the baby section. Dottie and I were chatting the other day and I mentioned I felt like I was neglecting our teeny readers. Wouldn't it be fun to have a day focused just on the bebes? And that's when Dottie came up with the most genius name ever. So I'm ever so pleased to introduce a new feature over here at Modern Kiddo:

Aw yeah! Yup, today we'll be talking all things baby. I've rounded up a collection of super cutie things for you that can't help but make ya smile. I love bright, bold colors, so that's what made me extra happy on this fine spring day. For example, look at this amazingly cute combo from Kit+Lili, available at artebebe: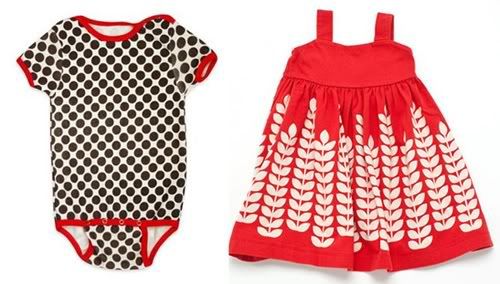 The black polka dots give it just a little bit of edge and that red frock is adorable. I also love these little graphic prints. True the owl is a bit ubiquitous, but this is a pretty sweet version: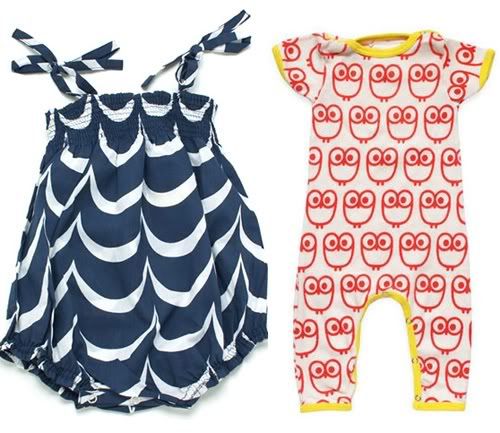 One of the cutest brands for little boys is Mini Boden. They do an amazing job of creating fun clothing for boys. Of course their little girl's clothing ain't too shabby either. I warn you, you'll be sucked into their crazy cute world….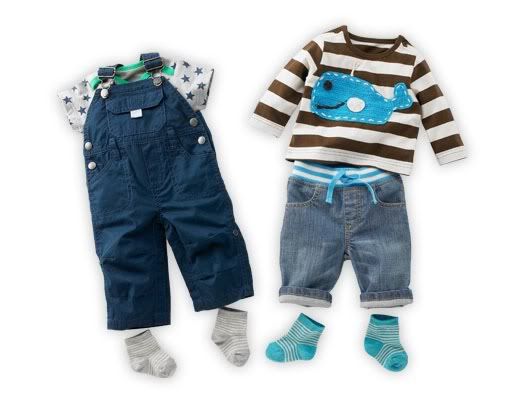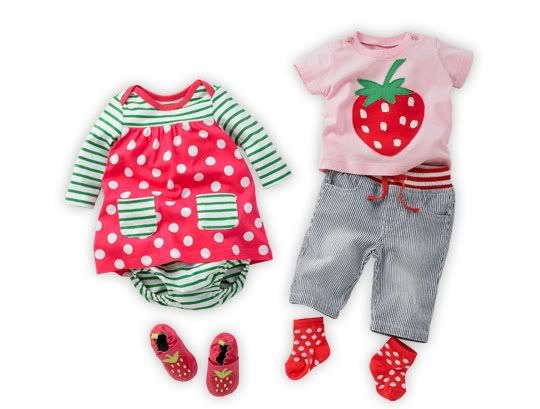 Houston, we have cuteness. I really loved the 70s photo-realistic silkscreen on these groovy onesies, available at Retro Baby. Wolfie would have loved the rocket launch (kind of reminds me of the old skool "I want my MTV" promo!) and little kahuna's everywhere will love the surf romper, when they hit the beach this summer: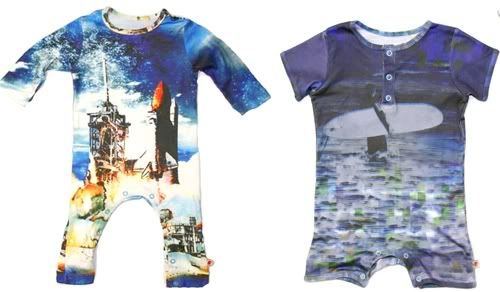 OK, why is it that little things are just so much cuter?? Check out these insane little booties….red, wingtip, FABULOSITY Currently on sale from Jacadi.

For you rock-n-roll parents out there, take a look at these two goodies from Psycho Baby. Who says babies can't wear black?? I also like their playful take on the skullie motif!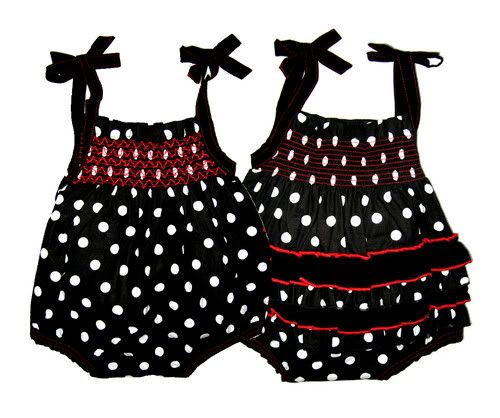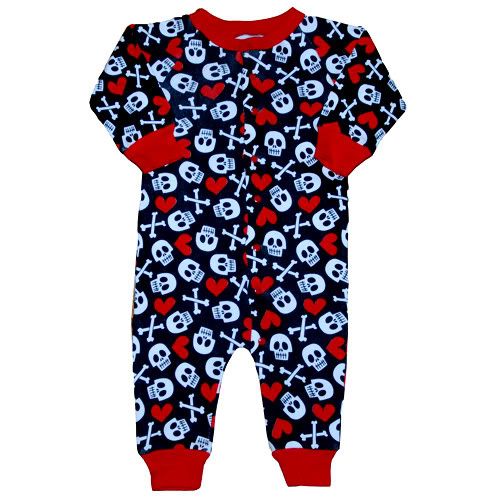 If you're a crafty type you can make these gorgeous little shoes yourself. Just check out the tutorial from the crafty geniuses at  Sew, Mama, Sew!

See Kai Run has amazing shoes and these little golden t-straps would be adorable on your little miss: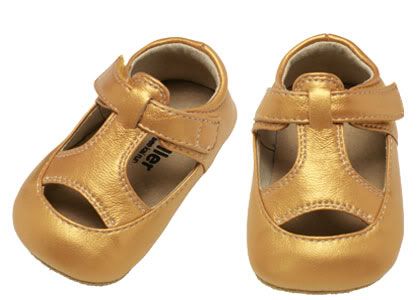 These Scandanavian prints are all the rage lately, and I'm still not tired of them. Find these and even more psychidelic awesomeness at Ittikid's online shop.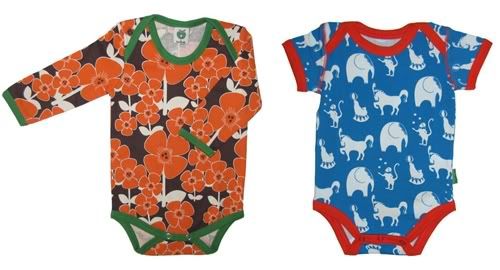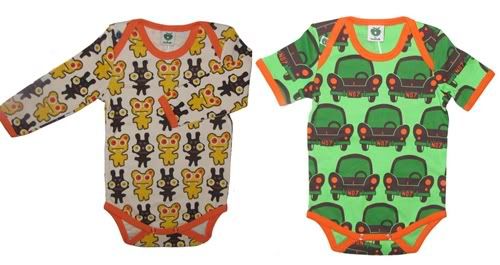 Some of these items are a bit more spendy, but the awesome news is that these days you don't have to spend a fortune on . Now you can scoop up totally brilliant prints for as low as $6 at your friendly neighborhood Teerjit. Look at that adorable bicycle Pedal Power shirt!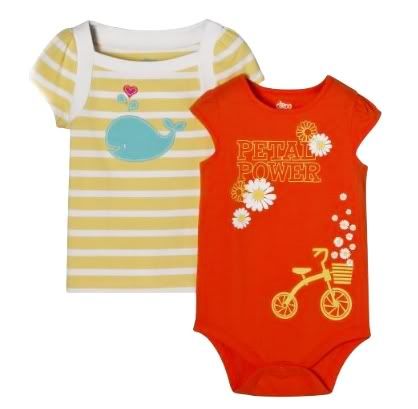 OK OK, that's just my fancy name for Target (makes it sound like some hot Euro brand, haha). I'm loving all the fun graphic prints they have been featuring lately. We're also big fans of Small Paul by Paul Frank, and their Paul Frank for Target is crazy affordable and cute as can be.

These Dwell Studio for Target picks also are amazing and look like they cost much more than $9.99-$12.99, lemme tell ya.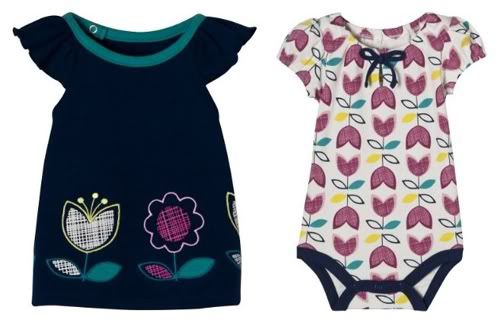 And of course, how could we neglect to give a tip of the hat to the line that is allll the rage, Liberty of London at Target?? The pieces are all extremely cute and have great detailing on them. This little romper even comes with a wee sun hat. And those sandals (while not Liberty) are a steal at only $10!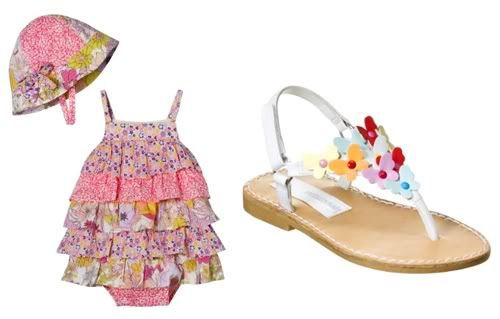 That's all for this edition of Widdle Wednesdays. What do you guys think? More baby? Shall we celebrate the tiny treasures every Wednesday? I'm up for it if you are! Shoot, I don't even have a baby, and all these things still make me smile.