Ahh, Japanese Pose Dolls…..wide eyes. Languid limbs. Oh so pretty to look at. They're like a big-eyed Keane painting come to life! Made in the 60s and 70s in Japan, these quirky dolls are known for their long, long legs and their mega style! I think they are impossibly groovy.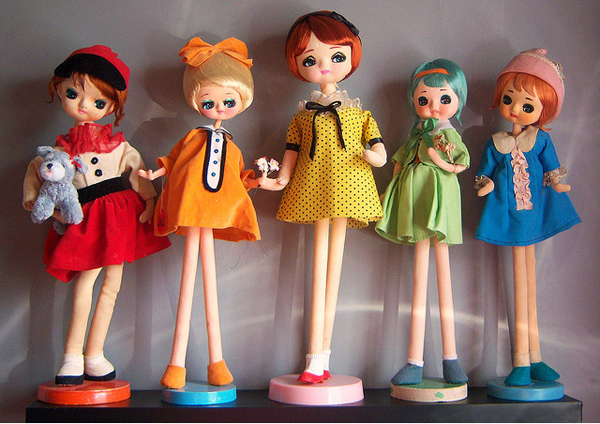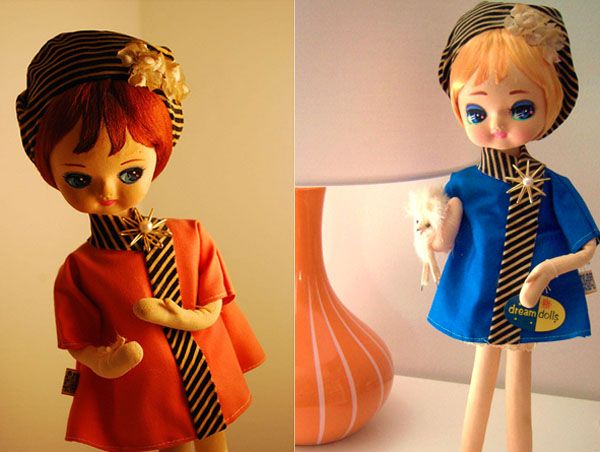 My favorites are the more mod looking ones, although I have to say I have strong memories of those 70s pose dolls in their feathered hats and big ol' hoop skirts. I have to admit I don't know too much more about them. I do know they were made by the Bradley company and also by Dakin. You know, maker of my favorite Dream Pets. They were called Dream Dolls (of course!). One thing they all have in common is that wistful/coy/dreamy look that is just totally awesome. Oh, and of course poseable arms and occasionally hands. Eep! I just noticed that little miss yeller down there isn't in a very lady like pose. Ahem.
Do you have any? Do you know any more about these slender ladies? I'd love to know!
images: 1 2 3 6 7 Be sure to browse the amazing collection of gina 678.