ALAS, THIS GIVEAWAY IS OVER. THANK YOU FOR PLAYING!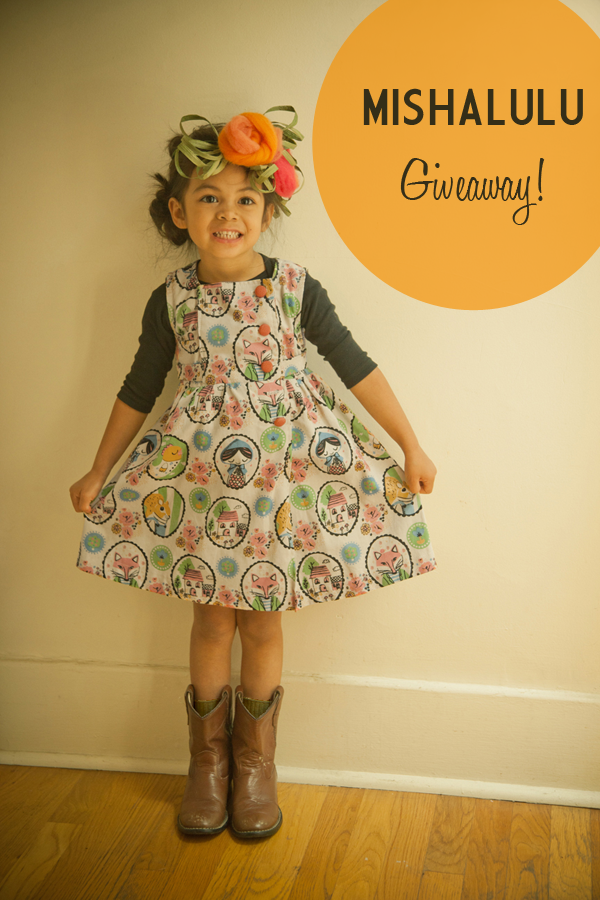 You remember our last giveaway with Misha Lulu, the wonderfully fun and beautifully line of girls clothing, right? Well, we are doing it again! But this time Karen Salazar, the mastermind behind Misha Lulu is giving us zee most gorgeous dress to give to one of you.
Oh, this dress, this darling darling dress.  It's the Wallpaper Jumper from Misha Lulu's fall line. This little sweetie is made of a fine corduroy, printed cord with one of their original designs and featuring with pinkie red buttons down the front side and a tie in the back. CUTE!!
It is soooo dang sweet and could be worn either with or without a shirt, depending on your mood. The winner of this sassy little number will be able to choose from sizes 2,4,6 or 8 years old. Did we mention this is a $64 value? Yee haw!
Wow. I'm dying. OK, so to win this dandy little dressie of insane cuteness here's all you need to do:
Leave a comment on this blog entry
That's it! Buuuuuuut, if you want to get bonus entries, you can (and should!) do the following:
Follow us on Twitter. If you are already a follower, tweet about this giveaway—don't forget to include @modernkiddo in the tweet please! You can also follow our personal twitters @galexina and @missdottie
"Like" us on Facebook
Stop by the Misha Lulu blog and leave a comment! It's a great blog that you'll want to come back to again and again!
You'll get one entry for each thing you do. If you do all three (or five) you'll be entered an extra three to five times.
This fabulous Misha Lulu Giveaway ends on Monday, September 26th at noon-PSTÂ and the winner will be announced Monday, September 26th at 8:00PM-PST.
Good luck, and I'm crossing my fingers you win!