We knew we wanted to stay at a fun hotel—with an awesome pool. There are SO many great options, but we ended up at that Pinterest dream, The Saguaro. I gotta tell you friends, it was totally fantastic. For a color loving gal like myself, I was in heaven!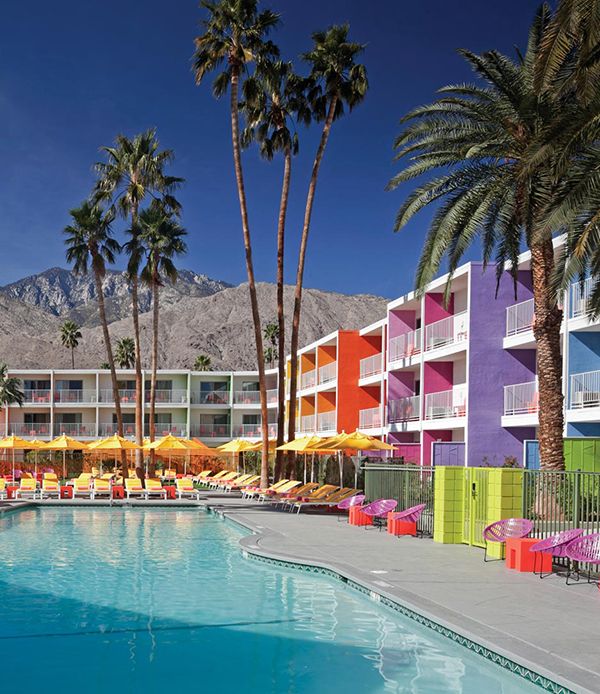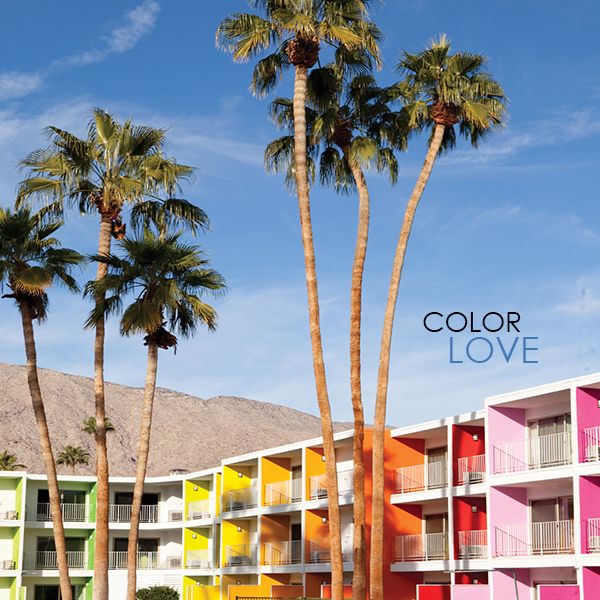 This former Holiday Inn resort was completely renovated and reimagined by architects Peter Stamberg and Paul Aferiat and they've turned it into a colorful playground of modern design.
Named after the iconic cactus of the Sonoran Desert, The Saguaro is a vibrant stand out in a sea of "understated chic" modern hotels. Ain't nuttin' understated about this place! The attention to detail is fab — air conditioners are even painted to match the room's color schemes and all the pool towels are a vibrant pink. For a "hip hotel" the pricing was pretty affordable. Oh, and just in case you're like me and had a few doubts, you pronounce it 'Suh-gwarh-oh'. Let's take a look around!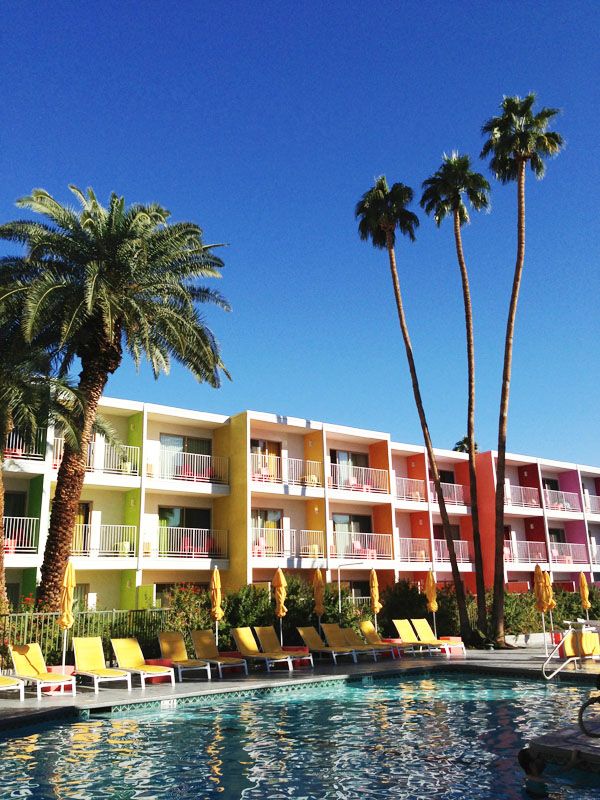 REALLY EXCELLENT POOL.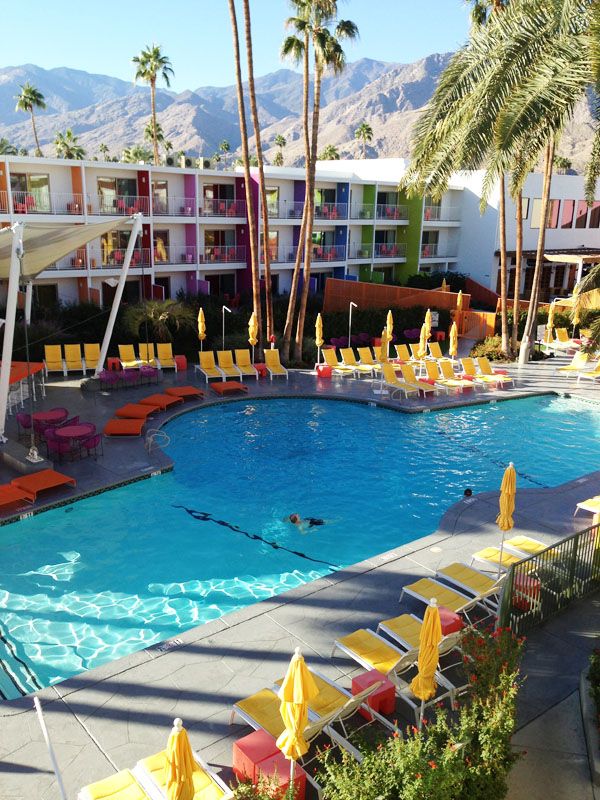 When you go to Palm Springs, one of your main criteria should be the pool vibe. It's hot down here people! I have to say this Olympic-size resort poolis pretty perfect for families and couples alike. The deep end is actually in the middle—and each "end" of the pool is a shallow section. That means there is more space for kids, as opposed to having all the kiddos crammed into one splashy end of the pool. But it also means that the middle "deep end" is a bit of an oasis for grown ups. It's also conveniently located right by the bar. Smart! Oh, and there are TWO hot tubs. Hubba hubba. We went in November, and the temperatures still climb pretty high that time of year. Once thing to note is that once the sun sets, it sets FAST. By 4:30, the pool was completely shady and the temperature started to dip.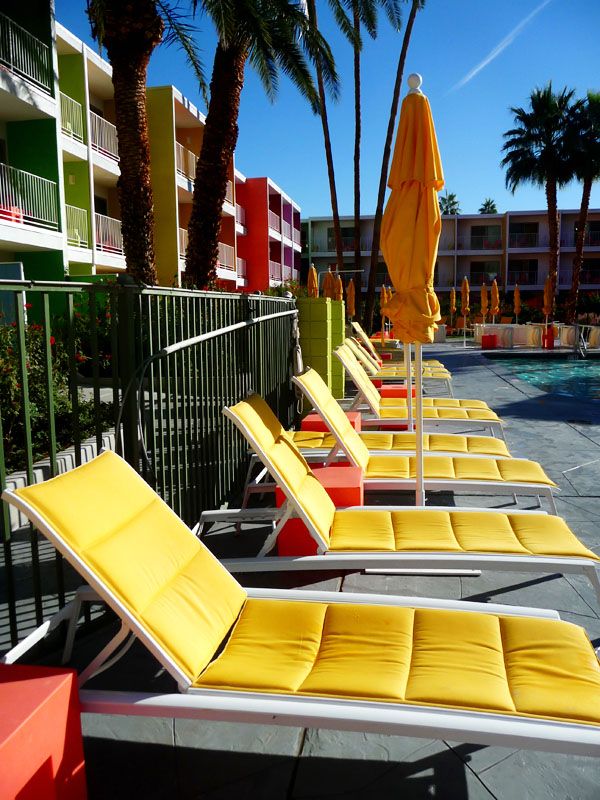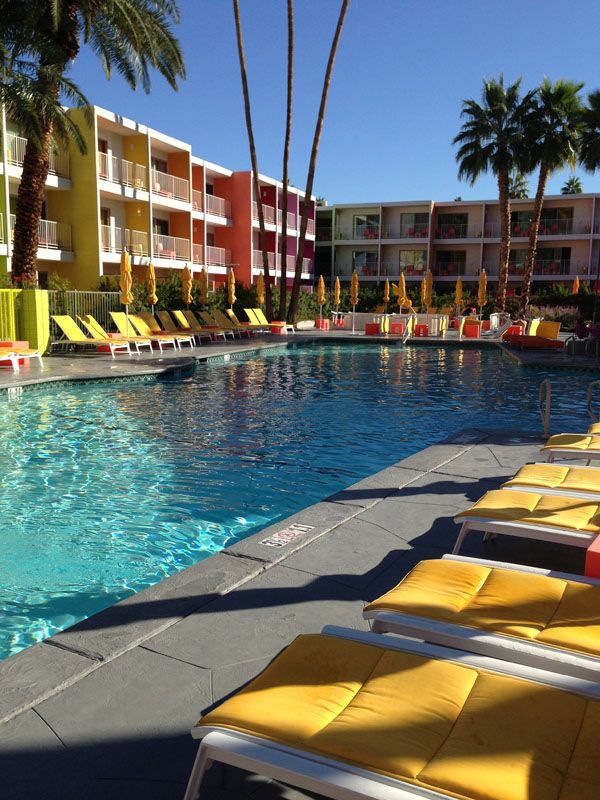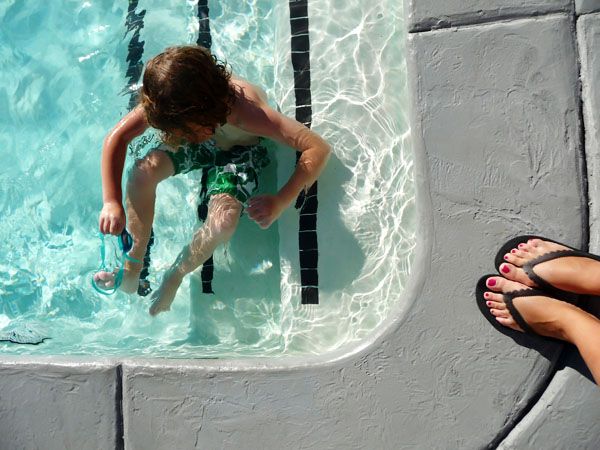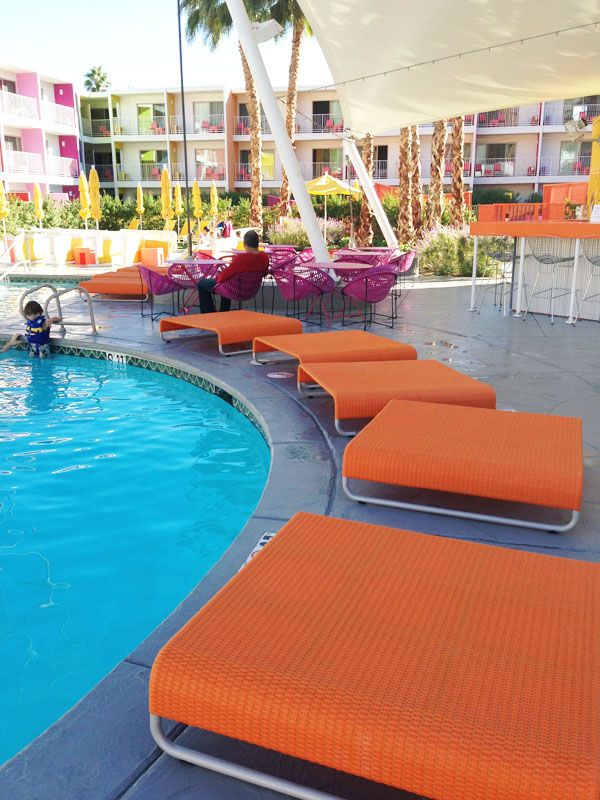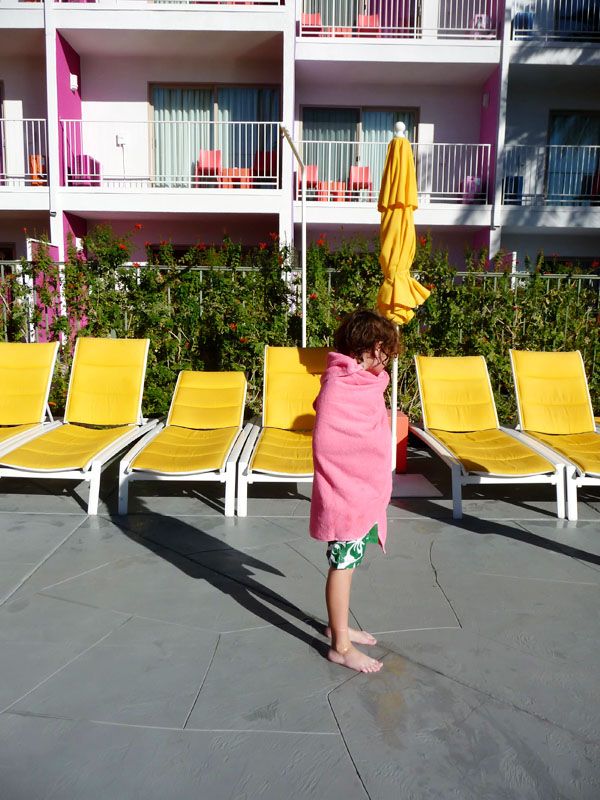 A ROOM WITH A VIEW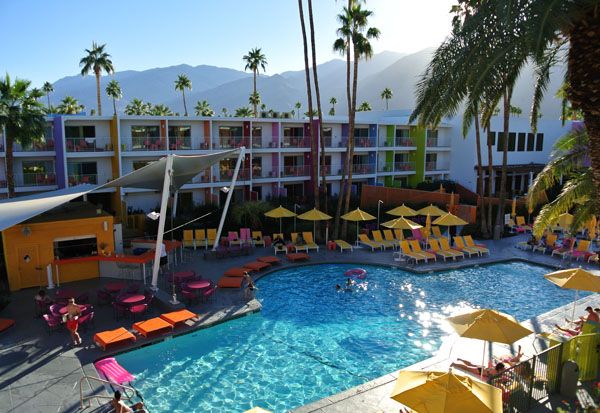 Nearly every room has a balcony or patio and is accented inside and out by the brilliant colors of native Mojave wildflowers. We requested a pool-side view (the other option is view of the glorious mountains) and Wolfie LOVED this! He'd pop out there every morning to see if anyone was in the pool and we loved standing out there as the sun was rising. If you have really small children (or a kiddo who is a little more rambunctious) request a patio instead of a balcony. The rooms themselves aren't particularly fancy and the bathrooms are a tad small (you can tell it's a refurbished motel) but for the price (compared to many of the other much more spendy hotels in the area) it was just fine.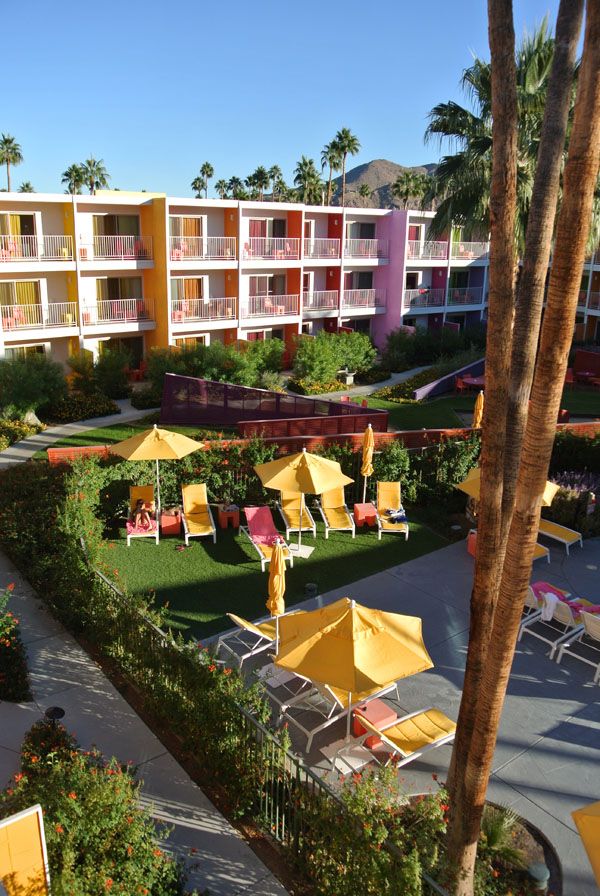 ALWAYS MATCH YOUR SHOES TO YOUR ROOM. Hah.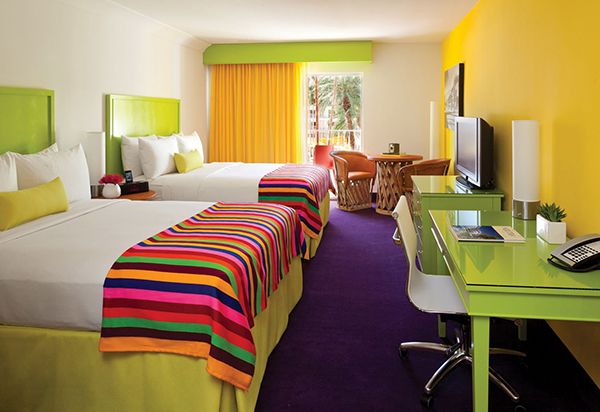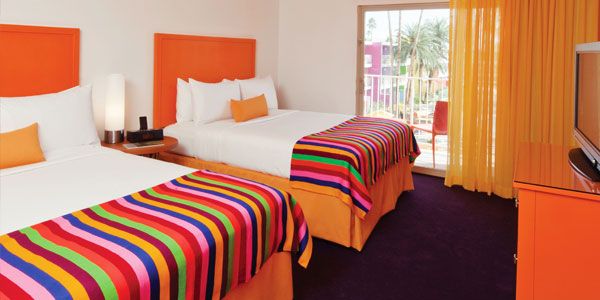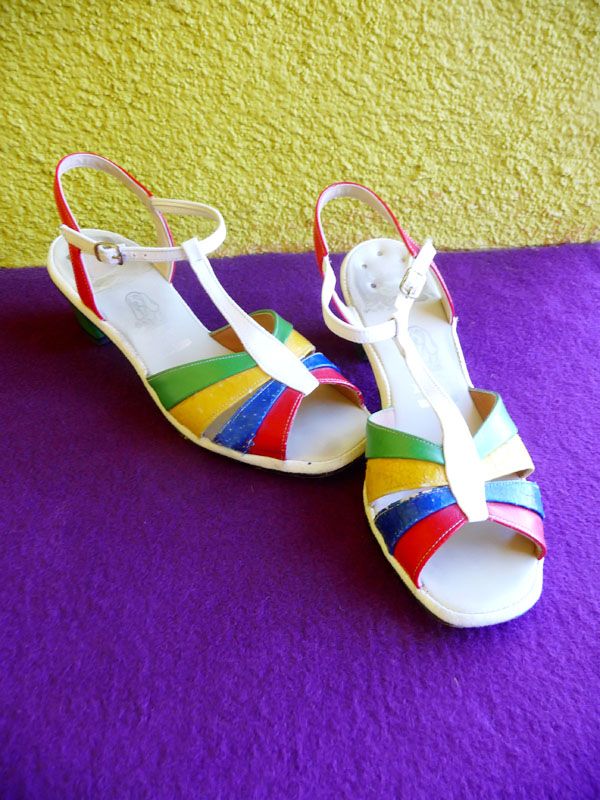 AND THEN THERE ARE THE DOORS.
The rooms themselves are colorful and cozy. It's a refurbished old-school motel, so all the rooms face the inner pool area, but all the doors are on the exterior, facing the parking lot. Normally this would be a bit of a drab scene, but not at The Saguaro!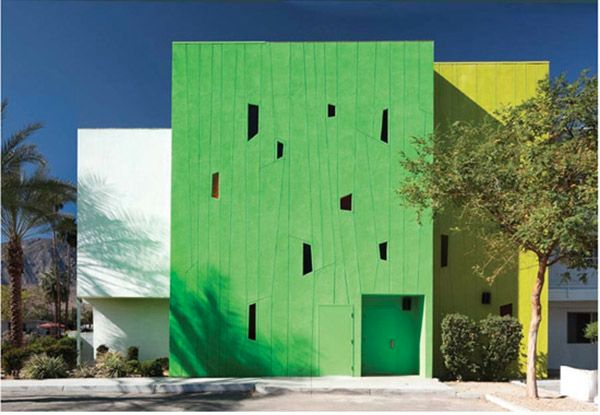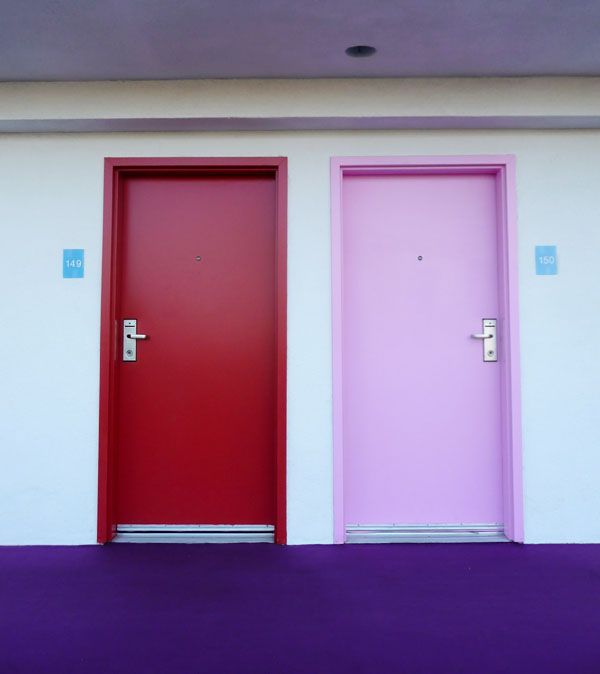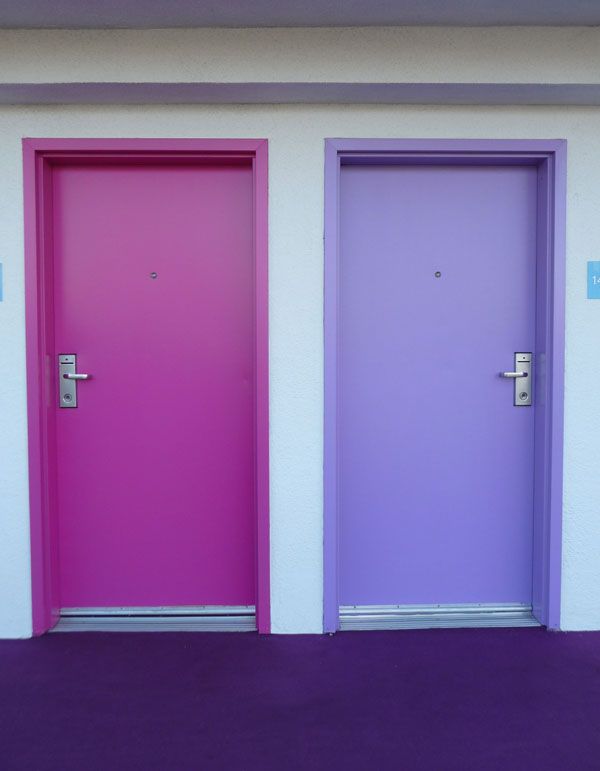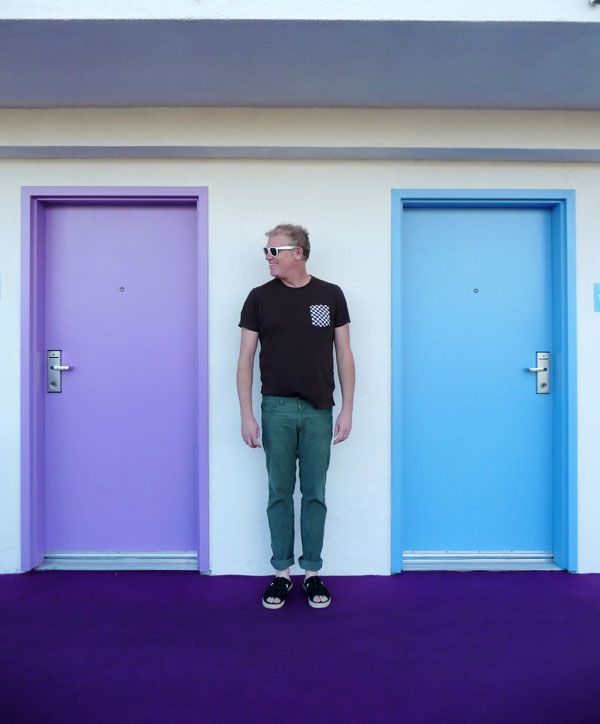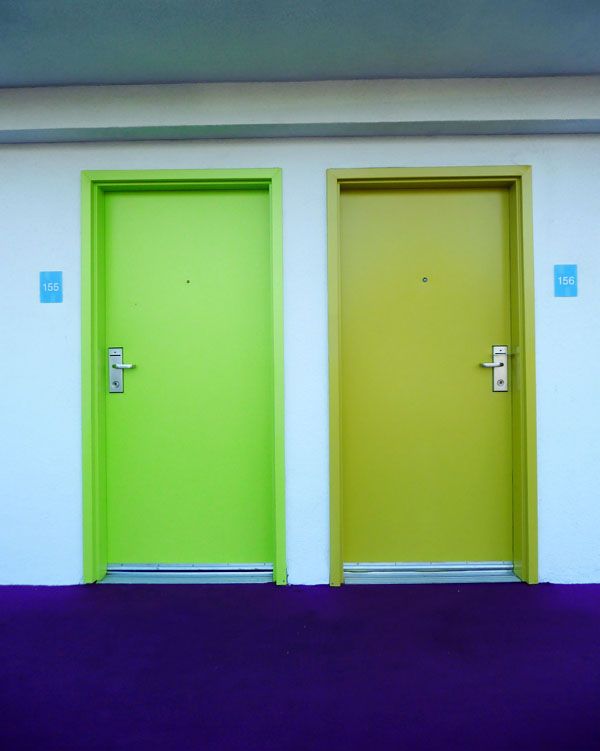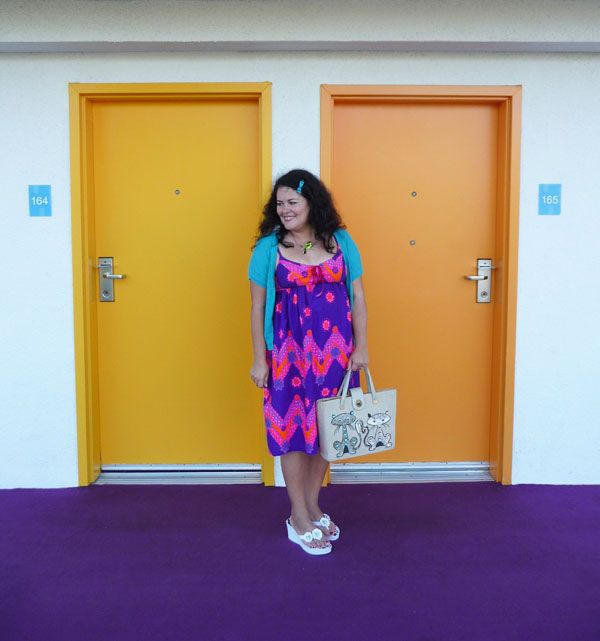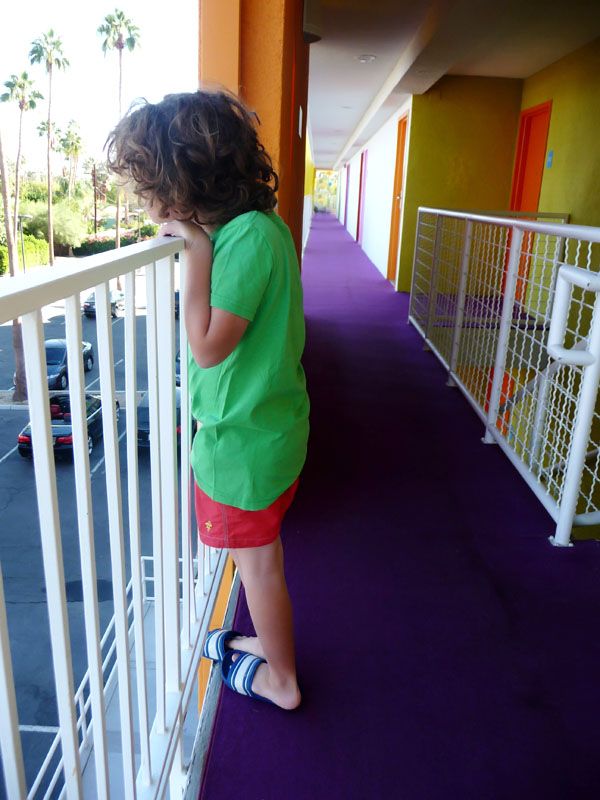 Oh, there are no elevators. Which isn't a big deal, since it's only a three story building…but something to keep in mind as you pack!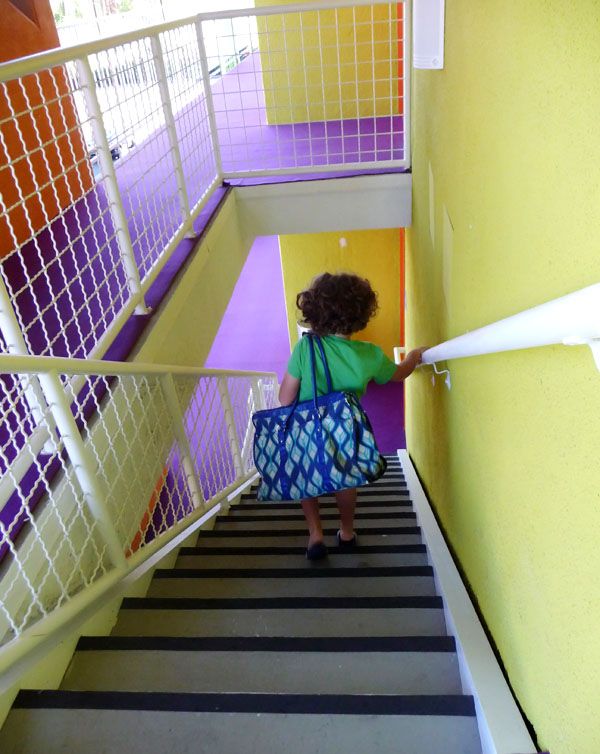 While you'll probably want to head out and explore the city itself, there are two restaurants on site. Tinto (a "Basque-influenced eatery and tapas lounge") is a pretty tasty restaurant. The somewhat livelier El Jefe is more of a cantina/bar/lounge and has smaller bites to eat. When we were at the hotel, it was a really great mix of people. Mostly couples and adults but also enough families that Wolfie felt welcome. Oh, and it's a dog-friendly hotel too, which was awesome. Just keep in mind the heat if you decide to bring Fido! You can't keep pets in the hotel room alone, and the pavement can get really hot on their lil paws.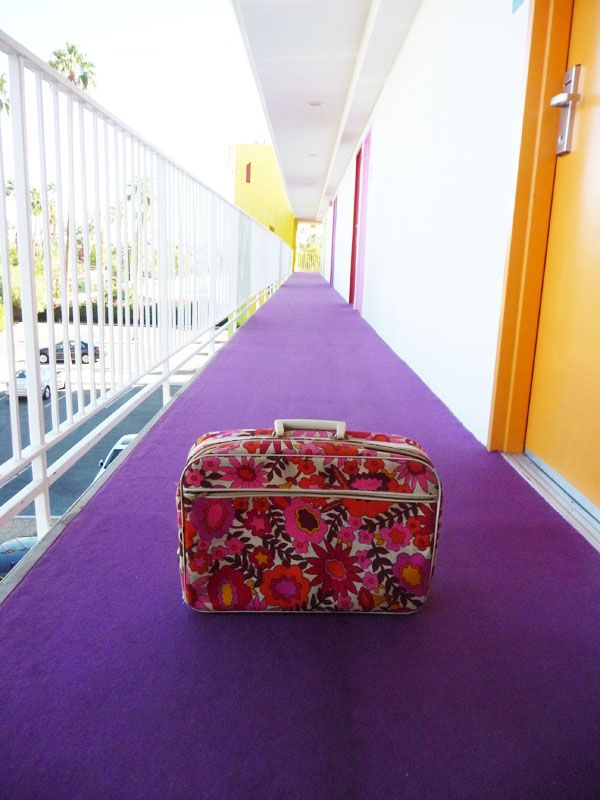 All in all we gave The Saguaro a big thumbs up! I'd definitely stay there again. Some other family friendly hotels: The Ace (super popular "modern bohemian" hotel that is very welcoming to families), The Caliente Tropics (a tiki-themed motor lodge that is funky!), The Chase (totally affordable and has that great old school small hotel feel), A Place in the Sun (very cute lil inn that was originally built in the early 1950′s as a retreat for the production crew of the film classic "A Place in the Sun" starring Elizabeth Taylor, Shelley Winters and Montgomery Clift!) and if money is no object, The Viceroy (Kelly Wearstler designed palace) and The Parker (Jonathan Adler fabulosity!). I'll be showing off The Parker next post…Have you ever been to Palm Springs? Where do you like to stay? I always love hearing about new places!