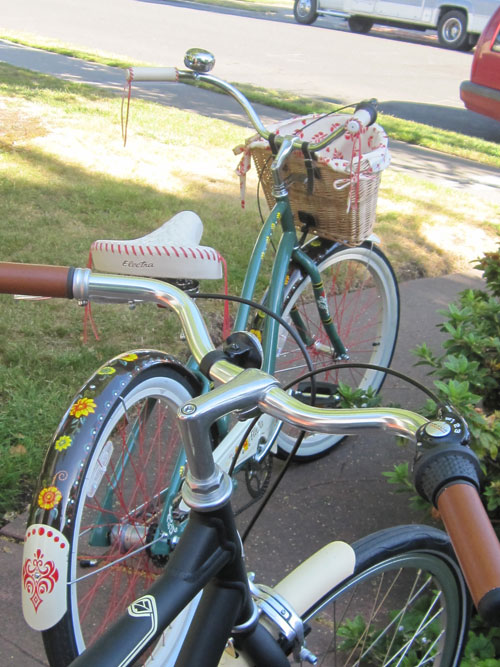 Hi hi everyone!
Did you have a grand fourth? Was is filled with red, white and blue cupcakes and fireworks? And maybe even a widge of sleeping in? GOOD FOR YOU!
For my little family it was a chance to go for a bike ride. My first date with my sweetie was supposed to be a bike ride. I've even received vintage bicycles from him twice as presents.  Even though the Bay Area is known for hills, our neighborhood is wonderfully pancake flat and perfect for bike riding. It even inspired me to splurge on one last bike.  Well, I did sell my fancy road bike from when I used to race. But I think my Electra Gypsy is much more my speed these days and it is admittedly more reliable than my old vintage ones.
We knew that as soon as the Peach was old enough we were going to incorporate bike trips into our lives.  After some online research on bike seats for babies, we settled on the Co-Pilot brand that attached to the back of the seat. And we found the perfect helmet from Nutcase to protect her little noggin.
And because the Peach likes to hydrate as much as her Mama, we attached her little water bottle and a teething toy to her little  seat.
Doesn't she look comfy in the bike seat with her helmet on? Just kicking it old school up there, like she was born to ride.  Please note that this was after her first five minute bike ride where we just walked the bike and she cried hysterically from her little bike seat. But the next time, she was very happy to hop on the back of the bike. This proves that you just have to try stuff at least once with a kid. And we are so glad we tried again, because these summer rides with her have been wonderful.
We go on hour rides at least once every weekend. We found a beautiful and almost empty path near our house that wends its way across the island and through this old Naval base.
Around some not necessarily abandoned, but not open buildings that would make amazing lofts—look at those windows…
We get some grand views of the city.
And the Oakland cranes.  Did you know that they were supposedly were the inspiration for the AT-AT walkers in Star Wars: The Empire Strikes back? I think you can see the connection, personally.
The naval base has some nice old houses where soldiers lived with their families in the forties and fifties.  This sign I think is original and from that time.  I love the little girl's bow in her hair.
It's a perfect way to take advantage of summer weather. What have you been doing this summer with your kiddos?