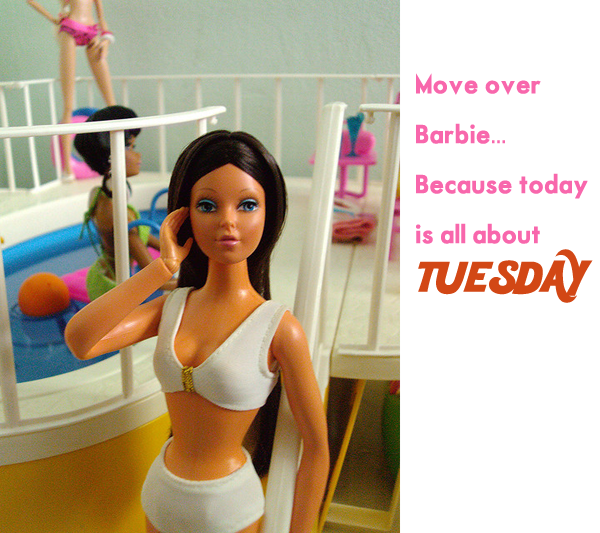 I can only imagine how tough all other toy companies had it when Mattel launched Barbie.  Well, Ideal Toy Company  had an idea.  And it was to make a Barbie-ish doll. But far far groovier for the seventies. Tuesday Taylor.
With a name like Tuesday Taylor, you had to kick ass. And she did.  This versatile lady entered the disco dolly scene in the mid seventies before burning in 1978. But for those few years, Tuesday owned the world.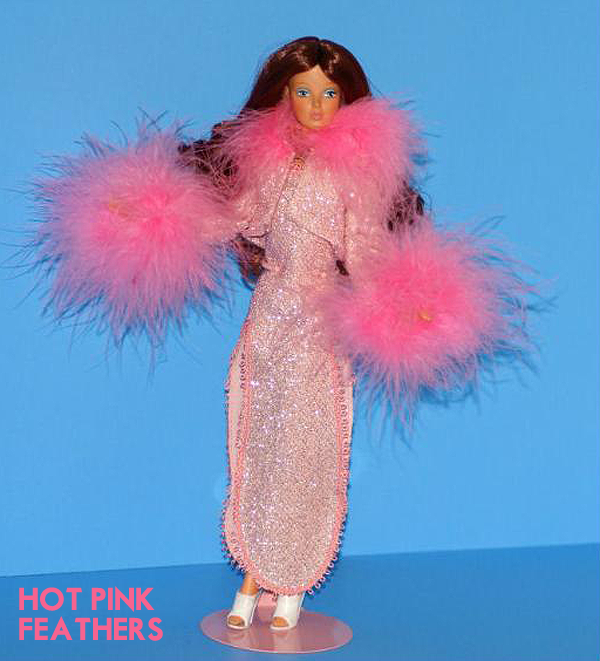 Tuesday was a girl of  many styles. Being just a brunette wasn't enough for Tuesday. No, no. Flip her scalp and BAM, Tuesday is a blonde.  Tuesday had blue eyes with rooted eyelashes for extra glamour which would allowed her to sashay right into Studio 54 in a hot second. But Ideal saw room for improvement introduced the world to Suntan Tuesday Taylor doll, who came with a sheet of suntan doodle stickers that when the doll was placed in the sun would give her a tattooed look. BECAUSE THE DOLL WOULD TAN IN THE SUN(!)
And it goes without saying that Tuesday had a KILLER wardrobe too! Gold lame and prairie skirts? But, of course!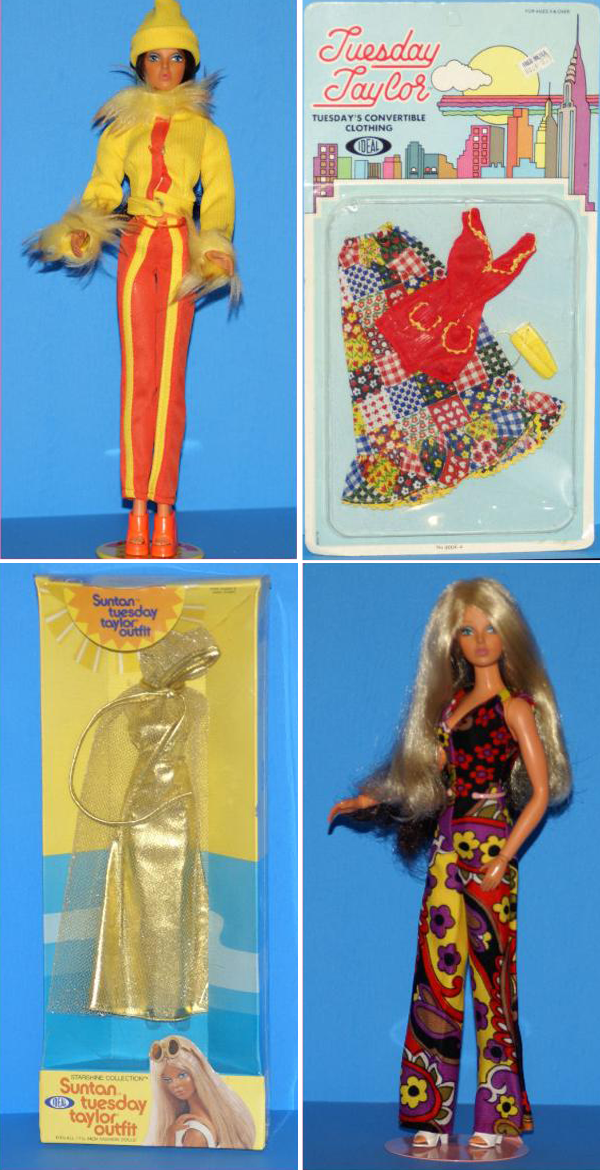 All of that awesomeness needed a place to call her own.  Tuesday needed a place as versatile as her own scalp.
Behold, the beach cottage/ski chalet!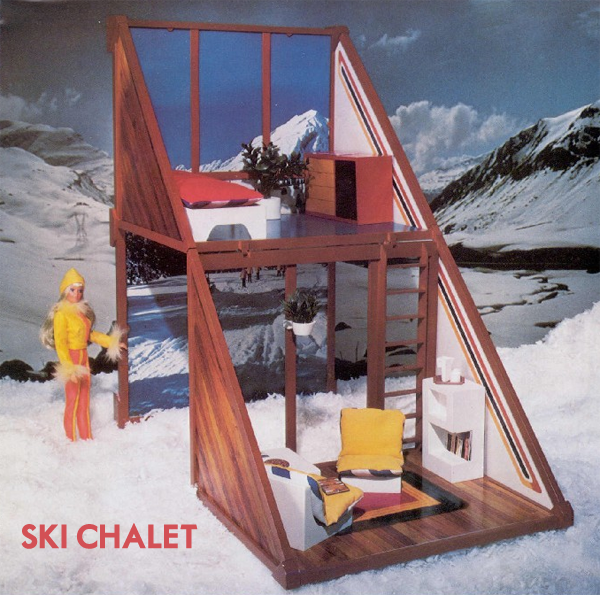 RIGHT?
And yes, Tuesday did have a pied a terre in the city, too. All the easier to hang out with Halston and Liza.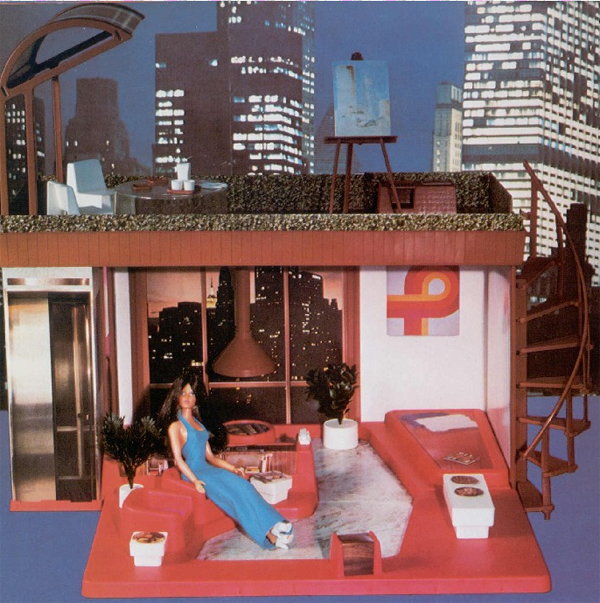 But of course she invited her fab friends over to her pad. Her boy Eric and gal pal Taylor Jones (who had her own two toned hair situation).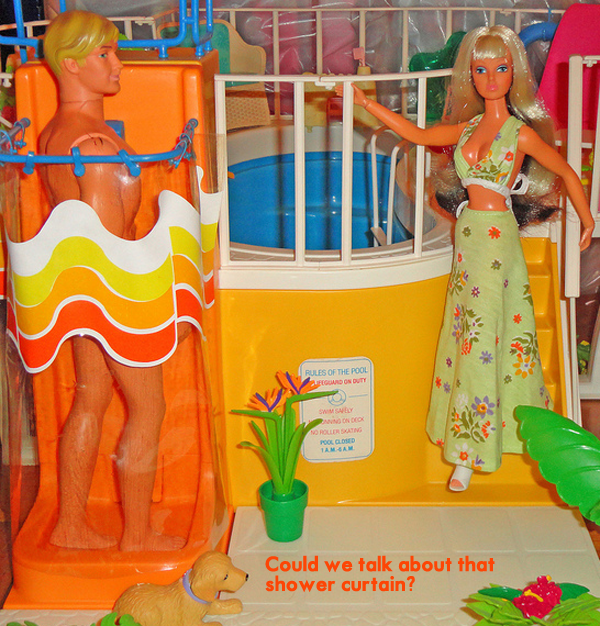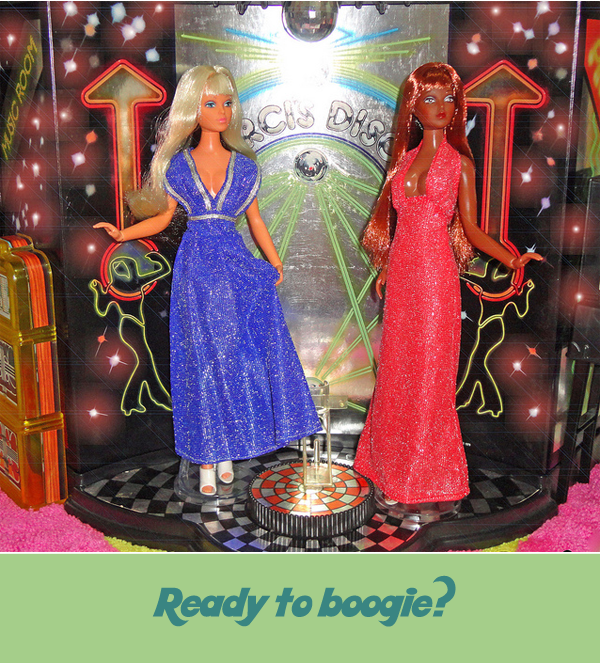 Oh, Tuesday, you are just like the seventies–always changing. According to Jewels Doll Castle, Ideal truly experimented with Tuesday   She noted:
"There was also a Beauty Queen Tuesday Taylor doll who is a great doll that has only blonde hair that does not change to brunette. She is a straight leg doll that comes dressed in an orange and yellow ribbon bathing suit with orange platform shoes. The platform shoes have magnets on the soles to attach to her round stand. The stand is just a circular metal disk that says Tuesday Taylor on it. Then the last edition of Tuesday Taylor was the Super Model with her Fashion Stepper. The Fashion Stepper allowed Tuesday to walk like the Walk Lively Barbie & Steffie dolls of the 70's. She had blonde hair that is usually styled in a curlier hair style and, like the Beauty Queen doll, she does not have rooted eyelashes. The Super Model Tuesday also came in a black version but she was not named Taylor Jones as the previous black dolls had been."
But, man, what a great ride it must have been for Tuesday and Ideal!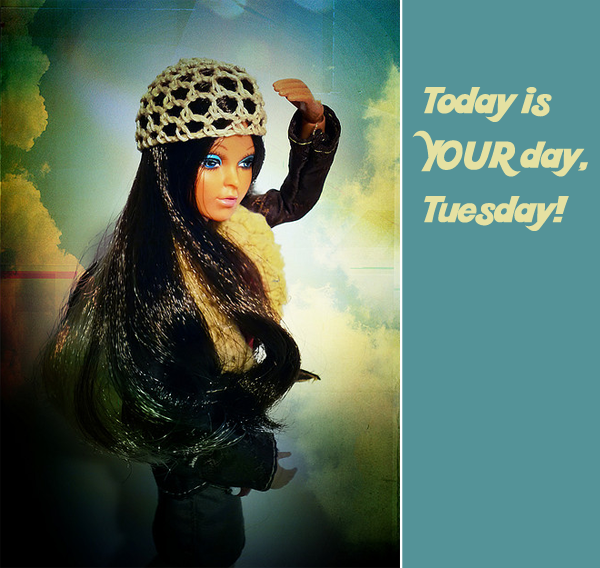 Pictures from Oh My Dolls, Jewels Doll Castle and Flickriver.com
Did you have this doll? Were you a Barbi fan?