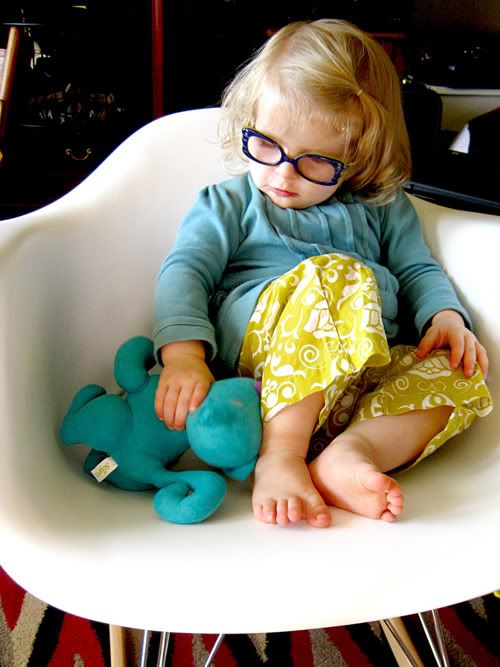 Hi friends, Dottie here! I'm still out today, but we have a special treat. The lovely and charming Mari from Small for Big is chatting about something near and dear to my heart—sassy specs for kiddos! I personally have been wearing glasses since I was eight years old. I've probably owned 50 pairs of glasses in my life so far and I love them.  A friend of mine's little boy was diagnosed with needing eyeglasses and she was so upset about it, until I showed her pix of little Miss Birdie, Mari's wee girlie rocking her glasses. Nuff said!

Hello Modern Kiddo readers! It's Mari here. When Dottie asked if I'd do a post on children's eyewear, I admit it, I did a happy dance. Birdie has been wearing glasses since she was 16 months old, so I am absolutely positive that any research I do will only help keep us on the ball when it's time to get our next pair! Well, as long as I have any say in it of course. I suppose one day she's going to ask me for something Disney-related. I can't bear to think about it.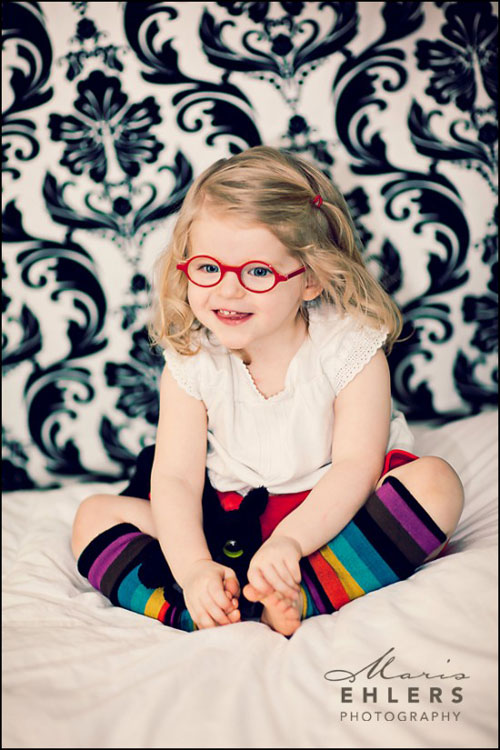 So I won't! Let's start with the brands Birdie currently owns. First, we have BBig's almost round red glasses with their brilliant yellow and white stripey interior. BBig does a great job at keeping things sassy without resorting to flowers, bugs, teddy bears and their ilk. Thank heavens.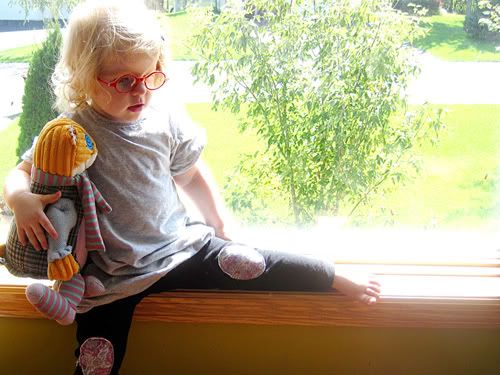 Then, we have Zoobugs.  This line is no longer available in the states, but I have a new blog friend who was so desperate for a pair I know for a fact you can order frames directly from Zoobugs if you'd like your very own.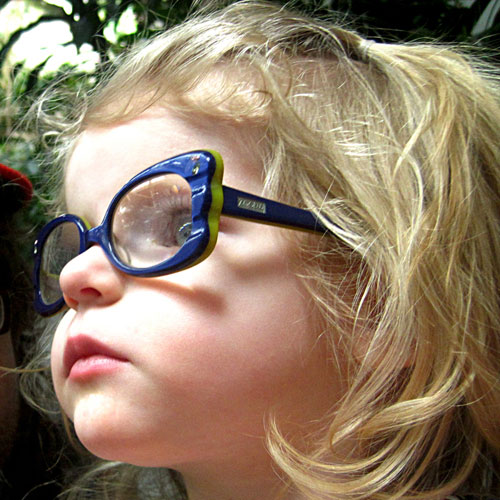 Meanwhile,  I'm still regretting the vintage children's cat eyes I left behind last summer at a flea market. This pair of kids cat eyes is a close second.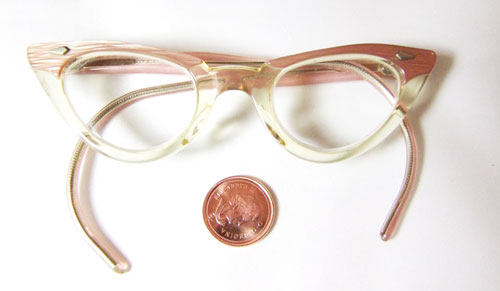 And of course how can anyone go wrong with vintage daisy eyewear?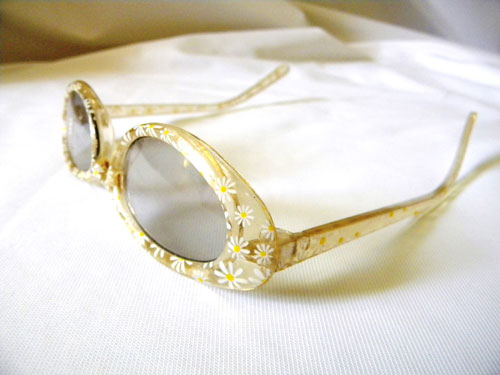 For a more modern take on vintage, check out these unbelievably perfect options from Etnia Barcelona, I'm swooning over here. Would it be horrible to buy matching pairs for Birdie and myself? That's a yes, right?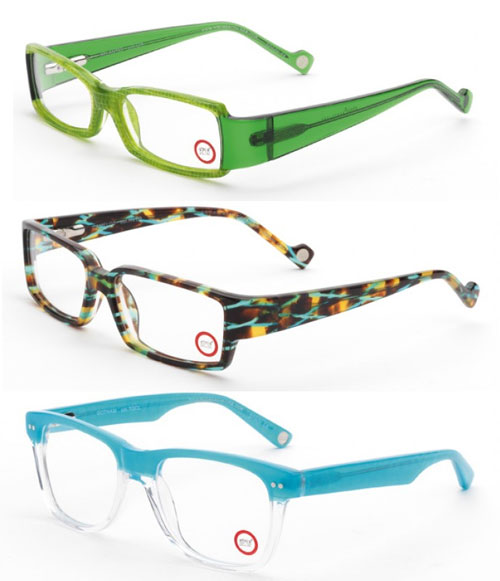 And Red Optical in London has some uber mod selections:
Even if Harry Potter made them commonplace, a pair of perfectly round horn-rimmed specs still makes my heart flutter (no, I do NOT have a potter crush, that's a platonic flutter). These Solo Bambini Glasses will fix my addiction.

If you have to do flowers, I've found the perfect pair from J.F. Rey: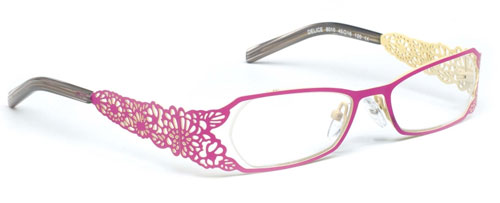 It's time to hop over to the crazy side. How about Agatha Ruiz de la Prada's crazy cool rainbow frames:
Or these "practical" baby pacifier sunglasses (found via Handmade Charlotte).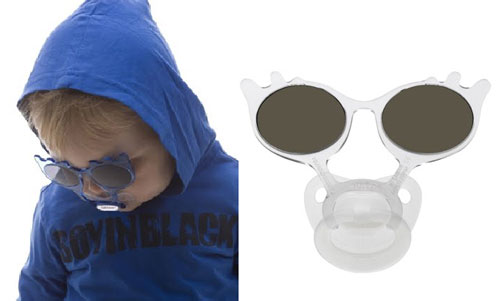 Last but not least, there was some concern Birdie would need an eyepatch – this is a common problem with bespeckled kidlets. But who wants a bandaid over their eye? (Being a former bandaged eye girl, I know the embarrassment, the terror, and the tickling of the eyelashes). Instead, I'm over the moon for this girls eyepatch from Hello My Name is Heather:
Pretty amazing, no? Thanks again Miss Dottie for the invite— it is always a pleasure to come over to the Modern Kiddo POV!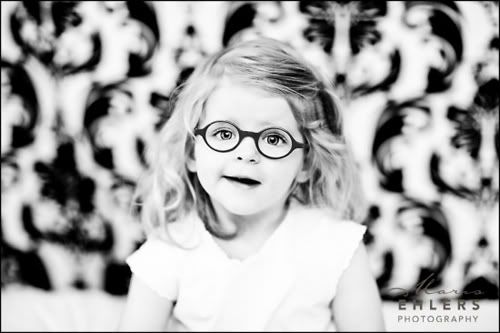 Awww!  And thank you, Mari! I'm such a fan of Mari and Miss Birdie—you can read about her adventures and find some great toy ideas from Mari at er blog, Small for Big. It is truly one of my most favorite blogs out there.  BTW check out Mari's wonderful video submission for the HopScout Stay at Home Millionaire contest. And vote for it. Right now. I actually go back and watch it again and again because it makes me smile again and again!