Hey, guess what? Miss Alix is back from Hawaii…..but now I'm out on vacation! Never fear, however, because I have a fantastic collection of Guest Posties all lined up to cover for me this week. And we begin with a bang! Friends, I'm about to introduce you to one of the most fabulous ladies I know. This is a woman who I've only gotten to know recently, but she's already on my top twenty list with a bullet. It's the effervescent Ms. Karen Finlay, whose hysterical writing can be found at her divine blog, 97 Things To Do Before I Turn 97.  Karen is one of the Dames du Gateau (our retro supper club) and I knew I adored her because within the first five minutes of meeting her she quoted Auntie Mame. Did I mention she sells Tupperwere too? Yup, she is THAT fabulous.
She's also fabulous enough to share this wonderful childhood fascination she had with the Broadway musical Annie.  And after all these years, I thought it was just me…Enjoy!



Image:Â Bhagwan Photos
The first time I ever went to the Thee-a-tah (not including a children's performance of The Sound of Music for Monica Schroff's birthday party in the second grade where the little girl playing Gretl got stage fright and we laughed) was to see Annie in fourth grade.
Here's a big surprise: I was obsessed with Annie. (I'd bet my bottom dollar that lots of little red headed girls in the 70's were. Annie and unicorns.) I played the 8-track over and over. I learned how to play "Tomorrow" and "Maybe" on the piano, warbling along with feeling. I envied my parents for being children in The Great Depression. I secretly called our dog, named Spot, Sandy. And when the stage play came to town, things got worse.

Image:Â CTV News.
I was beside myself with excitement. We were going to San Francisco to see a play (and not just any play), and I was wearing my fanciest dotted swiss dress. We had front row balcony seats, so I could lean over and see the stage perfectly. And when I opened the program, I gasped. I looked just like the little girl playing Annie, Patricia Ann Patts. (Before the transformation to the curly haired, red dressed Annie Warbucks. I looked like the scraggly orphan, despite the dotted swiss.) And I wasn't the only one who thought so—everyone around me gasped, too, and the usher came and pulled my arm and said, "You shouldn't be here! You should be getting ready!"
I was destined to be a star.
After that, all I wanted to do was star in Annie. For the first time in my life I actually practiced piano, singing along with even more feeling. I was Annie — complete with one of my mom's old curly wigs — for Halloween. I made up tap dances in my room, though I had never taken a lesson and we had wall to wall carpeting. I dreamed of the day when an agent —my own personal Daddy Warbucks— would discover me and whisk me away to the bright lights of Broadway. I begged my parents to take me to auditions, but they always seemed to have something else going on.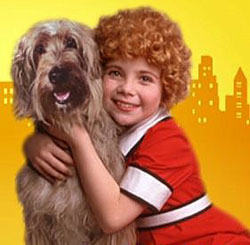 Image: Chicago Theater Blog and Eighties.fr
And then I sang "Tomorrow" in the fifth grade camp talent show and I, along with everyone else that I'd been bragging to that I was going to be the best Annie ever, discovered that I didn't really have talent after all. I couldn't just stick out my chin and grin and say that the sun would come out tomorrow. My life was OVER and I was only ten.
But… I was a resilient ten year old. I got over my bitter heartbreak and moved on to "Fur Elise" in piano. I became more obsessed with the soundtrack for the movie Xanadu and teen heart-throb Timothy Hutton than a plucky orphan and her stray dog. I even managed to set foot inside the thee-a-tah again.
For a long time I worked in a bookstore, and one of my customers was Carole Shorenstein Hayes, who essentially runs the theaters in San Francisco. She was very kind to me, and set me up with tickets for all the opening night shows for about four years. I got to see everything from Les Miserables to The Sound of Music (starring Marie Osmond!) to Cats and Phantom of the Opera (both of which I hated). And yes, even Annie. I still knew all the words, and still felt the flush of embarrassment at the thought of flailing so hard at the fifth grade camp talent show.

Image: Cast News
I loved it. I loved going to Will Call and getting the tickets, and then settling down in plush seats and looking at the ornate walls and loges. I loved hearing the sounds of the orchestra warming up, and the moment when the house lights dim and the initial crash of music or the action on the stage. I loved being sucked into the story and falling in love with the actors — such intimacy, especially up close when you can see them spit and the microphones on their foreheads. (I usually got really good seats.) I loved intermission and seeing all the dressed-up people in the lobby, as I would stand there and marvel at all of it. (One time, Danielle Steele and her brood of a hundred children sat in front of my mom and me — in Ms. Steele's Chanel suit's pocket was a bottle of Maalox. So glamorous!)
But all good things come to an end — the bookstore closed and my days of free theater and glamour ended. I hadn't been back for years until I treated myself to a discount ticket to see Grey Gardens on Broadway a few years ago. My God. Talk about HEAVEN and a dream come true. I sat in my slightly obstructed seat in the amazing Walter Kerr theater and had to pinch myself that it was really happening.
* * * * * * * * * * * * * * * * * * * * * *
Aww, thanks Karen for reminiscing about your love of Annie. I'm totally right there with you, lady! But I must admit, that this is only PART of the post Karen wrote about Annie and her love of theater. Really, you MUST read the rest…