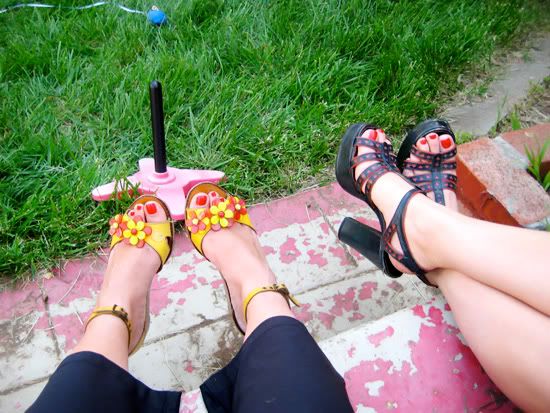 Sensible shoes. *shudder* Second only to the dreaded MOM JEAN. Once you become a mama you have to stay sure footed and comfort becomes a #1 priority. For many people though, this means sacrificing style. Phooey on that, I say. I'm pretty passionate about finding pretty footwear that won't leave me having to soak or bandage my tootsies at the end of the day. That's me up there (on the left—the insanity going on on the right is my stylish friend Denise, who looked amazing in these but totally confessed she rarely wears them and they are a pain in the arse to walk in. My yellow shoes have a small 1.5 inch heel and, while I won't be running any marathons in them, they are pretty damn comfy. I thought it would be fun to give you my tips and tricks when it comes to finding fab footwear! Let's begin at the beginning:
FLATS.
Flats are a no-brainer for mamas. Ballerina flats, sassy little pointy flats—flats are all the rage. But promise me you won't cheat and just get basic black ones. Bust outta yer comfort zone and go for something fun! A colorful sandal with a pretty flower looks adorable with dresses and jeans.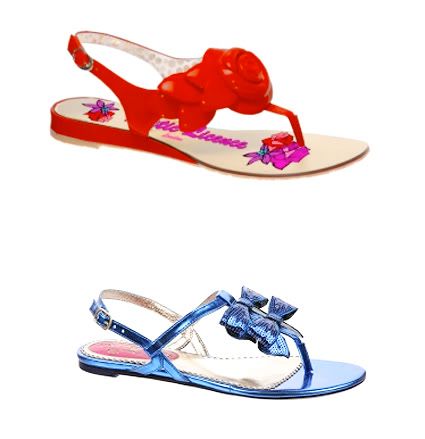 Darlin' little sandals from Poetic License Sandals.
Or go for a wild animal print (i have the pointy leopard ones and wear 'em to death. $14.99, yo! You can't beat that!).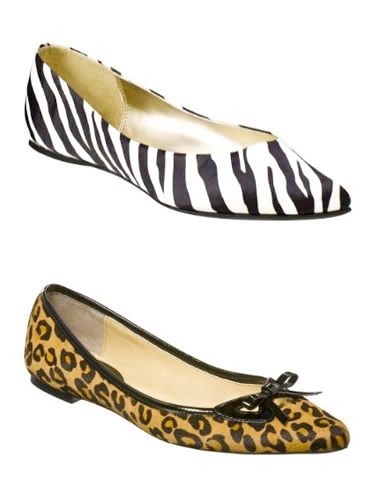 Awesome flats from Target. They have a TON and they're all comfy and way affordable.
"But Alix, pointy shoes hurt my feet…I don't want to be cultivatin' no bunions mama!!" Wahh wahh. OK OK. Why not get a flat with a rounded toe? Or better yet, an OPEN TOE flat! How cute are these?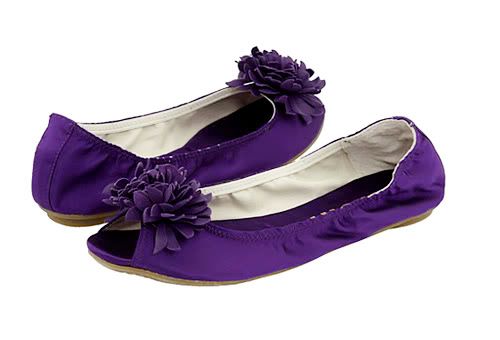 Purple Passions from Zappos.
And if yer still not feelin' it, try Toms. These are seriously the most comfy shoes around AND Tom donates a pair of shoes to a disadvantage child for every pair you buy. They come in all kinds of colors, stripes and even sassy metallics (love the gold). It's great when you can buy something cute with a conscious.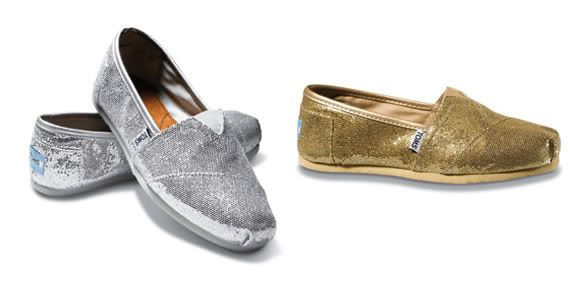 TIP: some flats can be, well, a little FLAT. I usually add an insole to add a bit of cushion.
MID HEEL.
American shoes frustrate me no-end because they are either sky high or flat as a pancake. What about an inbetween height? What about….the MID HEEL??? In Europe the Mid Heel is uber popular. I suspect because they do so much walking around there. This is my favorite heel. In fact it was on my "6 Ways to Make Yourself Feel Prettier" list I did for Strawberry Lemonade. I've picked out two kinds for ya, comfy and sassy. It's a bit misleading because the Sassy are equally Comfy (and vice versa).
MID HEEL. COMFY.
OK, any of my friends or long-time readers will know about my extreme lerve of Worishofers. These are the ultimate granny shoe. And i'm serious. I think they were created for grannies! I discovered them ages ago and thought they were adorable Miami retiree. Despite being made fun of by some pals, I always got compliments on them. And then they were written up in Lucky magazine—vindication! Lucky wouldn't lie, right? Cute and stylish. And they come in a variety of colors and styles. I swear by the sling back. And while I usually can't wear mules, these suckers stay on my feet and would carry me through a day of thriftin' (or a wild night of bingo….). Here I am actin' a phool in my Granny Shoes!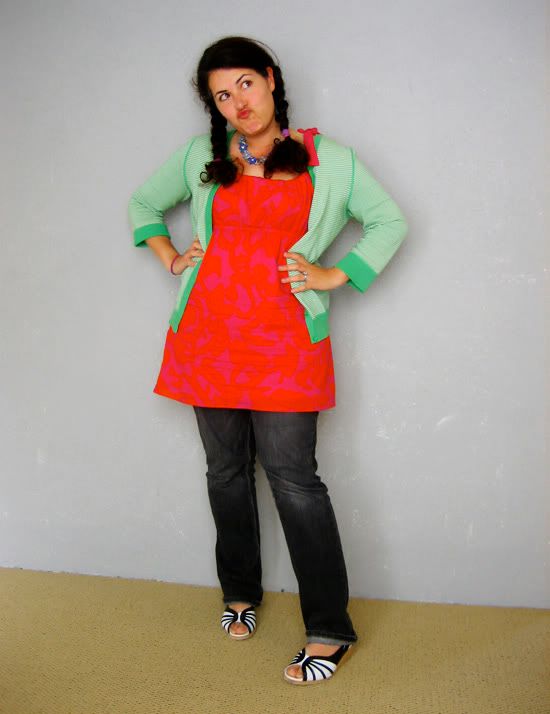 Aw yeah! You know you want 'em….WORISHOFERS!
Another secret tip, don't shy away from "sensible" brands! Aerosoles, Clarks , Sketchers….they've all got a history of comfort and thankfully have all stepped up their style quota. I didn't put a photo here, but check out these Aerosoles cherry red heels! I tried them on. They were COMFORTABLE! Who knew?? And just look at these babies: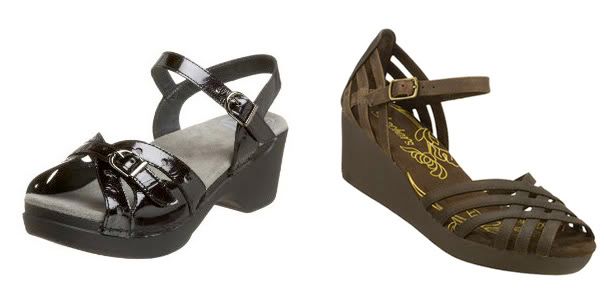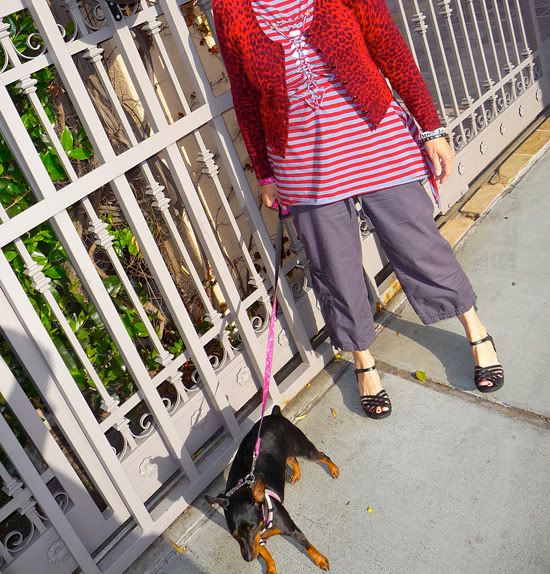 The left shoe is an adorable patent Dankso…..the one on the right is the Sketcher Platform.
Image: Photo is of my adorable Flickr Pal graygoosie, who says these rock! (Look how cute she looks!)
MID HEEL. SASSY.
The Mid Heel Sassy is my top favorite. These tend to be a little more girlie and colorful, but that just makes them so much more fun! They usually have a wee little heel that is 2 1/2 inches or less and come in t-straps, ankle straps and mary janes! Look at these two from OFFICE shoes, an awesome UK brand.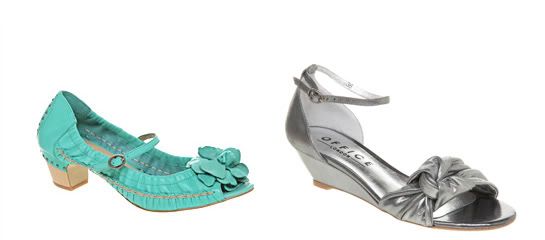 OFFICE shoes, turquoise and silver.
Another brand I love (but I have to confess, I've never bought) is ReMix Vintage. They make adorable reproductions of vintage shoes, all in a fabulous heel that is perfect for dancin' the night away!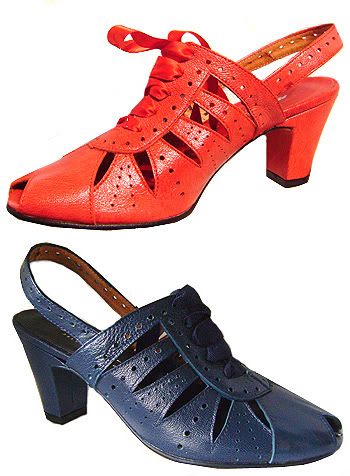 Loving these Remix cuties, but hey have tons of styles!
OK, these are the shoes I am most coveting lately. I saw them on Modcloth first, and sadly they are sold out. However I managed to track down a few more pairs for you. THEY ARE SO FREAKIN' CUTE I'M DYING!!!! And the heel is deliciously lowwwwww.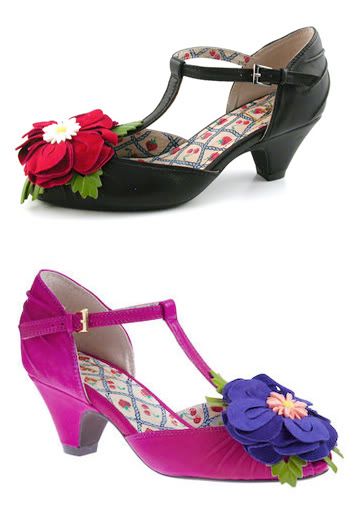 Yes, these can be yours. Over at Trashy Diva.
"Alix, these are all really cute, but you don't understand. I need COMFORT with a captial "C". I need rubber soled, runnin' around the playground, kickin' soccer balls and power walkin' shit kickers!! Â Not fancy flower shoes!!"
OK. Fine. Then lets talk SNEAKERS. (er….or TRAINERS for my friends Pilgrim and Kate….)
There is still no excuse not to have cute footwear. PLEASE for the luv of  Jerry Seinfeld don't buy white sneakers. They will just get dirty and really, has anyone every looked or felt cute in a white sneak? Go for color! Red! Blue! Silver accents! Or even GREEN! You can get a sassy running shoe in loads of colors. If that's too sporty go for classic Keds, skater Vans or the indie fave Chuck Taylors. I promise you….you'll be lookin' and feelin' fine even at the end of the day!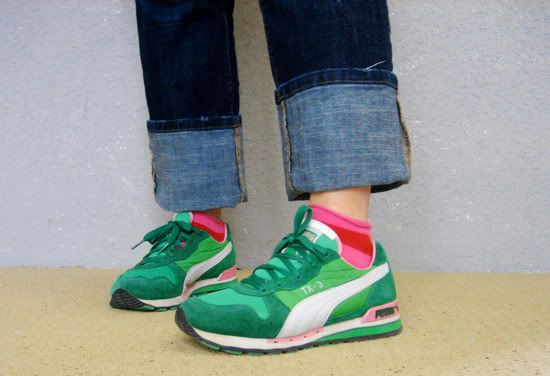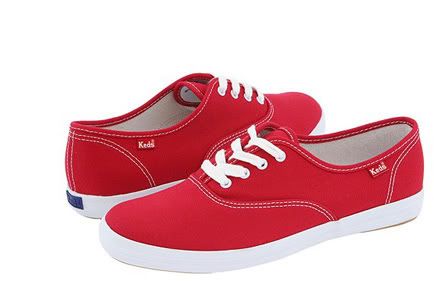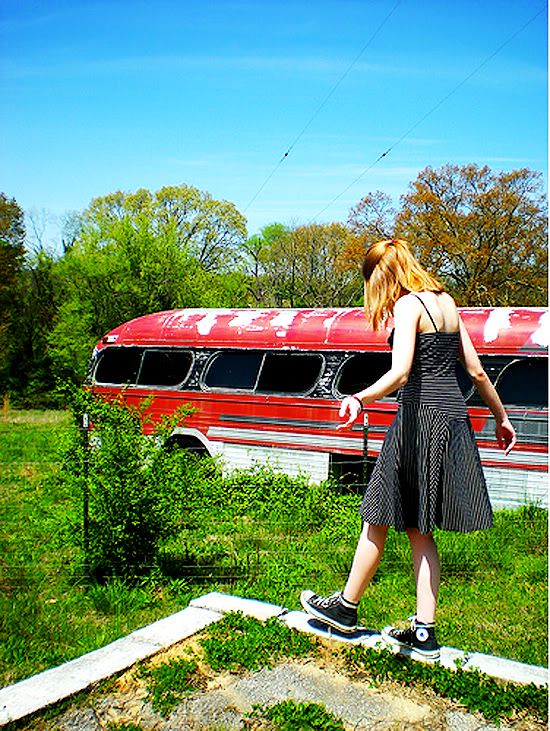 OK. That's my lecture for the day. What do you think ladies? Have you found a cool shoe you swear by?? Let us know!
We now return to our regularly scheduled program.
*MWUAH!!*