Want to make a piece of vintage children's clothing look even more button cute? Put it on a vintage hanger!
It does rather break my heart when I see today's children's hangers–so stiff and utilitarian when they were once a thing of whimsy.  Hangers of yesteryear had a sly little wink and giggle that added even more cuteness to an already wonderful piece of clothing.
Every now and then you can find the really old wooden hangers from the thirties through fifties.  But one word has my heart when I think of vintage hangers. Yup, Mrs. Robinson–PLASTIC. But regardless of what material they are made of, the pack plenty of punch for such a small item.
Case in point–check out these charmers: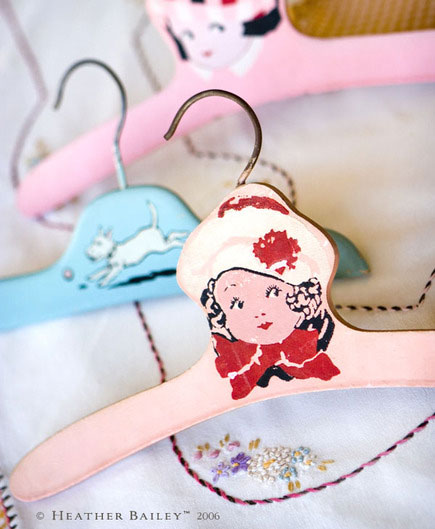 This swell collection of wooden hangers comes from Heather Bailey, the wunderkind fabric designer.
A little boy and girl hangers set of hangers–oh!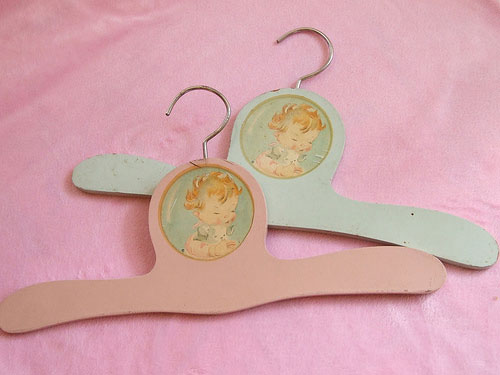 Source: Flickr member CurdsnWhey
Cockle Doodle doo–wake up to these plastic friends with cut out chickens!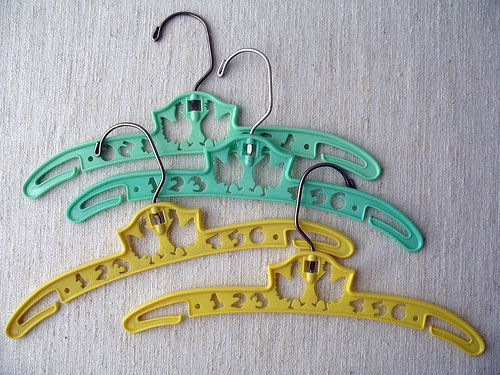 Source: Flickr member Library Fashionista
According to Galessa Plastics, the yellow and the blue hangers were made by TROL, while the peach one is unmarked. All made of injected Polystyrene plastic in Brazil in the 1950s or 60s.  I don't know if the Scottie dogs are killing me more than the wonderful bunny in the dress.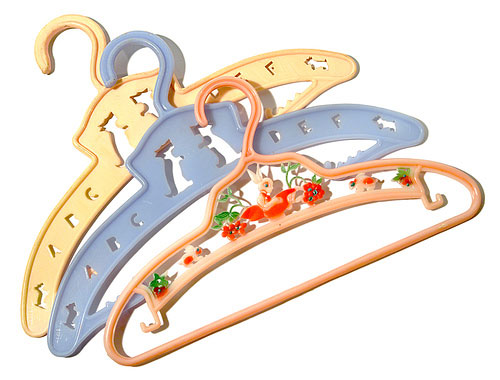 source: Flickr member, Galessa Plastics
I have a few of these and I'm crazy for these carousel hangers.  Not only is it a carousel, but  it's a boy and a girl on a carousel flanked with seals balancing balls on their noses.  Who thinks of these things?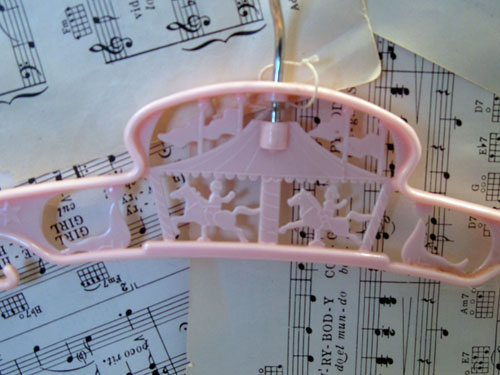 From Etsy seller, Scrappy Jessi
Check out this cow jumping over the moon series in the prettiest mint green you ever did see.
From Etsy seller, Tiger Luxe. And oh my stars–you can see the stars (and even the cow udder) on these beauties!
And of course you can't have vintage children without a little nod to Disney with these sweet Bambi-inspired blue hangers.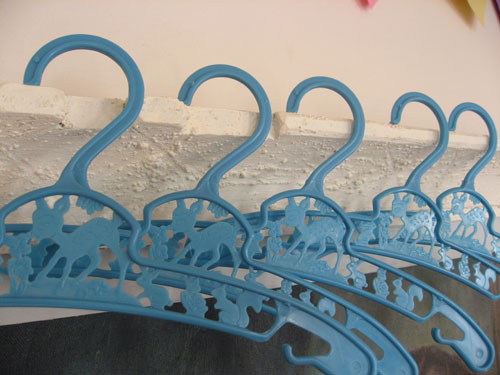 A gorgeous set of five from Etsy seller, She's a Peach!
Let me leave you with this wonderful  trio of vintage plastic childrens hangers that are too charming to not sell.  As if the very simple clean lines of the pink one weren't charming enough, the goosie one is just too sweet. But then they save the best for last with this choo choo choose me train hanger.
The level of detail on that train one is just a widge insane. I mean, you can see the animals in the zoo train and the whirls of smoke making the top part of the hanger!  Who can say no to a smiling engine like that?  Please–someone buy it them all for ninety nine cents. I'm begging you people!
Happy Monday, everyone!