I don't know what was going on in your neck of the woods, but summer weather was not to be had in the Bay Area this weekend.  That didn't stop me from having fun. Especially at this little estate sale where I bought more than 100 pieces of vintage flatware for $25.00. I can't wait to shine 'em all up. They'll go so nicely with some vintage willow ware, which I'm a bit in love with right now.
But I'm also happy with the grand goodies I found this weekend online for today's Vintage Kiddo Retro Round Up! Enjoy, friends!
I am completely in love with this little ditty of a vintage dress. First off LOVE the red. And the little applique… Killing me. Â From Ebay seller, mooses12951.
Well, Etsy seller, the Robot Parade did it again—found something so awesome that it is nearly killing me that it isn't the Peach's size. Because every now and then you need a piece of clothing that says what it is made out of–amirite?
As you know we do have something of a weak spot for seventies prairie dresses and this little vintage brown one is killing it! And I totally dig how Ebay seller Kingston Avenue Vintage styled it up.
You know we are big fans of the vintage Fisher Price toys. So, you can understand my delight when I saw this fully decked out airport! Please let me wipe the drool off the screen… from Ebay seller Saks 5th Thrift.
I love plaid and when it is the summer time, I love madras!  And I certainly smitten with these sweet little 4T overalls. Swoon! From Etsy seller, Little Reader Vintage.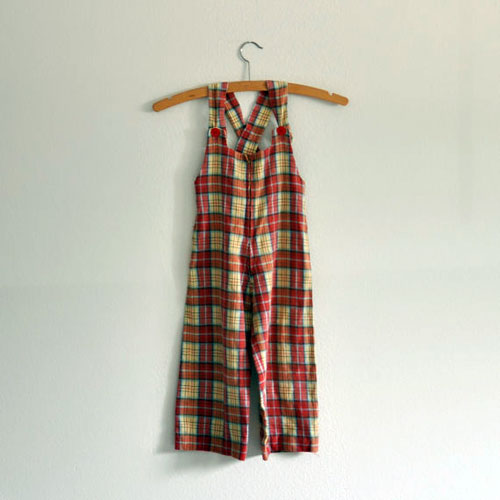 I am quite intrigued at what would be involved in playing a game of The Waltons. Saying good night to everyone? Making moonshine? Fixing the chicken coop? I have no idea, but perhaps Ebay seller, cars8158 will know.
We are also tremendous lovers of Irmi lamps here at Modern Kiddo. So, we couldn't say no to this whale of a lamp from Etsy seller Fuzzymama! Also, don't forget that you could buy this lamp with the $50 gift certificate we are giving away this week with Fuzzymama. You can enter it here!
Miss Lish finds the best stuff! Like this great vintage children's book of Peter Pan. Looks like it could be by Japanese master Kihachiro Kawamoto. Sweet!
I love yellow for babies. Both boys and girls. And this widdle two piece of vintage cuteness is adorable for a boy with its little boat, train and rocking horse. From Etsy seller, Ms. Tips!
I am still mourning the loss of my Dan Post cowboy boots that mysteriously disappeared. So it is only a matter of time before I buy a new pair of me and for the Peach. But until them, I have to share these red hot beauties with ya'll. From Etsy seller, Fresh Lavender.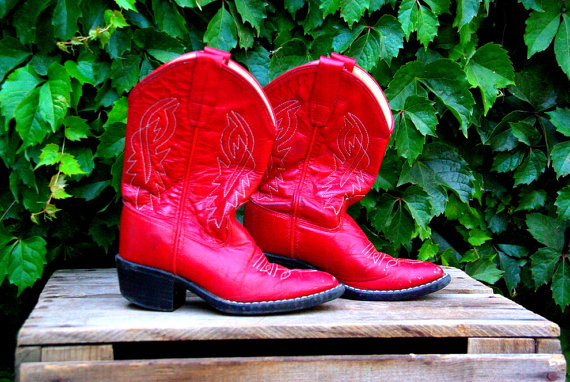 What a bang-up selection of goodies to start your week off right!
Happy Monday!