Thanks everyone for letting us gush about Nate Berkus. He's so dreamy and that design–hoo boy!  But you know we couldn't NOT do a vintage kiddo round up this week! Because there were way too many goodies out there not to one.
What with Father's Day so close, I had to start the vintage kiddo fashion show with this Daddy's boy shirt. Imagine your little one wearing this while carrying a trade of homemade waffles. Mmm… Waffles. I love the little white belt detailing–mimicking Daddy's leisure suit, natch!
As a nod to Alix's dirdnl chic refernce on Friday's wonderful kiddo, we have this darling vest and shoe combo featuring some stunning embroidery. I know those shoes will turn into one lucky little one's  favorite holiday slippers.
You know I can never get enough of vintage prep–for myself or a kiddo. This wonderful whale t-shirt will certainly inspire your kiddo's inner Buffy.  Matching Bermuda bag not included.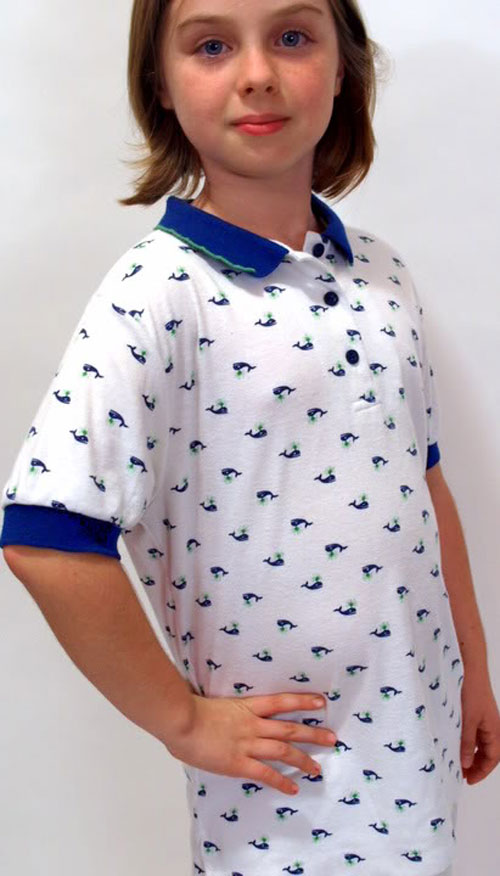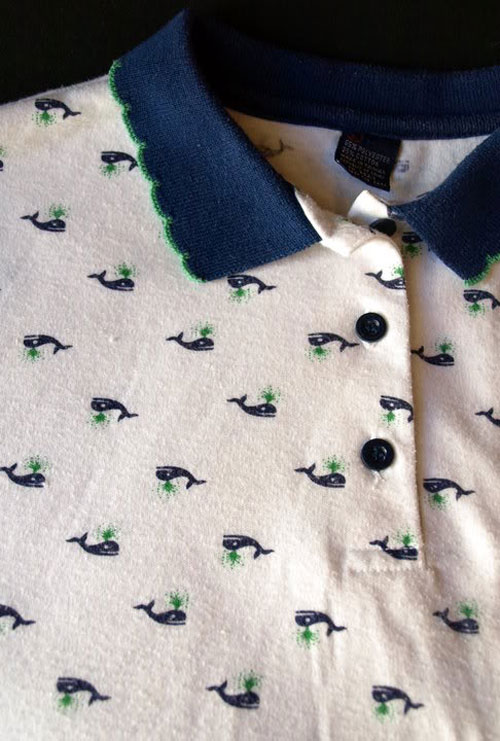 Forget what Barnum and Bailey said–clowns and kids aren't the best pairing normally.  The exaggerated make up comes across to many kiddos as more scary than jolly. Or for one kid, perhaps the fear came from wearing this  scary clown romper.  The X's for eyes. And sneaking around the side to scare you like that? Not cool, Bozo. Not cool at all. But fashion-wise–AWESOME.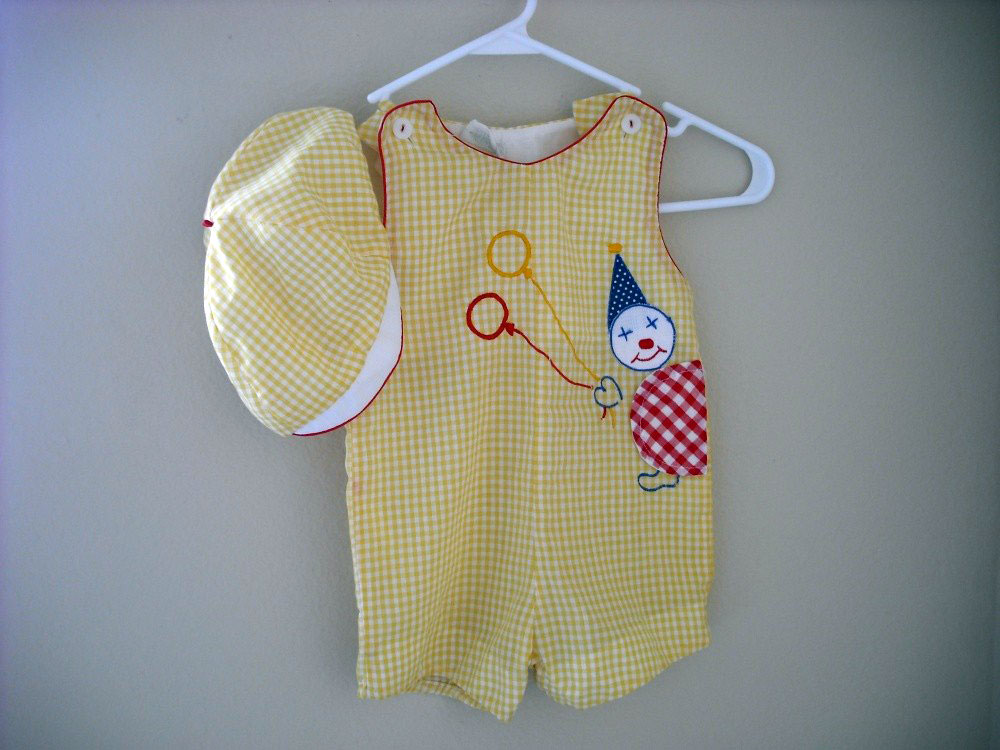 With summer bringing the blazing sunshine (seriously bringing it–like I got a sunburn just sitting in the window for 45 minutes) this little matching gingham pinafore and bloomers is perfect for running through the sprinkler in.  There is nothing better than baby bottom, but cover it in some bloomers and I just might faint.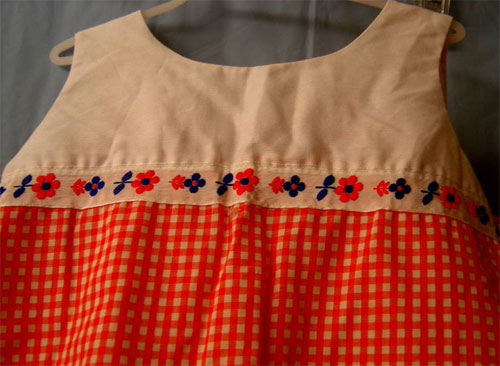 I think it's time for saddle shoes to come back–shouldn't they if they are as cute as these blue and tan saddle shoes? I would love a pair in my size.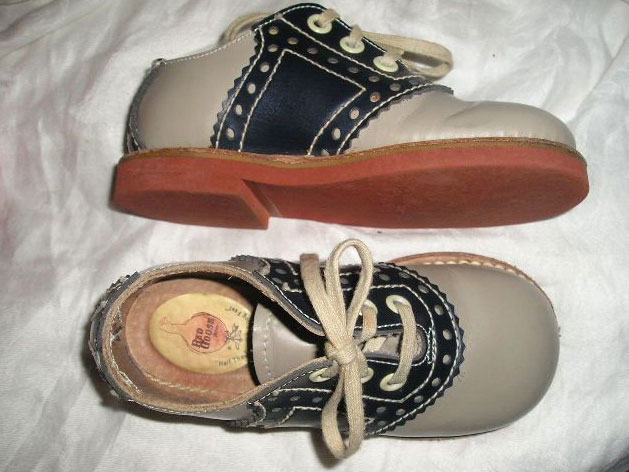 Now this little summer shirt is charming as they get, but then you see the wonderful applique of a brave little duckie manning quite the sassy schooner.  With a sailor hat. Followed by a seal/whale/yellow fish thing that can walk on water. I love the idea of using blue ric-rac for water. Genius.
Who doesn't love a good pair of pajamas–and let's just up the cuteness level by putting cowboys on 'em.  And bonus points for the fringe print because I'm thinking real  fringe would be a bit uncomfy on pajamas. Don't you?
You know I love a good pattern. So check out this great map fabric shirt and pants combo.  Wouldn't that top look adorable over a long sleeved shirt with jeans on your little one?  Truly, it's the perfect outfit to wear on a road trip!  Lost? Just look at the shirt!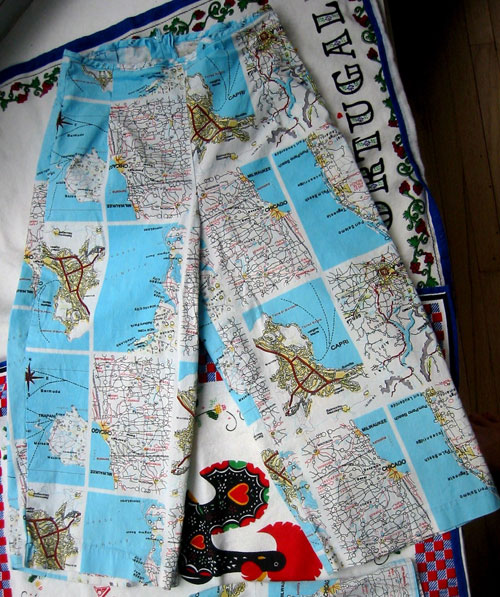 I know most of our vintage pieces are are for the toddler set, so we get very excited when we find a nice piece in a larger size–like this snazzy size 10 Olympic Sports Jacket.  Oh Canada! I know your glory will live on in this  jacket.
These little knitted one pieces are so great for winter-time.  And this camel knitted one piece is particularly yummy.  Camels and pyramids aren't your normal fair for baby fashion, but they certainly work here!  Let your little one crawl like and Egyptian in this one. Sorry I couldn't help myself on that one…
And of course, stay tuned for more vintage goodness thanks to our friend the lovely and talented Miss Alix around noonish or so!