Monday Monday! How was everyone's weekend? We had some pretty fab weather here in San Francisco. Loads of sunshine which made us a bunch of happy campers. We even busted out the BBQ and did a little grilling. How come it's never long enough though? OK, so are you ready for a little e-thrifting magic again? Let the Round Up begin!
First up! A super hipster junior special—the incredible Hulk tee! The stripy touches are what make this one such a cutie. Er, I mean, such a POWA HOUSE OF STYLE, AHHHHRRRRRHH!!!!!!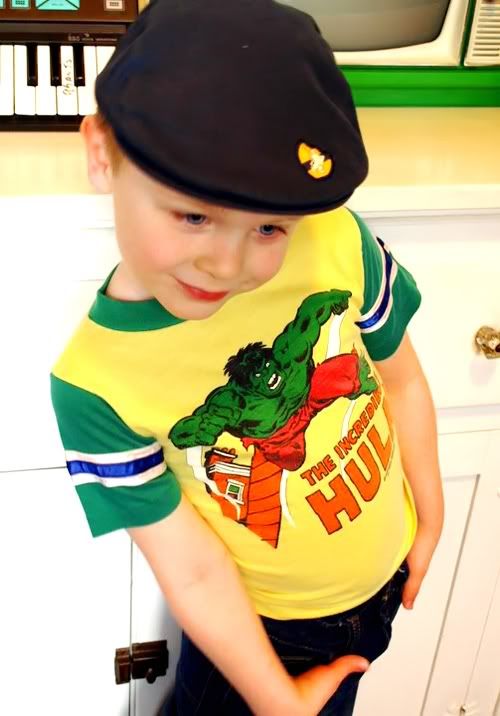 Get this shirt from our pals over at: The Robot Parade 4 Kids
Here's another lil something for your little feller, this cowboy shirt is rootin' tootin' terrifiec. I'm especially digging the little branding iron detail, in the shape of a star and the state of Texas. Yee haw! Don't mess with Texas, ya'll.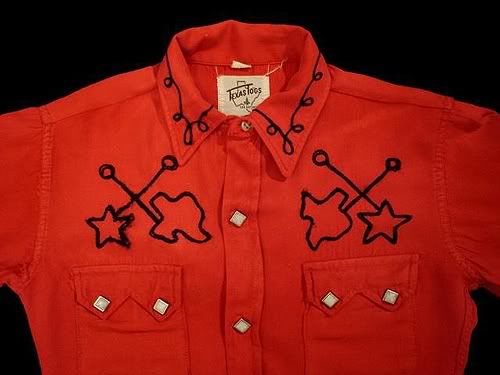 And don't mess with Etsy seller catspajamavintage.
The weather is warming up but it's still not summer yet. You'll need something for the cooler days and this red jacket is perfect for your little slugger this spring! I'm not even a sporty fan, and I think this little guy is a home run. (OK, that was a bad one, but it's not like I could say "I'm ready to go to third base with this jacket!")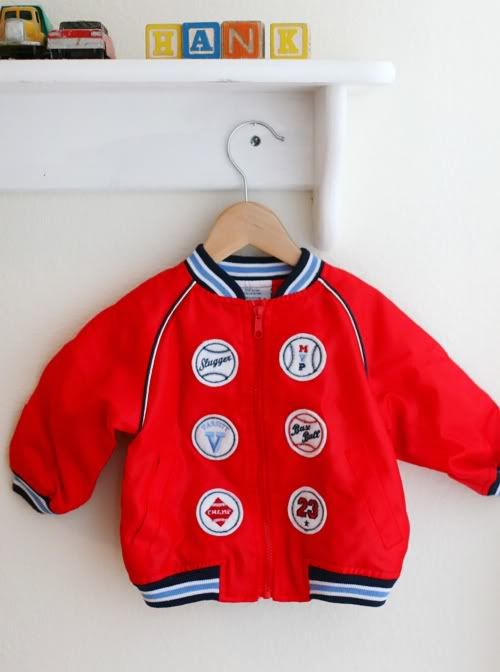 Available from Etsy seller, super cutie Baby Hank.
I can't lie. I'm both charmed and terrified by this Raggedy Andy jumpsuit! It's so adorably creepy. Maybe it's because the the buttons on the pants look like eyes? Hmmm. Well it's still cute!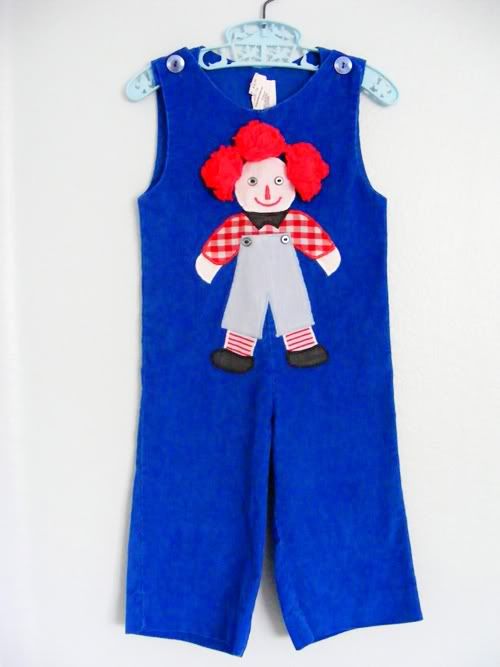 From my girl's over at the Three Ring Circus.
This little sunsuit is tres cute. I love the side button details and while it looks a tad formal, I'm thinkin' this would be amazing with a little tee underneath and some Converse sneaks.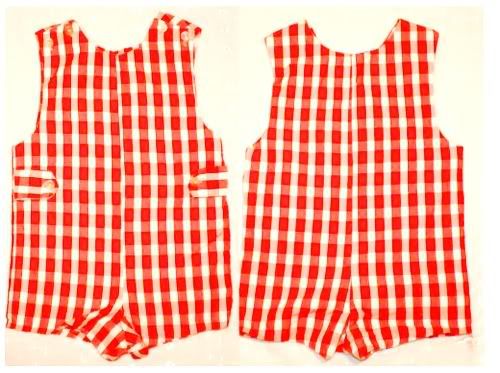 This little darlin' is hanging out with eBay sellers: forever creative
Aw, denim and gingham? How stylie is this baby? I love blue with red and white and I'm thinkin' this would be perfect for a boy or a girl.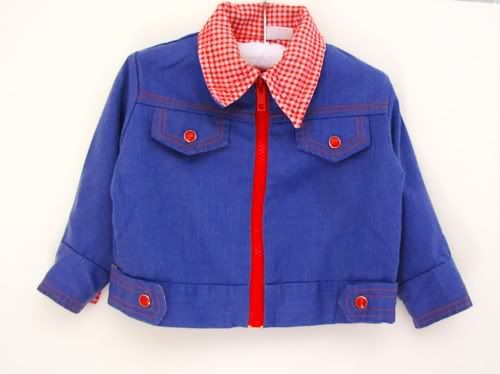 Score this cutie from Etsy Seller: A Vintage Choice
I'm not sure if you can tell but this fabric is really awesome—quilted with an Alphabet  motif and it says "spelling bee" with a lil bee.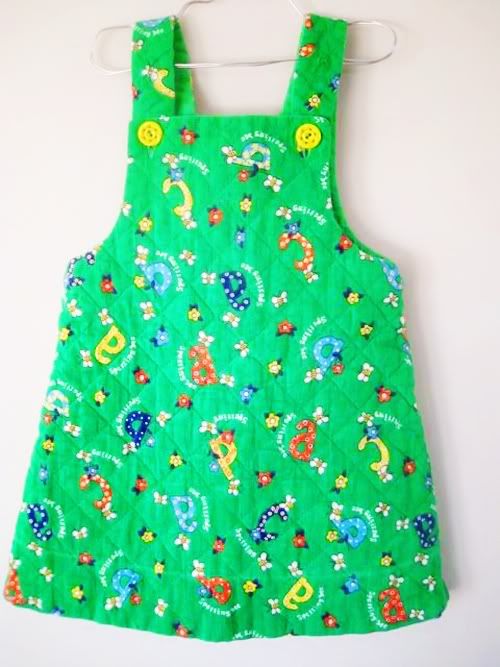 Grab this Green Alpha Romper from Etsy Seller fuzzymama
OK. Just in case someone beats you to the Raggedy Andy romper (or you were weirded out by THOSE EYES), this is another sweet option. Ze poodle wis ze rose in ze mouth ees magnifique!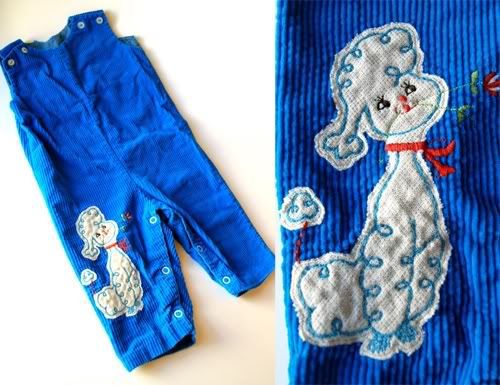 Another sassy selection from robot parade 4 kids.
Ooooooh eeeee. This bubble gum pink jacket is a sweet sweet thang. The hood is trimmed with eyelet and the little lambie applique is baaaaaaa-nanas. Hyuck.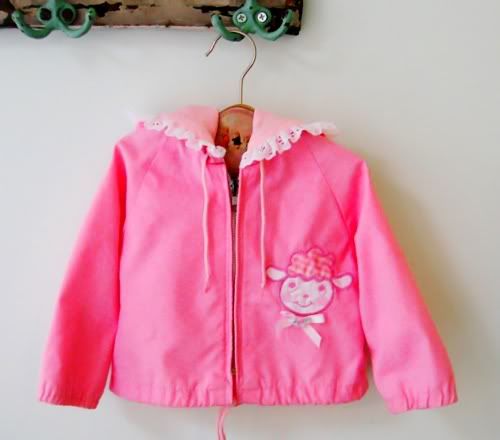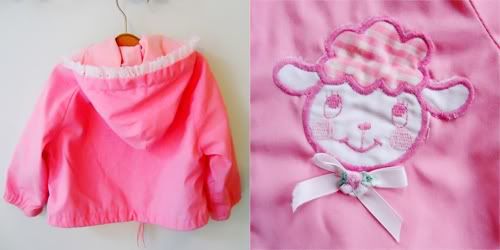 Pink Jacket form Etsy seller Soso Vintage
Didja happen to catch the darling little vintage apple dress on my girl Pippi last Friday? Well you can't have that dressie, but her mum has another equally as cute lil sass-suit in her Etsy shop. You know what they say. An apple a day keeps the boring ol wardrobe away…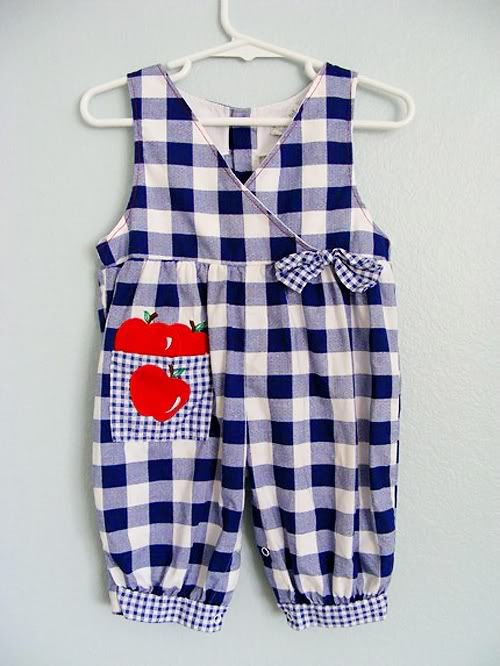 From my Etsy Darlings, 3 Ring Circus
Um, this one goes out to mah girl Dottie. Ruffle bottom? Rick-a-rac trim on the pockets?? Adorable arty smock that would be amazing over jeans or leggings? Helllllo! Buy this now please!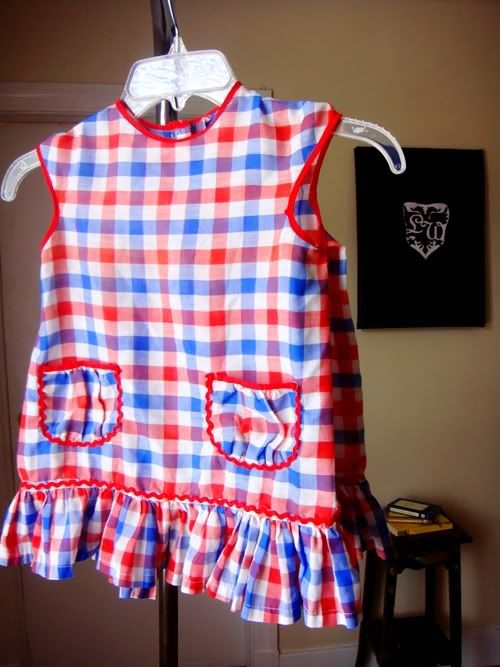 This sweet thang is available from Etsy seller ledoubleve

This Etsy seller has the sassiest model around. Check this girl out! It was hard to pick just one shot, but I thought this little sailboat top with the shoulder ties was adorable. And speakin' of Ty Ty babies…. Tyra girl, watch yer back. This girl is comin' for YOU.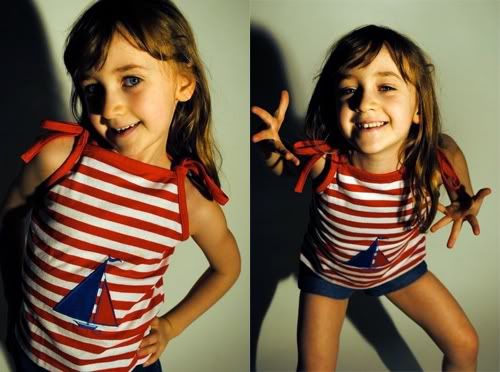 Pick up this top form Etsy seller Decades Baltimore.
Hope you're having a fantastic Monday. Miss Dottie has a sweet little post for Vintage Monday that I just know you'll want to check out, so come back here later this afternoon mah lovies. Peace out!