Folks, I just had to share this…
My parents sent me my old doll house that I'm giving to the Peach for her fourth birthday.  It had not seen the light of day since it was packed up when I was 12 years old.
But as I was unpacking it, I found this gem–a crumbled up note card from a book report presentation I did in 4th grade. Let me share it with you…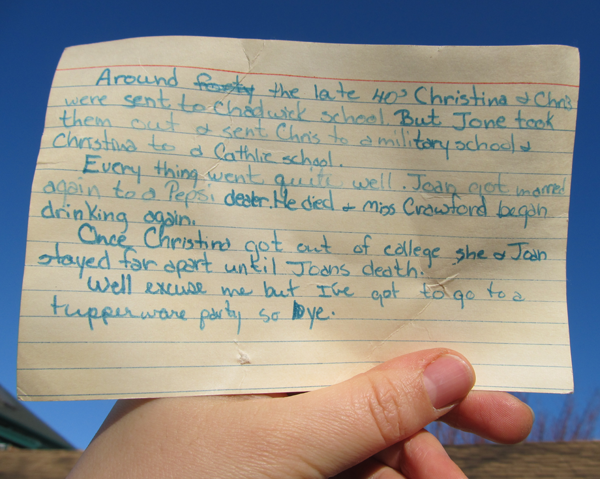 After reading it through it occurs to me that this note card was from a book report on 4th grade on MOMMY DEAREST!  Are 4th grade kids still reading that? Is anyone still reading that?  I really don't think Mommy Dearest was a proper book to read at the age of 10! What was my mother thinking? What was I thinking?
And clearly I was mildly obsessed with Tupperware because I can't remember if that was part of the book or not.  Or why it was so important to this book report.
What was the most inappropriate book you ever read as a kid? Oh, there are soo many ones! Oh man, like Flowers in the Attic? Remember THAT book?