[cue music: THE FINAL COUNTDOWN, Europe]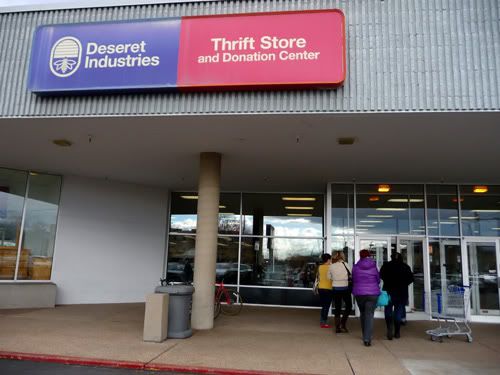 OK people. This is it. The final bit of ALT goodness. The conference was over but we still had one last day of fun planned. Liz Stanley (of Say YES to Hoboken) had organized a grand day of thrifting. She put together an awesome tour that included a straight up thrift store, a glammy vintage shop and a kitschy cool retro store. There were about 12 of us, piled into a handful of cars and giddy with excitement. I mean honestly, what better way to end our conference weekend than with some thriftin'??
We began at the Deseret Industries (the "D.I", doncha know). We ALL found awesome goodies. Raina found some records with the BEST cover art.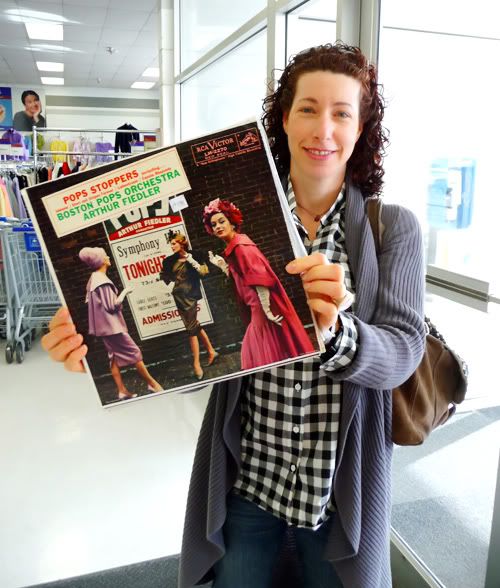 (As an aside, Raina is someone we met when we took Holly Becker's amazing Blogging Your Way e-course a few years ago. The class is really fantastic, I highly recommend it! It was so fun meeting Raina in person!)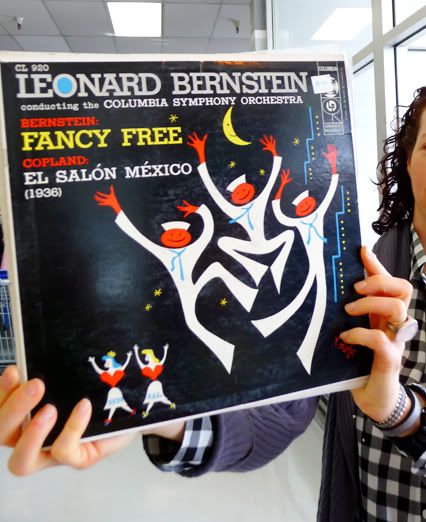 I found some fabulous vintage children's books and a couple of excellent hawaiian dresses (one more 60s one more 70s). I can't wait to rock 'em at Tiki Oasis this summer! Did I mention they were $3 and $6? Aw yeah! This ain't California baby….and the price is nice out here.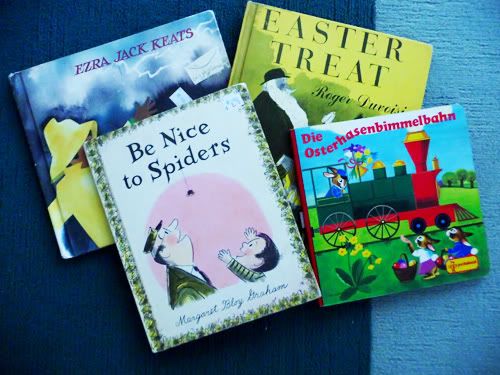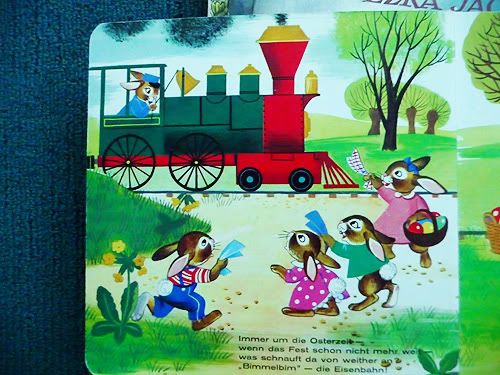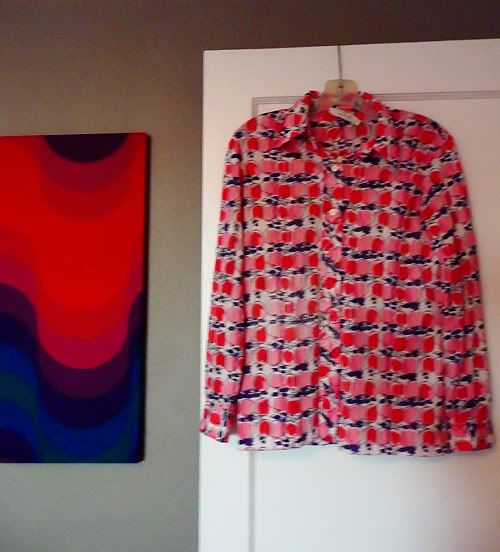 With a belt I think this dressie will be super cute, come summer.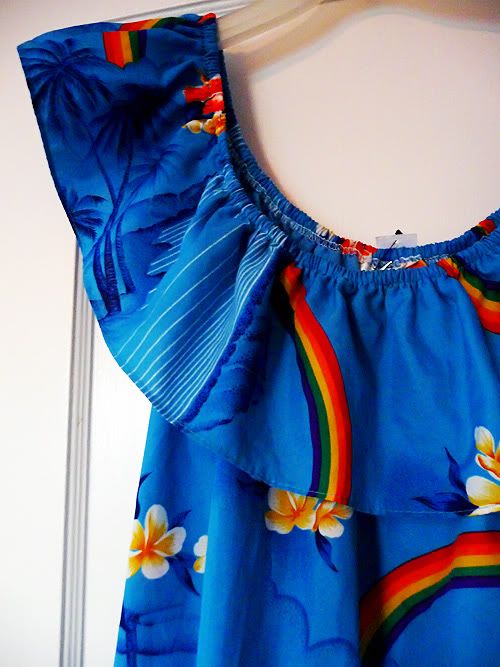 This is Dani, our fabulous driver and co-tour guide. She was so darn cute!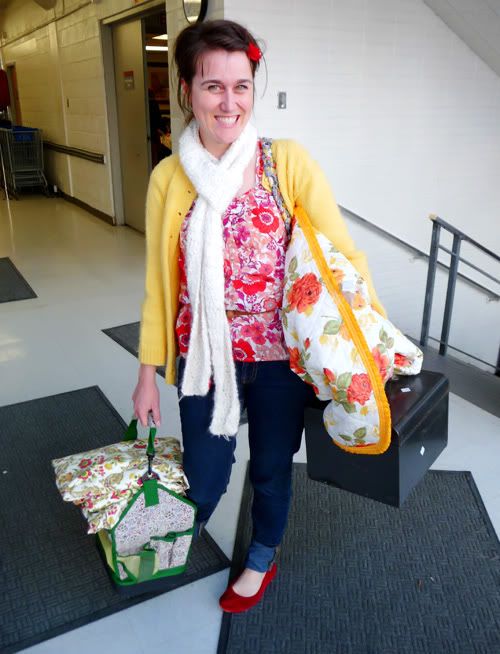 After the D.I we went to heaven, er, I mean Decades. People, this place was CHOCK-A-BLOCK full of vintagy goodness. Like, amazing dresses, purses, shirts….and really really good prices. I totally loved it and can't wait to go back.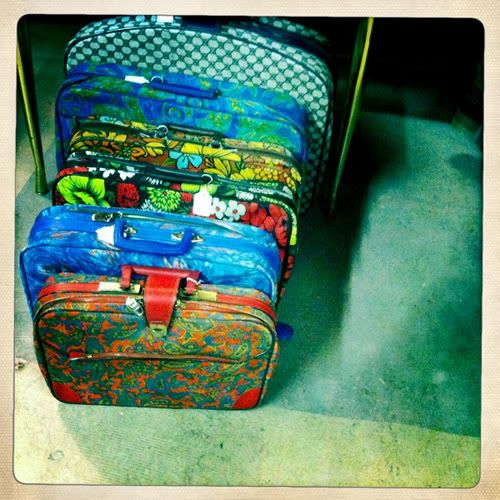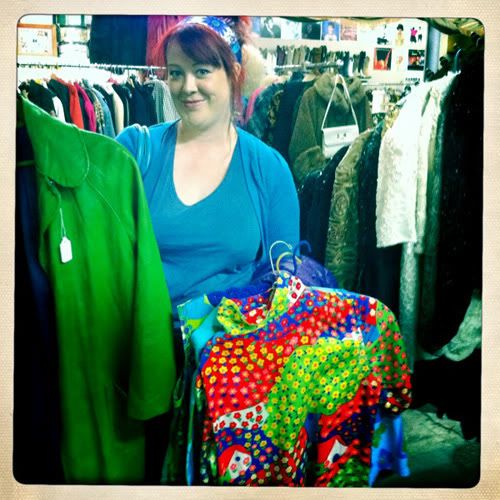 Pilgrim bought an AMAZE-balls mod, green leather jacket and some colorful tops and dresses. Dottie scored some really super cool dresses too and even bought a few shirts for her hubs!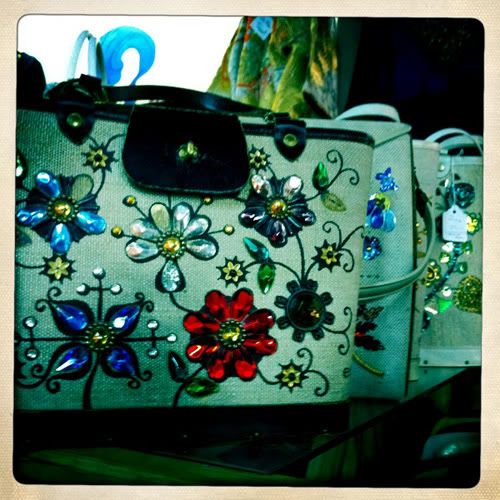 I was kind of overwhelmed…I wanted one of everything, but I showed remarkable restraint. After walking around with an armful of goodies, I only bought a Vera floral shirt for me and a cowboy shirt for Greg.
I spied this amazing polka dot, silk dress and nearly fell over it was so good….like it belonged in the Kate Spade boutique. Alas it was too small for me. *sniff* The lovely Liz discovered it too and scooped it up. She is going to look so dang cute in it, I'm insanely jealous!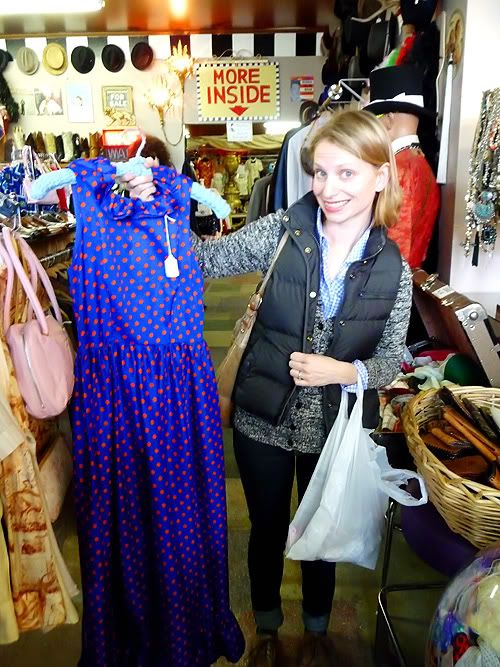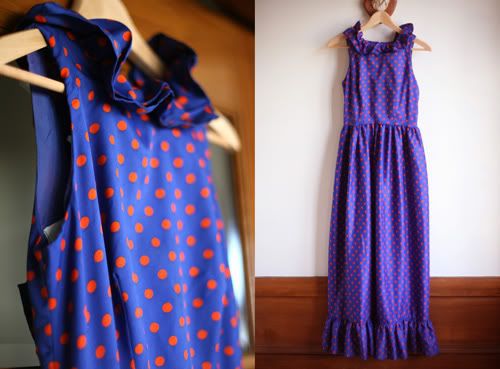 (I snagged that bottom photo from Liz just so you could see how dreamy her dressie is!)
As we made our way to a little French cafe for lunch, pretty snowflakes began to fall. It was a magical little touch—and Miss Pilgrim was adorably thrilled by the snow!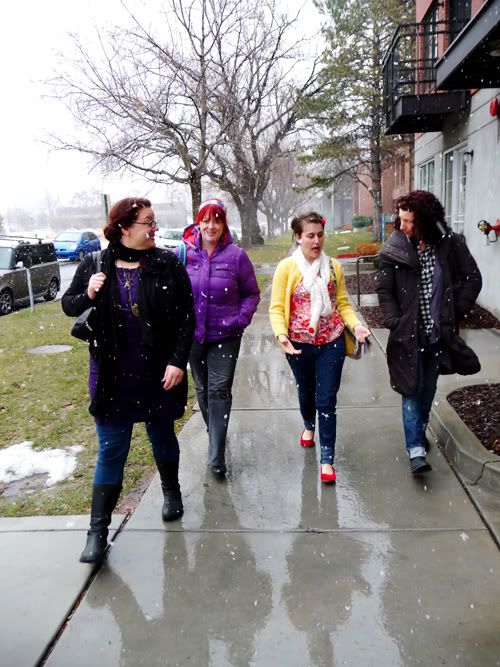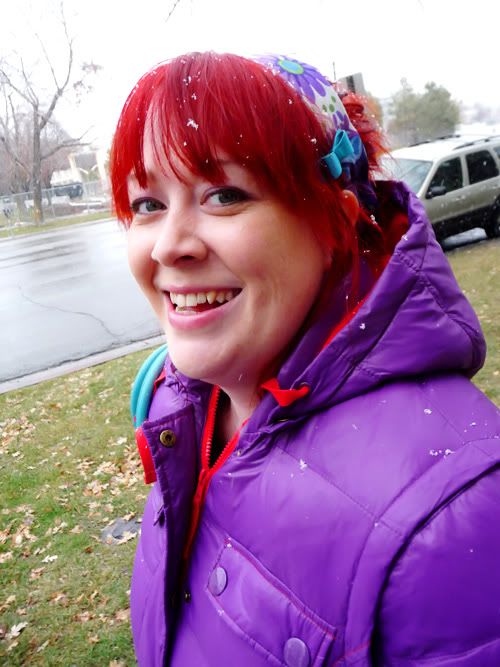 Nope. It doesn't snow in Australia!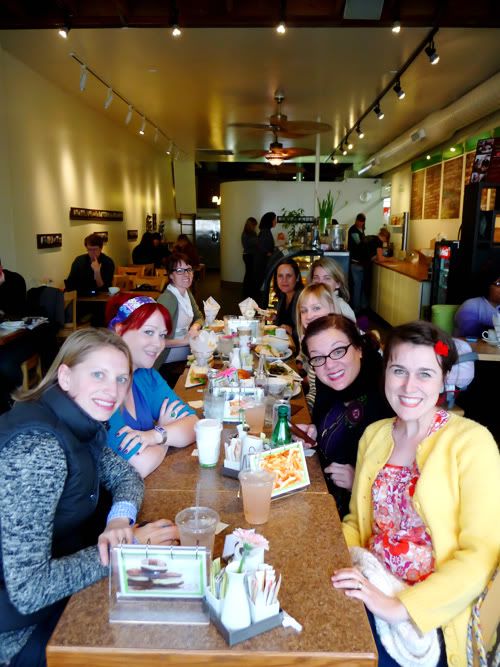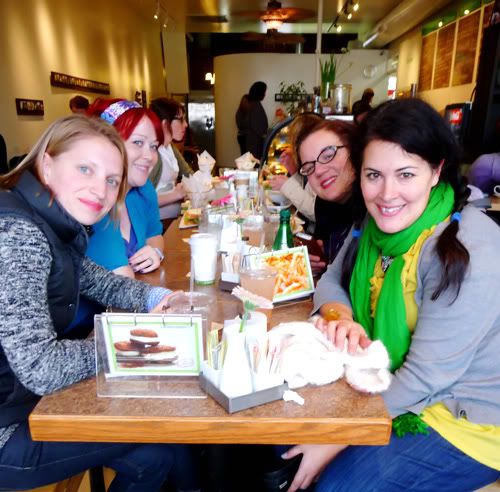 Our next stop was a shop called Abode. Decades was genius, but I think we actually had the most fun at this one….it was more put together than a thrift store, but just rumpled enough that you could dig around for treasures. The woman who owned it was really lovely and even gave us a little discount. They had a fantastic kid's section here! I bought a lovely vintage cocktail ring and two Dream Pets…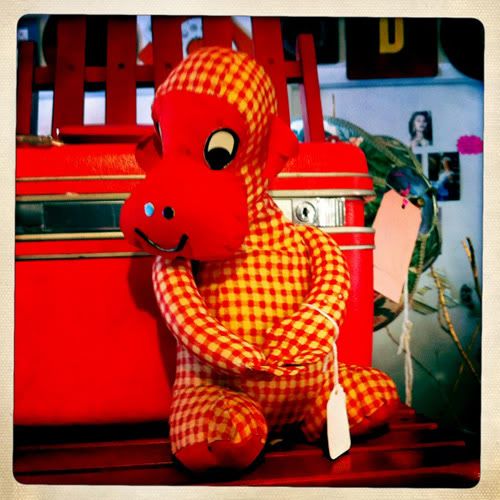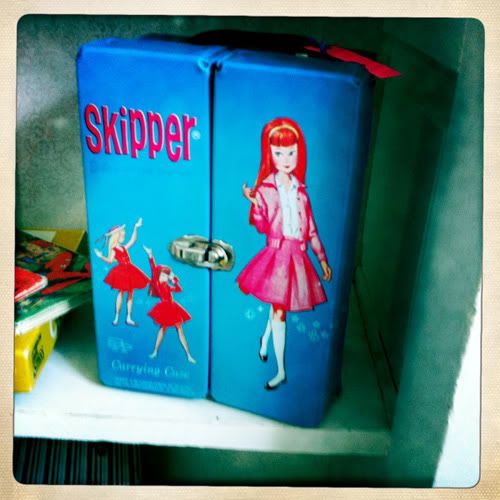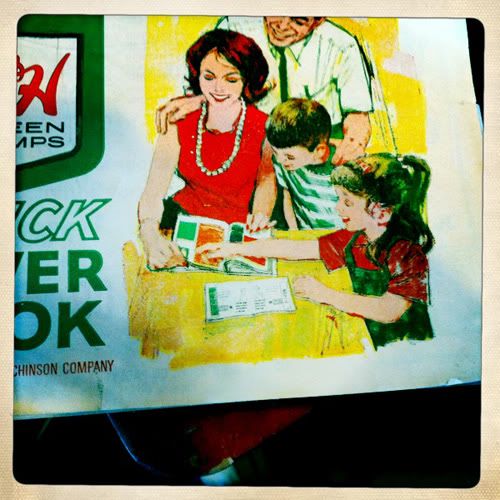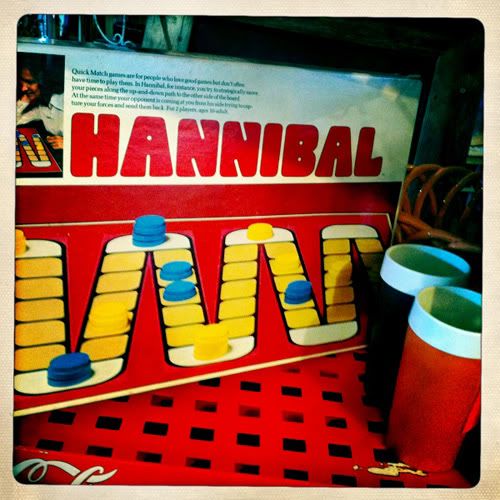 My favorite discovery were these wacky, ugly fabulous powder pink eye glasses. They had lenses in them that were like coke bottle bottoms! I was stumbling around the shop with them on….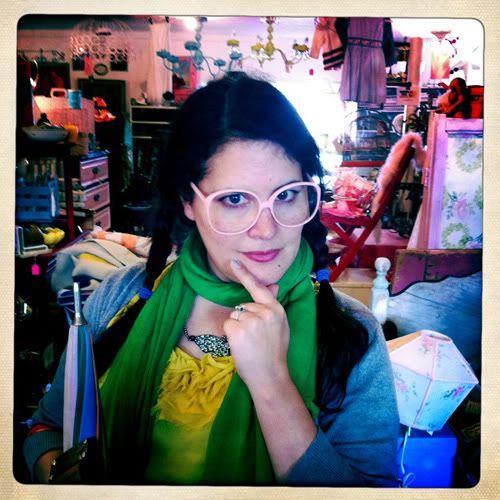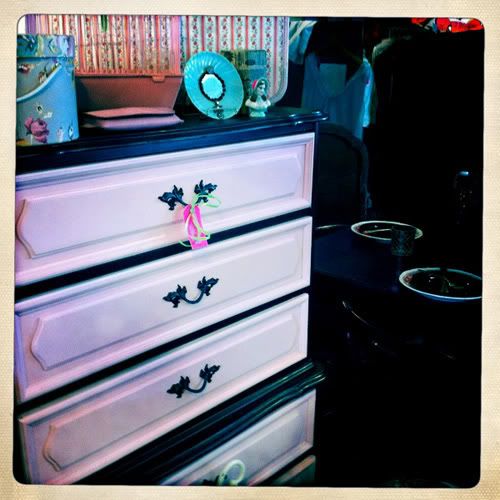 After buying our goodies, we went outside to wait for the rest of the gals to finish their shopping. Pilgrim and I were in love with this turquoise wall!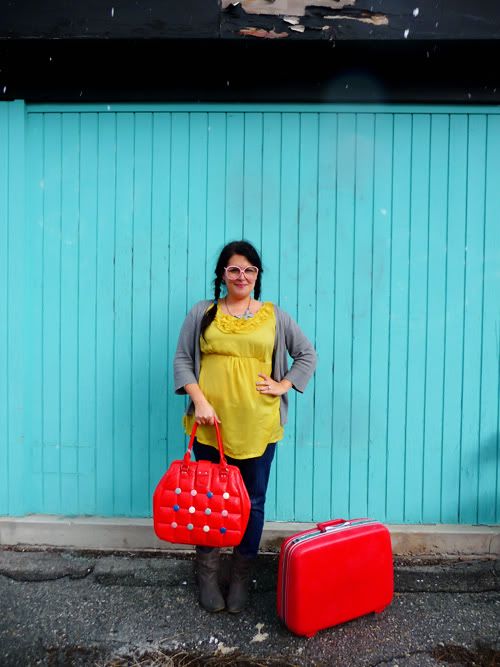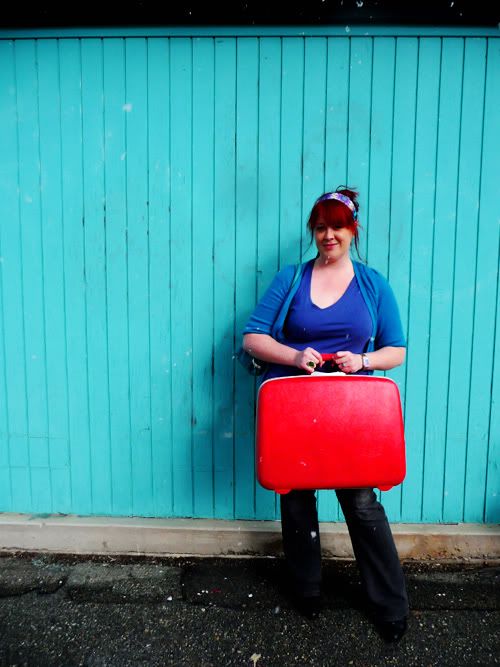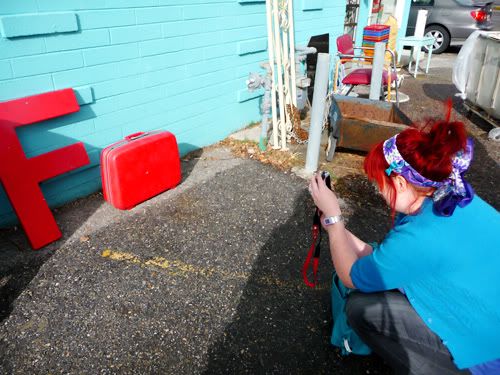 Dottie made out like a bandit, finding great stuff in every shop! Here is a super sweet little nightie she scored!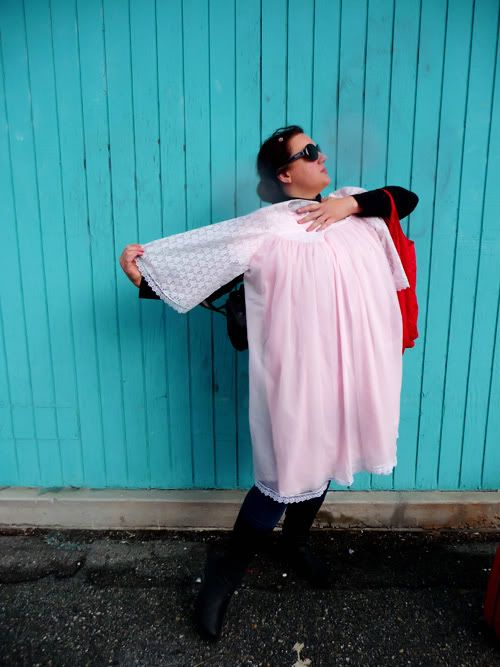 Yo, F washing! hyuck hyuck….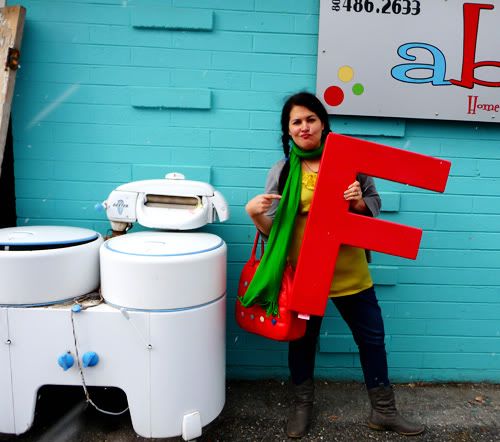 Presenting….the NEW Girls with Glasses!! haha. And for the record, I can't see a damn thing outta these babies.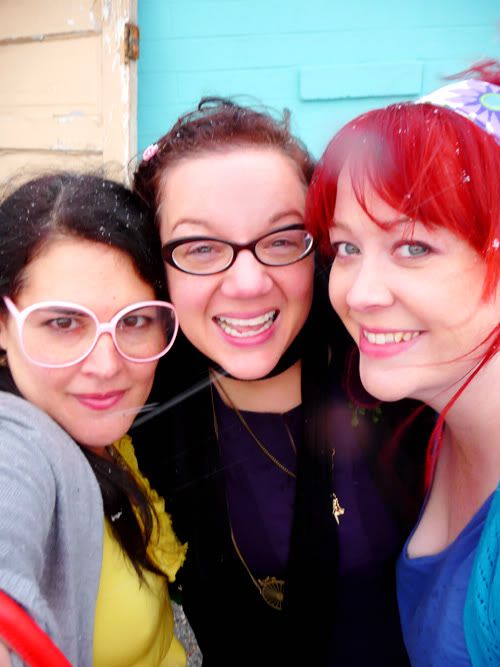 After Abode we went to one last D.I. thrift store. For some reason I didn't find a thing in there but Miss Dottie? Whoooo lawdy! She hit the mother lode!!! She found SO many awesome little goodies for the Peach!! This little gingham number was my favorite!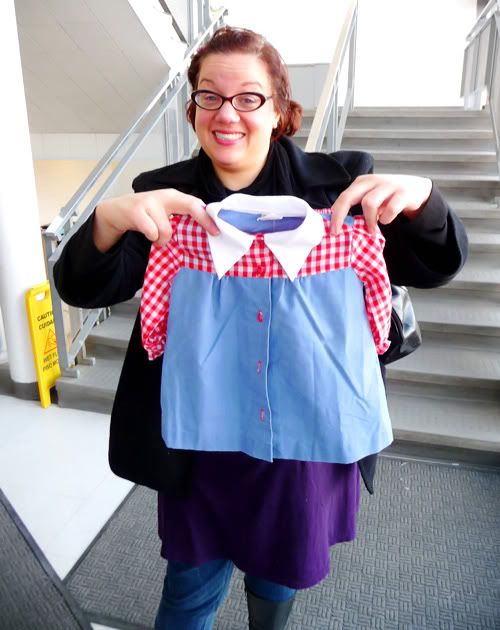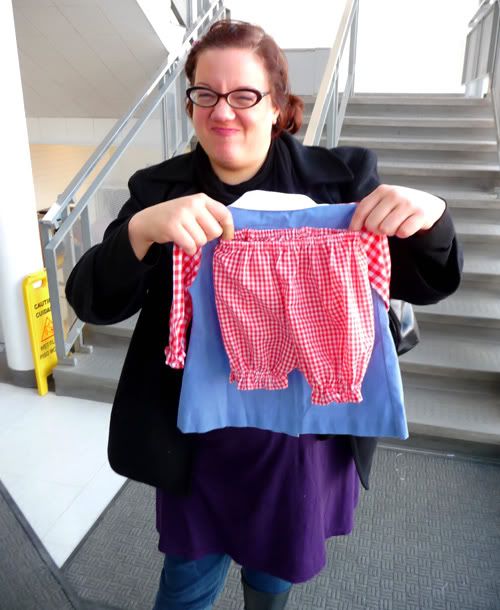 Hee hee. So good huh! She already shared some of her sweet vintage kiddo haul earlier this week! I'm soo dying to see the little Peach sportin' these goodies! We had such a fantastic time. Thank you again to Miss Liz for organizing such a cool outting!
So that was the end of our amazing trip to Salt Lake City. Boy did we have fun. And all I can say is next year? YOU BETTER JOIN US!