This week Alix and I will share some of our favorite books as part of a book series on Ohdeedoh.  The first question was of course, what was our favorite childrens book growing up. For me it was Tasha Tudor.
My personal favorite Tasha Tudor book was A is for Annabelle. It was about a beautiful doll named Annabelle and we went through her wardrobe alphabetically. I still remember that "L" is for "Locket". Oh, how I wanted that doll! That doll was the epitome of glamour to me. She even had EARRINGS and (be still my heart) a MUFF! I can thank Tasha Tudor for my undying appreciation of the muff. It's such an underrated accessory. I think that is why I wanted a winter wedding, so I could incorporate a muff into my wedding ensemble.
But I digress.
Tasha was ahead of her time as far as style–vintage style, that is!  While she grew up in the thirties, she favored wearing clothes from the 1800s!  She was also a single working mom–putting food on the table through her illustrations and writing.  And lived by herself well into her 8os tending her farm and living a very cozy life with her corgis not far from where I had a summer job in college.
And what was my summer job?  Old Sturbridge Village, a living historical museum dedicated to showing rural life in the 1830s.  As an art history major, I had an internship editing a book on antique clocks. And because it was an unpaid internship, I needed a job–so I worked part time as a costumed interpreter.  Yes–I dressed up in clothes from the 1830s milking cows, cooking over an open fire, spending the afternoons embroidering and knitting up a storm. Doing a lot of hand sewing. Wearing a bonnet to go outside. I made the uppers to my shoes. Heck I even dated a shepard for a month. Yup. The whole thing.  I cannot lie. It was a blast.  It wasn't urban homesteading. It was homesteading! And there are so many stories I could tell you about that I will in another post.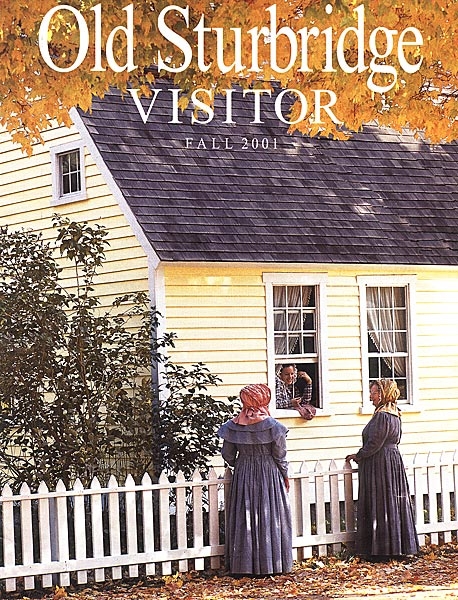 That's me, rocking the knitting out of the window. Oh yes, wearing my scotch dress. And of course a bonnet. I can't lie. It was a hoot. The experience gave me a huge appreciation for all things handcrafted–from knitting to baking to gardening.
As I mentioned, Tasha Tudor lived rather close by. As many Tasha Tudor fans know, she loved a world that was older than herself. She had a particular penchant for the 1830s and would come to Old Sturbridge Village (or the Village as we used to call it) to sip a bit of the past. The cooper at the Village used to unload the cords of wood she would order for Tasha and do work on her roof when she needed it. So, he had an in to Tasha and told me that she was planning on stopping by one day.
While I was out chopping wood at the Bixby house I looked up only to see Ms. Tudor watching. She had her hair pulled back in a pink kerchief and was wearing a black sweater. She commented on how she was just doing the same thing the other day at her place. I smiled shyly and chatted with her for a few moments. I was utterly starstruck. Oh, she was so tiny–I could have put her in my pocket. I felt like a giant in comparison to her.
If only.
If only I offered my services to work for her in her garden or doing odds and ends for her. Oh, why didn't I jump at the chance? If only I wasn't so darn tongue tied. But I'll remember her apple core face and wispy white hair. And how she loved what I loved. Or that I loved what she loved. She was berry brown and had quite the impish smile.
If only.
Well, I did run up after her and tell her that she wrote my favorite children's books and she was amazing and so many other jumbled sentences gushed to her in one fell swoop. So embarrassed. Then I scurried away. Clearly too overwhelmed and awkward for my own good. And she just laughed and said she loved A is for Annabelle too. And had her ears pierced later in life so she could look just like Annabelle. Such a light and feathery laugh. But I didn't ask her if she ever needed help. After all was planning to go to London for a year and then perhaps I would try to contact her afterwards to see if she needed help. But I didn't. And instead applied to grad school.
But I'll always remember this little missed opportunity. So, please everyone–take your opportunities! Fly through the crack in the window.
Don't get me wrong. I love my sweet cozy life just the way it is (perhaps it could be improved by losing 15 pounds) but overall, I'm very happy. But perhaps I'll try to bring a bit of Tasha's wonder into my life and the Peach's. And remember to not let my shyness/nervousness/fear stand in the way of just going for it!
Has anyone else out there had similar experiences?