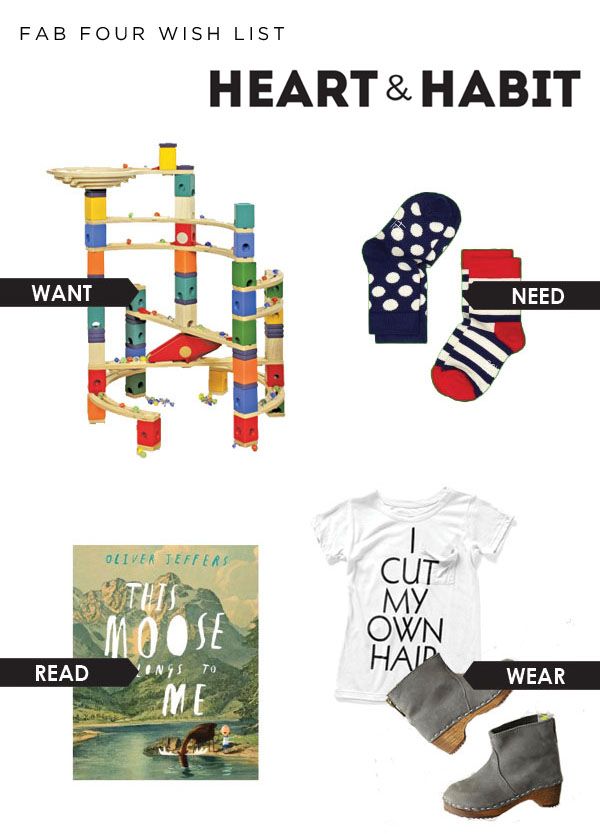 Hello everyone! Here are my top Fab Four picks!
WANT: Part blocks, part marble maze – my kids don't quite know it yet, but they want this toy. We are shooting for fun sibling play time when shopping for gifts, but I think this toy will bring lot's of family play time (even better). Quadrilla Twist and Rail Set.
NEED: Socks! Always and forever we need socks, it's not a very glamorous gift but, fun and funky pattern socks I'm pretty sure will be a hit with my kids. Happy Socks.
READ: All the books that are currently on my wish list for the kids, are books that are fun to read and look at for the parents. Oliver Jeffers books are a hit in our house, I'm sure this book will join our fav books in no time. This Moose Belongs To Me.
WEAR: My "Wear" list is reallllly long, but these are two of my favs. The tee is a must and the boots, a bit more of a dream! I Cut My Own Hair Tee . Clog Ankle Boots.
Hope you liked! What are you buying your littles this year? — Brandy

Be sure to stop by Heart and Habit (formerly Baby Blackbird) to get a wonderful peek into Brandy's wonderful world. In addition to snaps of her adorable family, you'll also see amazing fashion and style tips for kiddos of all ages. THANKS SO MUCH BRANDY!