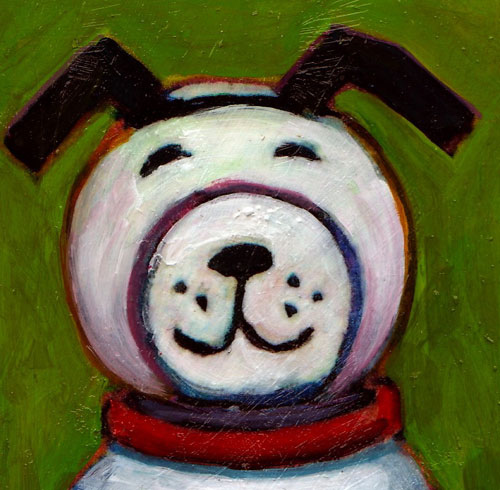 As you know we are grand fans of vintage Fisher Price toys here are the Modern Kiddo HQ.  Which is why I'm super duper thrilled to bring you this wonderful giveaway from Oak-Town artist extraordinaire Meredith Steele whohas kindly offered up one of her vintage Fisher Price Little People portraits that would add a delightful snap to any nursery or er–your own bedroom/office/bathroom/you name it place cuz it is that darn-tootin' awesome!
Meredith's mother saved all of the Fisher Price Little People toys that Meredith played with as a little girl which are now being put through the pretend play paces by her own little four-year old daughter, Amelia.  It   reminded Meredith how adorable the toys are–and you know how those artists are–they'll find inspiration in the darnest places.
Meredith's favorite figure is the little blonde princess toy because it reminds her of her daughter. It is so button cute!
My favorite is the girl with the glasses!  I also love the bully–I remember him as the carnie from the vintage Ferris Wheel!
She does all sorts of lovely stuff beyond Fisher Price–putting to good use her a BFA from the Savannah College of Art and Design and an MFA from Winthrop University. She exhibited her work throughout the Carolinas before relocating to the Bay Area in 2009. Meredith's work is primarily figurative and she utilizes a bold palette, descriptive brushwork, and the incorporation of recycled materials.  Which is perfect for Cookie Monster portraits too…
And Meredith will begin a post teaching Art at Bentley School this fall. When she's not working on her own paintings, she is often crafting princess castles and unicorn costumes with Miss Amelia, which is an excellent use of her time.  More of Meredith's work can be seen on her website, www.meredithsteele.com., which I highly recommend stopping by to check out when you have a chance.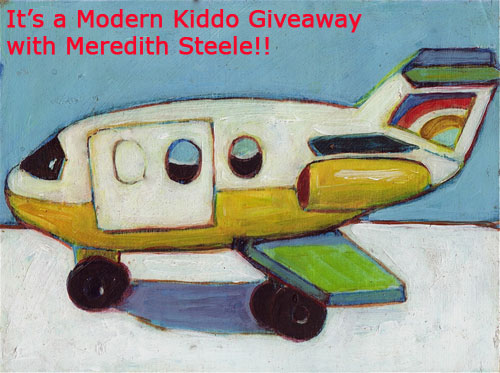 And Meredith is parting with this jaunty gem–the vintage Fisher Price doggie–for our giveaway. Three cheers for Meredith!!!
Now, how to get this grand giftie!
Leave a comment (natch) and tell us about your favorite Fisher Price toy memory (if you have one)
Follow us Google Alerts
Follow us on Twitter, @modernkiddo
If you already follow us on twitter, tweet about this giveaway—don't forget to include @modernkiddo in the tweet please!
"Like" this on Facebook (see below!)
If you do all five you'll be entered five times. Woot!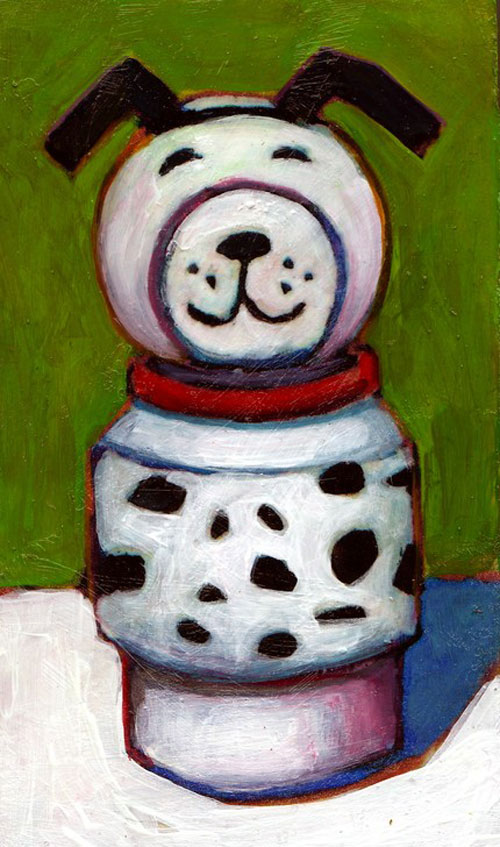 Good luck you all for this particularly yummy giveaway!