Hi gang! I'm just back in from Prague…we had a spectacular time. It's so good to be home, but I do miss that pretty city. As you guys know, we usually do our Weekly Kiddo on Fridays, but I'm CRAZY jet lagged (we had a 4am pick up at our hotel. D-Y-I-N-G). My fabulous friend Pilgrim has graciously offered up a fantastic Guest Post to help me out. THANK YOU lovely Pilgrim! We have been so lucky to have such a cool collection of Guest Bloggers over here! And never fear, Weekly Kiddo will be back in full force next week. I have some super kiddos in the works. xo Alix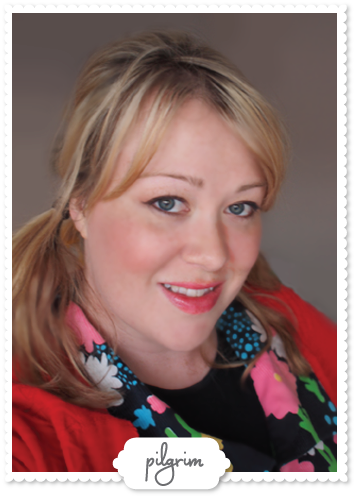 hello modern kiddo readers! this is pilgrim and i'm honoured to be guest posting for modern kiddo today. while alix is off galavanting around Prague, i thought it would be fun to show you around my son donovan's bedroom. donovan's room had an upgrade earlier this year to celebrate his move from baby guy to fully fledged kiddo and i'll share some of my decorating tips with you. first, what did his room look like before?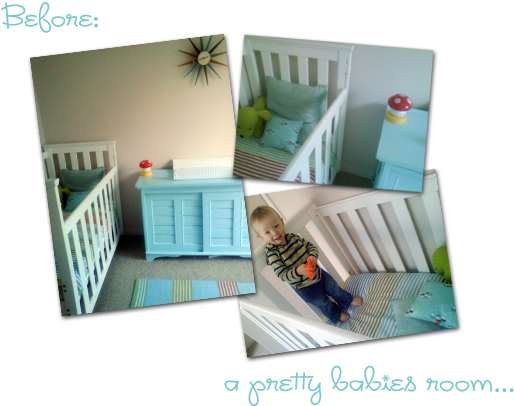 it was a very nice calm and minimal baby's room. i went with an aqua, lime, and orange palette largely inspired by the rug you see. the changing table was the same one i was changed on when i was a baby, and it was made by my great grandfather during the depression (from orange crates). don't worry, the cabinet has been moved into another room where it will take on its seventh life as a guitar bench. so what does the room look like now?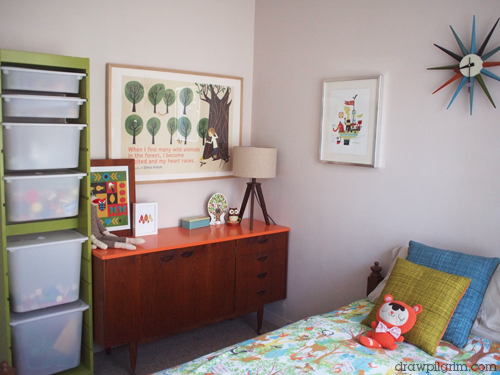 TA-DA! working from left to right we have: ikea storage 'bins' holding toys and supplies (painted in nippon paints 'bamboo' color), a secondhand sideboard scored from my friend's shop (the top was pretty rough so it got a lick of paint – 'satsuma' by nippon paint, to be precise), the print on the wall above the sideboard is by shinzi katoh, and the smaller print on the wall is 'gama go's critter boat' by tim biskup.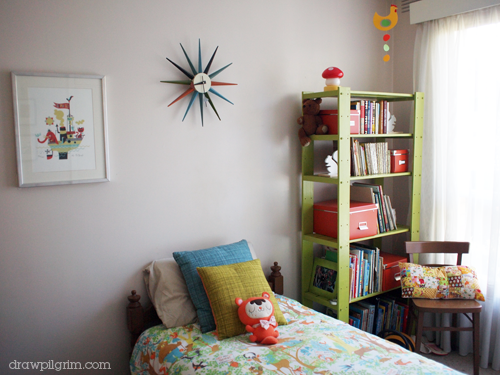 the bed was the first 'new' thing i bought. i found it in a thrift store and thought it was such a sweet, perfect 'first proper bed'. from that point i put the room together really gradually. i think this is important when creating a room because its not something you should be redoing too often so it deserves consideration. having said that, i don't like rooms that look as though they're arrived fully formed. there needs to be room for growth and general 'living' in rooms – after all, none of us live in a catalog or magazine spread! the way i worked the room out was by having a folder on my desktop and a photoshop file that i used as a digital mood board. i took photos of what we already had (the prints, the clock, the chair) and then worked out a palette and 'theme' (i was inspired by the yellowing colorful illustrations in vintage kid's encyclopedias) and then added the other furniture as i discovered it. i would search very generally on etsy and ebay for fabrics etc using very general terms that fit my theme, eg 'vintage woodland,' and if i found something intriguing i'd drag the pictures into my mood board to see if they worked. it was just trial and error and patience and some luck too. i enjoy putting rooms together so much, and this was such a special project. i adored my bedrooms growing up, and i wanted this extra special first 'big kid' room to be as fun and cute as it was functional. storage was an extra special consideration seeing as previously all the toys had lived in our lounge room!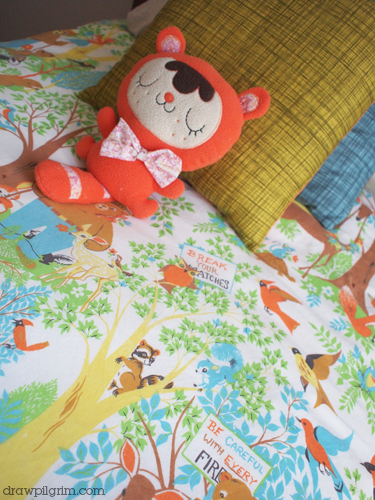 so after i worked out i was going for a vintage woodland, nature kinda theme, i could not believe it when i found this sheet on etsy! its a smokey the bear single sheet, in great condition, that i've turned into a duvet cover. its got that lovely soft vintage sheet feeling, but i sewed it to a new plain white sheet to give it some extra thickness . i still can't believe my luck! my son loves pointing out the animals on the sheet and reading all the fire safety messages. the cushions are 'orla kiely for target' napkins set i picked up on ebay. the colors and the cross-hatched pattern really work with the vintage illustration style of the smokey sheet, don't you think? i think regardless of what room you're decorating in it's important to think laterally and be creative about the things you use. napkins can be cushion covers, tea towels make sweet curtains and furniture can serve several purposes.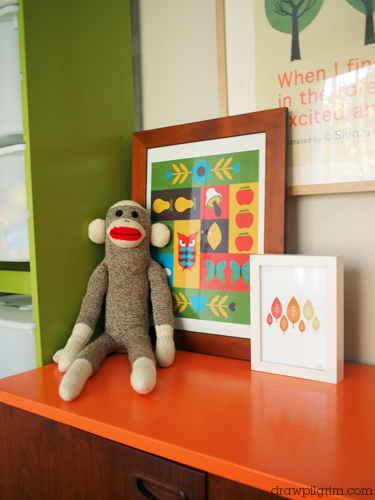 for example, my sons's clothing and some games etc now live in a secondhand sideboard. the sideboard was a real score. my friend was closing down her shop to set off on a world adventure, and so i kindly offered to relieve her of her shop counter, and here it is! a freshly painted top, and a new lease on life. being flexible with how you use furniture can make thrifting a viable decorating option, and i think in this room's case it's a piece of furniture my son can grow with. here is one of my woodland patchwork prints in its natural habitat! also pictured is a leaf print by ubiki, from etsy.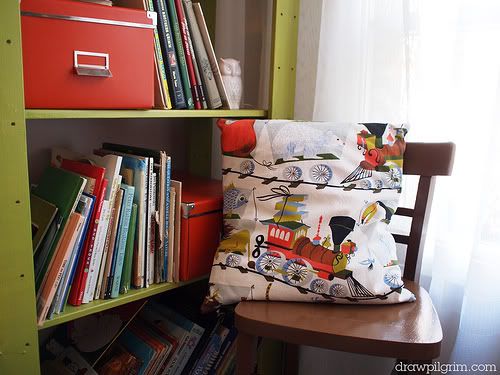 the bedtime story chair has a very new and lovely cushion on it from arthur's circus! the chair and the bed frame are both painted in nippon paint's 'wainscot' color. its a nice, very 70s brown. the chair was one of my grandma's kitchen chairs, so its really cool that it gets such an important role in this room.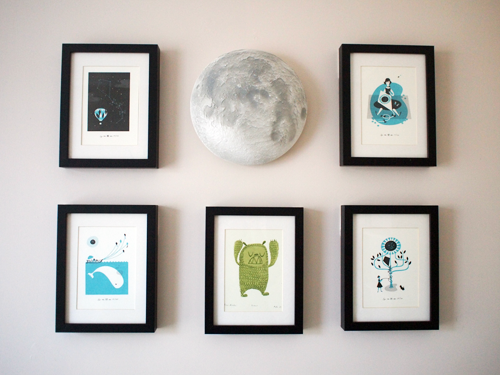 and finally, on the wall at the foot of the bed, by the doorway, we have a little cluster of art wall goodness. a collection of printe from the dreamy lab partners, as well as the matte stephens 'bear monster' print, frame the 'moon in my room' light. father christmas brought my son the moon last december and so every night we check out what phase the moon is in, and adjust the light accordingly. it makes a really pretty nightlight and educational tool.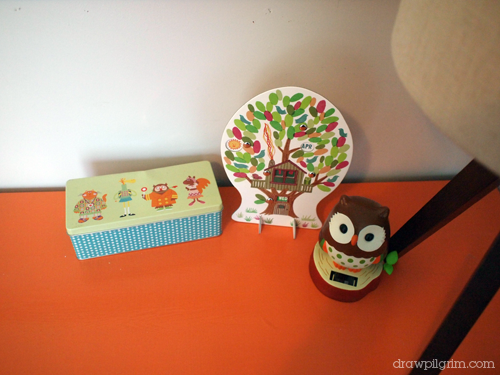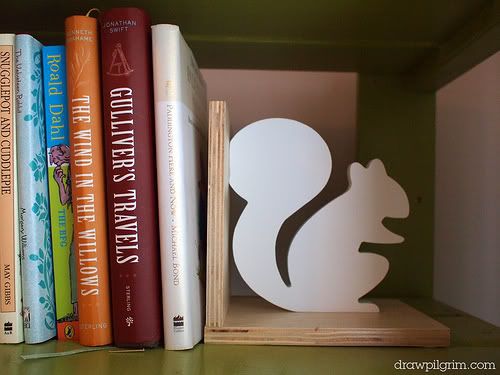 as i mentioned, a lot of the things we already had around the house, and the other furniture brought in is half ikea, half secondhand, so i'm quite happy with the thriftiness vs practicalness balance.
and there we have it: from nursery to four years old! my son loves his room and even after a couple of months of it being all set up he's still thrilled to have a room of his own with character and interest, and that's the big triumph for me.