Hellooo! Today I want to introduce you to one of my friends, who is also a great friend of the blog—Miss Jody from Rocket City Digs. Jody is also the mama of two sweet little girls and lives with her honey in a jaunty lil pad in SF. A few years ago she also happened to join our merry band of go-go groovies, The Devil-Ettes, where she became the aptly named Rocket Girl—due to her love of all things sci-fi! And that's why we're here today folks! Jody is going to share with you her thoughts on bringing a lil sci-fi sass into your little girl's life.

Hello, Kiddos! I'm pleased as punch that Dottie and Alix asked me to guest-blog. Not just because they're fabulous on a galactic scale (because they are!) or because I'm a daily devotee of the blog (because I am!) but mostly because they asked me to write about a topic near and dear to my heart: girls and science fiction!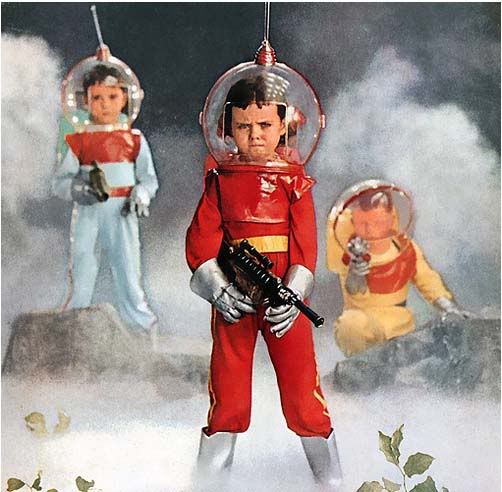 image: boo wow

image: Eric Ernest
A little history: Dottie asked me to write this post back before I went on maternity leave. I happened to be perusing resumes for two positions—a database administrator and software developer. Of the fifteen or so submissions, only one of them was from a woman. I lamented the lack of ladies in computer science, and the one other woman on the team (a brilliant database engineer) commiserated with me. Actually, several of our male colleagues commiserated, too. Apparently engineering school has a major dearth of girl geeks!
I though it was fitting that Dottie asked me to write this post on the very day that I was shouting to the stratosphere about the absence of women in computer science….and I decided that maybe science fiction is the answer! Or part of it, anyway. If we get our girls into science fiction early, then maybe they'll get into science fact later! As all good geeks know, science fiction isn't science fiction so much as science we-haven't-figured-out-yet. Imagine it, and you can do it. Fly to the moon! Construct a super-robot! Travel at warp speed! Contact creatures from another galaxy?? What kid doesn't want to do that!
image via: christianmontone
So how to get your girls into science fiction? Step one: be a fan yourself! My mom always tells stories of her "Star Trek" boyfriend, the poor sod whose only asset was his television. My dad will tell you that Forbidden Planet's Monster of the Id made him go into psychology. So it's no wonder that my sister and I, born in 1973 and 1975, have photo albums peppered with pictures like these: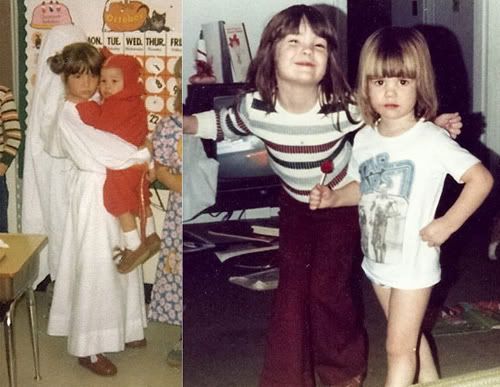 Is there any better role model than Princess Leia? She embodies everything feminine (she's a beautiful princess, after all) but that's secondary to her extraordinary leadership and power.
I'd say if you want to get your girls into science fiction, Princess Leia is the place to start. My daughter's not even two years old, and after her first viewing of Star Wars, she turned to me and signed "Again." She doesn't talk much, but she knows a good movie when she sees it.
My niece, Sadie (who just turned 6 on April 18!) dressed up as a Princess Fairy Kitty twice in a row for Halloween, and a year or so ago, she spent an afternoon drawing these works of art: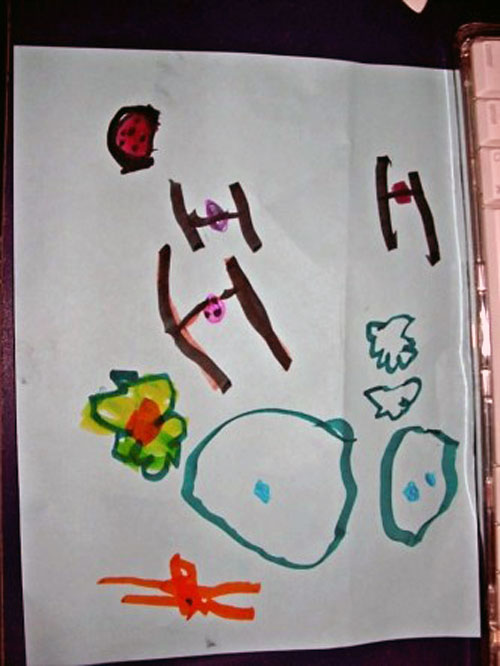 But there are so many more extraordinary, non-superhero women to look for. Here are a few of my favorites:
Sarah Jane of The Sarah Jane Chronicles, a wonderful Dr. Who spinoff for kids; any of the companions in Dr. Who (the new BBC series is one of my favorite TV shows ever)
Ellie from the movie My Science Project, if you're looking for some 80s fun.
Zoe and Kaylee from Joss Whedon's Firefly
The ladies from Battlestar Galactica like Starbuck and President Roslin
Ripley from Alien
And that's not including all the superheroes and magical women. Sigh. But if I start down the fantasy genre path I'll never come back. (Big shoutouts to Buffy! Arwen! Hermione! Professor McGonagall! Wonder Woman! The Girl With the Silver Eyes. And Eowyn, who, like Princess Leia, is both a non-magical beautiful princess AND a courageous sword-wielding soldier for good.)
So who are some of YOUR favorites? Let us know! Generally speaking, my rule is if it features rockets and/or aliens, it's a favorite for us!
One final note: I know I said I wasn't going to get into clothes, but I do have one tip to share: shop in the boys' section. Seriously! I found these jammies at The Gap the other day, and I'll be darned if I know why they're boys-only. Hello, the pants are red with blue stars—Wonder Woman, anyone?

Really, it's never too early to start them on the robot/sci-fi love affair in my book!

Thank you so much Jody! We are big fans of the space age here too. Miss Alix especially—her original Devil-Ette name was The Galaxy Girl. Girls and sci-fi? Roger that!