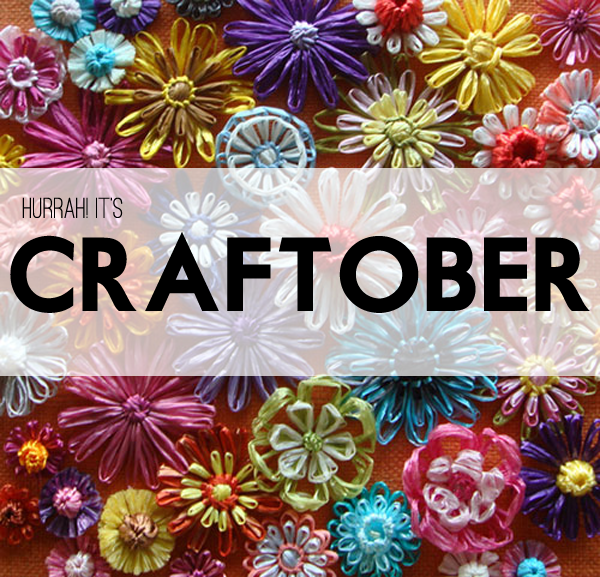 (Image: the incomparable  Cathy of California)
Hi, crafty folks!  What is it about Fall that just gets me wanting to pull out my knitting needles and dust off my sewing machine?  I don't think I'm alone in this feeling. So, I'm throwing down the glue gun gauntlet and calling this month CRAFTOBER!  After all, this is a month that demands we all become a little bit crafty, thinking up those sweet Halloween costumes for our little ones, as well as for ourselves.
This month I plan to share with you some of favorite vintage craft books, some original and easy tutorials I've been developing, and some great craft inspiration from around the Web every Thursday in October.
I thought I would start Craftober off by sharing with you my first craft book, The McCall's Golden Do It Yourself book, printed in 1960.  It was a rejected book from my school library sold to me for five cents and I would spend HOURS pouring over these pictures, fascinated with the crafts and the young children dressed so nicely in the photographs.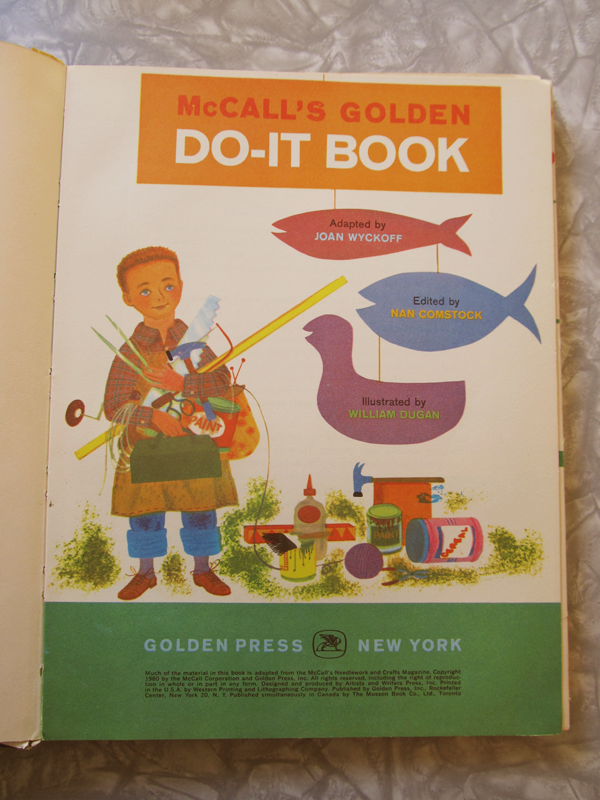 Here are a few of my favorite crafts from the book.
I loved this flying fish kite!  Look at the concentration on that little boy's face when he is cutting.  BTW, don't you love that you can tell the kid actually colored the fish in? So great!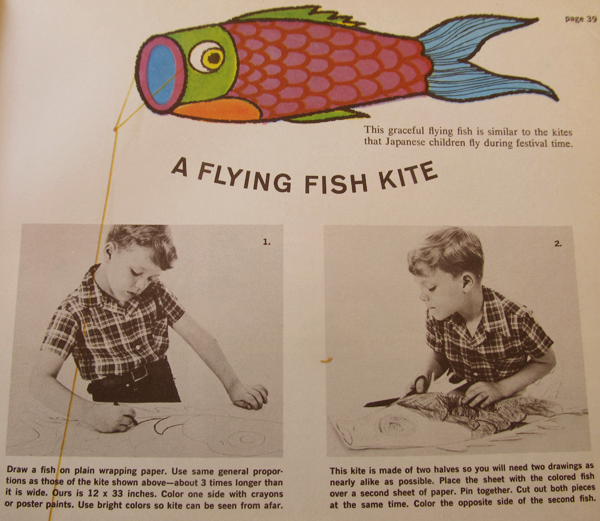 I really think I need to make that elephant!  That might be the cutest thing in the book!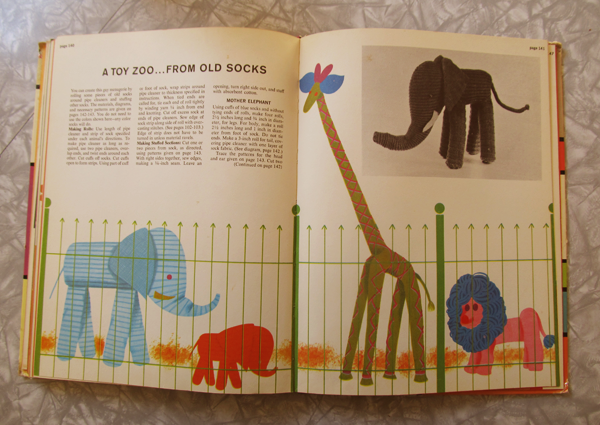 This easy craft would be a great way to get the Peach into drumming.  It uses parchment paper, which I'm not sure is the same parchment paper I'm thinking of. I think it is actually is sheepskin parchment. Don't know how easy that is to find…
I think I'll clearly need to eat a lot of ice cream for this toy. No hardship is too much for crafting!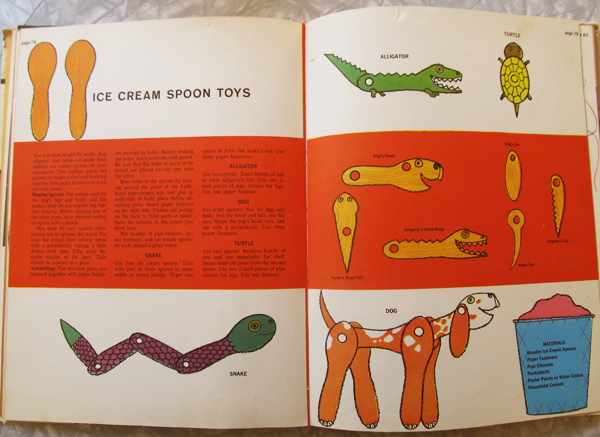 I remember wanting this perky paper doll so badly…Â  Hmm.. I might need to ruminate on this one a bit to see if I can make something out of it for the Peach…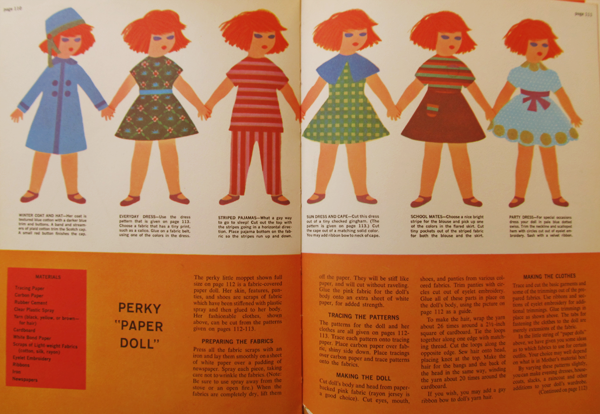 But some of the crafts were even a bit too crafty for me!  Like this "cat" and hungover queen spool marionettes. Eek!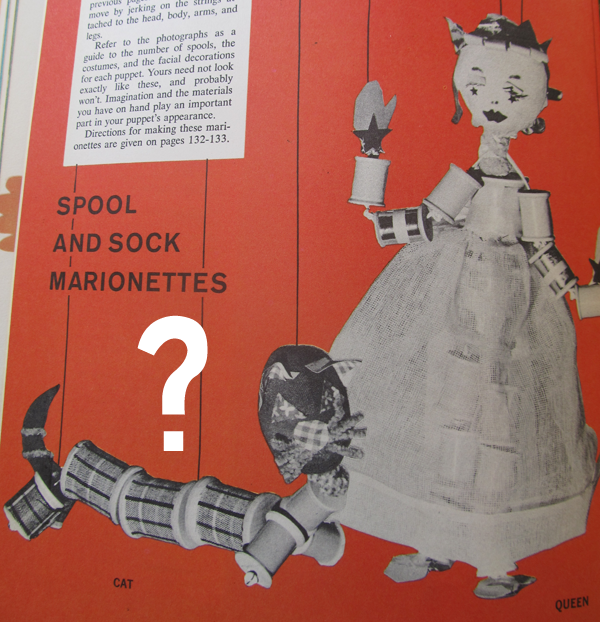 But out of all the pages in this book, this is one that had the most impact on my as a child.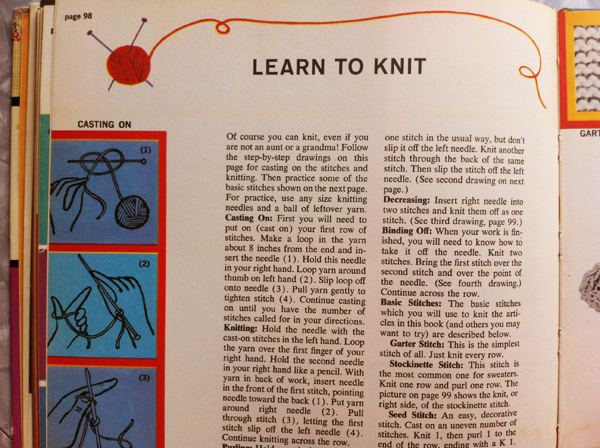 I learned to knit from this book. OK, I tried to learn to knit from this book.  Honestly, I don't know if what I created was actually knitting–more like knotting things on two pencils, but man, it started a passion in me and a drive to do more crafting, which was hard as my mother was and is the least crafty person I know. (Although mind you, the most amazing and loving and funny mother a girl could want!)
Do you ever try crafts from old craft books? How did you get into crafting?  Do you have any crafting plans around Halloween?