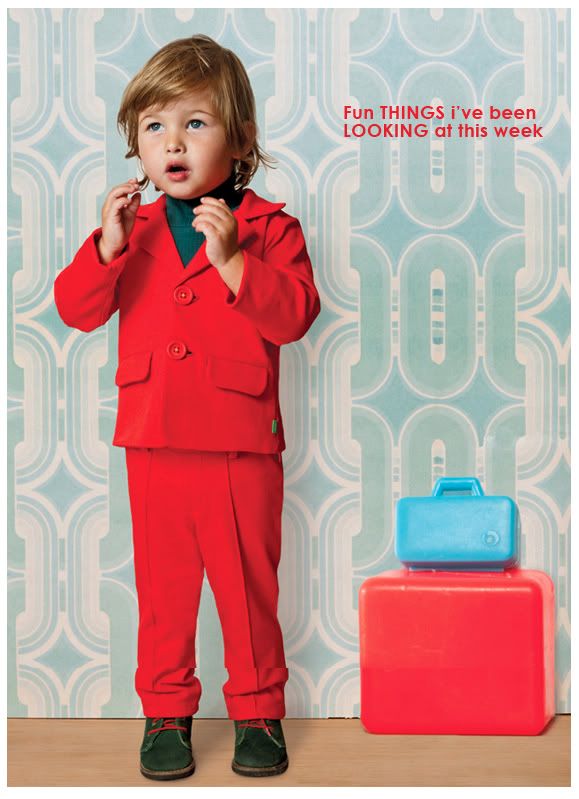 1. TEENSY SLICE OF MIDCENTURY.
While you can't really play with it, there is something about this wee little house that is kind of cute. See it over here via Babble.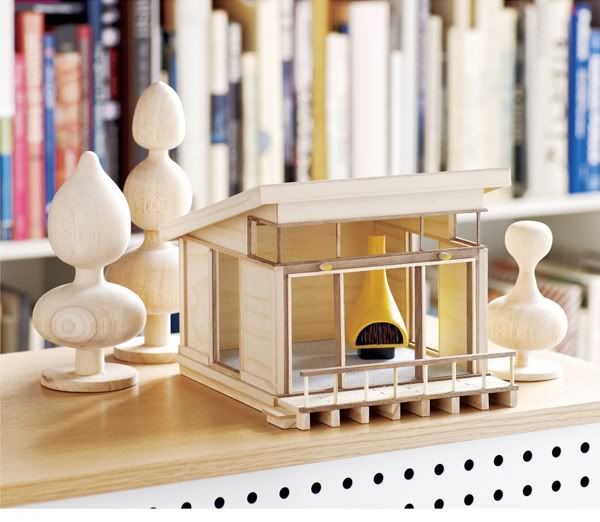 2. EAMES KNIT WITS.
These Eames chairs are so iconic and cool….but if we're being honest, wire chairs ain't the coziest. That's why I am in love with this fabulous hand-knit seat cover! Hmmm, now if I could only convince Miss Dottie to come over and knit me one. (seen on the recraft)

3. QUIRKY SANDALS IN THE SAND.
Kiki kids made these really charming geta sandals (essentially a traditional Japanese wooden flip flop). The sneaky part? There are little "stamps" on the bottom so when you walk you leave behind animal foot prints. SO FUN! Check them out here.

via babyology
4. BLACK AND WHITE AND FUN ALL OVER.
Oh this is a great idea! Loads of free, downloadable coloring pages from the genius minds at Patterns For Colouring! Get yours here. Found via the lovely Draw! Pilgrim
5. ROOKIE IS A SMART COOKIE.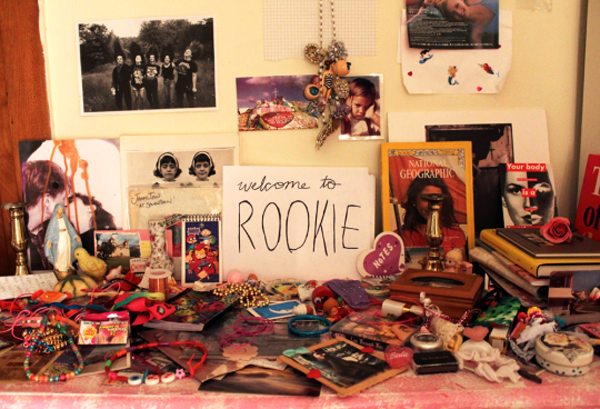 The infamous 15 year old Tavi, of Style Rookie fame, has launched a new web site for young girls. A little bit Sassy mag (Jane Pratt is one of her mentors) and a whole lotta modern cool. Check it out here. Looks like it should be fun. Hmm, reminds me I haven't looked at Zooey Deschanel's blog in ages. Wonder how that's going?
6. AUCTIONS WITH A BANG BANG.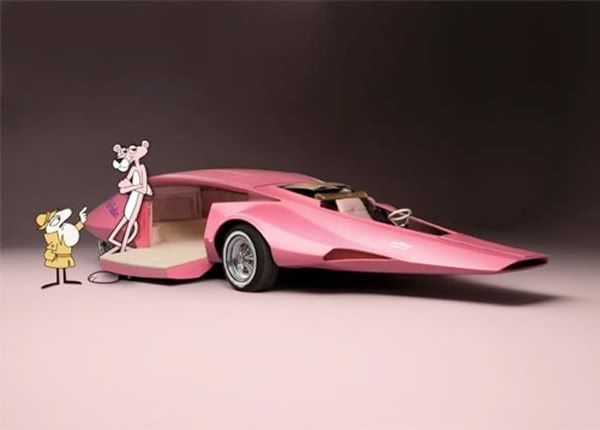 This auction house is bananas. You can actually bid on the Pink Panther's sweet-n-spacey Panthermobile. The vehicle was created in 1969 by Jay Ohrberg. You may remember him as the mastermind designer behind infamous autos like the Ford Gran Torino from Starsky and Hutch, Knightrider's K.I.T.T., the Back to the Future DeLorean, the Dukes of Hazzard's General Lee, as the iconic Batmobiles from both 1966 and 1989. Jay Ohrberg was a busy guy.
But if you think that's cool….this is ever COOLER. You can also bid on one of the original Chitty Chitty Bang Bang cars. AHHHHHH!
MY MIND IS BLOWN! Â How about pulling up to the carpool drop-off lane at your school in that sweet ride?? Aw yeah. Place a bid over here.
7. YMA GONNA WANNA BID.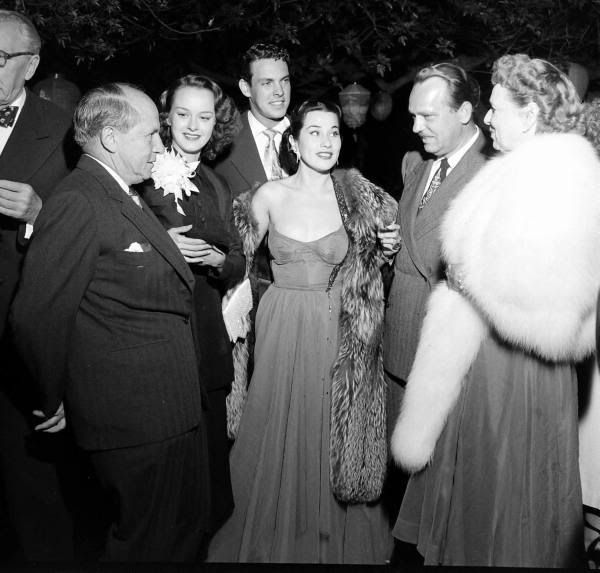 Speaking of crazy auctions, the estate of the glorious Yma Sumac is auctioning off her stage costumes on eBay. If you aren't familiar with her, Yma was a famous Peruvian soprano who was a leader in the Exotica and lounge music movement of the 50s/60s, working with people like Les Baxter. She was super groovy. And to have a piece of her stage wardrobe? WOW! I am oggling the silver cape. There are some wonderful pieces! Look and drool here.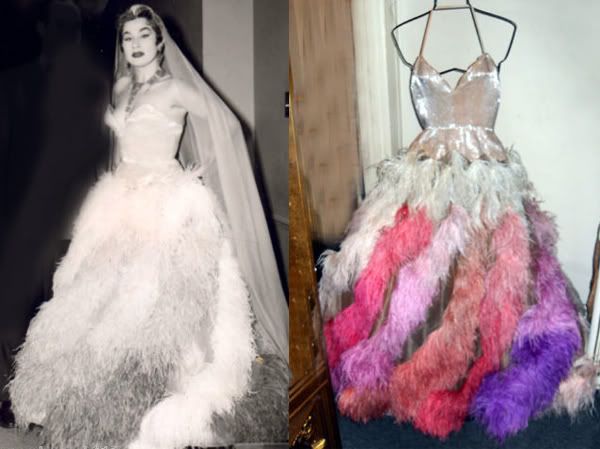 8. WAIT, WHAT? HUH? I'M SORRY COULD YOU REPEAT THAT?


When Greg claims can't hear what I'm saying, I always joke that I need to get him an old timey ear horn. It cracks me up every time. And this thing…well….it's making me giggle too. Get yours over here. Hee. Ear horn. (And can I award myself 10 points for not making a bad, "I feel horny" joke?)
9. THESE ZUCCHINI FRITTERS ARE MAKING ME DROOL.
Holy yum. This seems like the perfect transition from Summer to Autumn food! Learn how to make them here. And then bring them over to my house STAT.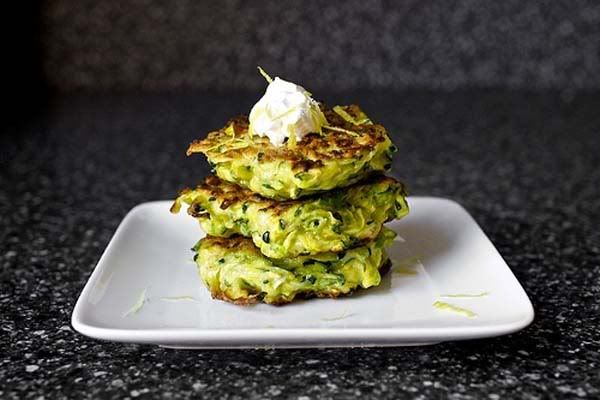 10. I'M GOING GREEN.


We loooooove the Muppets here at Camp Kiddo, and I am loving this adorable new tribute CD. Muppets: The Green Album is a new collection of Muppet songs covered lovingly by the likes of Andrew Bird, OK GO, My Morning Jacket and Weezer. Read more here. Buy it from iTunes here. I also saw it at my local Starbucks.

BONUS RANDOMNESS
+ I was looking at my Twitter Klout (this mysterious rating system that tells you if people are listening to you) and I was pleased that I had a pretty nice rating going. But then it told me my areas of twitter expertise are "Blogging" "Shoes" and "Spice Girls". What the what? SPICE GIRLS? I don't recall tweeting about them EVER! That being said….uh….I was intrigued to see this photo of Posh Spice and her baby Harper.
+ This totally made me sad. Lindsay Lohan's little sister looks like she got MAJOR plastic surgury. Gross. She's claiming she didn't but you be the judge. Check it.
+ Kate Plus 8 was cancelled. I admit I used to watch the show in the early days and enjoyed it (and was actually impressed with Kate and her managing that entire household). Then the whole John drama happened. And while she bugged me, I always tried to remind myself, "Hey, you don't have SIX kids who are five years old. I'm sure she's stressed." But then I just watched the last couple of episodes since its going off the air, and whoooo mama. That Kate is a Class-A PITA ("pain in the ass", doncha know). She was on a road trip with her kids and two other women and she belittled them and whined and complained the whole entire trip. Yeech. But I still felt badly that their main source of income was disappearing. Til I saw that she bought herself a flashy Audi. Sigh. Kate, Kate, you just aren't great. See it here.
+ Also, who's watching Project Runway???? Do we need to discuss??