It's Friday people! Whoo hoo! I like to close things out with a sampling of things that caught my eye….hopefully you'll enjoy 'em too. Oh, and when you pop over to some of these other blogs, why not leave a little comment saying "Hi!" I feel like we have some of the coolest/best readers around—let's share the Kiddo love! OK….on with the linkies.
1. Older But Wiser.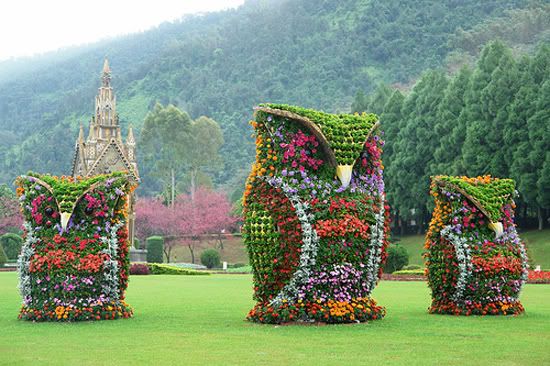 I don't mean to start a crafty riot with this statement…but the owl has become a tad ubiquitous. You have to admit, they are second only to the little birdie. At the same time, I'm still TOTALLY loving them! Dottie sent me the Brown Owls web site and I had a blast at checking out all things owlie!
2. Beautiful Liddles Kiddles from SMALL Magazine.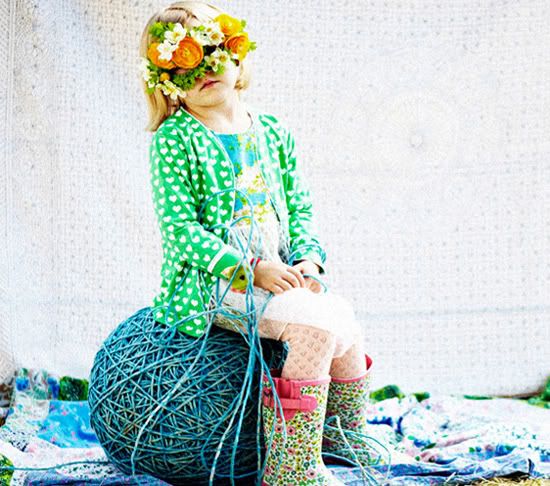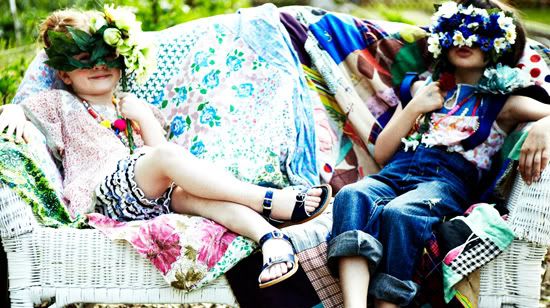 Ooooh SMALL mag, how gorgeous are you? Â As usual this issue is chock full o' goodness, like this beautiful fashion spread.
3. Giddy (Giddy) Over This Family.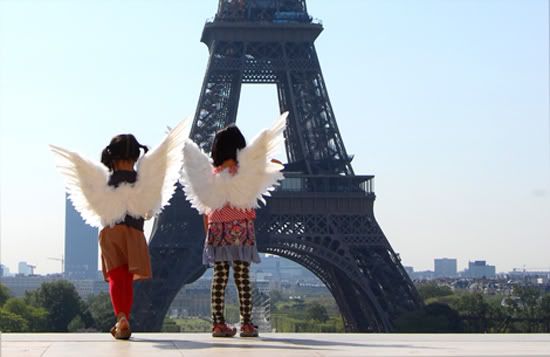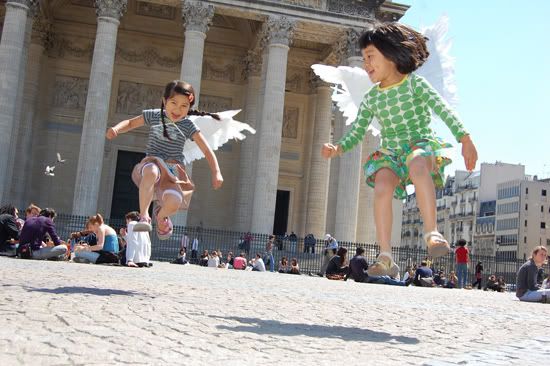 My friend Teri runs the super popular kid's accessory's shop, Giddy Giddy. She also has a totally inspiring blog and I have to say some of my favorite posts are the ones she does of her adorable family. They recently returned from a trip to Barcelona and Paris and the photos are so incredible! Her post detailing their Family Mission Statement is a must read! Teri's youngest daughter is in Wolfie's kindergarten class and I feel so lucky to have met this wildly creative woman. (And yep, the whole darn family is super cute AND crazy nice!!)
4. I Know it's Wrong But I Want a Panda Dog.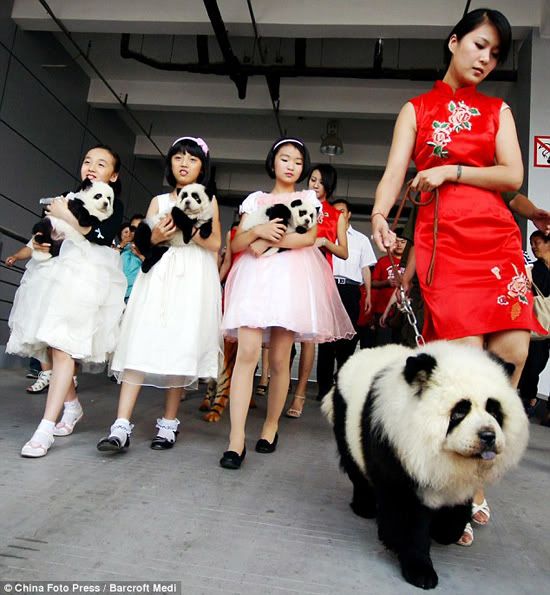 Apparently dying your dog to look like a more exotic animal is a huge trend in China now. Tigers. Pandas. It's soooo wrong, I know….but dammit these pups are cute. Go here to see more and tell me that the big Tiger dog doesn't actually look a little psyched by his new ensemble.
5. These Photos Are Child's Play.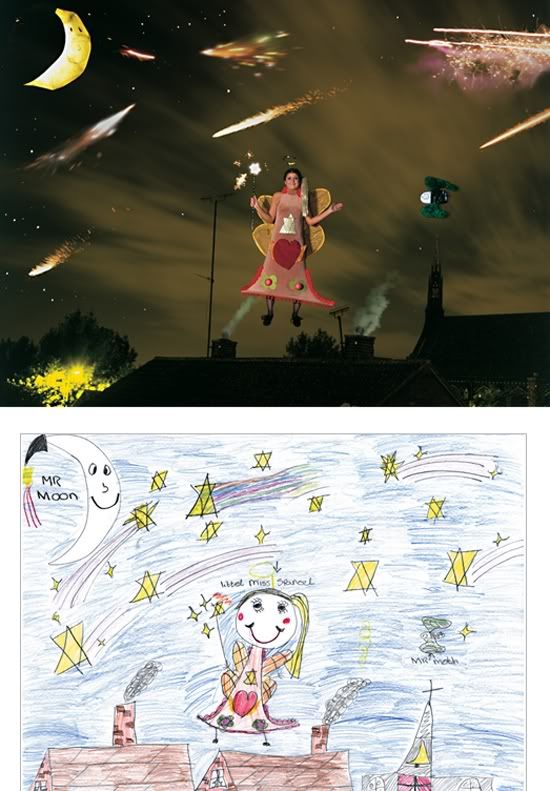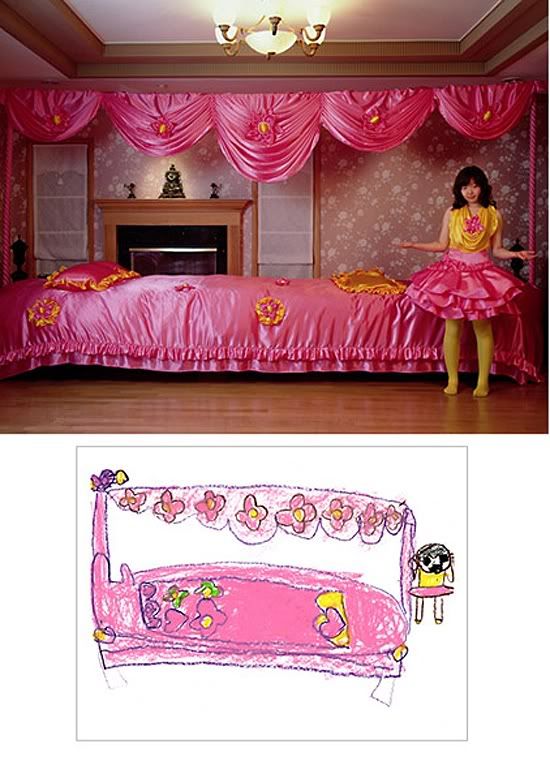 Our pal Robert over at the awesome Junior Society turned us on to this cool artist who takes children's drawings and then styles them up into these amazing photographs. Look closely, it's truly awesome! You can see more over here. I just love this idea.
6. Art, Art Baby.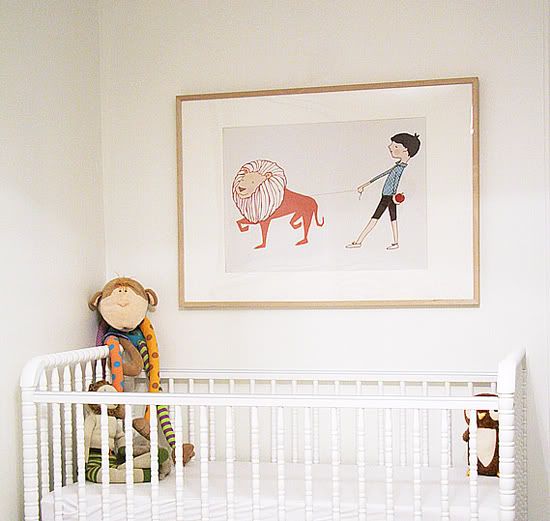 The lovely Sarah Jane creates these beautiful illustrations that remind me of vintage story books. You know I'm a big fan of art in yer kiddo's room, so you can imagine I was totally over the moon to see this huge Sarah Jane Studios print in this nursery. You'll find the original over at Aubrey and Lindsay's Little Home blog.
7. Chalk It Up To Creativity.

While browsing Kenzipoo this morning I was totally taken by these rad porcelain figurines painted with chalkboard paint. HOW COOL IS THIS IDEA???? If you are a little lazy (or simply want to get one from the pros), swing by Ladies And Gentlemen. They have boat loads of cool stuff, like the bunny and horse pictured above.
8. VOTE FOR MODERN KIDDO! Yes, a bit of shameless self-promotion....see that brown box on the top right of the blog with the jugglin' mommy that says "Vote for Me"? Can you pretty please with sugar on top click it? It takes a second or two and will help us get a listing in the Top Mommy Blogs directory. You can vote every day, I believe. Not like I'm askin' ya to do THAT….unless, you know, you want to. *wink* Â THANK you! You can also click here, for our personal link to vote.
9. Hall & Oates
And finally….this week's video is actually an audio track. I've been obsessed with Hall & Oates lately (I'm telling ya, they are the new Journey….) and this tribute album by The Bird and the Bee is totally fun. All the songs are great—Private Eyes, I Can't Go For That…..but of course, I had to close this week out with a personal fave, MAN EATER.
HAPPY WEEKEND EVERYBODY!