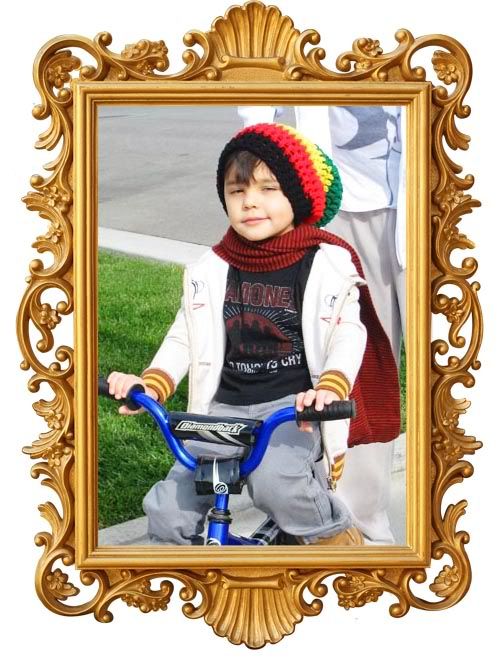 Take a look at this cutie pie! This is Max, age 4 1/2. Max lives in Southern California with his little brother Julius. Mr. Max  loves to munch on chips and Top Ramen noodles, but orange juice is his #1 favorite! Max's favorite color is green and when he's not playing on his Nintendo DS he loves playing basket ball with his daddy.
As you can tell Max is a stylish little lad. Here's how you can get Max's hip style for yourself:
+ Rasta beanie from Etsy seller redsugartk
+ zip-up sweater hoodie, Small Paul by Paul Frank
+ Ramones t-shirt purchased at lalaling.com
+ Gray pants are Shaun White for Target
Oh, and don't think we forgot about little brother Julius! This cutie is 5 1/2 months old. He loves to be held, giggle, eat and enjoys a lil lounging tummy time (I hear ya Julius!). His mama says he gives fabulous eyebrow expressions all the time. Max and Julius are wearing matching shirts from Wonderboy, available at Nordstroms.
HEY! Do you have a Modern Kiddo of your own? We want to see them! Read our Submission Guidelines and then email us at AlixnDottie@modernkiddo.com!