***THIS GIVEAWAY CLOSED ON APRIL 18TH AT 8:00PM-PST. THANKS FOR ENTERING****
It all started with one cute kiddo. Ingrid to be exact.
So darn cute that we needed to feature Miss Ingrid as a Weekly Kiddo and her mom is kinda awesome too. Â So awesome that she is doing a giveaway for her Etsy shop, Applesauce Crafts with us. And anyone with a wee one I'm sure will like this giveaway. It basically is a basket full of cuteness. Â Seriously–check it out–this sweet widdle bunny that has the perfect ears for teething little ones to gnaw on. And a matching bib and burp cloth to boot! Â I'm sure Amber's little boy Otis can attest to the numminess of the bunny ears, eh?
You all know about that cute little lady, Miss Ingrid, but what of her sweet mama, Amber? Well, I sat down with her for a nice cup of chamomile tea with extra honey to chat with her about her lovely shoppe…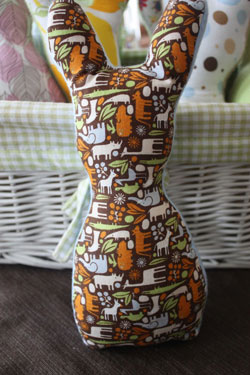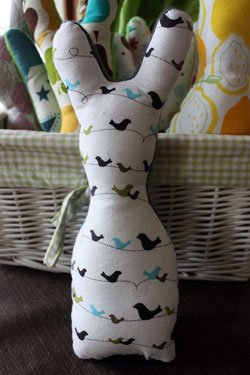 MK: What inspired you to open up an Etsy store?
Amber: My daughter Ingrid and I were sorting through my scrap bin one day and I realized I had some good sized scraps.  I am constantly thinking I will use them for a quilt but then I never do, so the idea of a stuffed animal came to mind.  Ingrid said make me a bunny, so I did!  It's a great way to use up those extra pieces after I make bibs and burp cloths and blankets.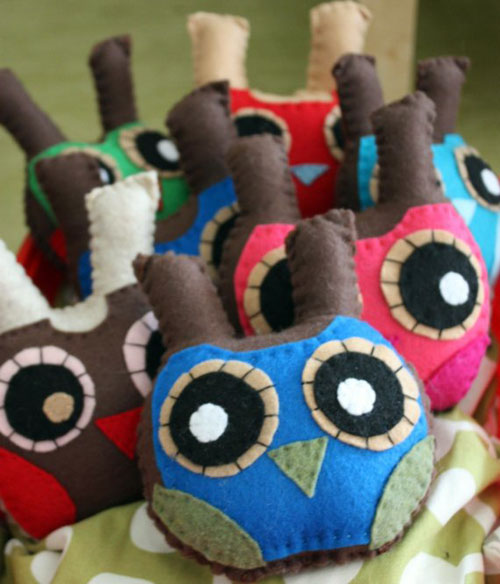 MK: That name Applesauce crafts is so darn button cute? How did you come up with it?
Amber: I was trying to come up with a name for my new etsy shop a couple years ago.  I was trying to think of something German but nothing sounded right.  Then I was writing up a description for my bibs and I said something about does your kid have applesauce all over them.  Applesauce Crafts sounded cute so I went with it!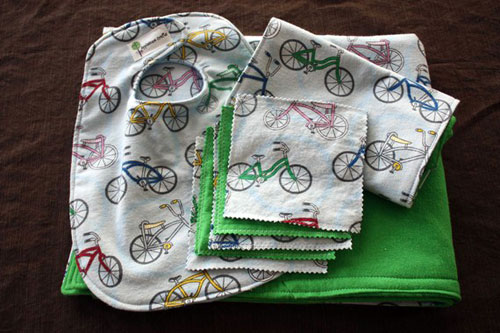 MK: What is your favorite item in the store right now?
Amber: My favorite item is probably my Fruit Salad Blanket.  ()  Otis is a baby that has to be swaddled to sleep and all my blankets are either really thin or really small.  So I like this idea of a big blanket that is cozy because of the fleece but not bulky so you can still swaddle with it.  I find that my life dictates what I end up making for the shop!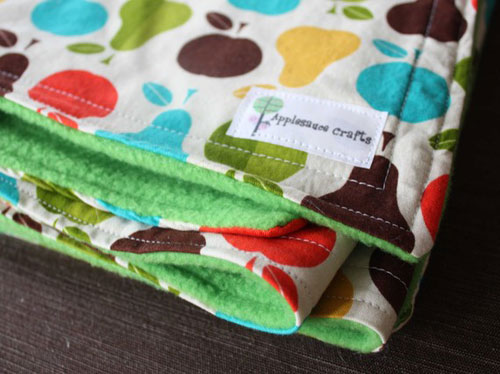 Now, to win this dandy little package of cuteness here's what you need to do:
Leave a comment on this blog entry
Follow us on Twitter. If you are already a follower, tweet about this giveaway—don't forget to include @modernkiddo in the tweet please! You can also follow our personal twitters @galexina and @missdottie
"Like" us on Facebook
Follow @applesaucecrafts on Twitter
You'll get one entry for each thing you do. If you do all five (or six) you'll be entered five times.
We have so many amazing Giveaways on the horizon we're shortening the length of entry. This fabulous Giveaway ends at noon on Monday, April 11, 2011.
Good luck, and I'm crossing my fingers you win!