I think it is well known that I love all things Swedish.  Alas, I have yet to make it there in person. Hearing stories from other people's trips just gets me more and more excited and I know I'll get there one of these days!
Today, I'm going to travel there vicariously through one of our readers, the lovely Alice Jonsson. Alice offered to serve as roving reporter and chat with us about her recent trip to Sweden with her darling family—including her adorable boy Jake and her beautiful daughter Lena. Take it away Alice!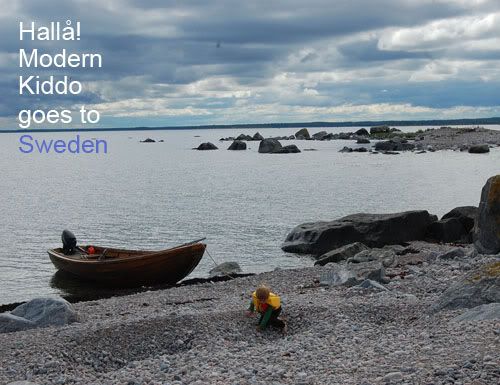 Greetings Modern Kiddo readers! My name is Alice. This June we were able to finally bring our kids to the beautiful country of Sweden.  My husband Patrik lived there until he was ten and his family summers were spent on Prast Grundet, a lovely island in the Upper Baltic.  It was used for three hundred years as a fishing outpost by Patrik's family until the middle of the 20th century. Since then its little red houses have been used  for vacationing and soaking up the precious sunlight that bathes Sweden in the late spring and summer. This was our first trip there with our five-year-old, Jake, and our one-year-old, Lena.
Until recently there was no electricity on Prast Grundet. You use old fashioned pumps to fill buckets of water and schlep them to the cottages. There is also a large number of really darling outhouses. All of these rustic factors become a fun part of the rhythm of life on 'Grunna'. There is no commerce on the tiny island. It's mainly solar-powered cottages for about twenty families, an old church, a quaint old bakery with a wood oven that still works, and a sweet little lighthouse.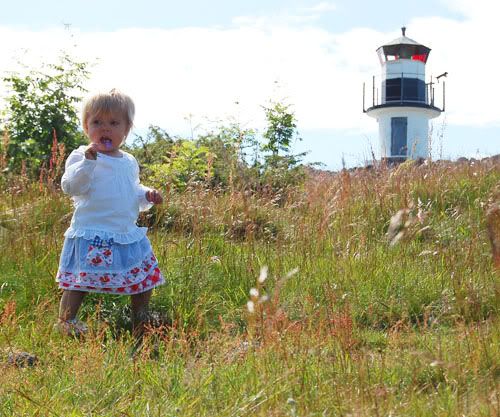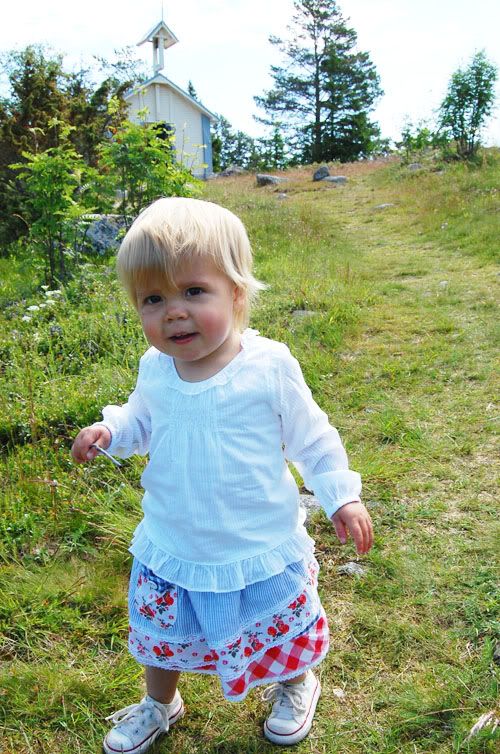 (Lena's outfit: red, white, and blue skirt – KappAhl , white ruffle shirt, Old Navy, sneakers, Converse)
It was a big moment for the whole family to finally be together on the island, with the first batch of grandkids. If any of you Modern Kiddo readers have a spouse from another country, I'm sure you understand the challenges of raising a child to understand that they have this deep connection to another place.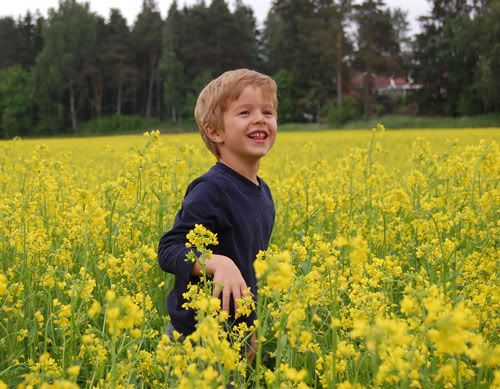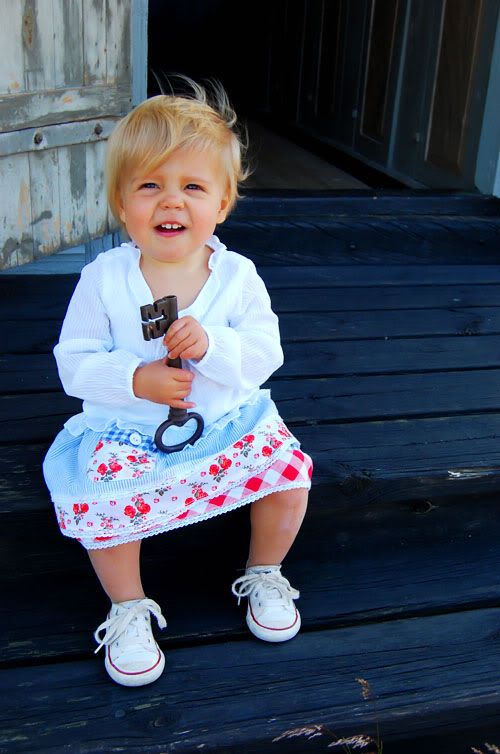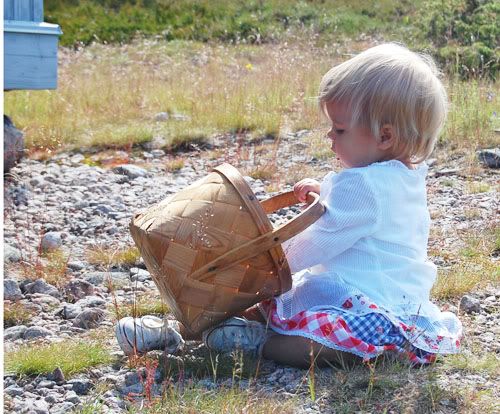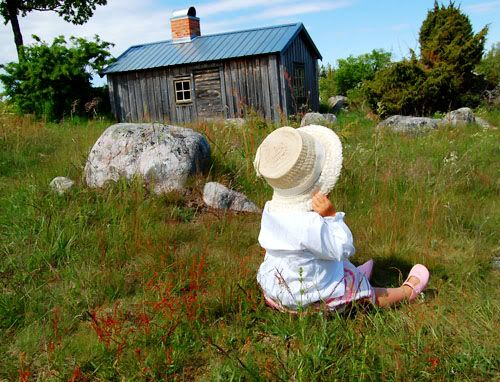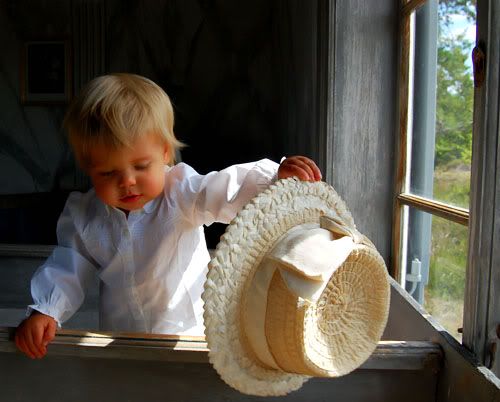 (wearing grandma's hat!)
The kids don't speak Swedish yet, and we're still figuring out how to introduce the Swedish language into our home. It's so important for many reasons—and it does slow communication down. It also doesn't help that most Swedes speak English terrifically, so really it's their fault for making it so easy for us to be lazy!!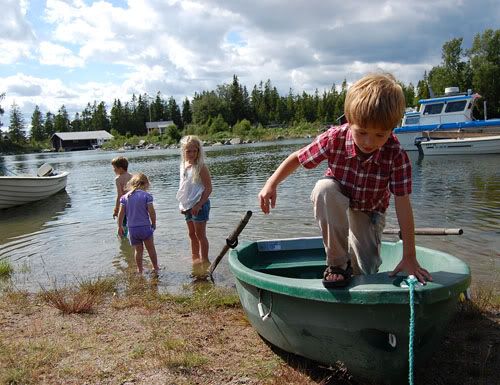 The kids loved being outside so much. Jake was crazy for the net-fishing expeditions.  And of course eating fish right out of the Baltic makes us all happy.  The kids loved the flavor and didn't even fuss over the bones! There is a very small rocky little island full of sea birds right next to Grunna.  We cruised over in an old wooden skiff that Jake declared 'the worst boat on the island' much to Patrik's chagrin. We saw baby seagulls hatching right before our eyes. The light on the water is stunning this time of year when the day is a whopping twenty-two hours long!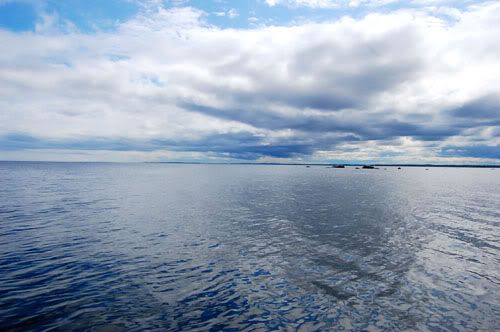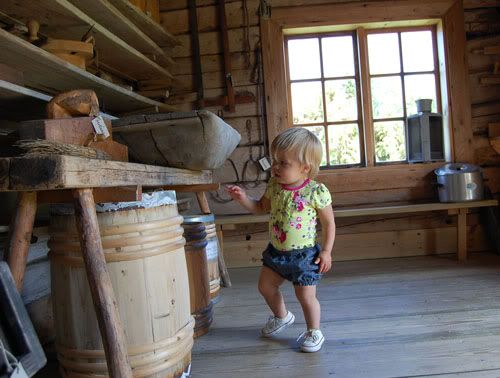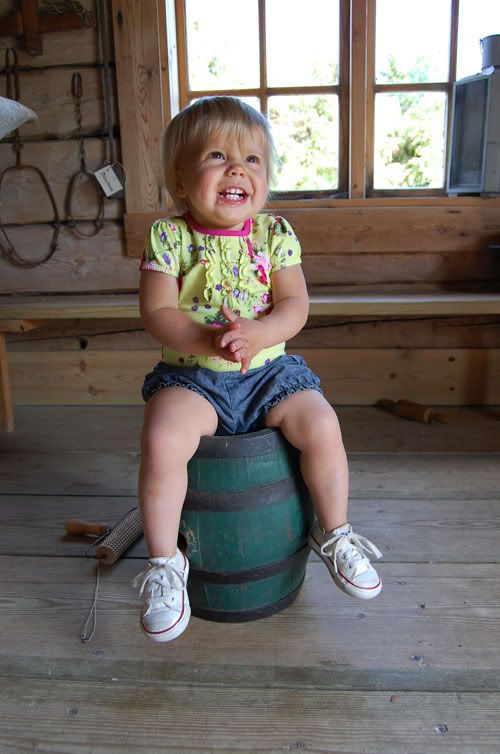 (Lena's outfit:Â fluorescent, flowery onesie, KappAhl, chambre bubble shorts, Gap, Sneakers, Converse)
Lena's big moment was Midsommer. The islanders all build a maypole and decorate it with myriad flowers that grow all over the island in profuse quantity due to the long days. They sing classic children's songs and dance around the pole with the kids before a great big feast. It's truly wonderful!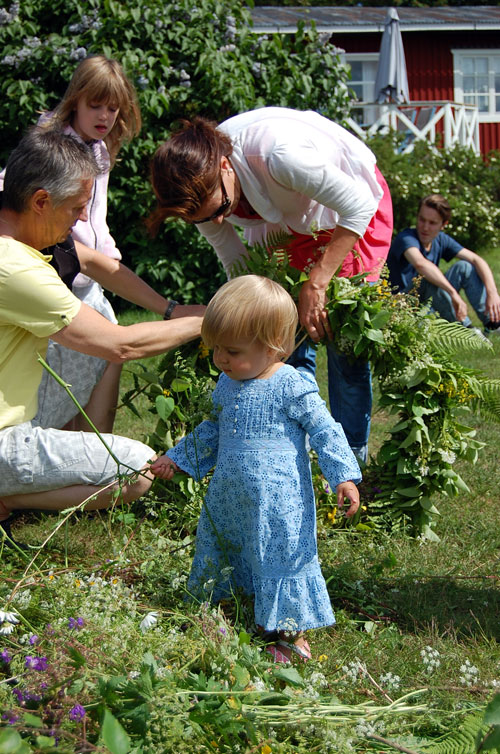 (Lena's outfit: light blue dress with tiny flowers, Gap 1969, espadrilles, Oshkosh)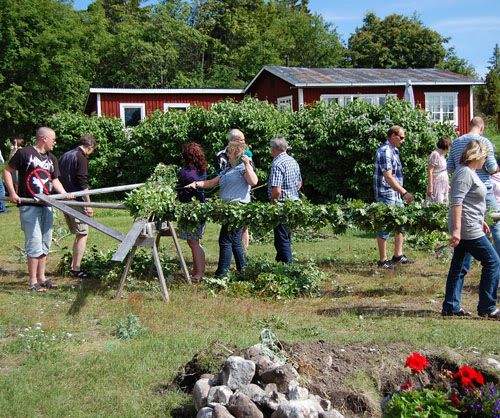 For the last three days of the trip we went to Stockholm.  It was fantastic! I think my dream day is one filled with shopping and eating in a beautiful European city with the people I love. To be able to walk on cobblestone streets among such historic beauty with the family was a dream come true.  I know that sounds a bit corny, but it's true!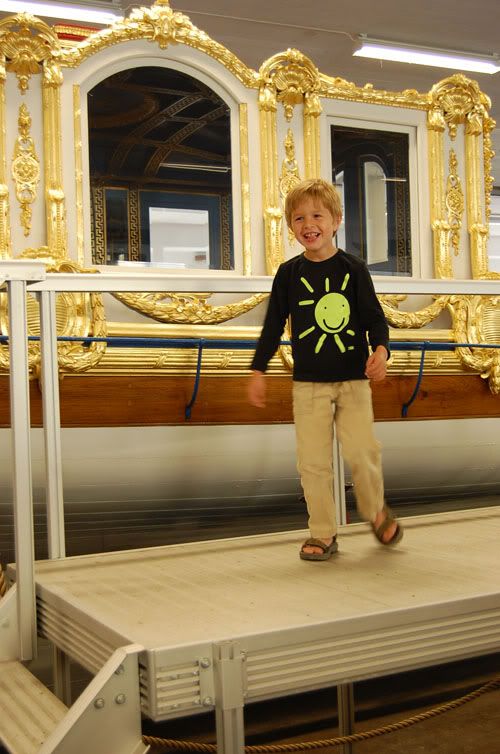 Both children loved the Wasa Museum – a museum built around a colossal 17th century warship.  Mostly they enjoyed the ferry rides.  And the ice cream, of course!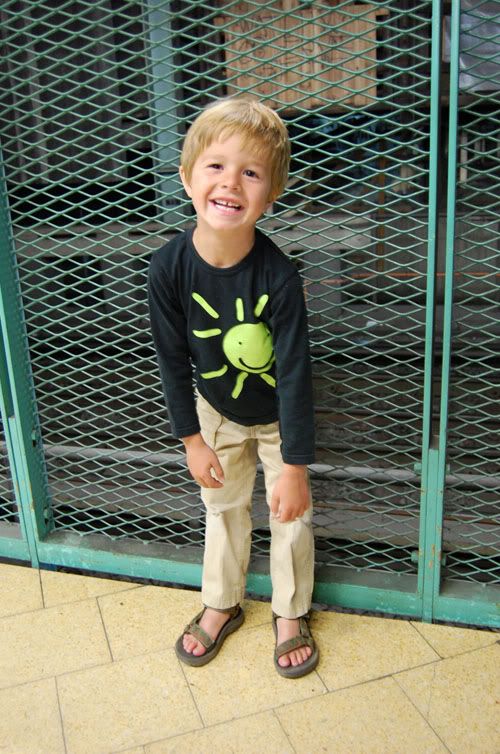 The best part of travelling with kids is staring at them while they stare  wide-eyed at the wonders surrounding them. We are truly blessed.

Thank you so much Alice, for sharing your Swedish travels with us! Tack så mycket!