Our girl Pilgrim hipped us to her friend, Cintia who has the most charming online store, My Poppet and blog. Miss Cinti dropped us a line the other day and can I just say I wish I could hang out with her in Australia because I want to get to know the brilliant mind that created one of the most charming cozy posy little rooms for her girlie, Emma.
Come take a look…
I love this little detail of using the bike baskets to hold the changing station goodies. Â It reminds me of Alix's bachelor pad in the mission where she used vintage bike baskets with daisies on 'em to hold her scarves and what not in her room. Great minds think alike, Cinti!
That crib is a work of art! And can we talk about the wonderfulness of that mobile? Which looks like it was made with the scraps from that spectacular quilt. Well done, Cintia!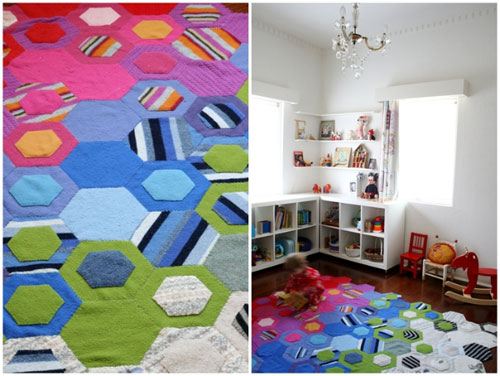 But what really blew me away was this rug made from felted wool sweaters she collected. Â Friends, you know my obsession with upcycling sweaters to begin with. And when I saw this–well I nearly plotzed with joy.
I asked Cintia about it and here is what she said…
"It took me 2 months to make and its all hand stitched together I don't know how many sweaters exactly but probably the equivalent of about 16-18 and also some pieces of woolen blanket.
Some of the pieces were remnants from my other projects that I make with old sweaters (like my owls)
I was inspired due to necessity I suppose. I wanted a really nice colorful rug made out of a natural fibre/wool, but everything that was vaugely attractive was either mega expensive or horribly acrylic. I can't remember the exact reasons for hexagons, I just like how the shapes interlock together and it was a little play on a hexagon quilt, but on a large scale. I always have tons of materials/textiles/fabrics lying around, so when inspiration strikes I usually start on the project immediately."
I love that rug, it's my second favorite item in the room. The first being Miss Emma of course! What a cutie she is! Future Weekly Kiddo perchance?
Thanks so much for sharing Emma's nursery with us Cintia and I love your shop, My Poppet.  What wonderful goodies you have there!  Definitely worth a looksie to say the least.