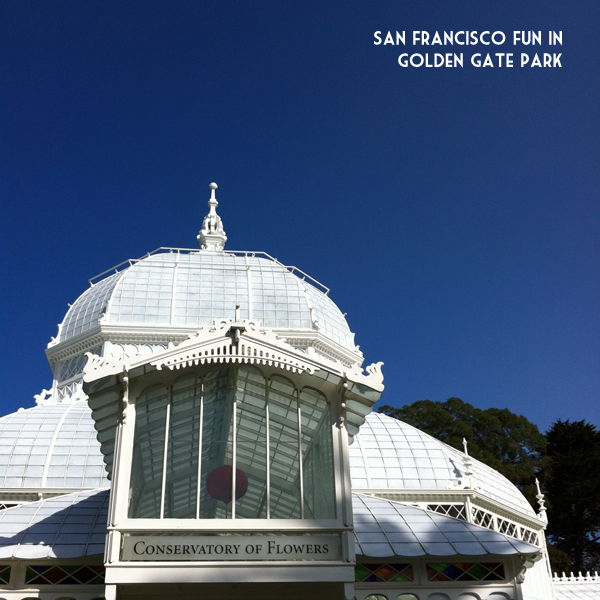 A few weeks ago (actually over President's Day weekend) Eric and I took the Peach to the Conservatory of Flowers, because they had an amazingly fun exhibit for kids, based on San Francisco's famous boardwalk, Playland by the Sea.  The popular amusement park, Playland by the Sea, was a mainstay in San Francisco from Victorian Times until 1972 when it closed. Although the amusement park has been dismantled and scattered across San Francisco–like the famous carousel is in Yerba Buena Garden, Playland by the Sea still looms large in San Francisco lore.  and it was the perfect inspiration for the wonderful floral exhibit at the Conservatory of Flowers.
This was my first time to the Conservatory of Flowers and it was divine! And the exhibit–well, it took my breath away. And I know the Peach loved it too.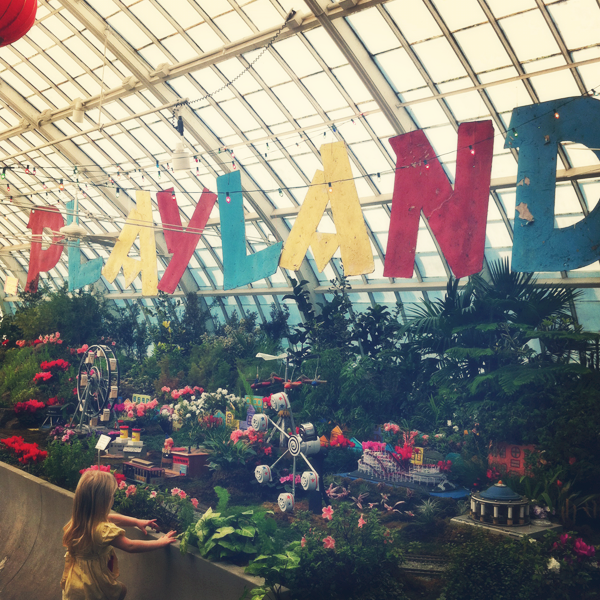 The exhibit also featured a few bits beyond the flowers–like these wonderful fun house mirrors, which the Peach loved.
Just walking into the room and seeing the original Playland sign was pretty impressive. Look at those awesome As!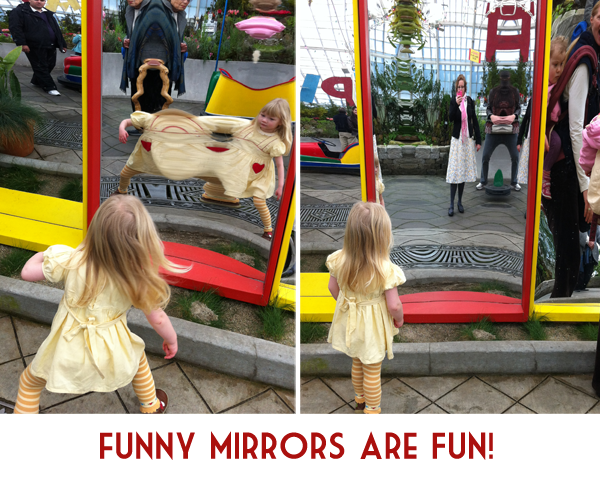 The exhibit also included one of the original bumper cars from the popular ride. I think that was the Peach's favorite.
The flower exhibit wasn't just a staid arrangement, but had these buttons that kiddos could easily push to make the trains go or the carousel turn.  Too much fun!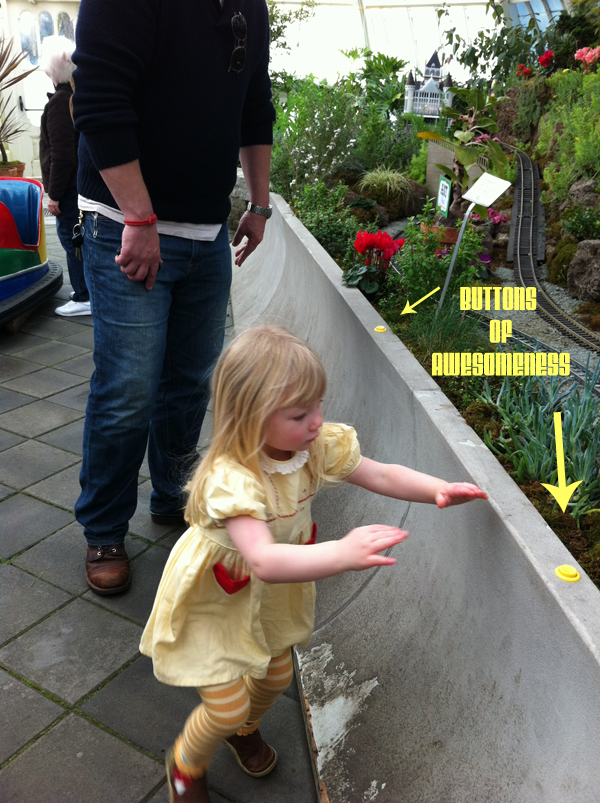 What really made the exhibit particularly wonderful is that all of the structures were made from products that would have ended up in a landfill if it weren't for the upcycling.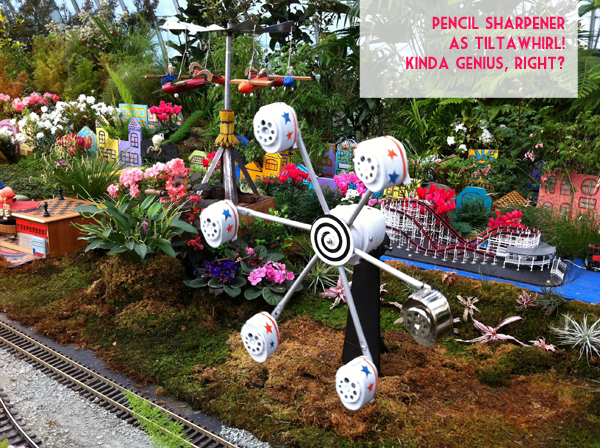 And it was so fun to see San Francisco landmarks that we all know and love.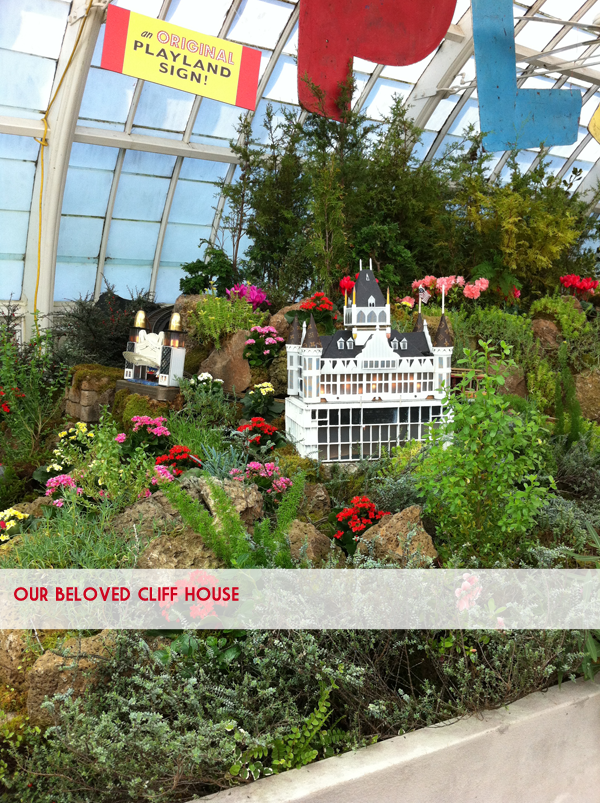 We spent almost two hours there watching the Peach run around the room having a blast. It reminded me of my childhood trips to the Philadelphia Flower Show with my Dad years ago. Â And it made me feel like spring was around the corner. Â Perfect for this time of year.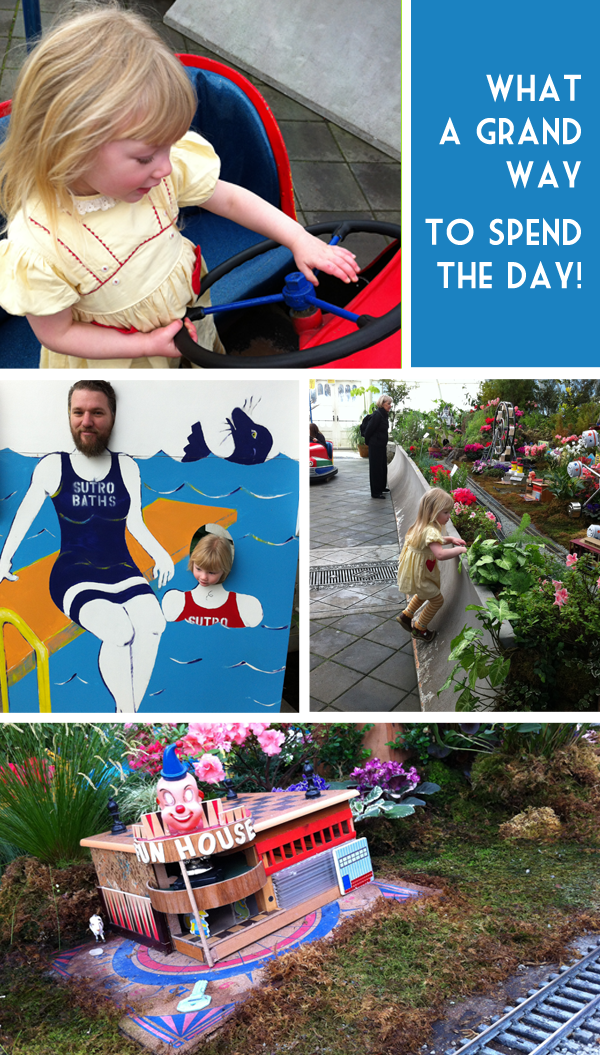 After we left the conservatory, we headed to Cole Valley and  San Francisco's new Ice Cream Bar. Eric had this insane milk shake and the Peach's favorite strawberry wasn't available, so she enjoyed a little cherry ice cream.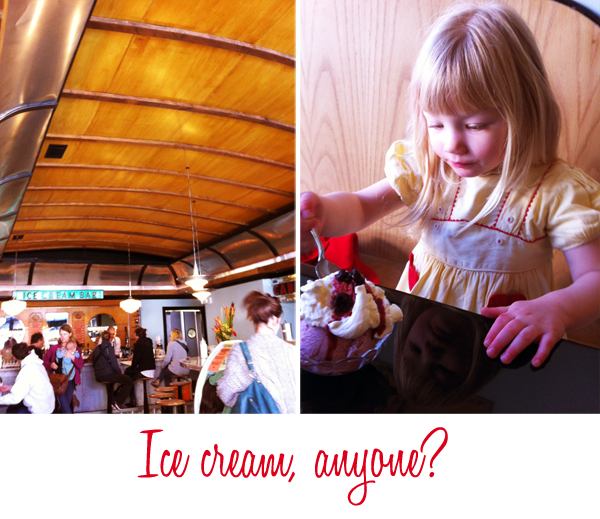 The best part was that we were able to make it back for the Peach's 2:30 nap! Â As you can imagine, she was pretty tuckered out from her full day of fun. Â I think this may be our new spring tradition. Do you have any spring traditions?