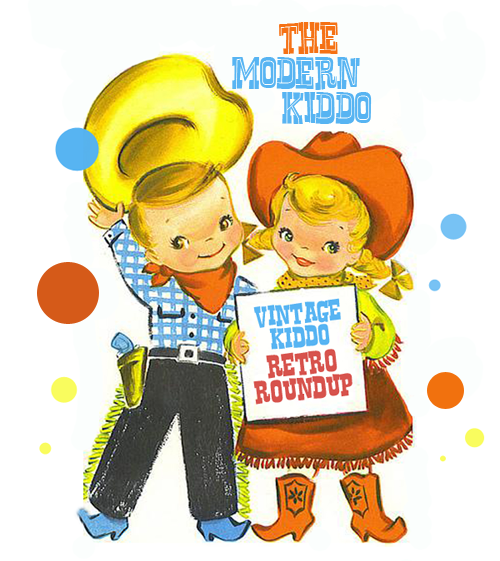 Man, I'm happy to be back after a whole lotta travel over the past two weeks.  I have four trips away from home in March. And the one thing I brought back was a nasty little cold (or really bad allergies with the addition of a rough cough), so I spent the majority of this weekend sneezing my way through boxes of Kleenex and watching Yo Gabba Gabba with the Peach. However, of course I had some time to rock out some sweet fun on Etsy pulling together some sweet vintage finds for all y'all–with an emphasis on spring. Sweet spring!
I played with this game so hard that it probably gave me a headache! Also I remember wearing the red cones on my fingers pretending they were long glamorous fingernails. Â From Etsy seller, Oopsee Daisies.
Hey there tambourine man! Â Well, or girl or boy or whatever, just someone buy this wonderful vintage metal tambourine! Isn't it parade season yet? Â From Etsy seller, UDA Kids!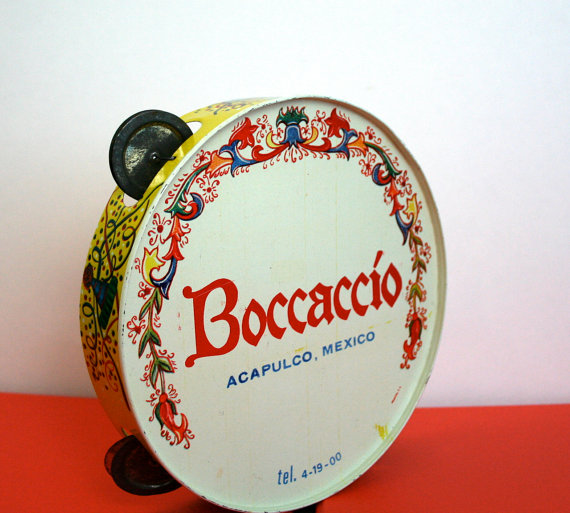 Put this daisy dressie on your lil' cutie and you can't help but think of spring. Oh, those wee darling daisies. Sigh. From Etsy seller, the Marvelous Ms. Tips.
Another big girl size–8-10 for our older friends. And what girl wouldn't want to swing into spring with this happy skirt. Perfect with a t-shirt and some kicks. Â From Etsy seller 3 Ring Circus!
As you can imagine, this is the perfect little blousie for your little baby girlie.  And the little flowers are almost as sweet the peter pan collar. From Etsy seller, Twinkle Tots Vintage.
These darling vintage baby toys are such sweet colors and would be just as sweet as decor for the nursery as well. From Etsy seller,  Sweet Shop Vintage.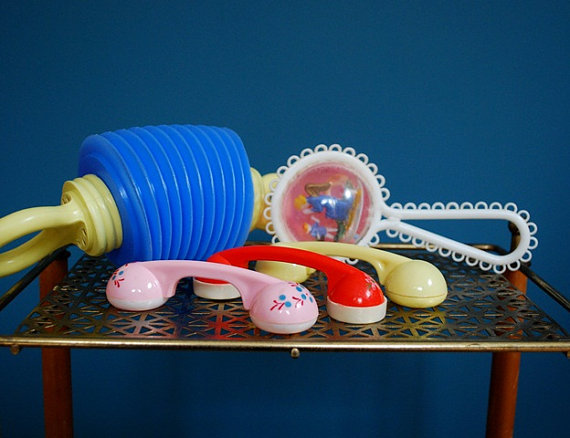 I think a kiddo can never have enough cardigans–they are perfect for the changing weather of spring. And this sweet yellow cardi is perfect!  Almost as sweet as the little lady wearing it! From our friends at Salvage House!
Umm… Could this little vintage bow tie from the seventies be any cuter?  I expect Miss Pilgrim already has a similiar one for her little boy! From Etsy seller, LHP Designs.
Zoo plus rompers equals this adorable little bit of vintage cuteness!  And the little kiddos with the balloons on it too. From Etsy seller, Vintage Pod!
Um. Yeah. Unbelievable. From Etsy seller, Star Friends On Earth.