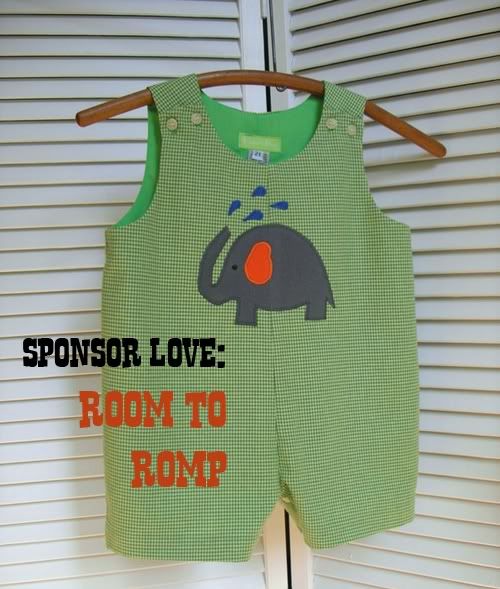 We are so lucky at Modern Kiddo because we find the best sponsors whose products are the type of things we'd buy for ourselves in a heartbeat. And I certainly feel that way about
Room to Romp
. This Etsy shop offers parents wonderfully designed and long-wearing clothes for boys and girls. Â I think rompers/jonjons/shortalls look wonderful on girls as well as boys and am eyeing quite a few items for the Peach.
Sandy, the sweet Southern gal behind Room to Romp told us a wee bit about herself that makes me like her and her products all the more. We'll have a nice e-glass of sweet tea with mint. Doesn't that sound nice. I could go for a glass of that right now, actually…
MK:
Sandy, tell us about yourself…
Sandy:
I'm a gal with deep southern roots, but I often feel like I was born in the wrong place at the wrong time. Â Because my husband works for a French company, we've had 2 different opportunities to live in France. Â When we first went there, in a strange way it felt like home, so maybe in another life I was French.
My husband, who I've been with since I was 15 years old, and I just celebrated our 27th wedding anniversary the same day our son turned 12.  (
MK:
I want to hear about that story over some whiskey added to this sweet tea, lady…) We have a daughter who will be 12 in 6 months. Â That's right. We have 2 children 6 months apart in age. Â I've had some strange looks from people as they try to figure out how that is possible. Â Adoption is part of the story.
MK:
Why did you start your Etsy shop, Sandy?
Sandy:

One of my greatest pleasures when my children were young was dressing them.  It's the only time a mom can buy for and dress her children like she wants because around the age of 4, they start telling you what they will and won't wear!  Finding cute clothes for my daughter was easy, but finding clothes for my son was frustrating.  Moms know that the choices in clothing for little boys is very limited.  What is mostly available for little boys today is exactly what their father would wear—golf or plaid shirts, jeans, and khakis—just pared down to their sizes.  I believe boys, at least until they are out of diapers, need clothing that suits their needs and interests.
Sandy:

I started Room to Romp 2 years ago to provide clothes for boys that reflect their world through hand sewn appliques and that make dressing as easy as possible. Â Rompers are perfect for little ones still in diapers. There is no waistband making movement more comfortable and allowing extra room for big bellies and diapers. My pants have elastic waistbands which are less restrictive than a buttoned waistband and zipper, and the pants make dressing easy with a pull up or down as your little guy learns to dress himself.
I am most proud of the quality of my clothing.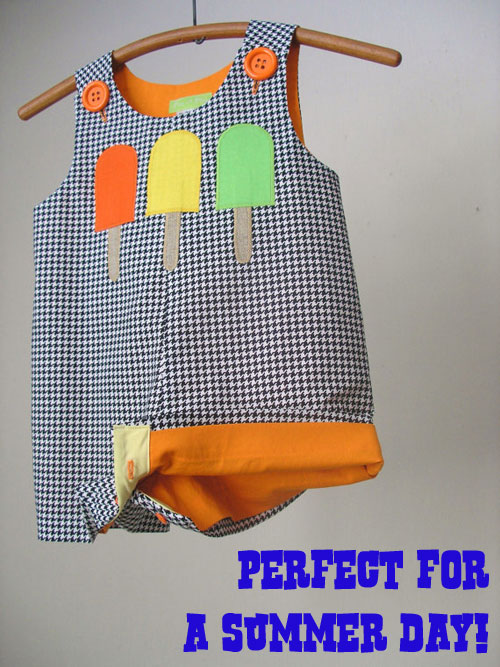 Sandy: In today's economy people want the most from every penny spent. Â I want my customers to feel like they have invested well when they buy from RtR. Â I use high quality, all natural fabrics, all appliques are free-hand sewn using a basic sewing machine and hand knotted to keep them from coming loose, all rompers are fully lined with the lining tacked down to keep it in place, the elastic in the bottoms is also tacked down to prevent it from twisting, and all buttons are hand-stitched. Â My clothing is intended to serve more than one child through hand-me-downs or consignment re-sale.
MK: OK—I think I love you, Sandy for that alone! What is your favorite item in the store right now?
Sandy: My favorite item in my shop at the moment is the long romper (which can also be made in a short romper) in blue stripe ticking fabric with a front denim pocket. Â It's a great example of appropriate clothing for little boys during their baby and toddler years. Â It's simple, long-wearing, has classic styling, can be dressed up or down, and the big colorful buttons make it fun.
MK:
I love 'em! If there is one thing I've learned, it's that kids love pockets!
Adorable, no? Be sure to stop by Room to Romp for a lookie look and buy something awesome for your little one that they'll wear every week this summer! And now as a special offer for Modern Kiddo Readers, Sandy is giving you guys FREE SHIPPING on all your orders! Simply use discount code: MKIDDO Whooo hoo! Thanks so much Sandy!