GIVEAWAY CLOSED JULY 6TH AT 8:30PM.  Winner announced here.  Thanks for entering!
Oh, this giveaway is so darn cute! Since I know you all are lovers of all things cute, you'll really want to enter…

Michelle and Pauline, the clever clogs behind Paperflavor's terrific online boutique are truly lovers of charming, yet affordable stationary for all. Paperflavor will take care of your writing needs–from brides to babies with tremendously high levels of cuteness to boot! Speaking of cute–it is a word that describes Paperflavor so well, that I apologize in advance for my overuse of the word cute. But seriously–would you look at what is in the giveaway. It's like an explosion of cute. Seriously!
This giveaway includes the following items: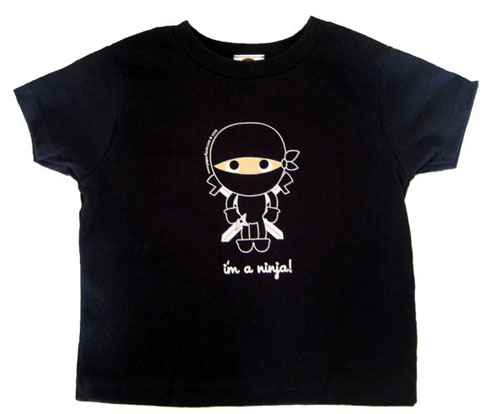 Super awesome Ninja Tee: flavorkid ninja tee is a hit with all the kiddos! professionally screen printed black tee is printed on front only with ninja and "i'm a ninja!" wording. tees fit true to size and are 100% cotton. for best results, machine wash/dry inside-out or line dry.
Piggie Tote: original kid tote bag can be used as a grocery bag, book bag or purse! each tote measures 14.75″x 15.5″ inches (measurement does not include handles), made of lightweight cotton, and machine washable

Original Fruits card set

AÂ set of 8 cards for any occasion of your choice! this set includes a flavorgirl blueberry card, cherry card, grape card, green apple card, lemon card, orange card, plum card and red apple card! all 4.125″ x 5.5″ folded cards are blank inside and come with assorted color envelopes.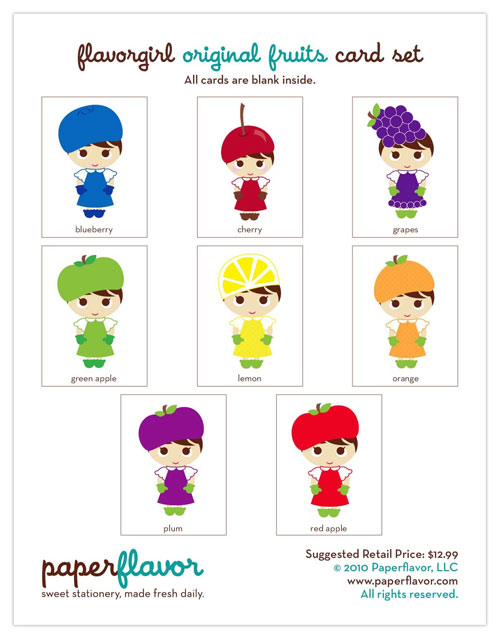 And a $10 gift certificate, so you can put it towards some adorable stationary like this widdle Eskimo cutie patootie.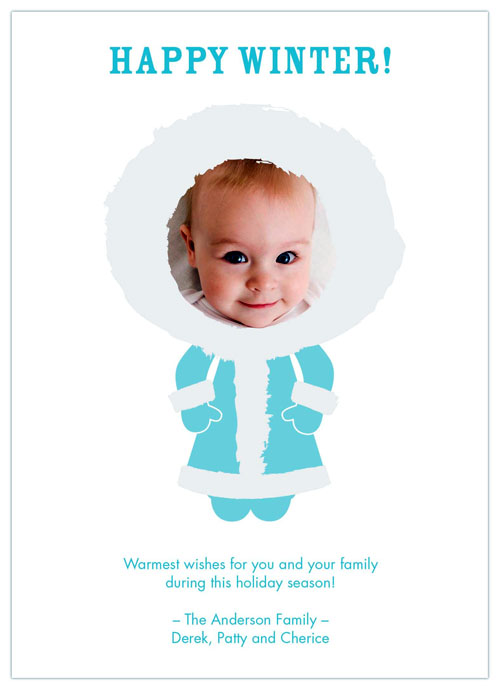 I sat down with Michelle over a nice cool virgin pomegranate lime rickey and chatted with her about all things cute. Because clearly this duo knows a thing or two about that word.
MK: What made you start your cute cute cute shop?
Pauline and Michelle: We had worked in tandem for years at a print and design firm in Los Angeles creating everything from DVD covers to law firm letterhead to retirement home flyers.  What really resonated with both of us was a mutual desire to have creative control over the final product, so the idea for a simple click n go design template-driven website was born. In a cheerful flurry, we created designs "for the lovebirds" "for the kiddos" and "for you!" including pretty wedding invitations, thank you cards, and supercute photo baby announcements.  Before we knew it, there was a high demand for our "flavorkids" characters to appear on t-shirts, tote bags, calendars, stationery, and baby onesies.  We uphold the mission of keeping things cute, producing unique designs on quality materials (as eco-friendly as possible!), and having fun at work together!
MK: What is your favorite item or stationary design in the shop right now?
Pauline & Michelle: The "I'm a ninja!" kiddos line is our most popular, and the latest addition is ninja's sidekick pup, Sumo!  Sumo makes his kickin' debut on tote bags, which we can't look at without smiling.
MK: Hee hee! He is quite a little character!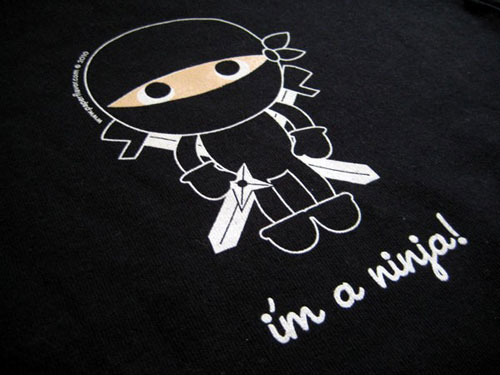 MK: How did you come up with the name of your company?
Pauline & Michelle: One look at our "flavorkids" characters and you can tell we love junk food and sweets!  The "paper" is homage to our roots in stationery and traditional printing, while the "flavor" is our tasty twist on traditional paper goods.  Paperflavor means sweet stationery (and more!) made fresh daily.
Now, to win this amazing Paperflavor Goody Bag worth $50+, here's all you need to do:
Leave a comment on this blog entry. To get bonus entries you may:
Follow us on Twitter. If you are already a follower, tweet about this giveaway—don't forget to include @modernkiddo in the tweet please! You can also follow our personal twitters @galexinaand @missdottie for two additional entries.
"Like" us on Facebook.
"Like" Paperflavor on Facebook.
Follow Paperflavor on Twitter.
You'll get one entry for each thing you do. If you do all seven things on the list you'll be entered seven times. HUZZAH!!!
Voting ends Monday, July4th at NOON PST.  The winner will be announced that evening Monday, July 5th at 8:00PM-PST.
Good luck, and we're crossing our fingers you win!