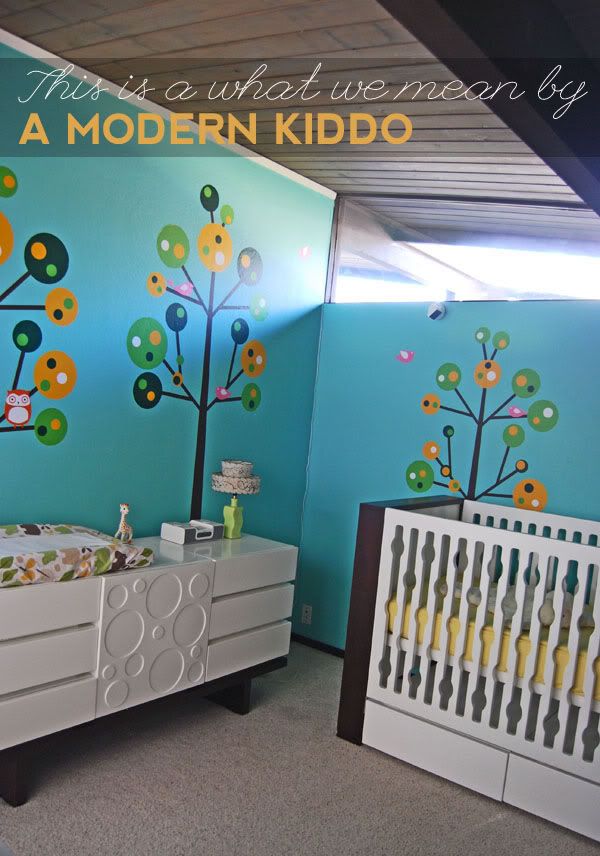 The other day I received the sweetest email from our lovely reader Camila. Besides saying the nicest things, she included a photo of her little girl Sydney's sweet nursery—and I KNEW I had to see more! Camila did not disappoint. It's utterly adorable. Very modern and hip, but lots of darling little vintage touches that make it uniquely their own.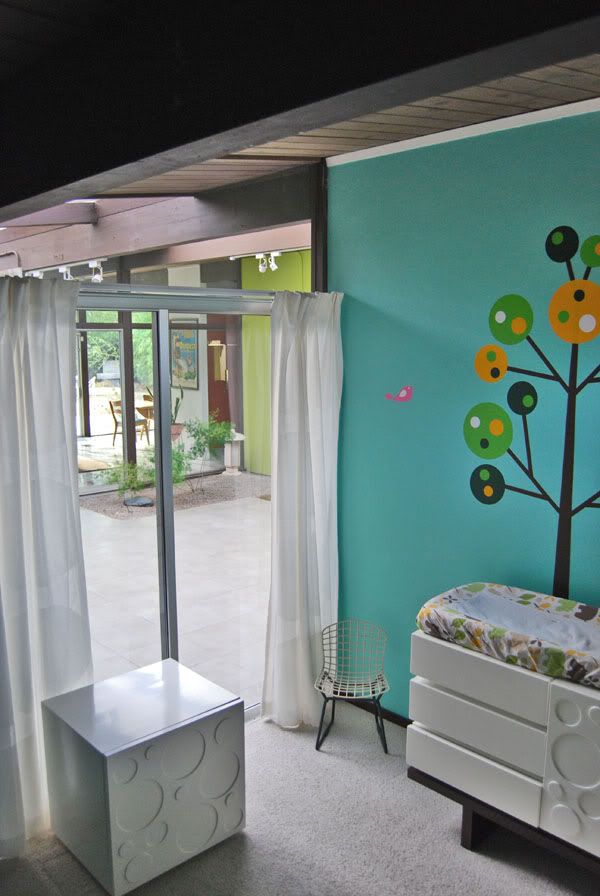 Camila and her husband Matt live in sunny Concord, CA… about 30 miles East of San Francisco. We chatted a bit about the inspirations behind their super cute room and all the goodies inside. Let's take a look!
ALIX: Hey Camila! Thanks so much for sharing Sydney's room with us. I love it so much! Can you tell us a little bit about the vibe you were looking for when putting this together?
CAMILA: Thank you! We really wanted colors that would take advantage of the wonderful natural light that shines through our atrium. We talked about a variety of themes, starting with an undersea concept and evolving from there. As we found more and more cute pieces that didn't fit any of our themes, we decided to let the room come together organically. There were so many cool decorations out there, and when we found something we loved, we didn't want to pass on it because we were holding stringently to a specific theme.
ALIX: Very smart. The walls are actually very similar to the color we painted Wolfie's room. It was so bold and pretty, it became a driving factor in the things we put in his room. Was color a main influencer?
CAMILA: Yes, but I'd say the best example of this would probably be the wall decals. We found this set of tree decals on Etsy and just fell in love. The creators of the decal set allowed us to customize the colors to better match the room which was key. We loved the stock colors the decals came in, but many of the circles that made up the trees were the same shade of turquoise as the room so we changed those to orange. We loved the birds (especially the owl!) in the tree decals so that pretty much put an end to the undersea theme!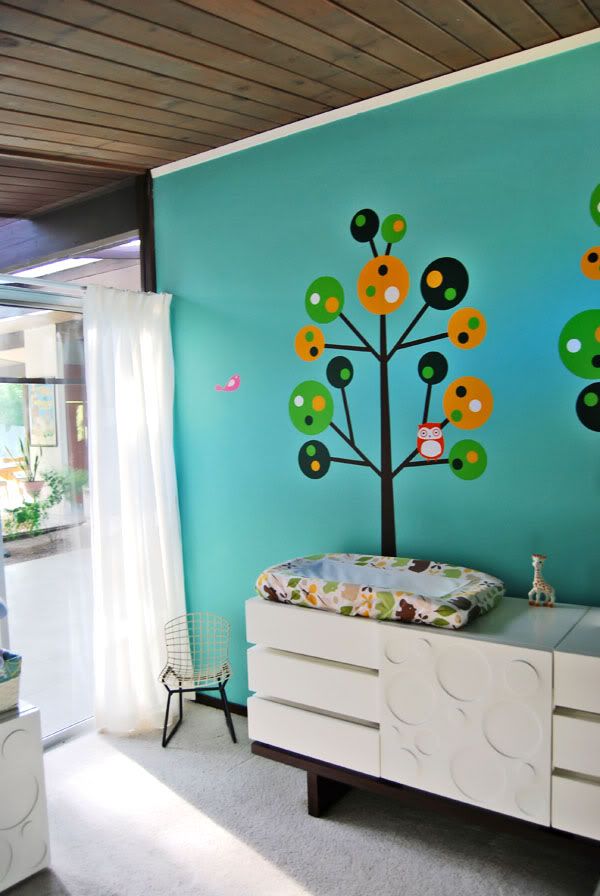 CAMILA:Â From there we added on a few simple pieces, like an Ikea shelf, light fixture and mod dot curtains, and a vintage orangey red Kroehler chair.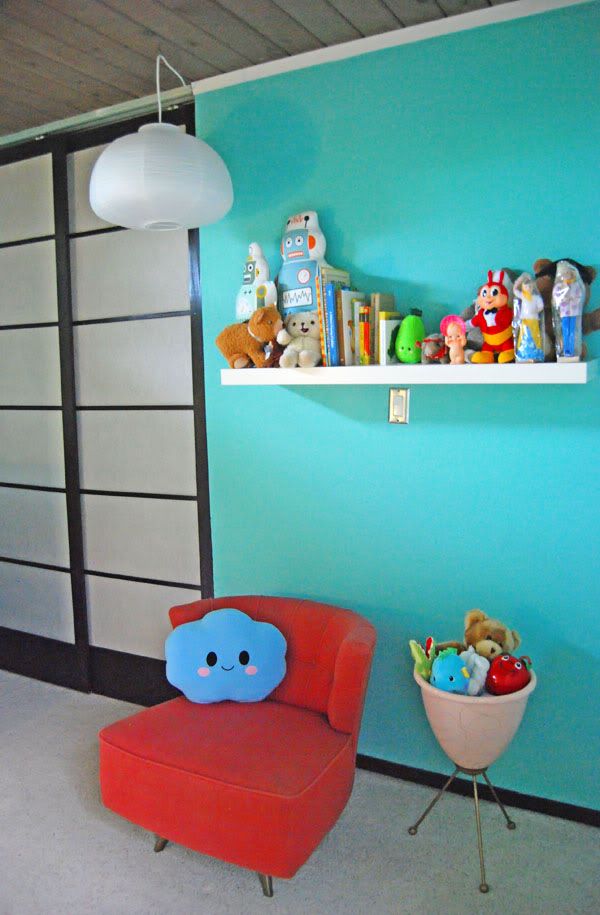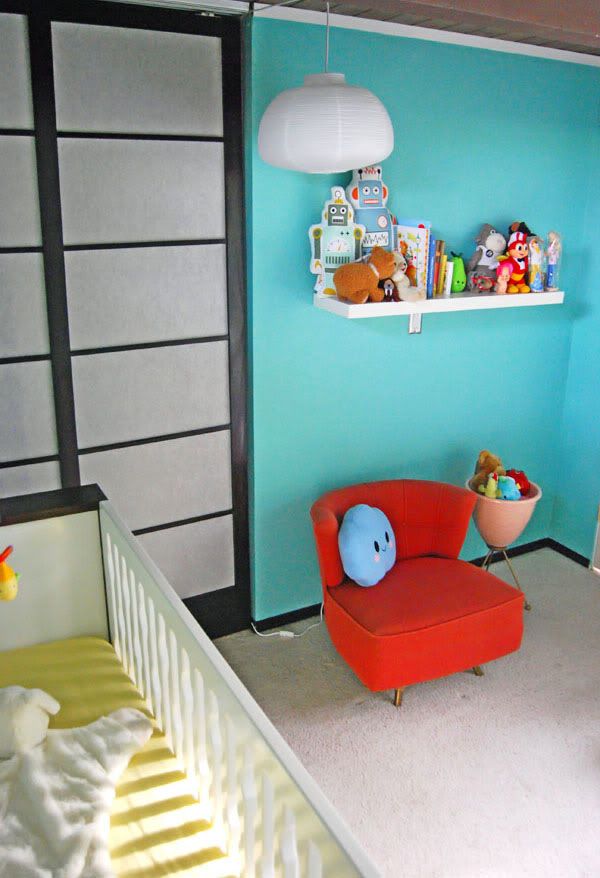 ALIX: These little touches are my favorite. So playful and fun! The tiny fiberglass lamp is adorable and I LOVE the bullit planter as toy bin—very clever!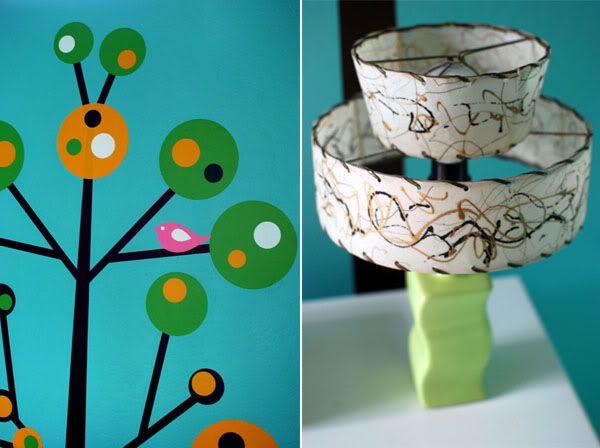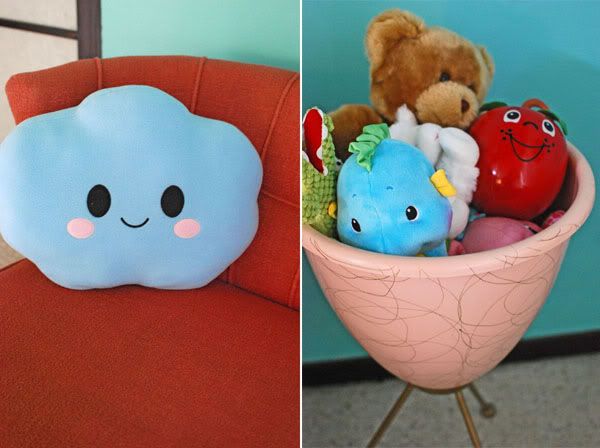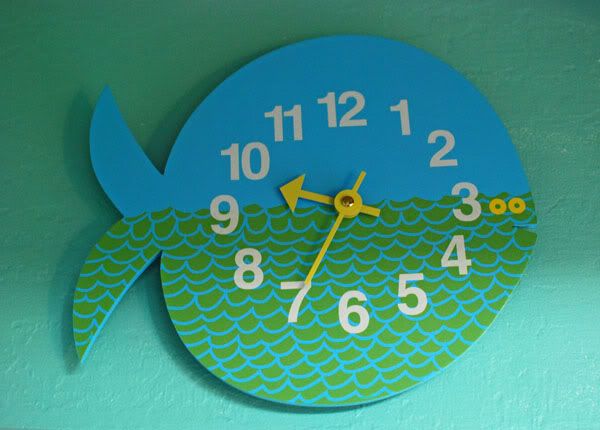 CAMILA: Thank you! It's something we had for a while and seemed to be perfect. As for some of the other pieces, the cloud pillow is from Mod Cloth. The robot pillows are from Branch. Other toys were gifts—and the kewpie doll belonged to my mother-in-law. One of our best scores was the vintage, child-size Bertoia chair. It was an Etsy find at a very reasonable price. Luckily the seller was local and we were able to pick it up and save on shipping.
ALIX: It's so cute. I swear, I have a weakness for tiny chairs.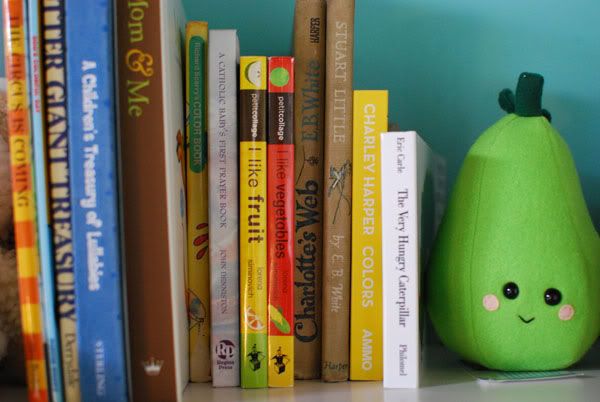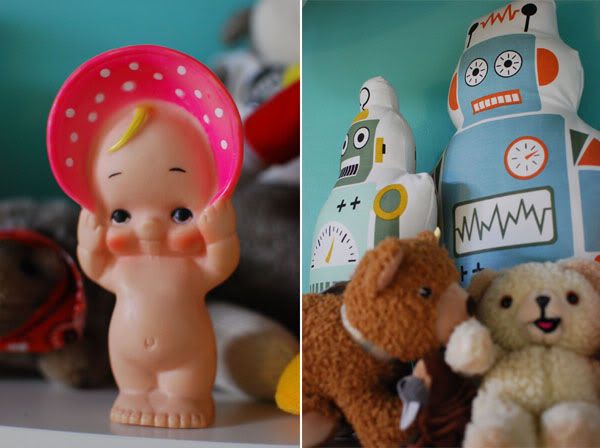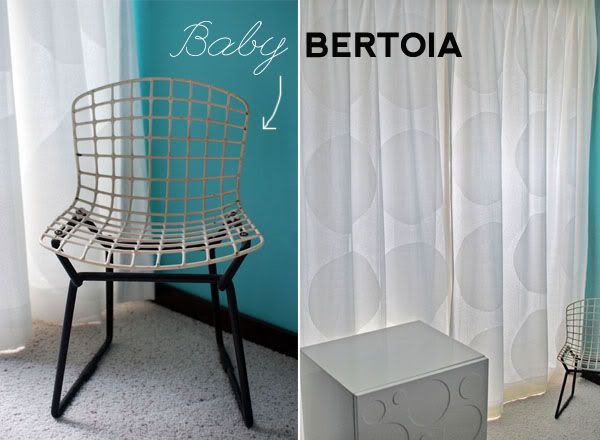 ALIX: Let's talk about the more modern touches. Where did you find them?
CAMILA:
We were very fortunate to find a gently used version of the
Nurseryworks Aerial crib
and matching dresser set, because they fit perfectly into our mid-century look. Of course, like most cool modern looking baby furniture, they retail for a lot and were way out of our price range. As luck would have it, however, a friend of ours was just getting ready to sell this set on Craig's List. It seemed like fate that the entire nursery set came together for a fraction of the price we'd expect to pay retail!
ALIX: Nice! I have to say this is a great tip. Most people take really good care of their baby furniture and sourcing gently-used pieces can be a great way to go. Especially if you want something a little more spendy. That dresser/changing table it pretty gorgeous.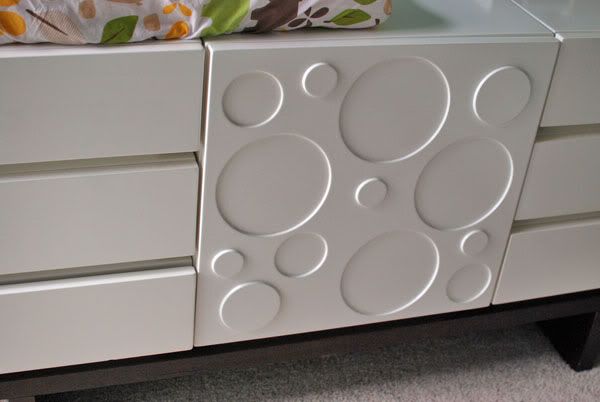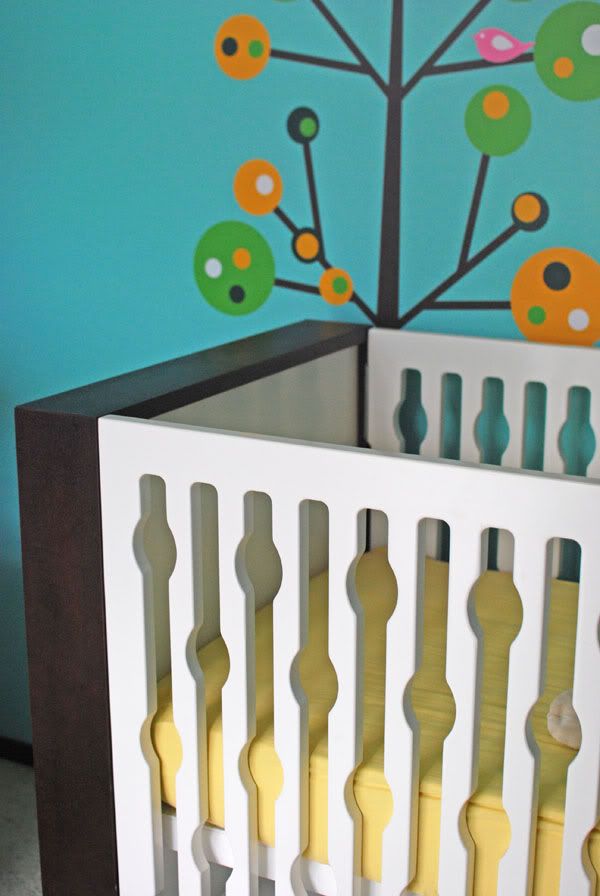 ALIX: And speaking of gorgeous, not nursery tour would be complete without a peek at the little lady who occupies this grand room! Look at this little cutie!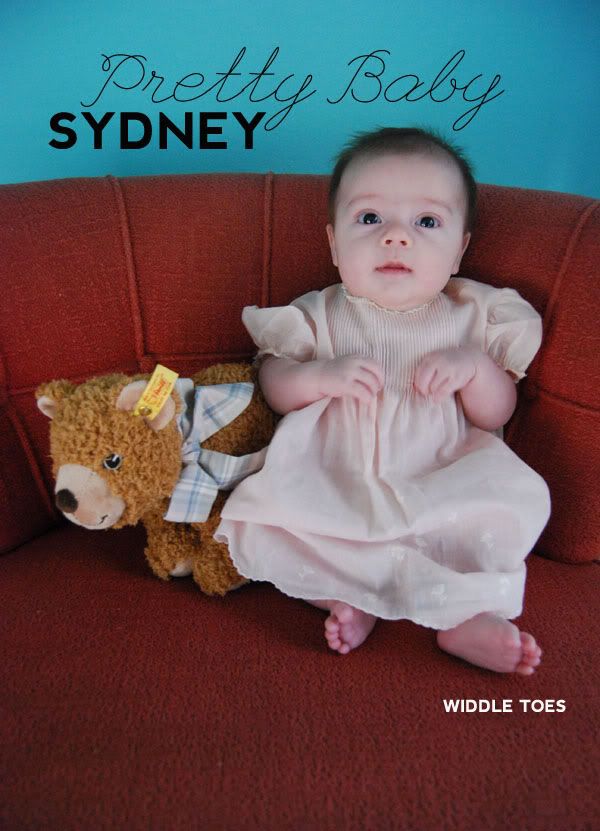 Camila, thank you SO MUCH for sharing this room (and baby Sydney) with us!