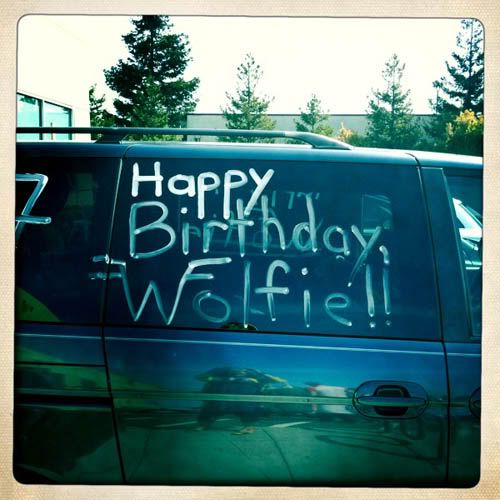 Last week was Wolfie's birthday and this weekend we had a party. Now I have a confession to make. Last year he turned 6 on April 6th. And I was SO excited! "Hurray! It's your Golden Birthday!! You are turning SIX on the SIXTH!!!" Wolfie was really into the Winter Olympics last year and we had a plan to do a fantastic Olympics Themed Party with an obstacle course in the back yard and everything. Cute, right?? Only…..it rained. And rained. And did I mention the rain? The party was postponed and postponed yet again and then ultimately…..he never had a party at all. Ugh. What's that old saying, "The Cobblers Children Always Go Barefoot"?? I felt SO badly. Here I'm blogging about all these fab parties and my own little guy gets screwed. Nice job, mama.
Needless to say this year I was gonna do it right. I had grand plans to bust out the crafting supplies and design a 4 star birthday! Only….Wolfie had other plans. "Can we please have my party at Pump It Up?" "Um, really? You don't want to have a fun party at our house? In the back yard?" "No."
Argh. For those of you haven't experienced the magic of Pump It Up, it's a colossal party space that houses several GIGANTIC bouncy house and inflatable structures. On the up side, the party is totally contained and organized by the staff. The kid's arrive, they get a little spiel on the rules and then they get to go into the room where they bounce like maniacs. The staff sets up and cleans up. Easy peasy! The down side? It's pretty commercial. The place doesn't really let you personalize your party. You can't decorate. You have to use their food. And while it's loads of fun for the kiddos, it sure ain't perty. At least, my kinda perty. But as your child gets older you realize they have opinions and their own tastes and it's less about creating a Martha-style party and more about wanting them to have something fun and "them". And after last years fiasco, I wanted Wolfie to run the show. So what to do?
Wolfie wanted a Pokemon theme at the Bounce House Extravaganza. I wanted to unload some of the Olympics stuff I had bought last year. Which left us with this: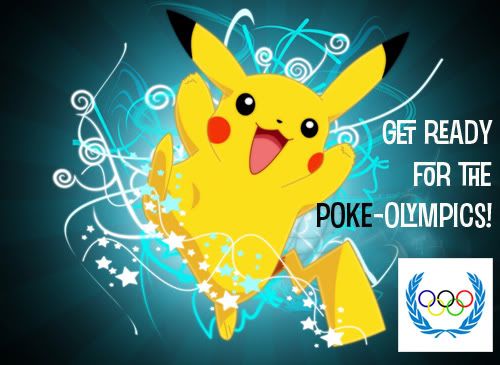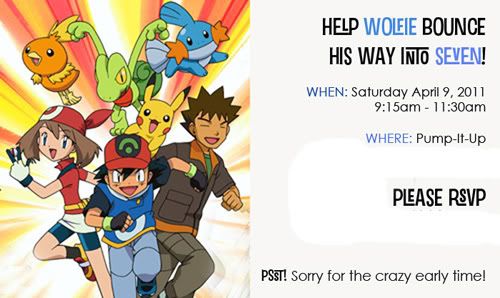 Ah yes, the Poke-Olympics! I had no clue if this was going to work, but I thought it couldn't hurt to try. Of course I neglected to realized this place is really popular and the only times they had open were 9am and 7pm….so we had it at the crack o' dawn.
I made these little "passports" for the kids and before they watched the "rules" video I passed out Pokemon terry cloth wristbands and made a little speech explaining how this was all going to work.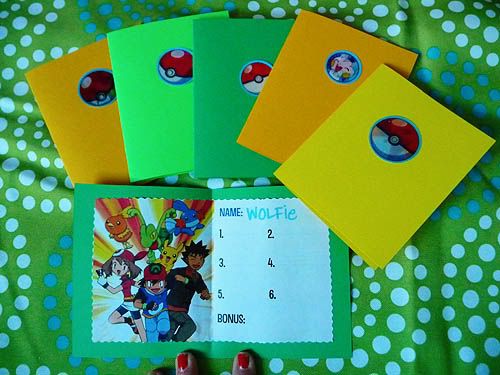 There were six spots on their passport and I told each kiddo they'd get a stamp every time they went on one of the bouncy things. I didn't want anyone to feel like that had to go on something if they were nervous (the bouncy slide, for example, is a little steep) so I said that they could earn bonus points for striking a special dismount "victory pose" whenever they exited a bouncer. Â Greg demonstrated some awesome poses (which got some laughs from the kids). Get all your stamps and you get a prize! The kids sat there kind of stunned…and definitely intrigued!
Here they are listening in rapt attention to my AMAZING speech. hah! Just kiddin'….they were watching the little safety video.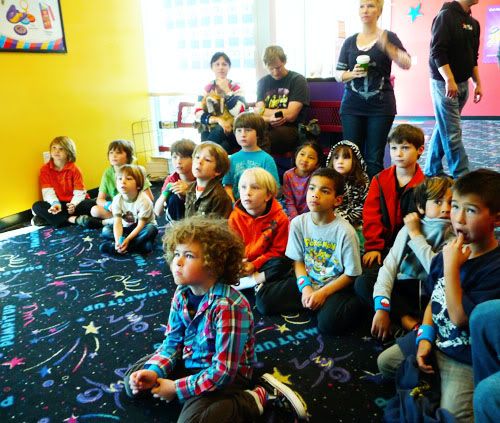 Wolfie got a special crown and scepter as the Birthday King. Please note the crazy casino carpeting. Oof!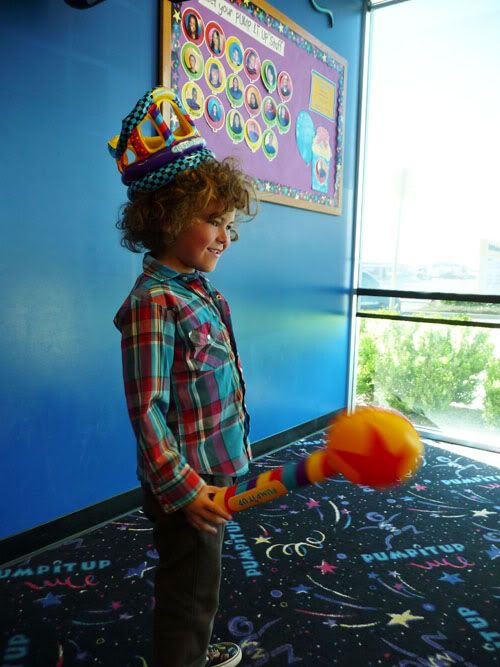 So shut mah mouth because the kids had a blast! They kept racing back and forth between the bouncys and me—trying to get stamps in their booklets.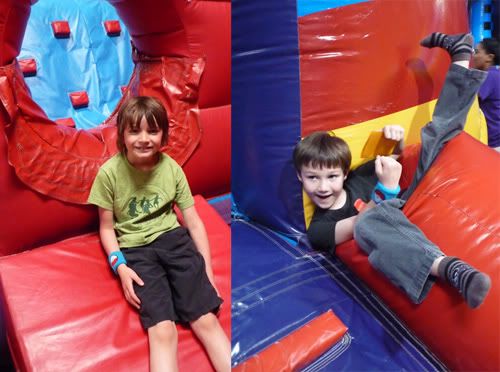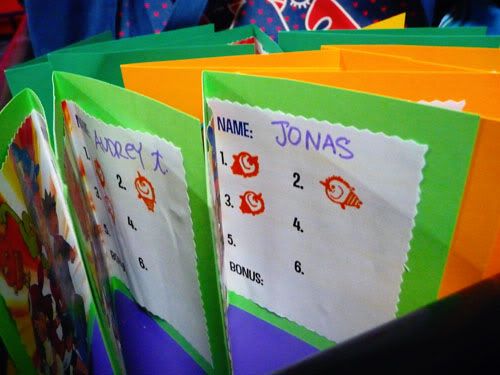 The "victory poses" were the funniest. They'd shoot down the slide and strike a pose!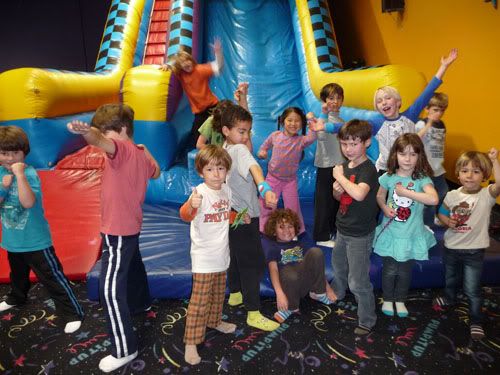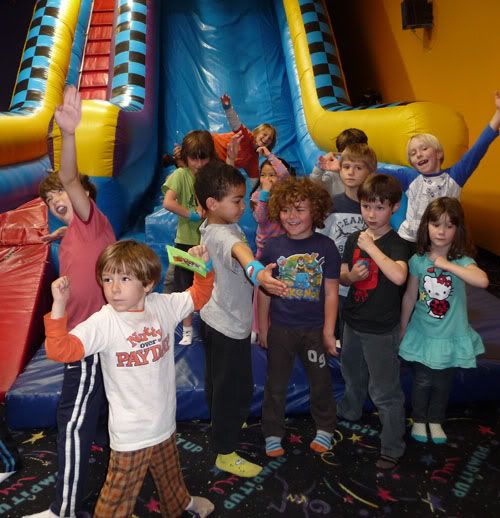 At the end of their session they all lined up to go into the "party room". We hummed the Olympics theme and it was time for the medal ceremony. Wolfie got a slightly bigger medal (hey, you only turn 7 once….never mind that the back of the medal said "Happy 6 on the 6th!" Ahem.)
The kids looooooooooved the medals. They had USA on them and the Olympics logo so all the kids thought they were REAL. OLYMPICS. MEDALS. Huzzah! It was awesome.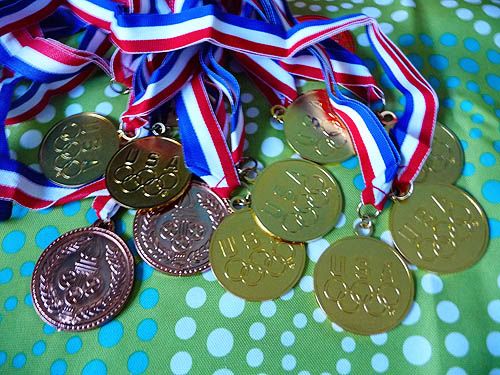 From there my little Olympiates went to the party room where they ate pizza and fruit and admired each others medals. SO CUTE. Wolfie got to sit on a giant inflatable throne which he was shyly pleased by.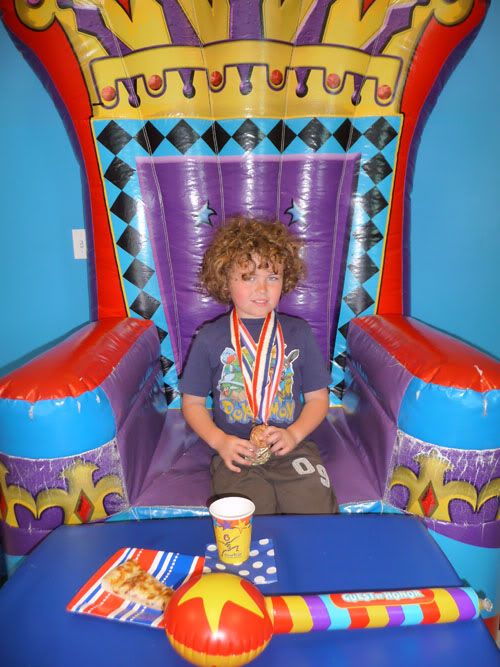 (I can't lie….the colors….the COLORS! It's too much. And I love color….but not like this. Yee gads, who decorated this place??)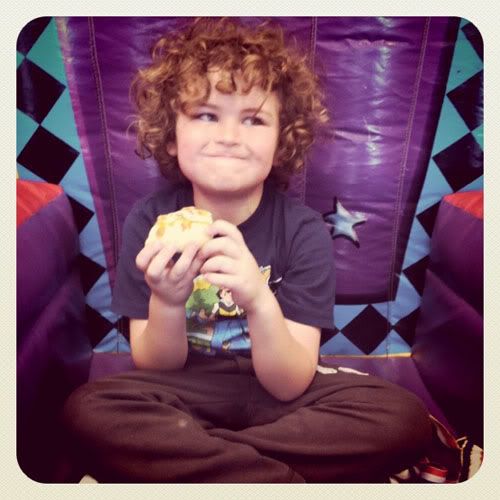 Please note Sir Wolfgang is wearing his "comfy loungers" and Pokemon tee. Sure I love dressing him up but there is a place and time for everything…and bouncing isn't a fashion show, it's about BOUNCIN' IN COMFORT!
I made pretty simple goodie bags—I forgot to take a picture, but I just used a plain brown paper lunch bag with a little red ribbon and pokemon label (kinda like this). Most parents I know have a love-hate relationship with the goodie bag. They can get a little outta control. And part of me wants to rebel against doing them, but then when it comes down to it, it makes the kids happy and what the heck…yer only little once. The bags had lots of silly little trinkets like lollipop ring pops, red white and blue whistles and these cool spinning tops that lit up (Go Party Supply Store!). I also wrapped big ol' chocolate chip cookies in aluminum foil and added a ribbon to make them look like medals. These were a big hit!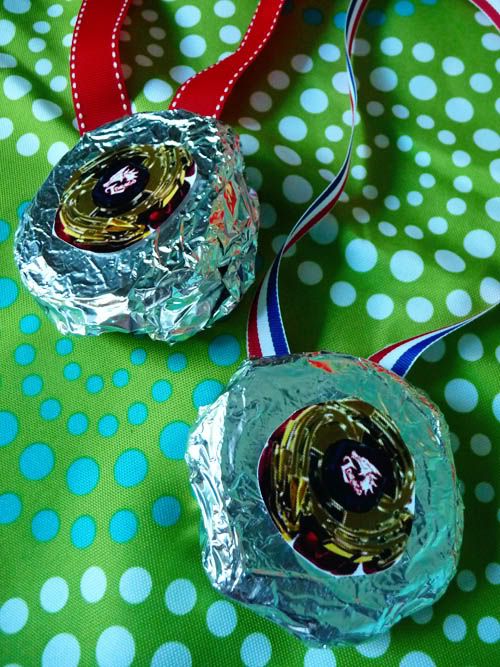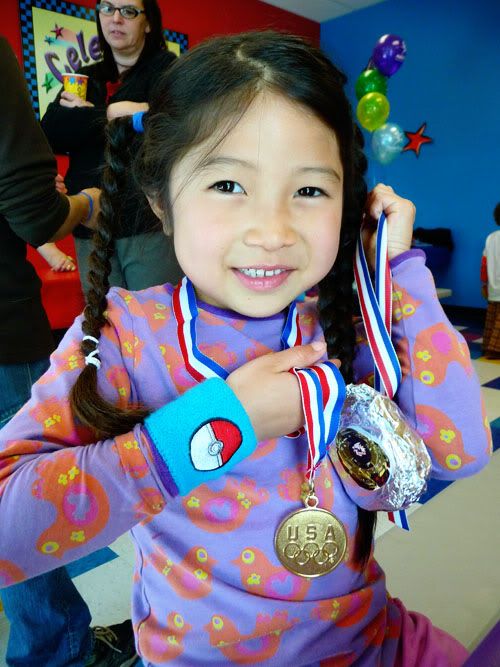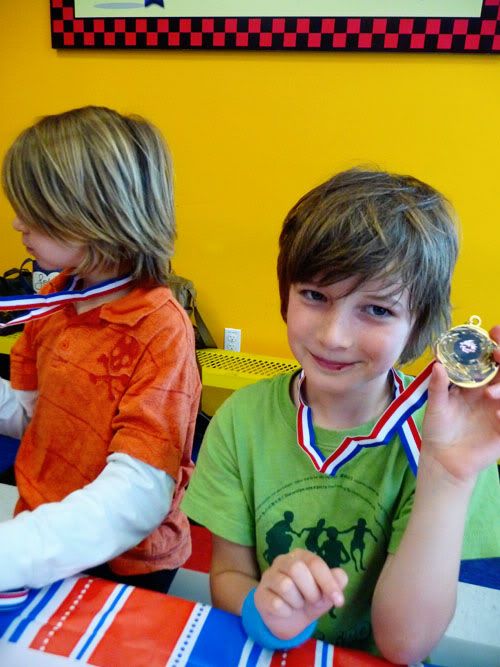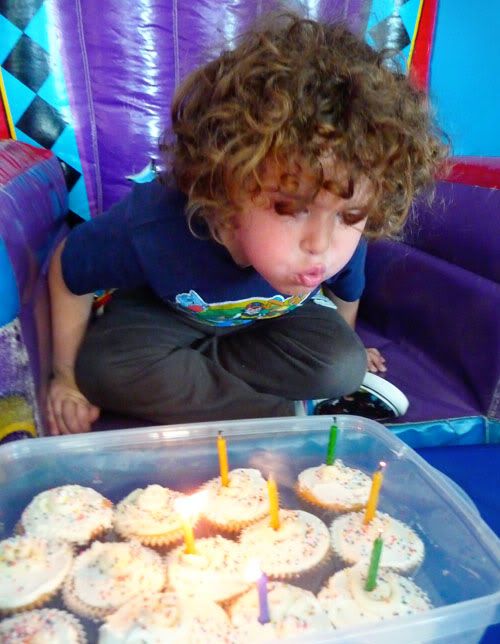 I bucked the system and we opened presents at the party. I'm not sure how it is where you guys live, but out here there is a growing trend to NOT open presents in front of the kids and wait til you get home (or if you are at home, wait til everyone leaves). I'm not sure if it's to avoid the chaos/mess of paper or if people think it's too long for the kids to sit patiently through or they are worried presents will get ruined…BUT, I'm not a fan of this trend. Call me old fashioned, but I think half the fun as a guest is watching the birthday kiddo open up your present! [some of my best friends are in the non-present opening camp so, you know, no offense if you are too….but I'm still gonna make you open your present from me while I'm there! heh]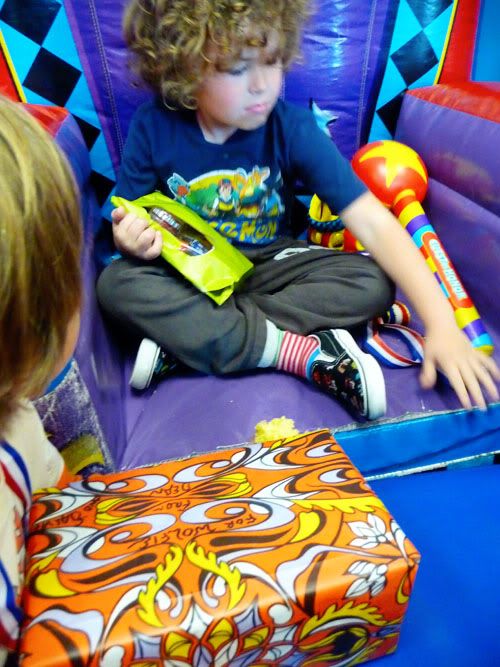 I will admit, it was a little chaotic, with paper bits flying….but the kids were so cute ooohing and ahhing and giggling over everything!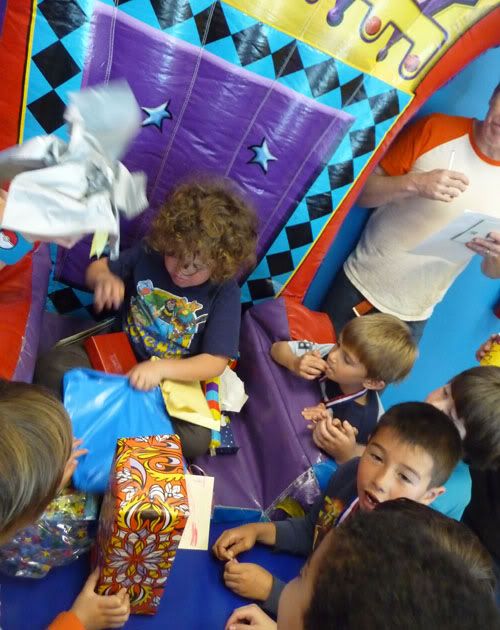 Wolfie was grinning from ear to ear the whole time. The staff was totally great AND they did all the clean up. So despite my initial reservations….it was pretty awesome! Goes to show you what do I know??
Afterwards we had to race off to Little League…and then we ended the night watching a movie, eating leftover pizza and talking about how awesome his birthday weekend was. An action packed day to be sure.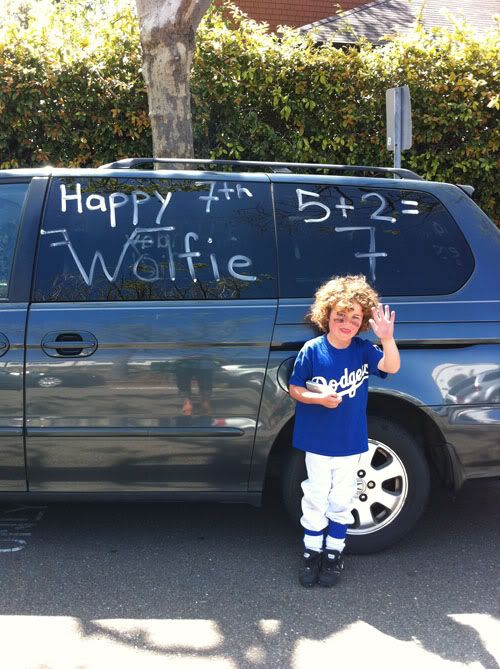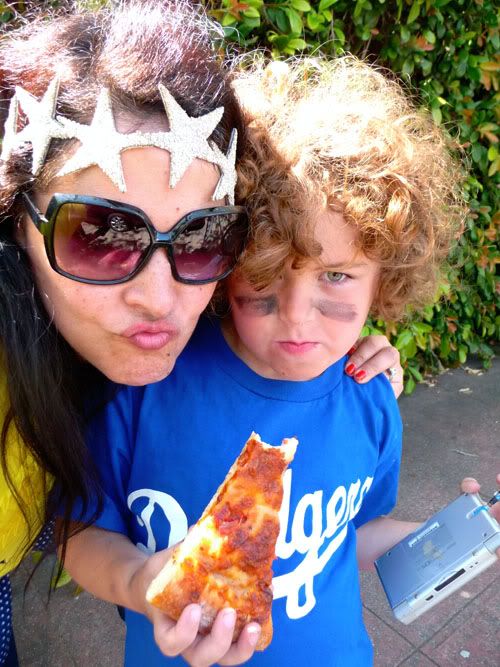 BUT THAT'S NOT ALL FOLKS
In the middle of the night, Wolfie woke up doubled over in pain moaning and sobbing. We ended up spending over 4 hours in the emergency room and it was pretty awful. Wolfie is a really stoic little guy and to see him crying for two hours straight was heart breaking. He couldn't even walk so we had to take him in a wheel chair to get his x-rays…by 3:00am we had determined it wasn't his appendix or any obstructions. It was extreme gas and poopage (sorry….gettin' all TMI on you guys here). A tad embarrassing but we were just relieved it wasn't anything worse. We went to bed at 4:30am, emotionally and physically exhausted! What a crazy end to our fantastic day!!
So to end on a positive note, we finally woke up  the next day at 1:30 in the afternoon!!!!!!!! (unheard of). Wolfie was feeling 100% better and we had a great brunch and wandered around in the sunshine.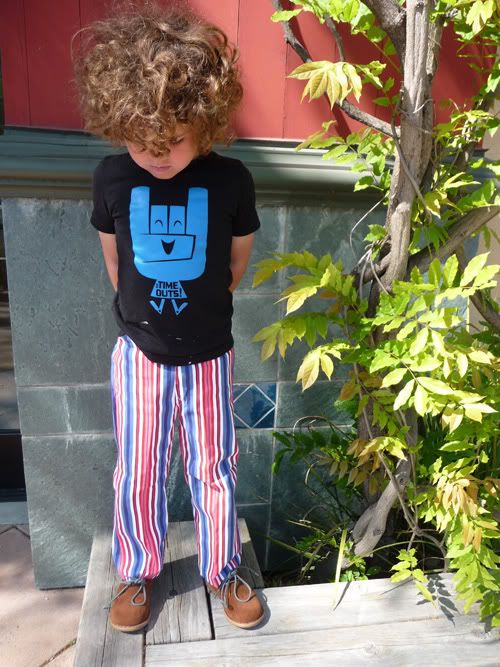 When we got home, Wolfie and Greg recorded "I'm in a Wheelchair," a goofy fun song they made up about his ordeal the night before.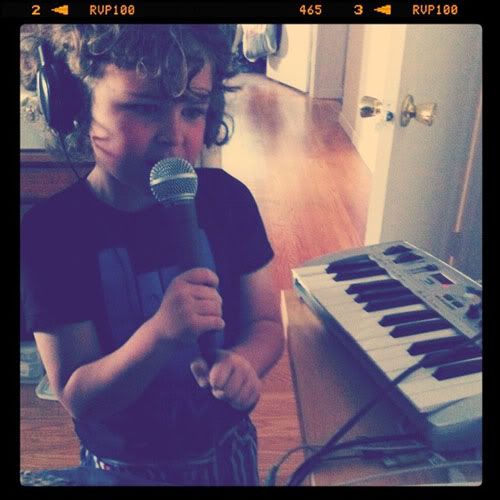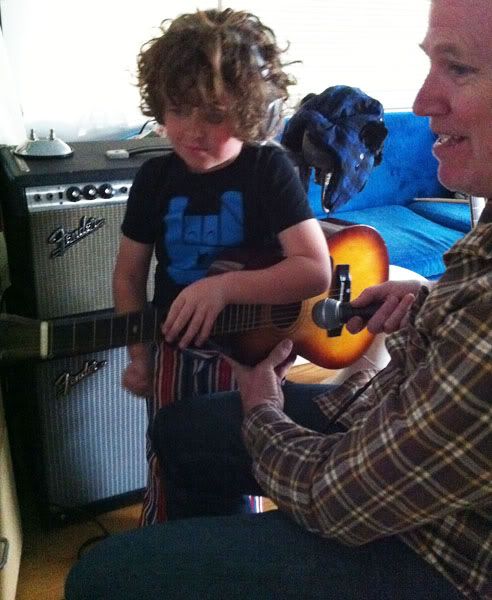 HAPPY BIRTHDAY one last time, my little monkey. Thank you for being so sweet and fun….and for letting mama put you in pants that "sorta look like clown pants" and thinking they were cool. I love you!