Hello my friends! I hope you had a lovely weekend and spent a good bunch of it celebrating Mother's Day. Sadly, I spent yesterday in the emergency room due to little Miss Peach taking a tumble down the stairs. Fortunately, Peaches bounce and she's fine. It was prolly one of the worst moments of motherhood but let me tell you, there's nothing like spending Mother's Day in the hospital surrounded by really sick kids to make you appreciate having a healthy and safe child.
But enough of that—let's get to sharing some grand vintage goodies, yes? And, friends, I must tell you I did a bang-up job of finding goodies today!
Look at these little Siamese kitties on this perfect wee red dressie. You can't even look at this without singing to yourself that song from Lady and the Tramp. From Etsy seller, Accomplice Vintage.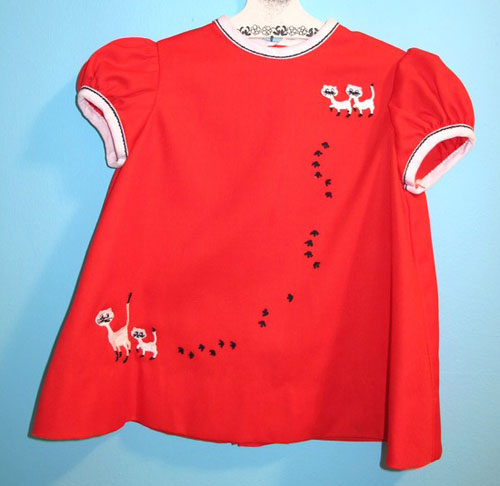 And I can't leave the dog lovers out so I found this wonderful widdle vintage boy's shirt and a snappy little Scotty dog—in plaid natch! From Etsy seller, Oh Dear Things.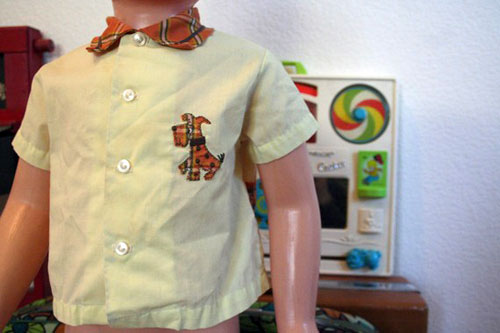 I'm a big believer in music for kids. Listening as well as playing. And this sweet vintage set would be a terrific addition to any play room. Â A kazoo trombone? Genius. From Ebay seller, Ice Cream Girlie.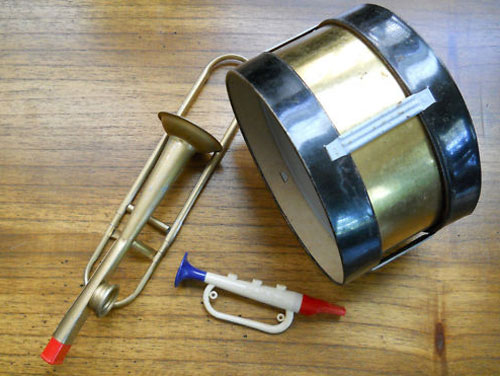 I really have a soft spot for knits. Especially this darling vintage two piecer with wee duckies. Did I mention the duckies? From Ebay seller, tailofwhoa.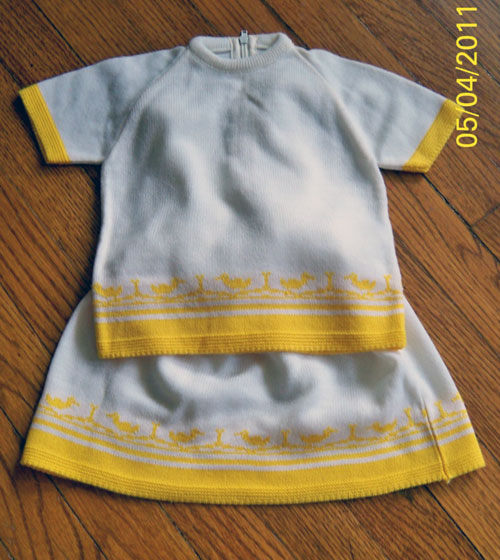 Speaking of knits, I also love a good knit sweater. And this might be the cutest little knit sweater I've seen in years. The little embroidered flowers are so sweet! From Ebay seller, the Robot Parade.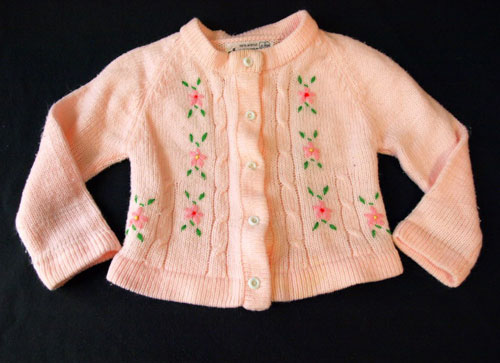 I adore those old vintage puzzles. But I've never seen one of a repairman. Hee. Have you?? From Etsy seller, Bella Blonde.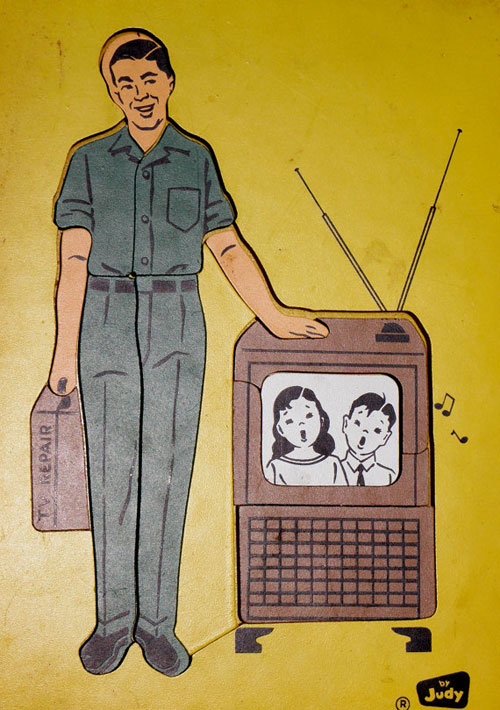 I think these vintage tops could be seen as art as well as toys. And I like the kitty on this one too! Â From Etsy seller, Nik Nak Nook.
Vintage prep is totally a hot look right now, so these sweet little plaid golf shorts would be a brilliant look for any little kiddo this summer. From sassy new Modern Kiddo sponsor, B. Inspired!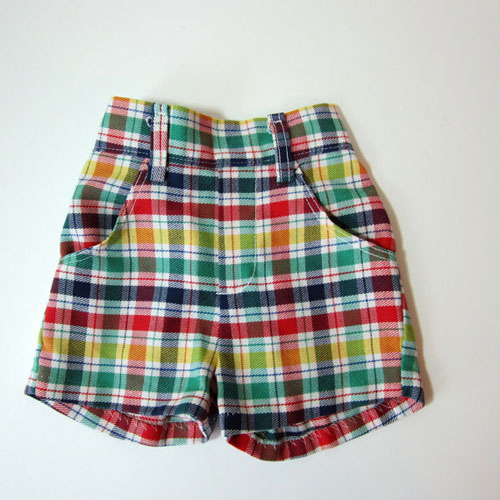 Seeing this sweet set of die cast toy cars brought back memories of my brothers playing with them and keeping their matchbox cars in a faux toy tire that had slots for each car! From Etsy seller, OopsieDaisy.
With summer RIGHT around the corner some little cutie is going to benefit from this comfy cool little gingham friend!  And did you notice the little birds with the umbrellas?  From Miss Frecklewonder's cutie patootie shop—Kid Wonder.
OK, I had to share one more. Because THIS is just too amazing. Vintage Mary Poppins NEEDLEPOINT? How grand would this look in your kiddo's nursery. And talk about the perfect easy breezy craft to do this summer. Perfect for traveling. Pretty please someone please buy this before I do! From one of our fave sponsor's, Sweet Shop Vintage.
Happy Monday!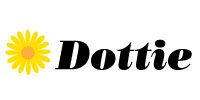 PS: Oh and congrats to our girl Mari Richards of Small for Big on winning one of the coveted new editor spots at HopScout!  Way to go, lady. And if you haven't seen her brilliant video—check it out here.  Smart move HopScout. You know good talent when you see it!
PPS
Also, today is the last day of voting for the Circle of Moms Top 25 Kids' Style blog competition. Won't you please head on over and give us a thumbs up? No registering necessary, just one easy click. Click the circle below or the badge on the top right to vote. Thank you for being the best readers around!