One of the best trends of this past decade has been the idea that baby nurseries no longer have to be pastel pink or blue with little teddy bears adorning the wall. The room tours on the magical ohdeedoe alone are filled with inspiration of serene-but-modern takes on fun baby rooms.
I really love seeing kid's rooms that have organic elements in them and was totally inspired by a photo of a little room with a lovely tree  "growing" on the wall. This sent me on a hunt for the cutest trees I could find. Now, you can totally paint a tree on the wall yourself, but if you are half as busy I am, then you know that having a cute and tidy way to do this quickly is worth every penny!
These little enchanted forests are all done with wall decals, which makes them easy peasy for you! Most of 'em peel off easily so when your big boy or girl decides that they've outgrown their little forest you can start plotting their new room with a blank slate. Wall decals have come a long way—but I'll save that for a whole other post!
On to my favorite trees:
OK, so this first one isn't even really a tree. It's a giant dandelion flower thingy, but look how pretty it looks!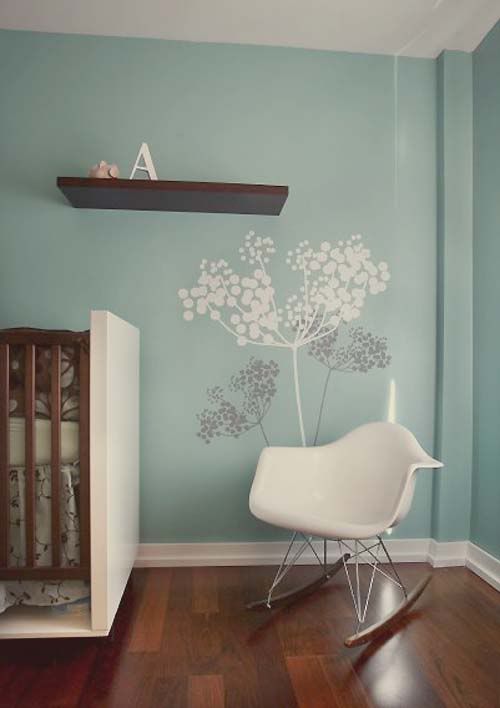 Image: here. Available from Blik.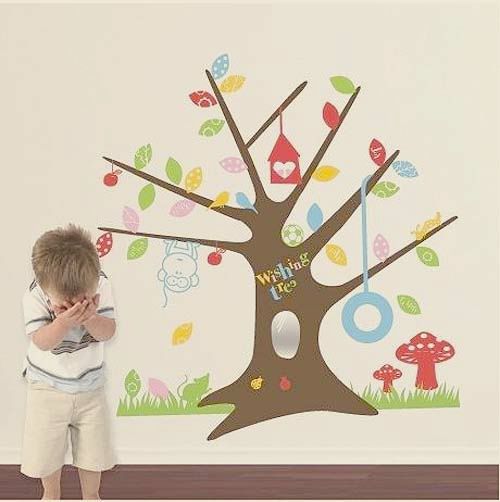 Available from Studio Luka
This one is so pretty and soothing….yet cool as all get out. Unlike other wall decals, which are made of a vinyl material, these are made of FABRIC. So genius (or as Dottie would say, "stinky cute!").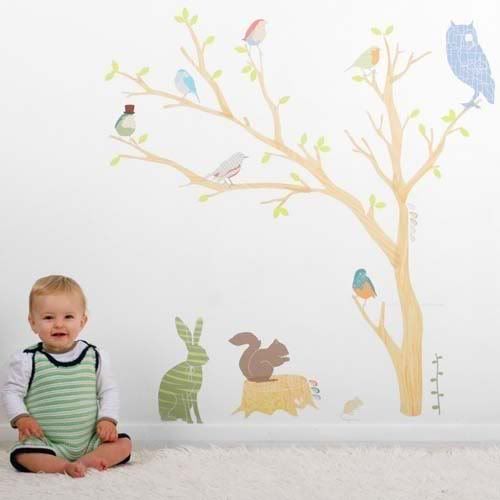 Available from Etsy seller Mae.
OK, check out how clever this is. The wall decal is rather pricey, but I am 100% smitten with the enchanting little bird house nightlight. I don't bust out the word "enchanting" much, but I think you'll agree this image is totally worthy of the "e" word: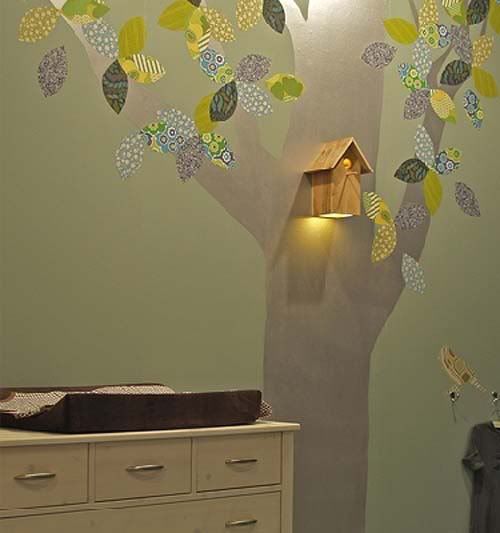 Available from enfante terrible, who incidentally have THE CUTEST site ever!
I really dig the whimsical quality of this one —it looks like you hired a cool artist to paint this one on the wall:
Available from Wallnutz
I love the simplicity of the blocky leaves on this one: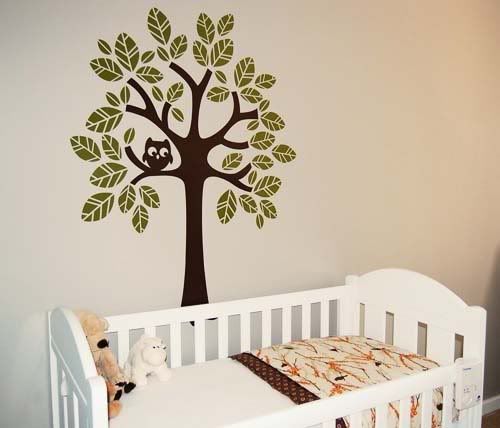 Available from Etsy seller Holly
Um, a dotty spotty tree? Yes please!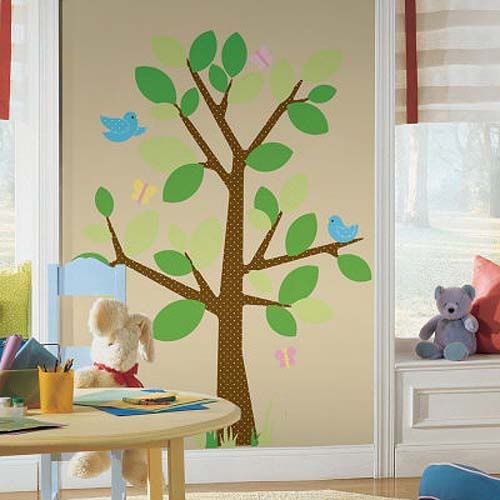 Available from AllPosters.
Another retro Etsy find from Elephannie. It looks straight out of a retro kid's storybook!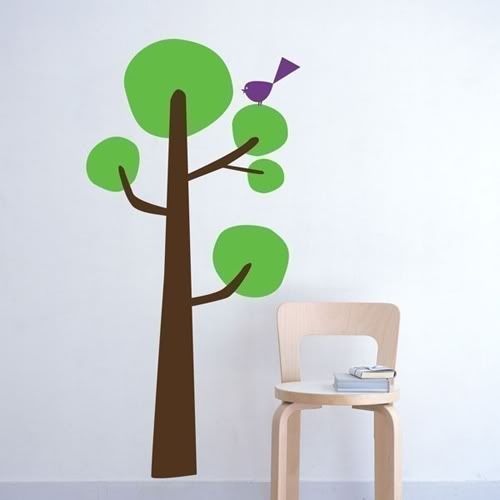 Another clever twist on the wall decal! A wall tree coat rack, from the fine folks at Ferm Living. The black is a little stark (I'd add some boldly colored birdies to give it a lil sunshine) but I love this idea: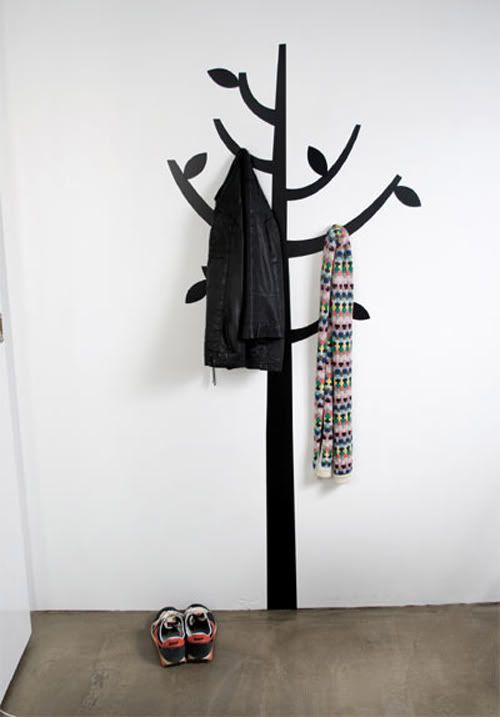 And finally, this little red tree is just so charming—and shows how bold colors can be totally appropriate and sweet for a nursery room!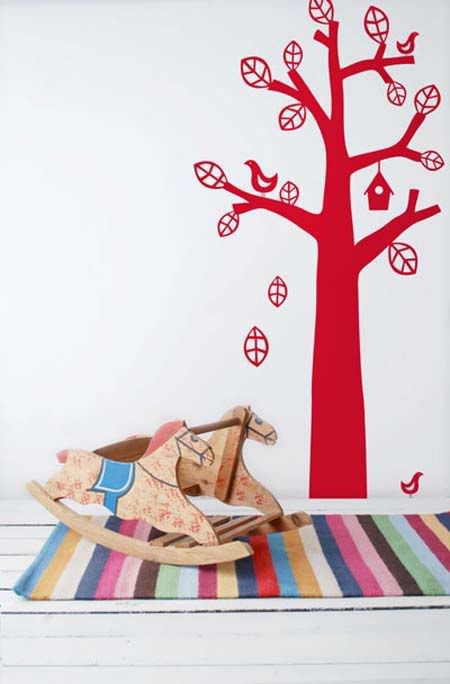 Both available from Ferm Living. The Coat Tree is here. Red Bird Tree, here.