What is it about weekends that seem to whip by so fast no matter how much or how little you do during those two glorious days?  I know there were bills to pay and dishes to wash, but the Peach needed a cuddle or two and I was more than happy to scoop her up.  It was so nice just to be home with my little family. But I did break away for some quality e-thrifting time.
So, on with the show!
How could anyone resist this sweet seventies boho chic prairie dress from eBay seller LauraBethandPaule? And with a starting bid of 99 cents–I know it will be picked up soon!
Who wouldn't want to say aloha to this tiki-rific shirt for a wee lad?  Covered in boats and fishes–two things that any boy would be proud to wear!  From everyone's favorite 3 Ring Circus!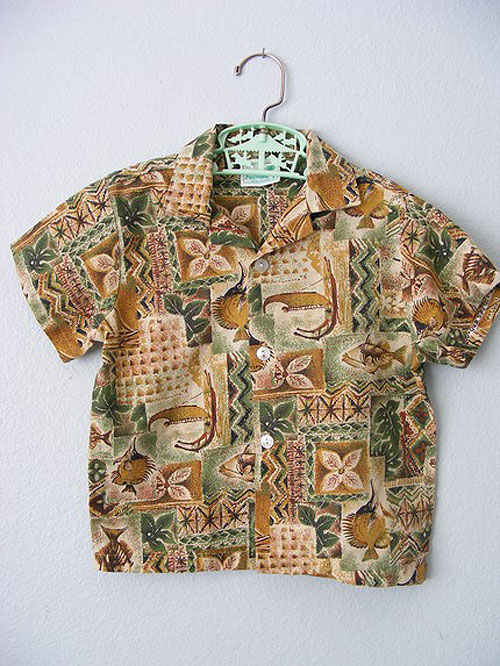 I'm kinda crushing on this Winnie the Pooh button down shirt in glorious seventies poly.  And it is in one of those oh so elusive big girl size 12. I love how the circular balloon makes the most amazing pattern. Very wearable with some skinny jeans and converse kicks. From eBay seller ladyj49548.
Check out this tiny little jumper for a tiny little boy.  In navy, which I think is such an underrated color in children's clothing.  Can't you just see it with a cute little stripey shirt? I can! Hoo boy!  From Etsy seller,  Ms Tips!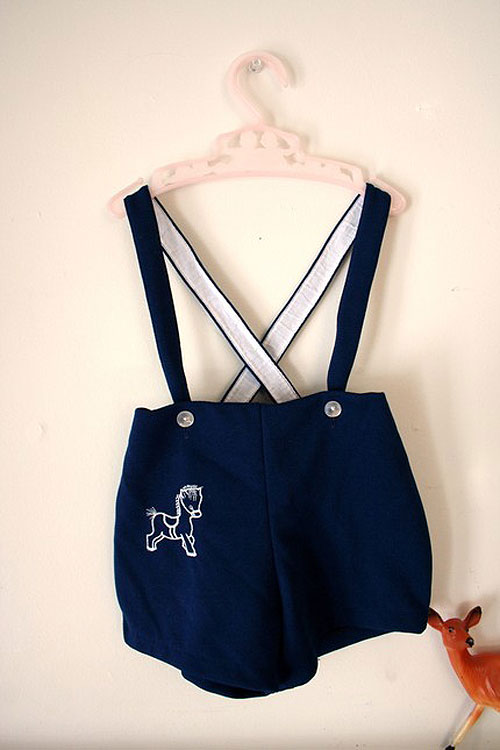 Remember that early spring fashion trend that was all around Alice in Wonderland? Well, I'm sure this brilliant robin's egg colored jacket would have been easy inspiration. Oh the puff sleeved goodness of this darling coat from our friends at the RobotParade4Kids.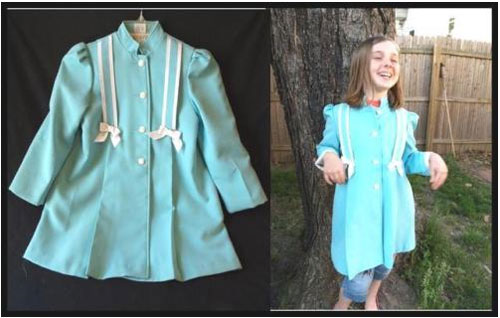 I know. I know. I have cowboy problem.  I'm sure there is a group out there to help me get over it. But until then, I must share this vintage Health Tex gem with lassoing cowboys on the jacket. From Etsy seller The Baby Kitties. I know, that name kills me too.
Speaking of kitties, check out this spry little calico kitty that looks like it is going to hop of this sweet shirt!  The collar, the kitty, the calico, the cuffs,  the buttercup yellow. I'm in love.  From Etsy seller, Prairie Path Vintage.
Miss Lish–what magical place in Minneapolis do you do your thrifting? Seriously.  Because you always find theeee best vintage goodies like this deadstock size 7 boys shirt.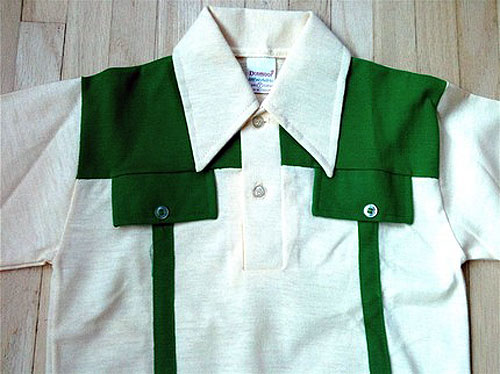 And this unbelievably adorable flower power two piece that could be worn separately as well for little girls!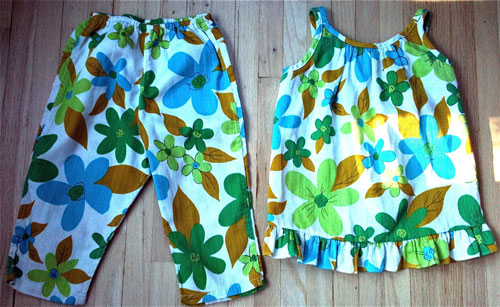 Now, you know I love a good jon jon. It's part of my love for all things vintage prep. But get a load of this gem.  I'm dying here–Lord & Taylors Mighty Mites brand. Trading out the madras for some Laugh-In.  Outstanding find, MyRepeatBoutique!
And one last goodie!  With school starting for some in a matter of weeks, this grand thermos would make any kiddo the talk of the lunch tables. I pity the fool who doesn't buy it.
Sorry, I had to say it. Nice find Yoursmineours Vintage.
Happy Monday, everyone!