Did everyone get their fill of candy last night?  Was everyone's treat or treating forays a success? The Peach's first trick or treating experience was a success–only one minor meltdown where she sat in the street and refused to budge. But other than that she went to bed very happy with the fact that once a year she can get away for asking for candy from strangers.
But even Halloween couldn't keep me away from finding a few treats and perhaps tricks to share with you all for the first vintage Kiddo round up of November!
Oh lawdy, this kitty top is so stinky cute, that if it is still here by tonight, I'm going to buy it for the Peach.  From Etsy seller, Fun with Puns!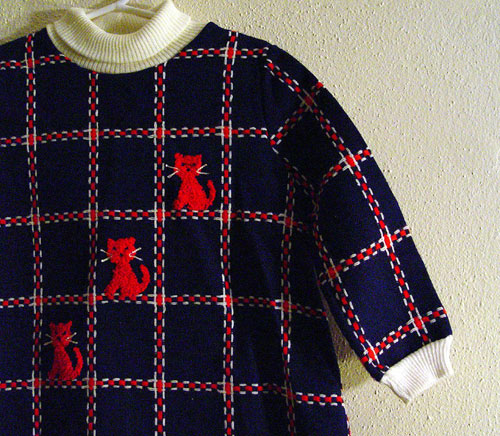 I adore these olive buckle shoes. I just wish they came in my size! From eBay seller, Bibliowhiz.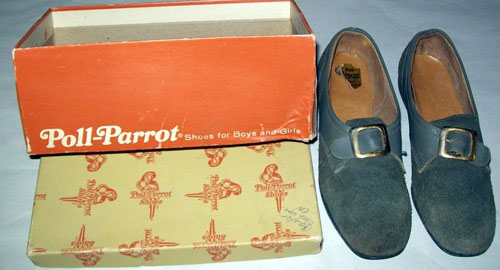 Reversible coat. Red and gray gorgeousness! From eBay seller, mayo5050.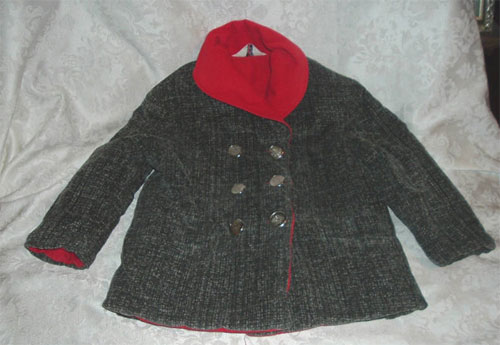 Suspenders are going to come back in style any day now, so best to prepare yourself now with this dandy pair of suspenders from Etsy seller PinkyAGoGo.  I totally dig the little rocking 'em with the skirt look on the packaging.
Gray sweaters can be rather granny, but this little girl sweater is so darling with the red flowers and sweet cabling to boot.  From Etsy seller, Spun Sugar Vintage.
Might I suggest this darling dress to anyone in who plans to celebrate Christmas in a warm weather place this fun little dress with side lace-ups. So much fun! From Etsy seller, TTCS.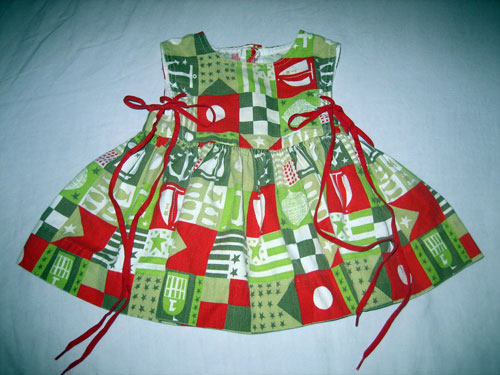 Don't have enough Orlon in your life? Solve that problem with this wonderful gray and yellow and orange sweater and pants set!  From Etsy seller, vintage tot spot.
I know the Dallas Cowboys are having a tough year so far, but perhaps this super fan Dallas Cowboy jacket. Again, from Etsy seller, vintage tot spot.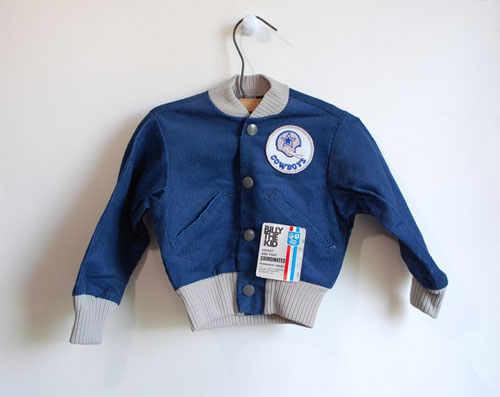 Overalls are I think the ultimate piece of clothing every boys should own.  And these blue and green stripey ones are a perfect addition.  From our girl, 3 Ring Circus.
All this little suit jacket needs is a pair of gray shorts and voila! Perfect dress up out for any dapper boy.  Thanks for finding it Lish!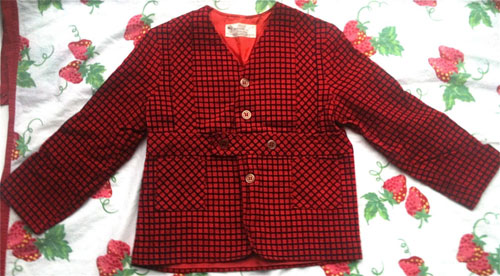 Oh, and if you have a moment, won't you please clicky on this banner to vote for your fave gals at Modern Kiddo on the Top Mommy blogs? It takes two seconds (just click the brown banner below and then hit "Click to Vote" to register a Modern Kiddo vote! Easy peasy!).

Happy Monday!