Whew! That weekend just blew past. I thought I was going to spend it playing "Mommy jungle gym" which is basically me passed out on the living room floor as the Peach climbs all over me.  But instead it was chock-full of giggling, biking to breakfast, tag sale shoppinghanging with friends, seeing new babies, making this insanely good and insanely easy carnitas and finally seeing HOT TUB TIME MACHINE. But I did manage to take a little stroll down the eBay and Etsy aisle for some good ole fashion e-thrifting and wanted to share the best with you, my fellow vintage kiddo clothing junkies.   Awww YEAH! So, sit back, grab a cup of ice tea and let's get to it, shall we?
Let's start out with a true goodie.  Who doesn't love a sassy plaid pony? And be- still my heart–with a googly eye! Why we do, of course? This is a snappy little vintage number with tags from "Cute Togs of New Orleans". And it was originally priced at $108 according to its mid century price tag, so the $25 starting bid is pretty darn decent if you ask me!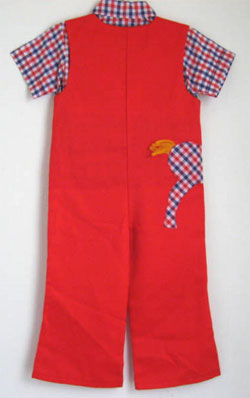 With the summer still full of potential visits to the beach, I had to share this darling little orange anchor-covered swimsuit with the snazzy ties up front. Fancy!  I am certainly going to keep eBay seller Retro-fitgoods on my list for future buys.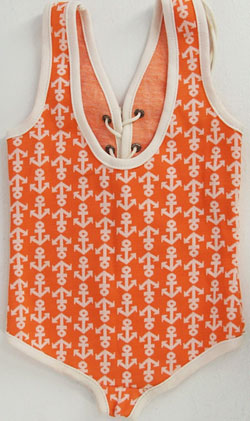 And I can't leave the boys out when it comes to swim-suits. Get a load of this cup of cuteness in the form of sun-spackled swim trunks. And a little button cute metal life saver for this belt buckle. I think my head just exploded from the kootness overload. From Etsy seller MissUFO.
I know my gal Alix always digs a good sailor-inspired outfit, so this one is dedicated to her…Straight off the good ship lollipop, this jaunty lil sailor number is full of 1940s retro pep. But at the same time I could see kicking it with a cardi and cool keds too.  And once again, big girl size of 8/10 and in beautiful condition to boot. From one of my new favorite vintage Etsy friends MidState Vintage.
I'm in love with these little shorts with a most charming jazz band refugee on the leg–tooting away on his clarinet to the delight of the wearer and everyone else around him. From Etsy seller, almalou.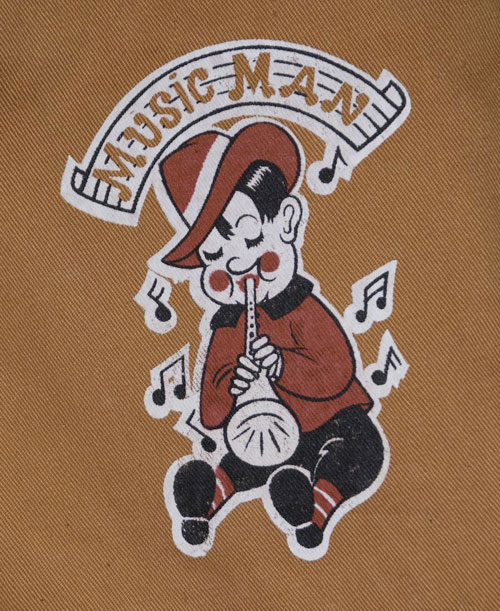 Oh. My. Word. This is stupendous. And it's in an elusive bigger girl size. It is a vinyl. vintage. go-go skirt. Roughly size 6-7. Although it looks nicely broken in, you know the little girl that was lucky enough to wear this was in Brady Bunch heaven and had matching white vinyl go-go boots to match. Yes, it is that awesome.  And it is $9.99. From eBay seller, Bibliowhizz.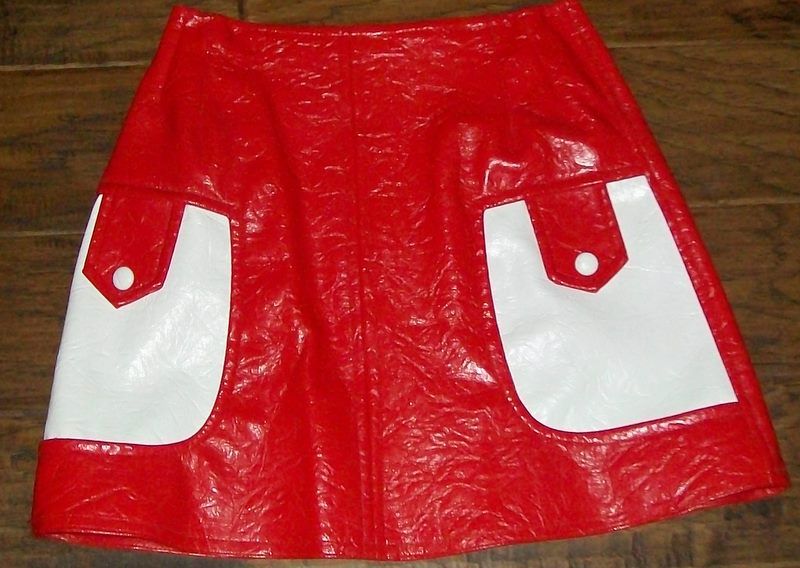 I guess it is never too early to introduce your kids to those wonderful lifetime sports like tennis. You can get them started with this tennis whites-inspired onesie that will certainly separate your little gent from the hoi polloi. Tee hee!  From Etsy seller Prairie Path Vintage.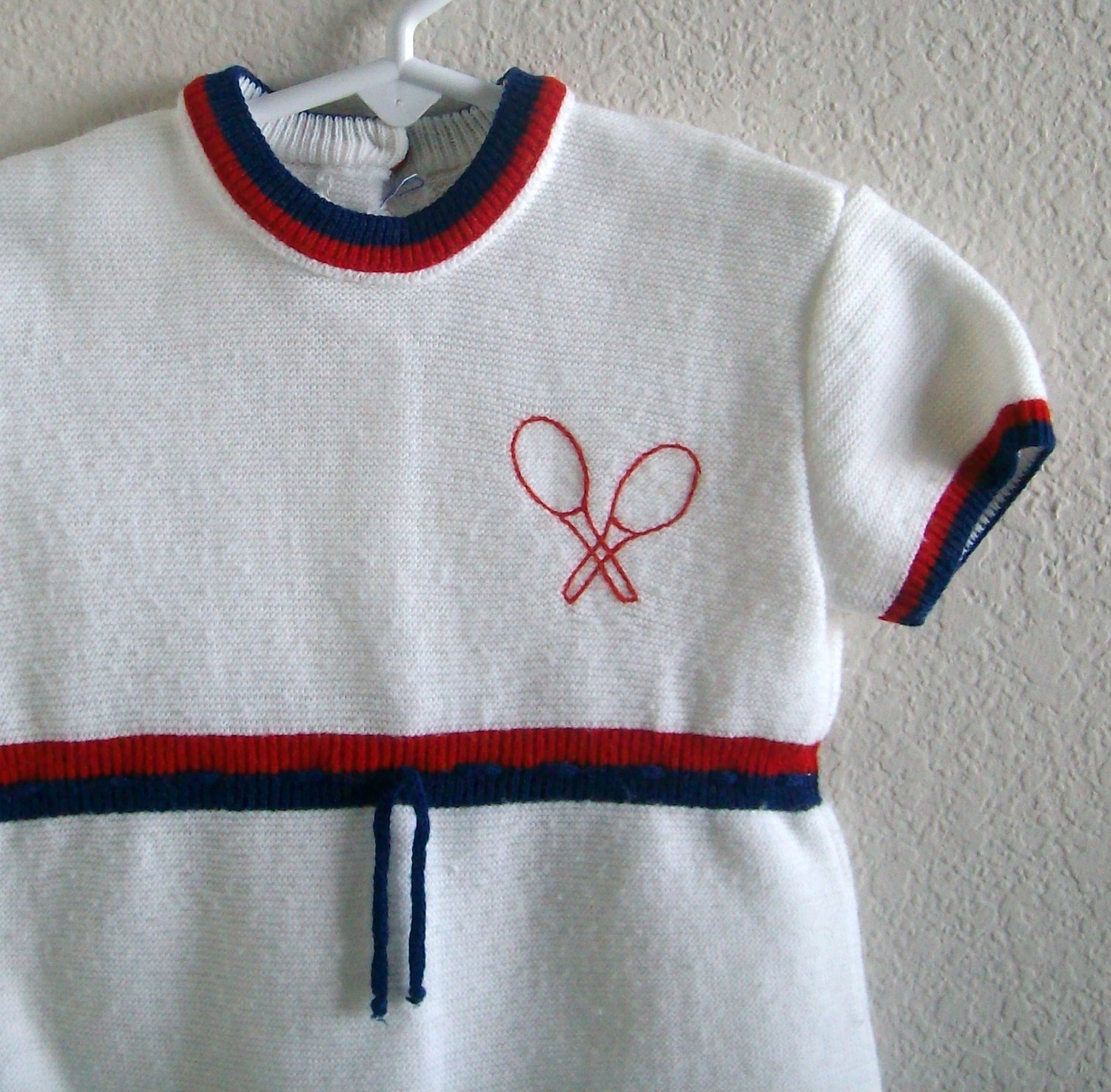 Sometimes you just need to call a spade a spade. Or in this case a rodeo a rodeo as it is called out on this terrific dark denim rodeo vest from our gal pal Miss Lish from Lishyloo. An easy addition to any boy's (or for that matter girl's) outfit.  Vests are so underrated, don't you think? Unless your a certain young trick or treater named Wolfie…
The Peach has a head full of cowlicks which means that seconds after running a brush through her floaty blonde locks,  she looks like she walked through a wind tunnel. So barettes are certainly going to feature into her style in the near future as soon as she gets out of her fun "chockable" stage. But these vintage barrettes from the 1950s from Ebay seller antiquables are so cute that you just want to buy them anyway and put them again for future use.  I mean look at that swan one alone!
But before a bid you all adieu on this fine Monday, I leave you with this. But first some back story.
When I was a little girl, I was completely obsessed with my cousin Cheryl's white rabbit fur hand muff–it was the stuff of dreams, I loved it so much. But I don't know how I feel about the doll head fur muff from eBay seller fantasticfinds828.  It looks to be more the stuff of nightmares.  There is something so Freudianly wrong with it, but I can't put my finger on it.  Gentle readers–any thoughts?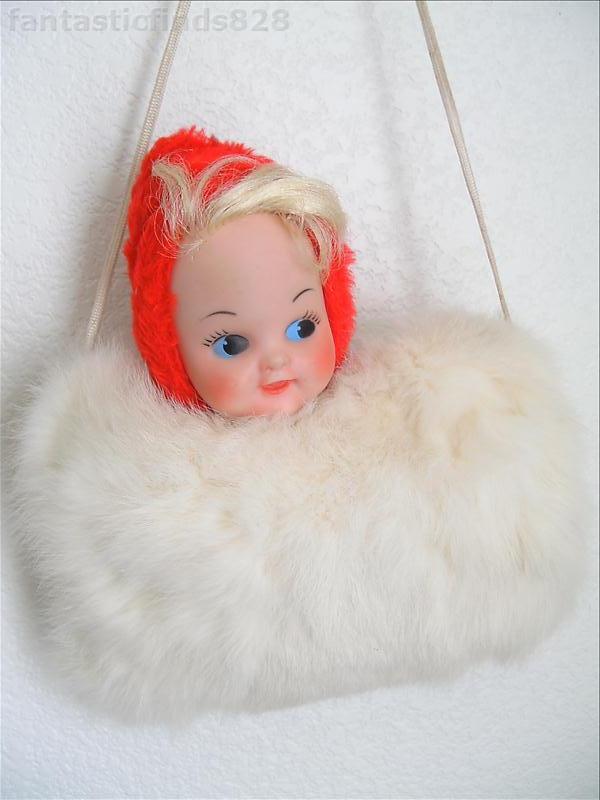 Tee hee! Happy Monday!