Since ya'll seemed to be so tickled with those Vintage Bedrooms yesterday, I thought it would be fun to show off a super cute modern day rendition of the Retro Bedroom! One of my online besties is the fabulous Jenny frecklewonder. Her little girl Dorothy Bird (aka Dotty) has an amazingly fun space. Bold, colorful, sweet and modern. I think you're going to love it. Jenny and I had a little chitty chat and she gave me the low down!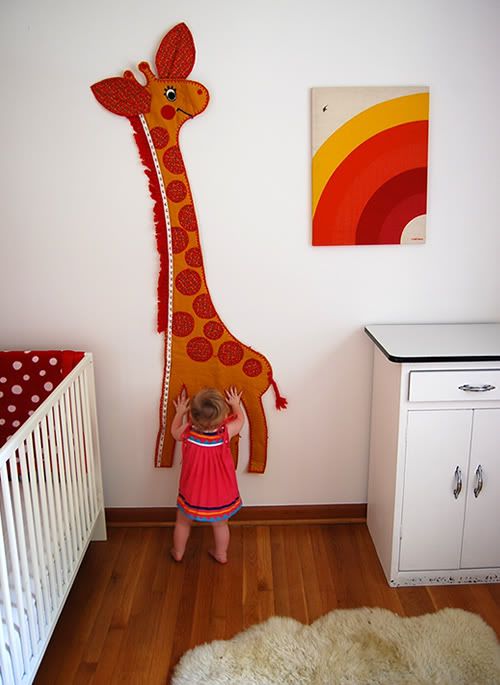 ALIX: Jenny!!!! OK, so I'm soooo happy to feature Dorothy Bird's room. Can you tell us a little bit about your "vision" (ooh lala!) for this sweet space?
JENNY: Well, since i'm always in the thrifts, and always on the lookout for fun, colorful vintage kiddo stuff. I actually decided to go with white walls and a white crib for the room. I wanted to keep things pretty simple and let the vintage treasures sort of 'pop' and stand out on their own.
ALIX: I love that about this room—it keeps it looking clean but still really playful and fun! I find some modern nurseries are so fussy and over done. Was there any "must have" that you knew you wanted?
JENNY: The only thing I was really set on from the get go were red + white, jumbo polka dotted curtains. I had this vision in my mind of Pee Wee Herman's gunny sack (in Pee Wee's Big Adventure, a favorite movie in our house!) and i just couldn't let it go. I combed the internet like a crazy woman and nothing! So finally, about 2 weeks before she was born, I just decided to make the curtains myself. And actually, believe it or not, when she came home from the hospital, those curtains were the only thing in her room as far as decoration. It was just white walls, her crib and those curtains!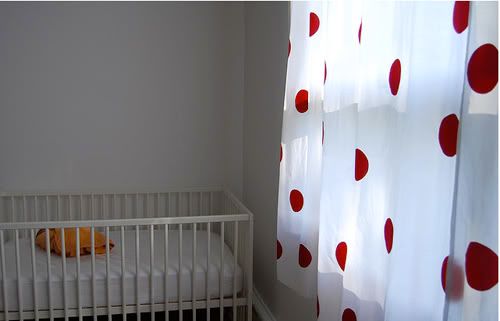 JENNY: Of course slowly but surely I've added things and tweaked things, and I'm sure I'll be adding and tweaking 'til the cows come home! That's sort of how I roll…
ALIX: I spy some awesome vintage fisher price toys on the shelves….I loooove that Scandinavian rainbow wall hanging too. What's the story behind that?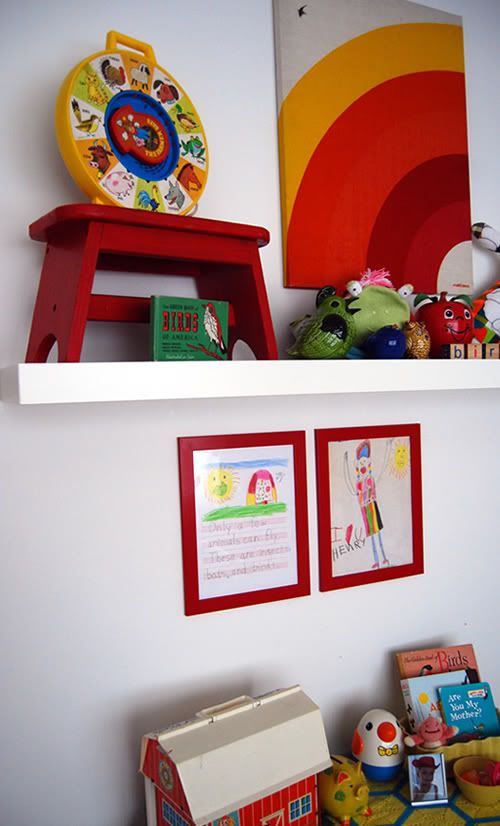 JENNY: The rainbow Marushka wall hanging was an amazing dollar score at the thrift! The other paintings in the room I scored at an antique mall for $5 a piece! (down from $20, it pays to wait + stalk just a bit!)
ALIX: Aw look at the wonderful framed artwork from Big Bro Henry! That's one of my favorite things to do for decoration too. Nothing beats a sweet hand-drawn picture from your little cutie. What else can you tell us about this sweet room?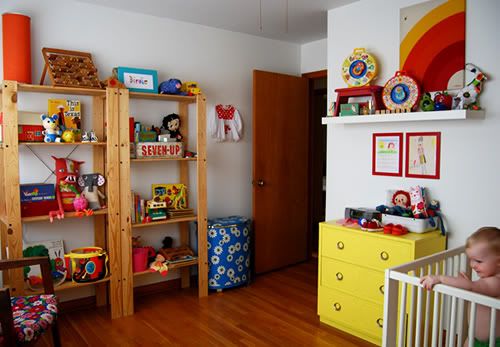 JENNY: The yellow dresser was an antique store find! It was actually green when i got it, and it spent some time in dotty's big brother Henry's room when he was younger before we switched it over into her room.
ALIX Oooh, how about that little floral chair I see peeking out on the left over there? The fabric looks amazing. Where the heck did you find that??
JENNY: Oh, the floral chair was also a thrift score— it was originally upholstered in a dark brown and i recovered it in that vintage floral print. You can see it a little better here in the living room: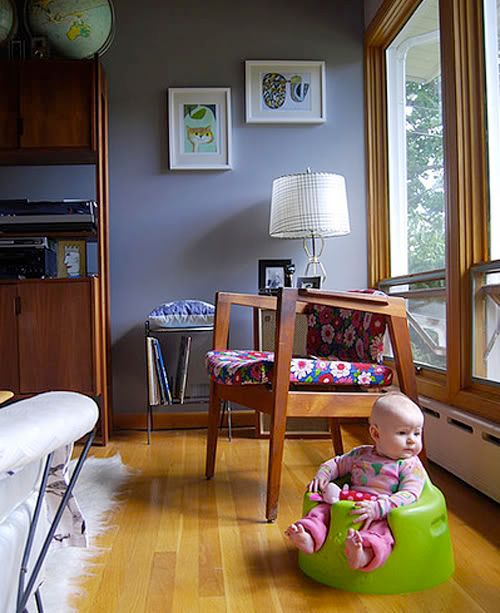 ALIX: It's amazing, you clever girl, but I'm totally distracted by the amazingness of baby Dotty!! Look how widdle she was!! OK, back to the room. I love the mix of modern toys and vintage. To me it's all about balance. I'm dying over that blue vintage flower clothes hamper.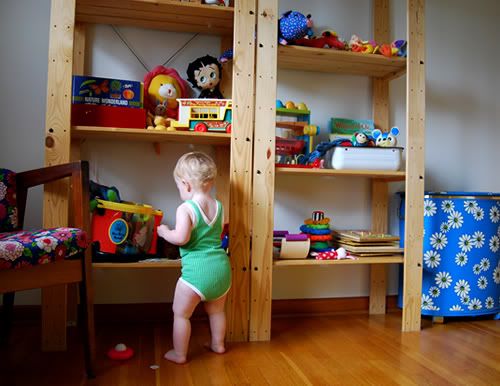 JENNY: I love it too and yep, it's another thrift score. I do love to mix it up. Vintage is a fave but I also love supporting indie artists and found some really amazing stuffed cuddlers. Check these guys out: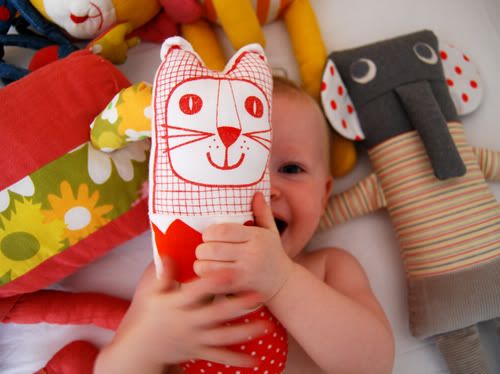 The super cute kitty is from Jane Foster. The red and green floral creature is a Cotton Monster and the adorable elephant is from My Favourite Dress.

ALIX: Talk to me about those rustic looking wooden shelves. They're great!
JENNY: Yep! They're from IKEA. They were the perfect height for storing Dotty's toys but gave her easy access to everything. We got several pieces from IKEA….Dotty's crib (super cheap!) and the white display shelving.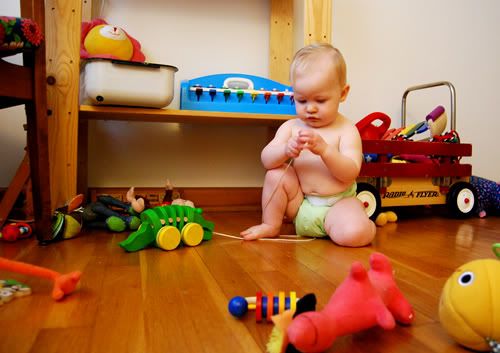 ALIX: This next photo features one of my favorite things (besides Dotty, of course!). The little vintage dressies you have hanging from the wall. I think you know where I'm going with this…c'mon girl . Let's give the Modern Kiddo's a peek into that closet!!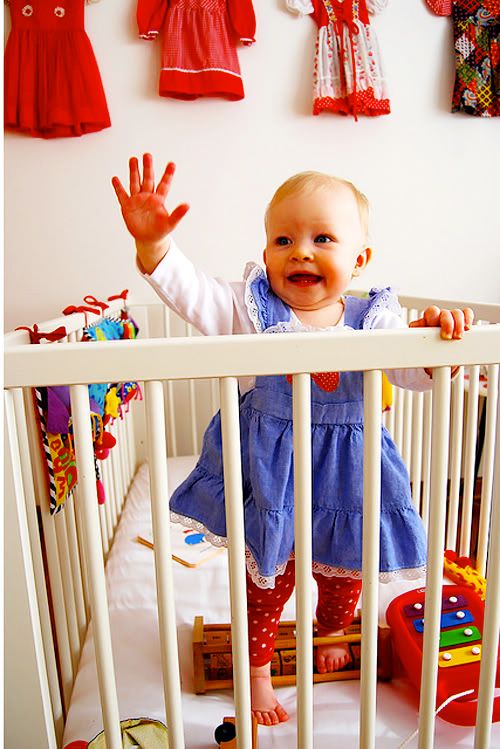 JENNY: Oh my. Well, you asked for it. Here she is in all her glory! As soon as I found out that I was pregnant with a girl, I went nutso and just really had the best thrifting luck e-v-e-r.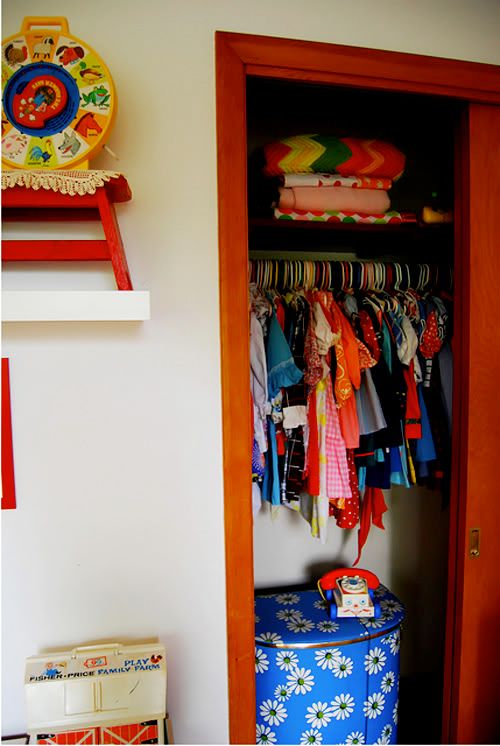 ALIX: Ooooh there's my favorite clothes hamper again. So I guess it's safe to say that little Dotty has a pretty sweet collection of vintage?? [I'm totally leading the witness here…I know full well that Jenny has amazing taste and boatloads of vintage kiddo clothes. heh]
JENNY: Hah! Yes it's true. Her closet is chock full of fabulous girl's dresses from the 50s, 60s and 70s. Most of them are toddler sizes but a few of them won't fit her till the year 2020 or so! But can you blame me? Who knows if she'll be interested in wearing them past, say, the age of 5 or 6… she may think i'm crazy!
ALIX: OK people. Take a gander at this beautiful maddness! I'm in loooooove: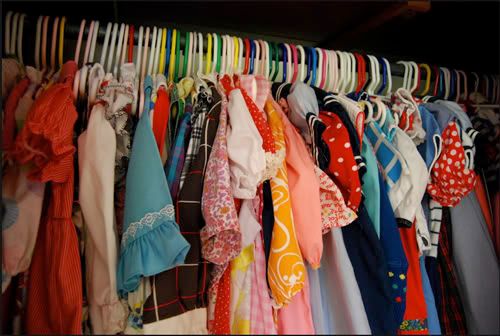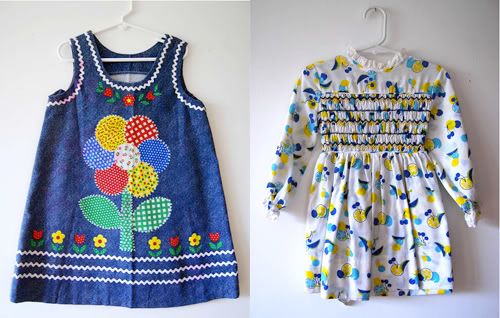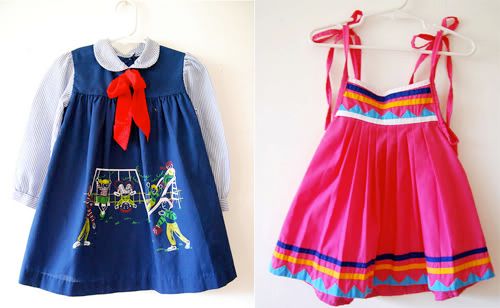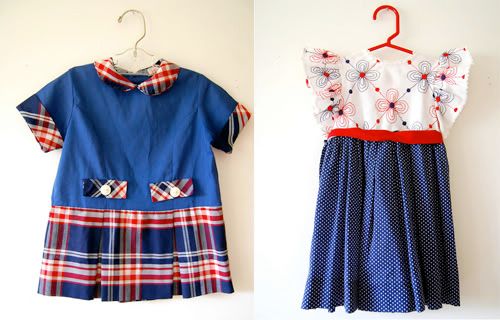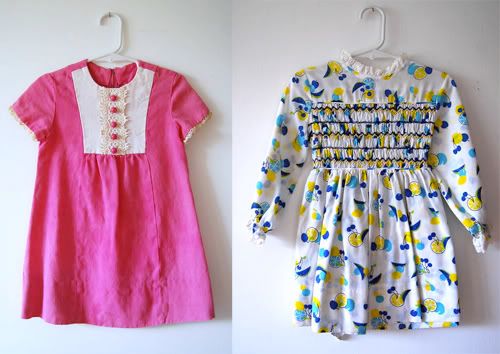 I die! How adorable are all of those dresses??? Jenny, thank you ever so much for sharing this amazing room with us. But truly, the most adorable item you'll find in that room is the wee little lassie who lives there. I have to share with you some "hot off the presses" pictures of this gorgeous girlie.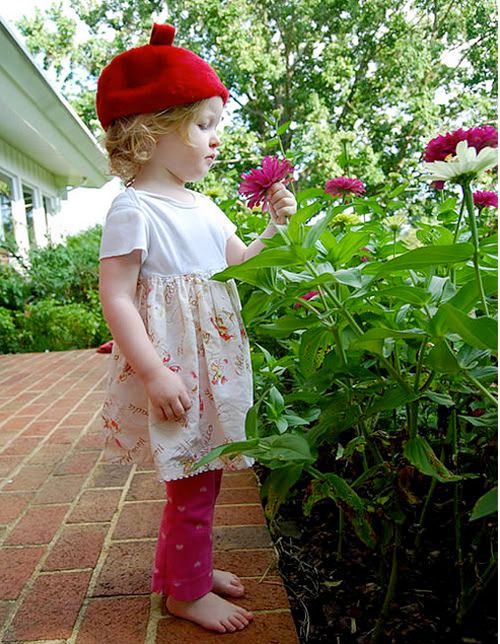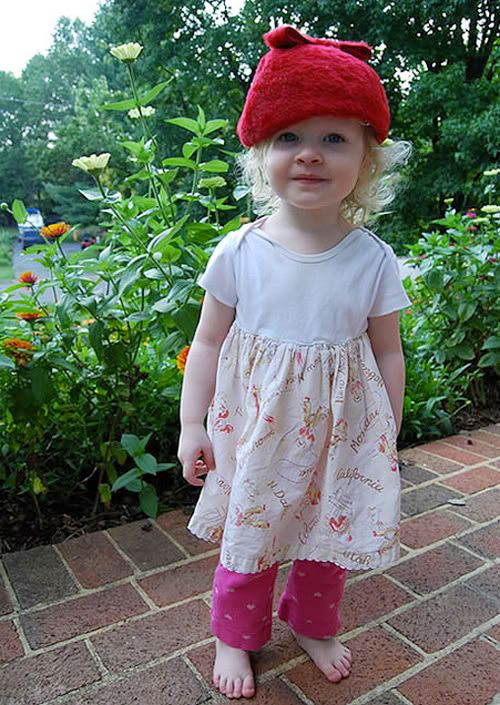 YAY Miss Dotty! We love you! That's it for Widdle Wednesday, but check back this afternoon as we have a special Guest Post that you're going to lerve fo sho! In the mean time, be sure to swing by Frecklewonder Vintage for a peek at more vintage kiddo goodies!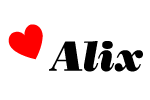 PS Â Do you have a fun kiddo room to share? Email me at Alix [at] modern kiddo.com!