Wow, that weekend went fast! I barely had time to go to any estate sales or get my mad cleaning skills on.   And let's not talk about that rude "Spring forward" notice that had me up WAY too early this morning. Or the fact that I couldn't get away to pay homage to Liberty of London at Target. But I did have a chance to check out some good vintage e-finds  that I'd love to share with y'all!
This is one of those little dresses that you find for little girls that you so want in your size.  But who wouldn't want this adorable springy green plaid shift dress from eBay seller, Lost&Found Clothing.
It doesn't take a knitter to appreciate this  stunning vintage hand knit sweater with horses on it from wonderfully named Ebay seller Highsense Lowbudget.
You'll want to giddayup over to eBay to bid on this cute cowboy costume from eBay seller, PollyDoodlesCo!
Clearly the hare is going to win the race over the tortoise if they are driving a hot-rod as cute as this one on this vintage dress. Take THAT Target Liberty of London Bike!
Speaking of Liberty of London, doesn't this little toddler jacket from Etsy seller, BabyComeBack look like a missing piece from Target's new Liberty of London line? And check out that wonderful back piping detail!
If this wonderful outfit doesn't make the Easter Bunny leaves you with an insanely full basket of jelly bellies, Reese's peanut butter eggs and other goodies, than I don't know what will work!  People, there is even a tie. A TIE. And check out the little hobo bunny.  Clearly, he needs to hitch a ride from that other bunny  in the sassy car above. From Etsy seller, Nomi Vintage.
There is something about this lovely little dress from Esty seller, Little Veggie Vintage with smocking that just makes me think of spring spring spring.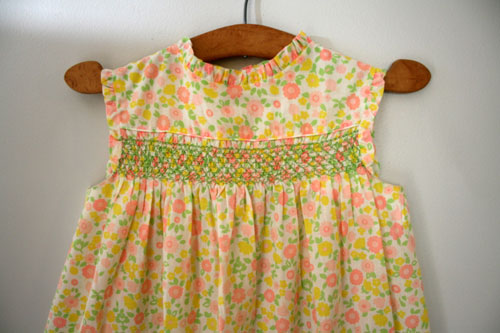 If you've read my other blog, Good Crafternoon, you know my love of the movie Young Sherlock Holmes. Well, thank goodness this little lad wasn't wearing this  Sherlock Holmes coat and hat combo in my second grade class or I would have fallen helplessly in love with him.  From Etsy Seller, Oscar and Theodore.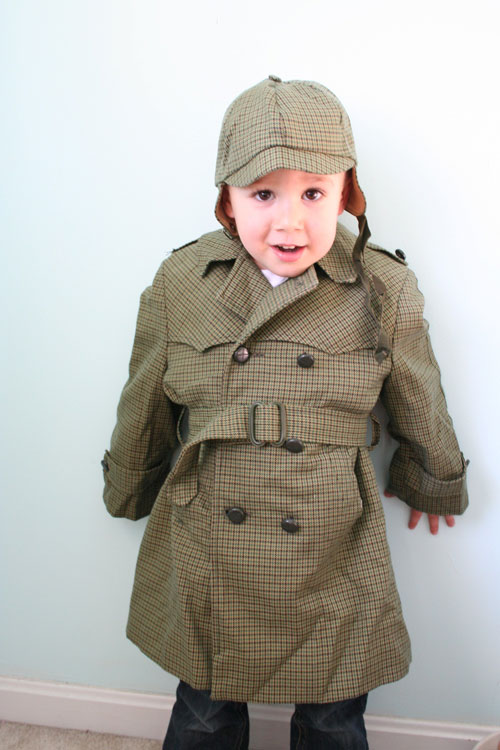 Something about spring makes me crave the color yellow and who wouldn't with this  vintage yellow dress from Etsy seller, Hellcat Vintage.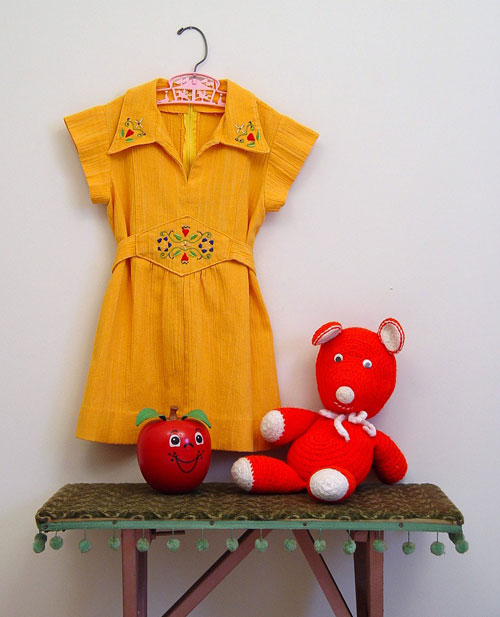 But I leave you with this:  Before boot-cut there was a different flared pant in town that went by a name that put fear and fabulousness into the hears of many–the bell bottom. Here is one of the finest examples around with a LOT of them in glorious surfer striped vintage pants that would perfect for your little moppet to change intofter a day at the beach with some rope sandals and a ringer tee. Sigh.  From eBay seller, Bloom 996.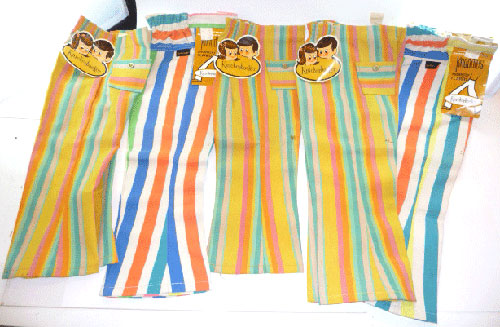 Happy Monday!  Let's get that weekend here pronto!